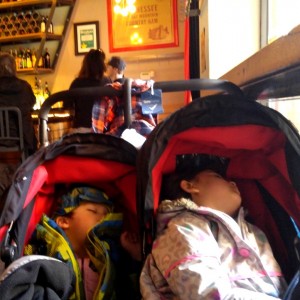 After spending a fun Saturday morning at the Boston Children's Museum, we set out to the Salty Pig for some adult fun. The restaurant had been on Yashy's list of places to dine during the trip, and since it was located very near to the Fairmont Copley Plaza where we were staying, we decided to risk showing up without a reservation.
Let's face it, the name of the restaurant doesn't exactly imply that you'll have a lot of healthy eating options, and so we decided to earn our calories and get in some sightseeing through the streets of Boston on the 30 minute walk from the museum to the restaurant. We arrived shortly after 4 pm, with both kids conked out from the morning excitement, and discovered a busy eatery with what looked to be limited space. After being told to expect about a half hour wait, we decided to hang around (they will text you when your table is ready). The menu looked very enticing and we could not identify too many other interesting spots in the area. Luckily, we were seated within 5 minutes, and were even placed next to a side entrance where we were able to park our double stroller, sleeping kids and all, while we took a seat to browse the menu.
I was pretty happy once I saw the draft list, which contained a great selection of beers from several US craft breweries, including Avery Brewing out of Colorado, Off Color Brewing from Chicago, and Boston's own Trillium Brewing Company. I also got the sense that the taps rotate quite frequently after two selections were wiped off the board and replaced with different options in the 2 hours we were there. My personal favorite from the afternoon was the Allagash White, a belgian wheat beer brewed with a nice balance of coriander and orange peel. Yashy also tried a pint of Downeast Cider and was impressed by how great the New England cider was. We also learned during our visit that Downeast Cider owners went to Bates College, just like Yashy!
For dinner, a friend and I each ordered pizzas while Yashy decided to wait 45 minutes until the expanded dinner menu became available at 5 pm, which featured a bone marrow option, as well as a brussels sprout dish that we all greatly enjoyed. The pizzas were good but not great, although I would order the one I ate again, Fratelli. None of us opted for the eponymous Salty Pig pizza, indicated on the menu as being made from today's salty pig parts, but this would seem like a great option for the adventurous eater and I'm surprised Yashy didn't order it.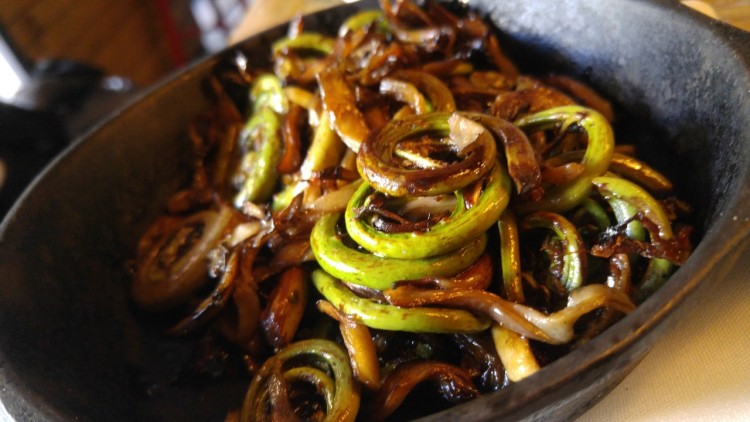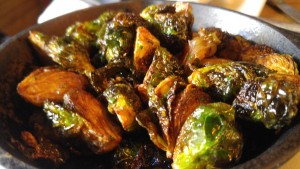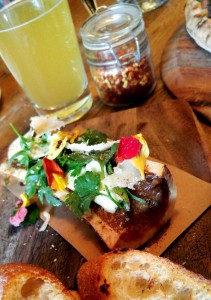 The place's main selling features are the ambiance, the music, and the drink lists. A great hangout spot, the setup of the main area features bar stools and long tables that make it a great place for groups of 6 or more, while side seating provides a suitable option for kids. We were really enjoying the mix of 90s hip hop and pop tunes that took us back to our college days, and I was so intrigued by some of the beer options that I left with 3 late afternoon pints in my system. Despite the limited space, the restaurant is kid friendly, with a change pad available in the bathroom and a noise level that helps to drown out misbehaving little ones, while not being too loud to make conversation impossible. If you end up having 3 pints like I did, you'll definitely have an opportunity to check out the cool bathrooms, filled wall to wall with Far Side cartoons. Just try to avoid getting distracted and holding up the line!