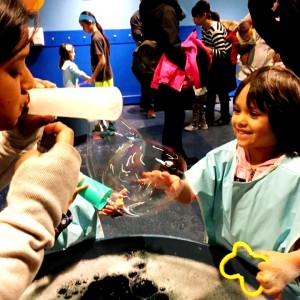 It felt like ages since we last visited a Children's Museum and so I was very excited when I realized that Boston had one…and one that had surprisingly been around for ages! When I lived there I honestly don't remember even walking by it, but I must have as it's right on the waterfront. During our visit, I had one of my college besties (and Little Monkey's Godmother) join us at the Children's Museum on a Saturday afternoon. We got there around noon and the hubs decided to go find some Delirium beer while the four of us explored the Museum.
Founded in 1913, the Boston Children's Museum is the second oldest, and one of the most influential children's museums in the world. In fact, once we walked in, my friend remembered visiting the Museum with her own family when she was much younger! The Museum's exhibits and programs emphasize hands-on engagement and learning through experience, employing play as a tool to spark the inherent creativity, curiosity, and imagination of children.  Designed for children and families, Museum exhibits focus on science, culture, environmental awareness, health & fitness, and the arts.
Disclosure : Our visit was hosted but as always, opinions are totally mine!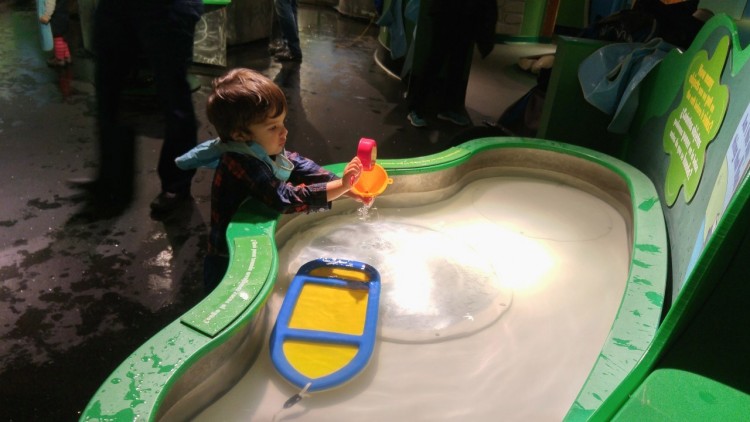 As you know, we love our children's museums as it gives the kids the freedom to explore, learn and engage with their surroundings. I also feel like it's a great way to spark the love for museums and exhibits as the grow older. Admission is $16 per adult or child (kids under the age of 1 are free) and if you visit on a Friday evening between 5 and 9 p.m., it's only a $1! On arrival we had our double stroller and there was no issues in navigating the space with it. Even the elevators were large! We however decided to park it in the designated parking area and dumped our coats and other gear on it as we explored the Boston Children's Museum.
Little Monkey's favourite was the climbing structure at the entrance (mainly because she had climbed a similar one during our visit to Rochester) and Baby Boy of course loved the bubbles. There were many other sections, each targeting different muscles, skill sets and age groups and there was even a Countdown to Kindergarten section! This museum caters to those under the age of 12 from what I saw and though we spent three hours there, we still didn't really get to do everything. Both kids are at an age where they have many questions and want to explore things in detail. I was so glad when the hubs came back within thirty minutes because I really need three adults to tackle the two kids! So SO SO SO many questions…questions which were cramping my style and preventing me from playing with some of the installations! I mean… did you see how much fun I had at the bubble station?
Speaking of the bubble station, you'd think it was our first time at a kid's museum, because I completely forgot to bring a change of clothes and a plastic bag! Luckily, Little Monkey had worn extra layers and was able to share with Baby Boy. The water areas have little vests but they did little to protect the mischievous activities of rambunctious kids like Baby Boy. I spotted many parents unsuccessfully trying to dry things at the hand dryers scattered through the room! Definitely take an extra set of clothes, socks and shoes!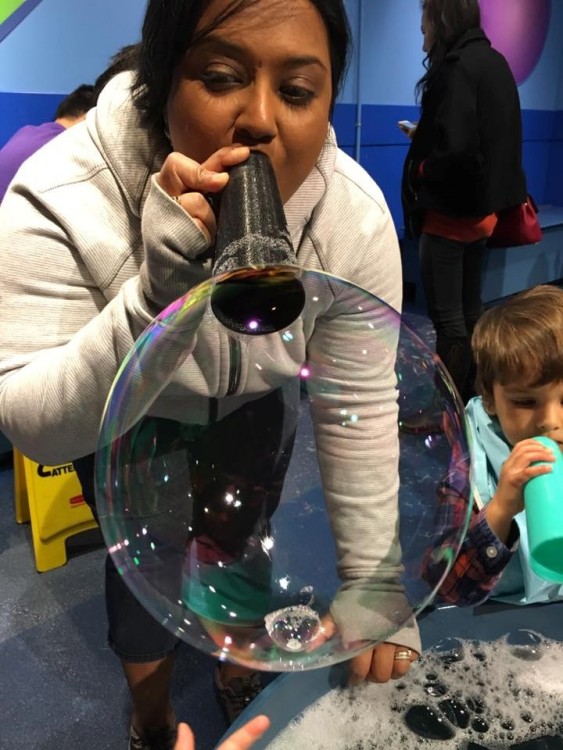 As with most kids museums, there was a mini supermarket ( A Dominican one!) and plenty of space for kids to run around. I really liked the fact that the museum had taken a step towards recognizing the multicultural communities that exist in Boston. There was a Japanese House which Little Monkey liked exploring. We stepped into an authentic two-story silk merchant's home from Kyoto, Japan and explored every corner of this fully-equipped Japanese house reconstructed in Boston by Japanese carpenters. Japanese family life, customs, ceremonies, art, architecture and seasonal events are all highlighted in the fully functional 100-year-old house inside the Museum. Apparently this House was a gift to the City of Boston from the City of Kyoto on the 20th Anniversary of their sister city relationship in 1979.  It was brought to the United States piece by piece and rebuilt at the Boston Children's Museum. There was also a Boston Black section which brought up a dialogue about race, ethnicity, identity, and community. It's designed to highlight the tremendous diversity within Boston's Black community, share the significant history of Black people in the city, and stimulate new ways for families with young children to talk about race and identity.
On a rainy day, I can see travellers with little ones flocking here to spend the day away. During our visit, we never felt rushed or crowded at each of the exhibits and I think that's because everything is laid out quite well across three floors. Your admission ticket allows you to freely leave and re-enter, which is convenient if you want to grab lunch or a snack outside the museum. Also, If you opted or the Go Boston card from Smart Destinations (available through the Porter Escapes packages), you not only get to enter for free, you also get to bypass any lines!
If When we head back to Boston, we'll definitely be popping by the Boston Children's Museum again because Little Monkey has already requested that we do so and Baby Boy hasn't stopped talking about the bubbles… I really need to set up a proper water table in our washroom for them!