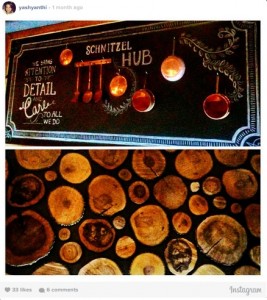 A few weeks prior to our Belgian travels we were invited to dine at Schnitzel Hub, located north of the downtown core nearby the St Clair West subway station. With Europe on our minds the hubs, Baby Boy , Little Monkey and I entered the rustic, classy and cozy space and let our waiter be our guide for the evening. Schnitzel Hub is a very cozy chic spot to sneak away during he colder winter months.
I had heard many things about their house infused vodkas (some of which takes over 3 months to infuse) and was hoping to enjoy a fab cocktail  but of course, that's not how things are done in Eastern Europe. Nopes… you get shots! So we got a platter of various infused vodkas ranging from horseradish to strawberry mint. Having sipped on these throughout our meal, I must admit that I would have enjoyed a savoury martini with some of these. The hubs ordered a couple German beers and was fairly pleased with the brews on offer here.
Even before the food arrived I roamed around the space soaking in the cool decor items. The copper pots and pans, chalkboards and chandeliers were eye catching and the red couches overlooking the fireplace was Little Monkey's favourite. Baby Boy not only enjoyed the high chair but he also ensured to visit the washroom where he tested out the change table ;). Yup they have a change table here AND they let us park our large stroller right by our table.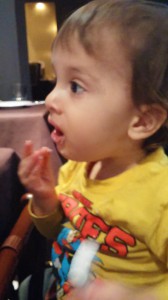 We started our meal with a warm Goulash Soup which Baby Boy downed. He loved the soft melt in your mouth pieces of beef and kept asking for more. We also ordered the house cured salmon – Viking Gravlax. The salmon was definitely meaty and there's no scrimping on the portions here! Welcome to Baba's house!
The hubs and I also shared a Beet Salad with pine nuts, goats cheese and truffle oil. I wasn't a fan of this one but the hubs loved it minus the goats cheese ( I licked that cheese clean of course!). What totally caught us off guard was how large the pan-fried Jaeger Schnitzel  was. What I loved about this dish was that it came with Spatzel. An egg noodle like pasta that was absolutely delicious. I can't believe I haven't had this before! It was deeeeeelicious.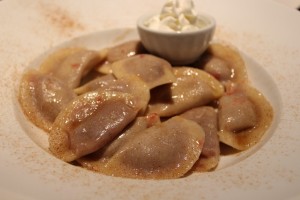 We received a surprise plate of Sour Cherry Perogies dusted in sugar and technically speaking, this would have been totally up my alley but I think I'm going to stick to the old fashion perogies. I was hoping Little Monkey would devour these but she was not in the mood to eat and so she licked them and that's all she did.
If you're looking for some Eastern and Central European dishes with a slight fusion twist, check the Schnitzel Hub out. What I like most about this space is how baby friendly they are and Baby Boy approved every dish we got (minus the booze and salmon)! Also…tell me how much you love their decor!