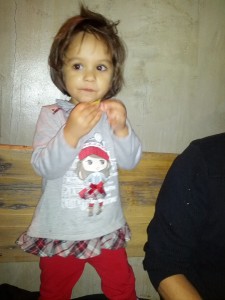 Ever had a spot that you've been waiting FOREVER to get to? Well that was La Carnita for us and we finally got there with two kids in tow and live to tell the tale! La Carnita opened over a year and a half ago and despite our efforts we never made it in. Why? Oh because there's crazy line ups every time we've been! Yes even a year after its launch. Before these guys opened their permanent store they started out by selling art and giving a loot bag of tacos to accompany the artwork. Eh? Yea I know…this was their way of testing the market, riding the pop up wave and more over tackling the stringent food laws of Toronto. Brilliant idea and who wouldn't want to spend $10 for artwork and tacos?
The hubs,kids and myself accompanied my brother and his friend to La Carnita one week day around 6 p.m. If you're going with kids I highly recommend going early as there can be line ups and we witnessed it ourselves. No sooner had we sat down and placed our orders that we look up to see a line outside the door! The space is tiny so bring an umbrella stroller and yes they have a high chair! The server was very kid friendly and service was very quick which is a nice touch given the possibility of a toddler tantrum. Though we never felt rushed either.
I loved the vibe of the place; cool artwork and deco coupled with cozy lights. It's a perfect spot to gather friends at- provided you go early. Now on to the best part, the food! Hands down one of my favest spots for Mexican street food in Toronto. Some dishes do have a bit of a twist but they all had an authentic base. Ofcourse I started with a Margarita ( my first in a verrrry long time so I was thrilled!) and we also sampled a few cocktails and beers… all delicious! The Little Monkey even had her own drink – a horchata. I thought it would be a sure win given the milk base but she only had half and I was more than happy to finish the rest!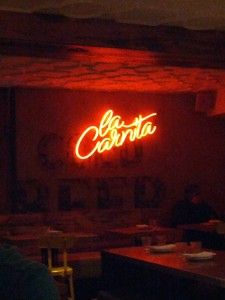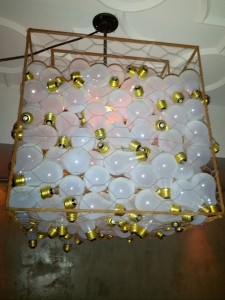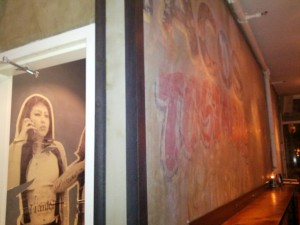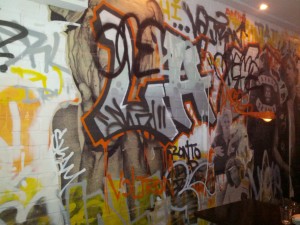 Food does come as it is cooked, so don't be surprised if some are waiting while others have their tacos in front of them. Ensure you eat them as they come because they taste real good when they're warm. The menu is fairly limited but it was a good thing since we got to try a variety and given that tacos are just $5 each, you know you want to try them all! Also a highlight is that they did have a vegetarian taco, which isn't something you see at all spots. The Ceviche taco was a fave but honestly all of them were really good. Fresh, succulent and super juicy. I am picky when it comes to guacamole but these guys did it right and I was impressed. I did have dessert… but forgot to take a picture..  the churros with the caramel condensed milk (not Dulce de Leche) was finger licking good but the churro it self was just a -ok. Yup.. we will definitely be back here!