Each summer I try to find a last minute cottage in Ontario and this summer we lucked out with a brilliant find in Bracebridge right before school re-started! If you're looking to enjoy a road trip in Ontario, Bracebridge in the Muskoka area, is a lovely spot. It's quite pretty during the cooler fall months too so it's worth keep this trip in mind for your Ontario fall getaway.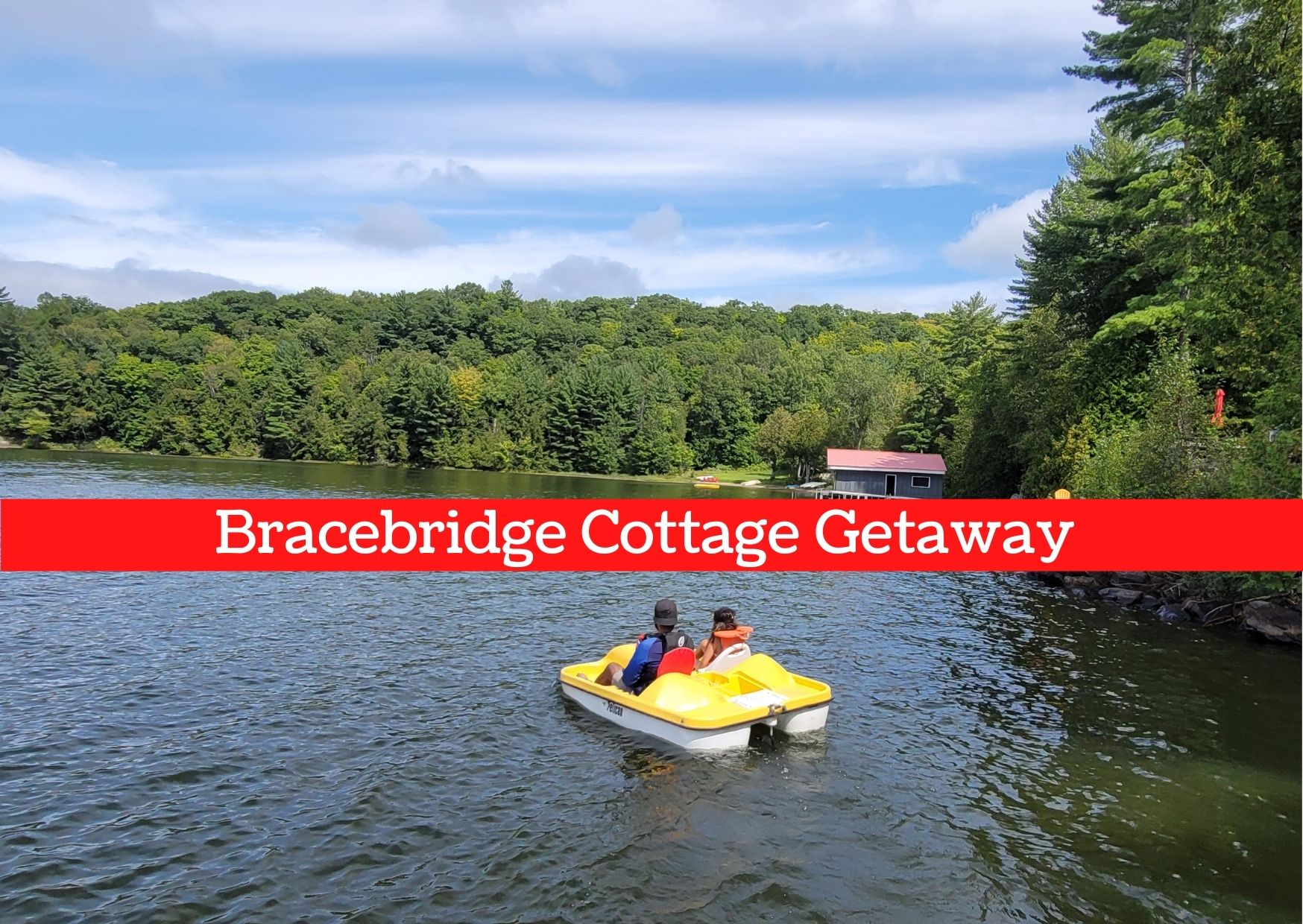 Bracebridge Cottage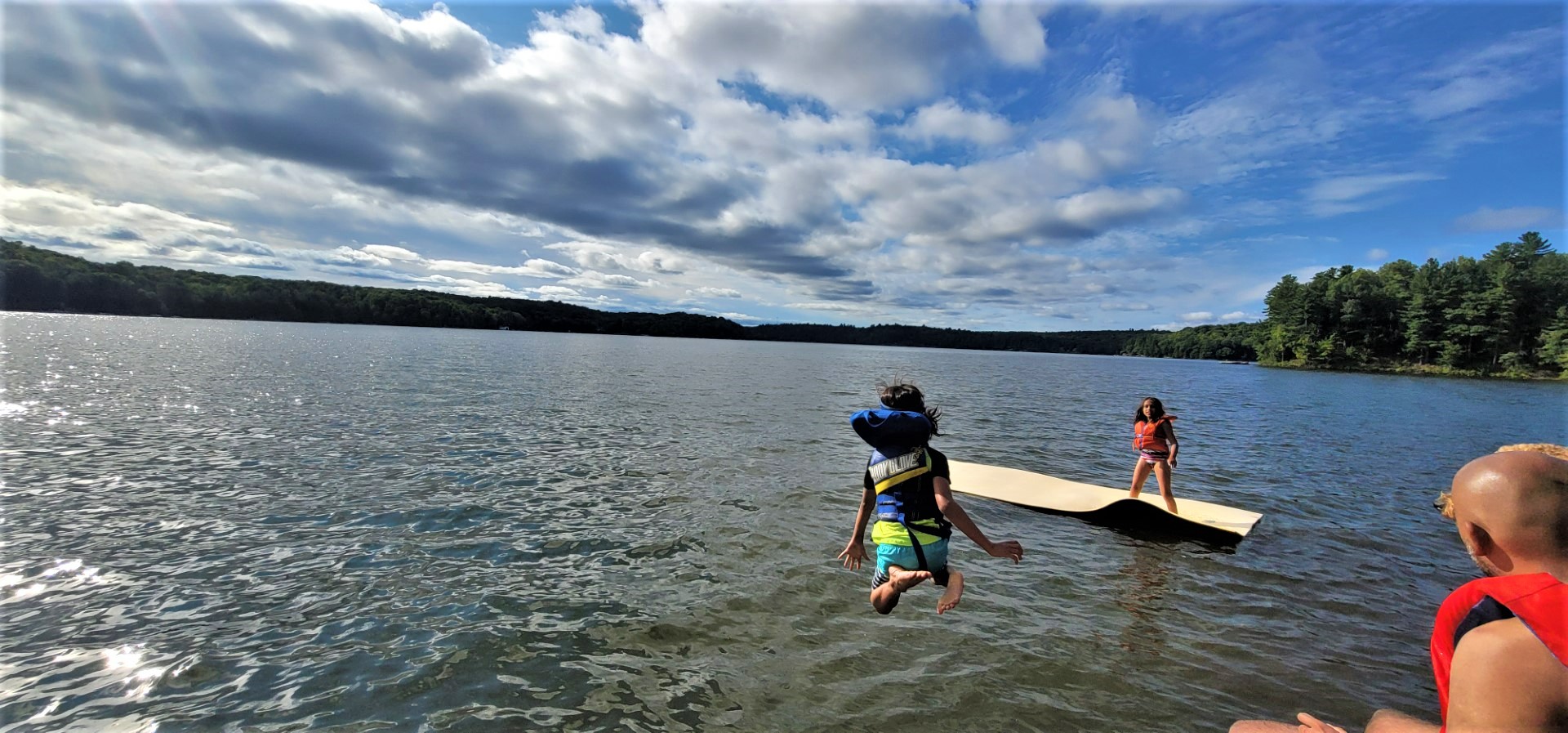 I found this cottage via a search on the Ontario Cottage Facebook group and our group was thrilled with this relaxing stay in Utterson which is a 15 minute drive from downtown Bracebridge, Ontario. We booked an entire week here and by the end of our visit, I was commenting how quickly time sped by. Given my need to stay busy and my inability to do NOTHING, I was impressed that I wasn't bored during our stay at Holly's Lakefront Cottage Rental in Bracebridge, Ontario.
The cottage was Canadiana chic at its best. It was comfy yet woodsy and allowed our group of 4 adults and 2 kids to spread out and unwind. We even hosted friends who live in the immediate area on the deck for dinner and on the dock for sunset! Holly has ensured that the 4bedroom cottage has every little thing you could need. She even left flowers as it was my birthday celebrations that week!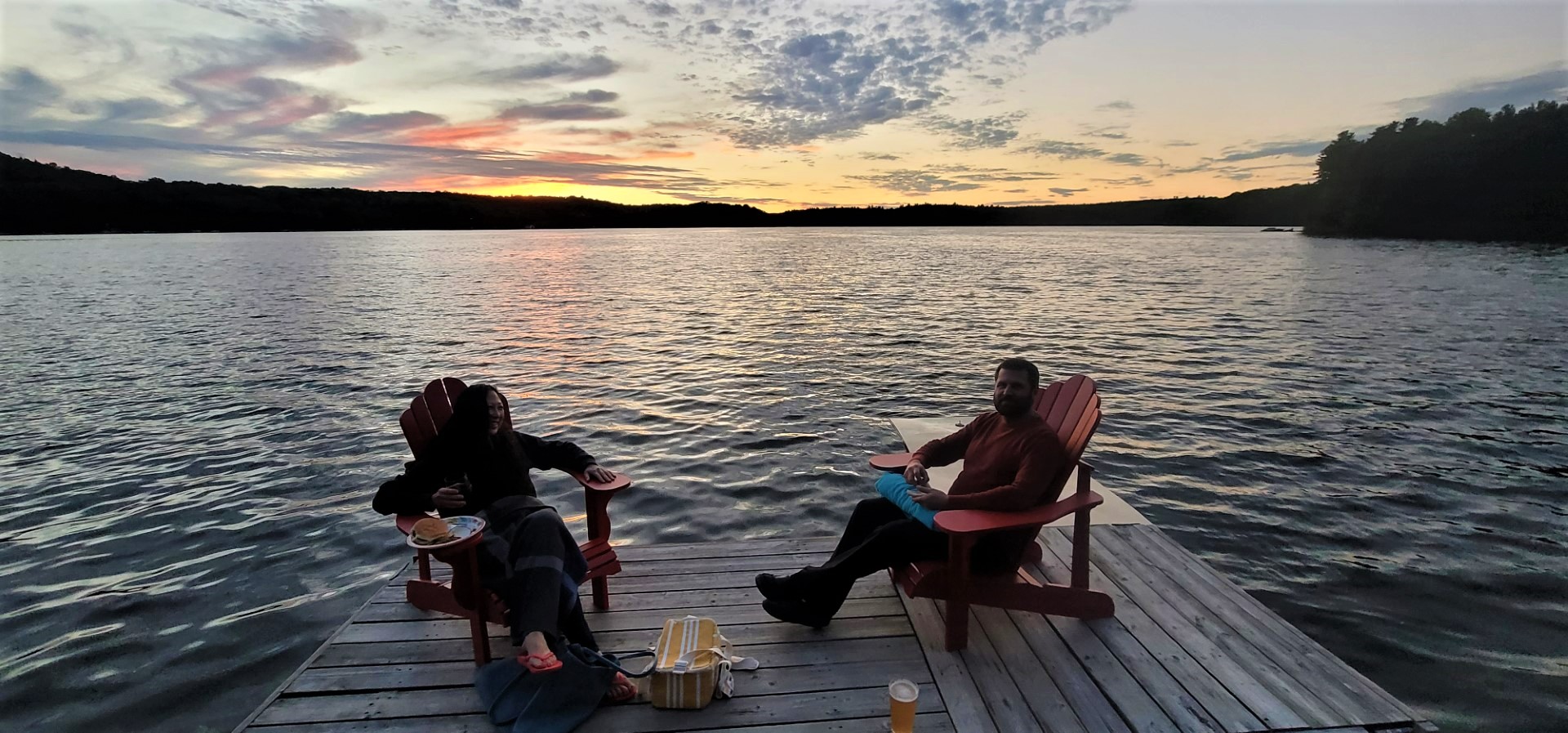 In addition to a full kitchen and spacious main floor living area, there was an upper balcony with a BBQ grill and then another living room in the lower level with a walkout to the backyard. The backyard had a ping pong table, fire pit and the main attraction, the dock! Pretty sunsets were enjoyed here with local brews in hand. Holly's place even had toys and arts supplies for kids and Apollo was thrilled when he finally had a chance to play with a nerf gun (we keep saying no to his requests for purchasing one). The kids also loved the floating mat and pedal boat while Chris and my brother enjoyed the kayak. Holly even had life jackets available to use and has kept families in mind when organizing this Ontario cottage rental.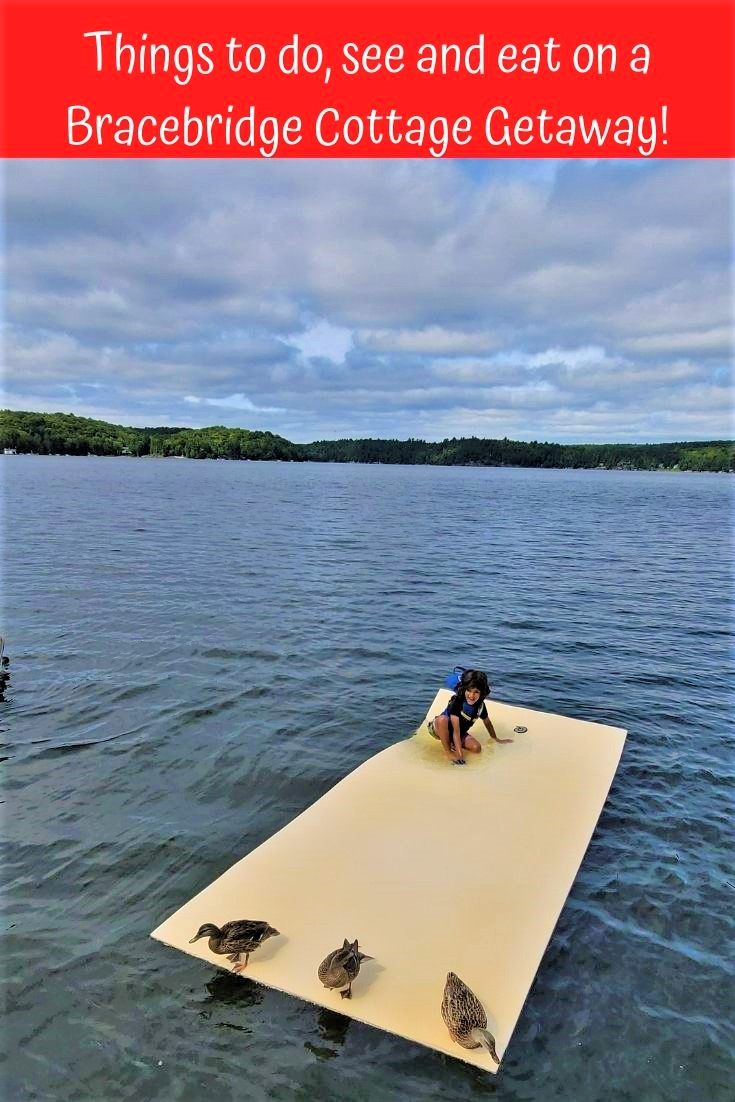 As always a couple things I will highlight is that there's no A.C here (but there are fans). During the 1st week of September it was warm enough to swim and yet cool enough at night for a hot box like me to fall asleep easily. You also do not have access to the laundry machine which I thought would be a deal breaker for me but I survived just fine! We did bring our own bedsheets (including singles for the kids' bunk beds) and towels but everything else was provided. As with all cottages we've stayed at, we also had to take the garbage out with us.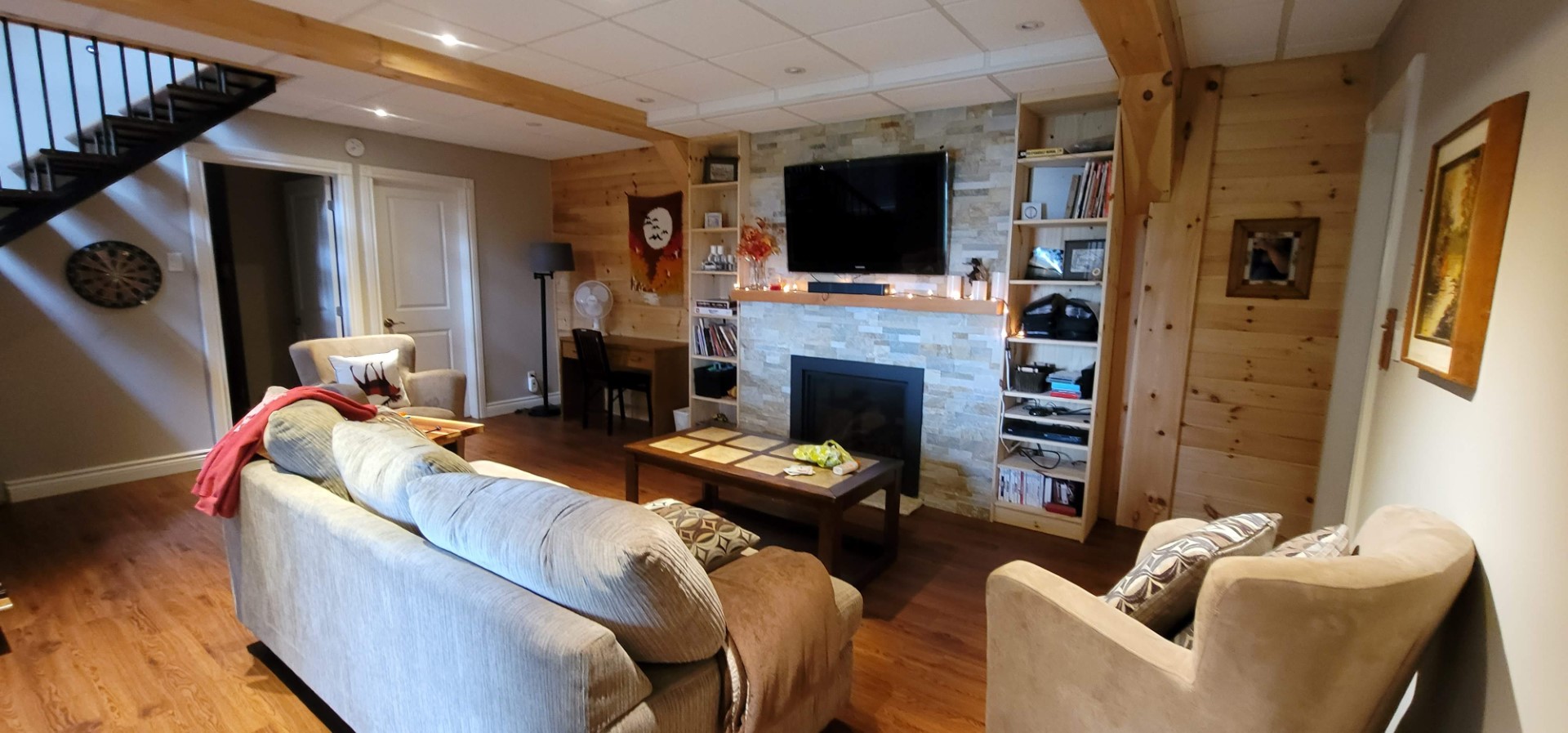 Other than that, it was as close to a hotel experience as I can imagine and I can totally see us renting this cottage again because it's so close to friends of ours. Oh and if you're curious her weekly rates are as follows : summer $2500, September $2100, October $1800.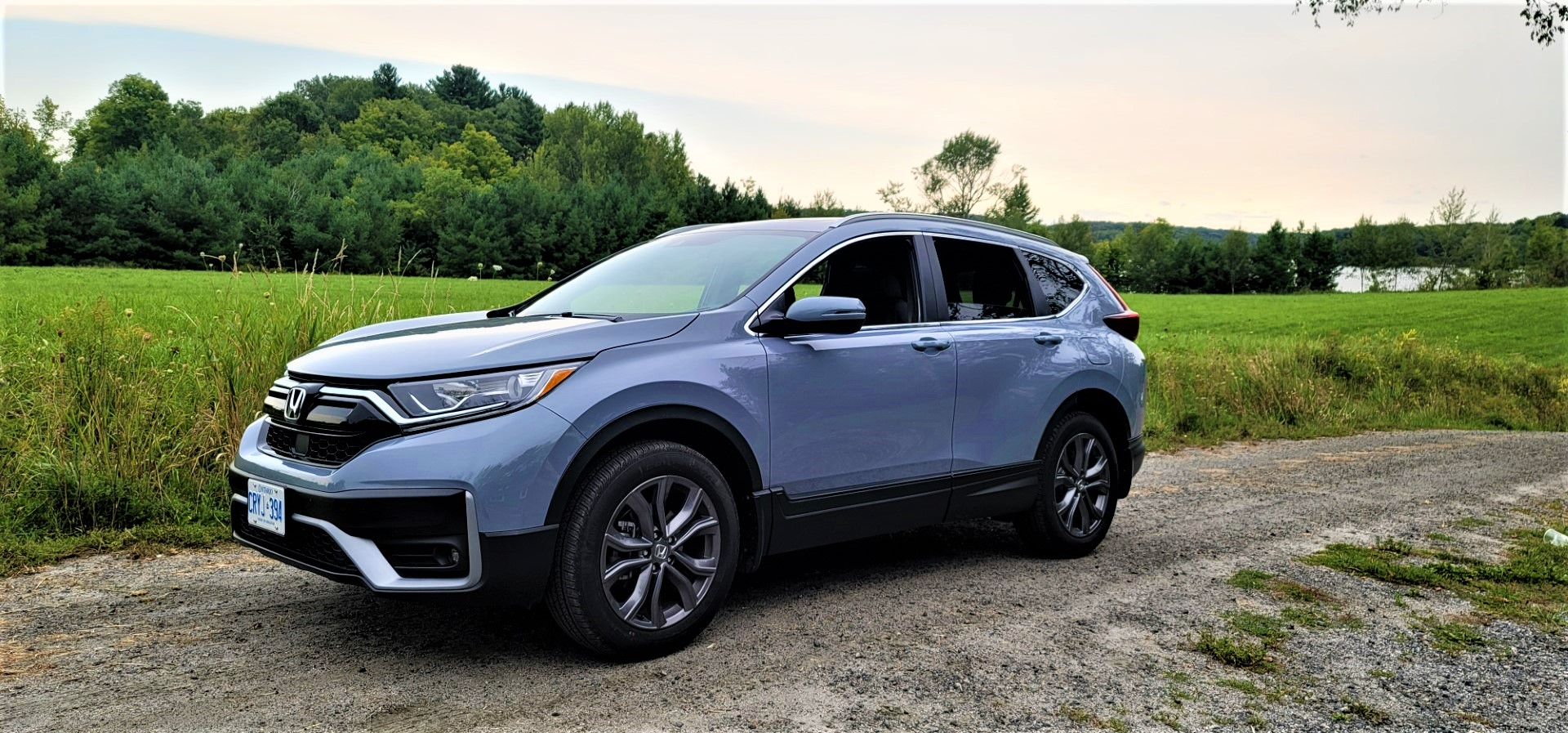 Unlike previous cottage rentals, I didn't have to load up our Honda 2021 CR-V Sport rental to the brim because there were pillows, blankets and all the kitchen tools we could possibly need. All this meant that we were able to enjoy the 2 hour drive from downtown Toronto. The Honda CR-V Sport was a smooth drive and Chris especially loved the side camera option.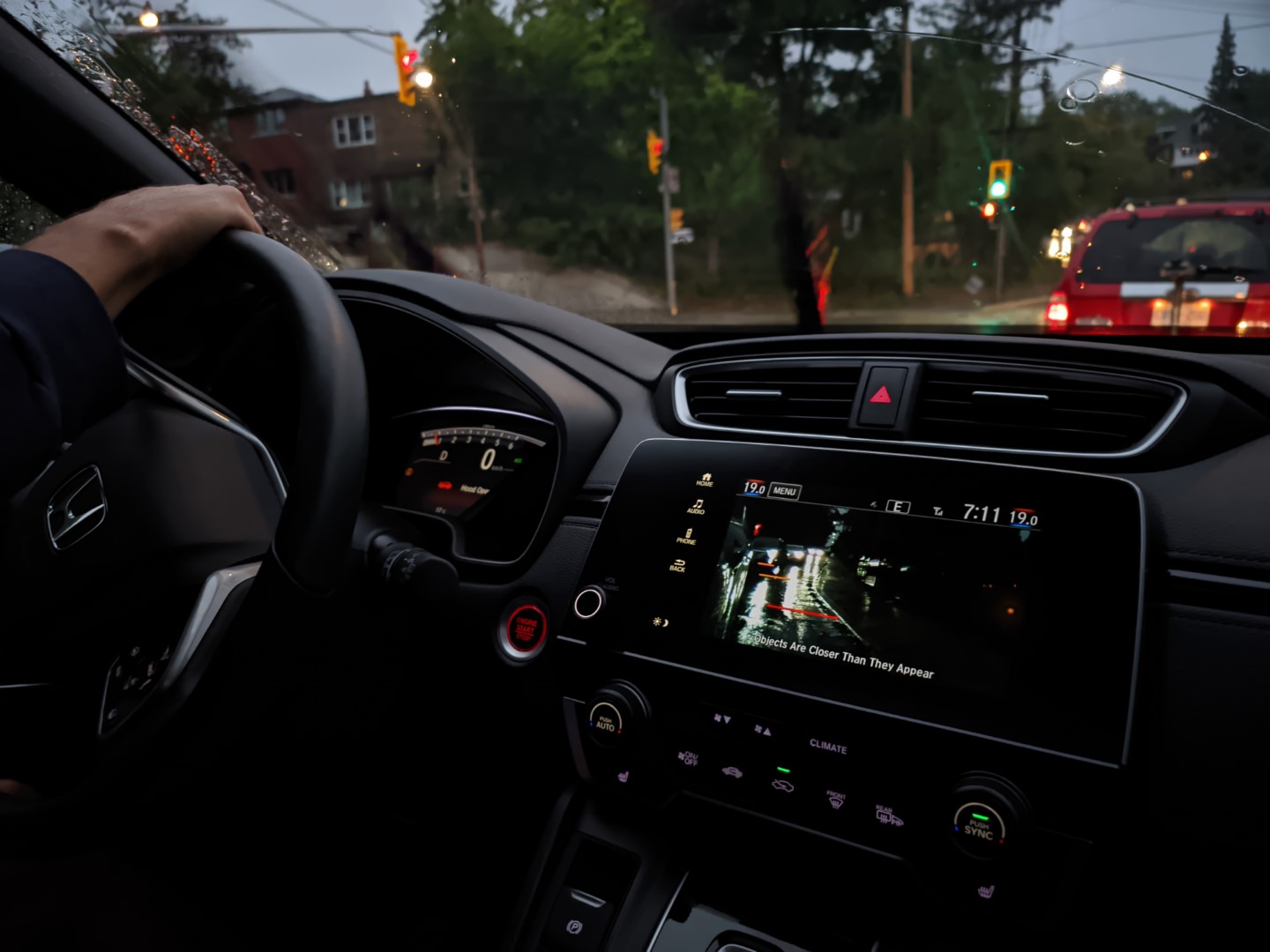 With an easy flick he was able to see if there were any bikers pulling up before he had to turn. I'm shocked that all vehicles don't have this option as it's mighty useful when you drive around downtown Toronto where cyclists come whizzing out of nowhere!
Things to do in the Bracebridge Area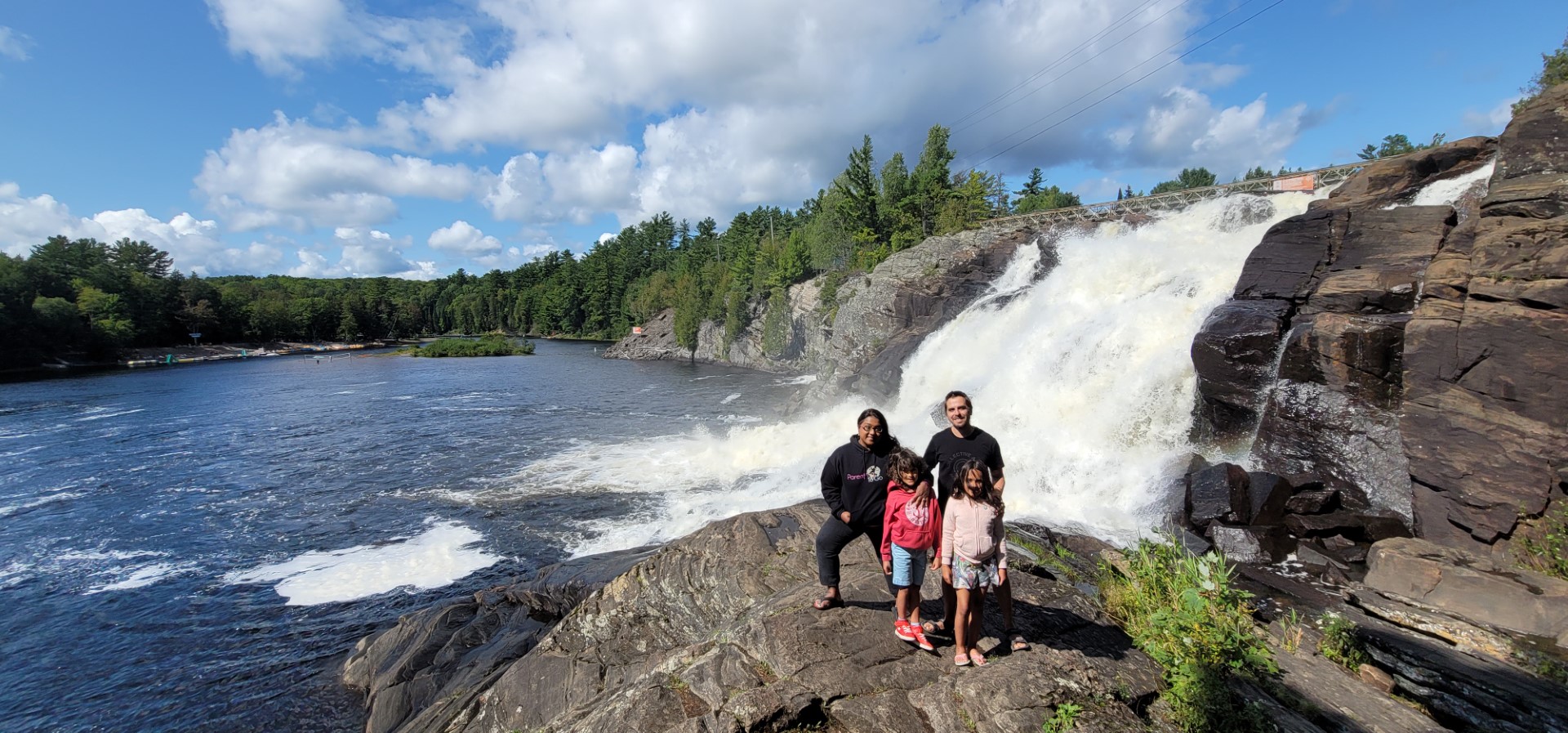 The cottage was located about a 15 minute drive from downtown Bracebridge and a 45 minute drive from many of the Muskoka attractions so it was easy for us to explore in our Honda rental. I even snuck out with my girlfriends on Saturday morning leaving the kids with the boys! There's plenty of places to visit in Bracebridge if chilling at a cottage 24-7 ain't your thing!
Farmer's Market
This Ontario farmer's market was mentioned by one of my Instagram pals and I was glad when my friend said she could pick me up for a morning drive. We swung by Memorial Park in downtown Bracebridge and popped by the many vendors selling treats (we bought a lot of buttertarts for a taste off), savoury goods and decor items. There was a vaccine pop up clinic too!!
Downtown Bracebridge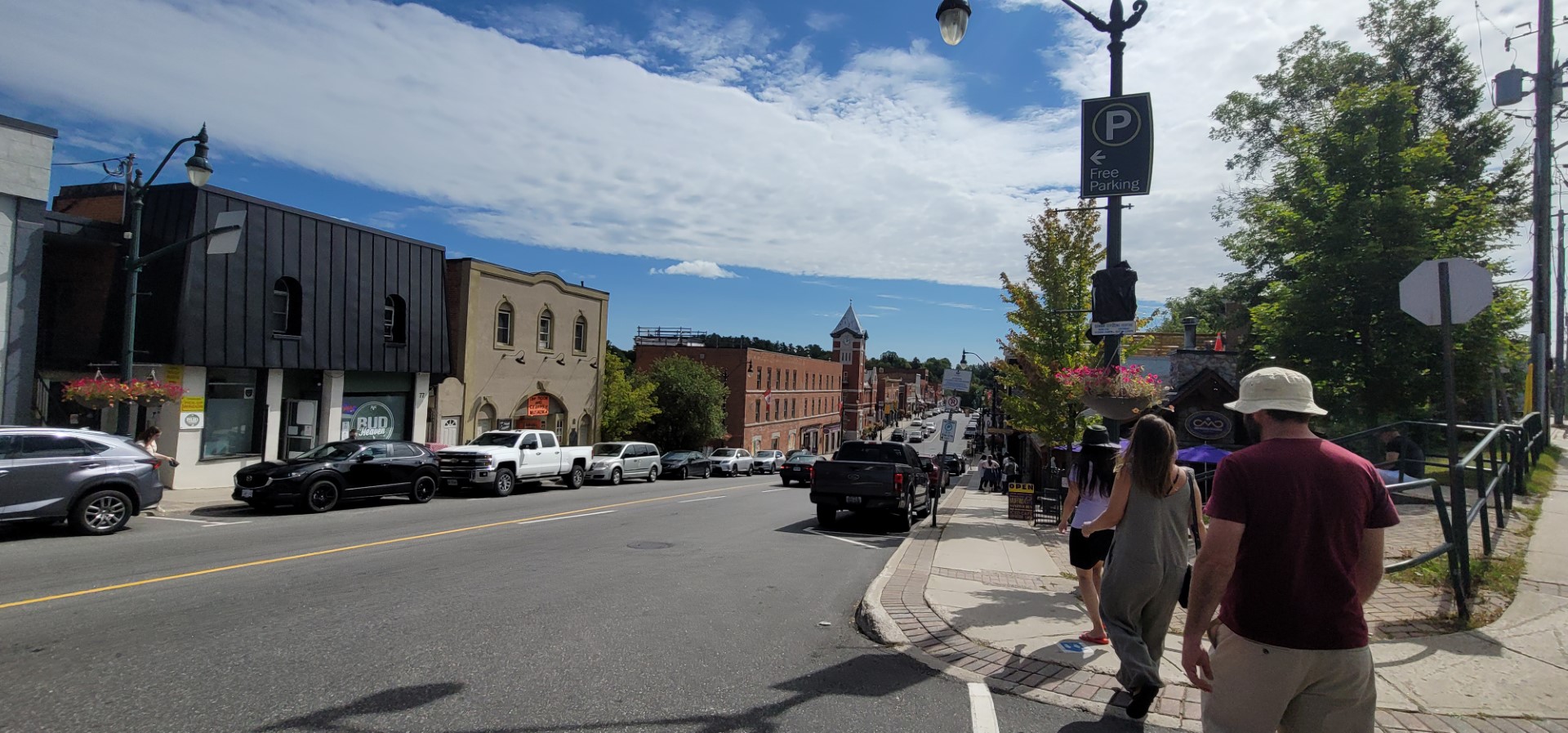 I was actually surprised by how cute the downtown strip was. If you're looking to shop for gifts, this is a great stroll. We spotted stores like Neob Lavender, Bracebridge and Bliss Boutique. Also noticed many stores selling healing crystals and the likes ( I was looking for gifts for my mom so those definitely piqued my interest at the time). The downtown area is lined with clothing stores, gift shops and art galleries and there's plenty of free parking available. I obviously went to the ice cream store for "brunch" and the kiddie sized cone was massive!
Muskoka Steamships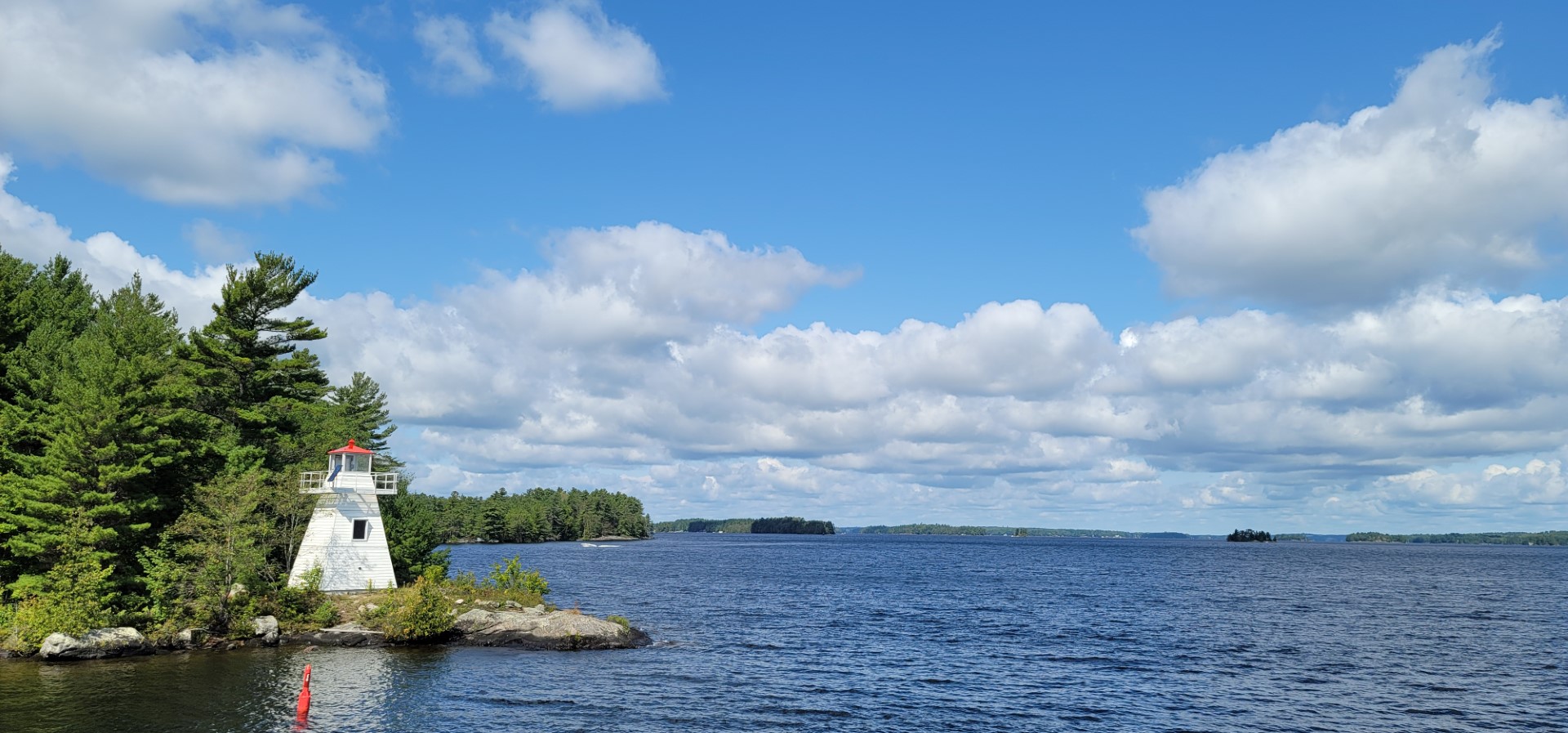 This wasn't our first visit to this Gravenhurst attraction and truth be told, I didn't REALLY want to do it. But Chris did. Our family rule is that we'll do something for each member on our trips and so the four us went on a Muskoka cruise. I absolutely loved it and I'm so glad Chris forced us on this 2 hour sightseeing cruise on Lake Muskoka. The announcer (who has a charming and entertaining voice ) shared local stories, pointed out historic properties and kept us entertained. This was quite different to the pirate themed one we went on when the kids were mere toddlers, that's for sure! (Disclosure : we were guests of Muskoka Steamships but, as always, opinions are TOTALLY ours).
Covid wise, everyone must wear masks onboard. The only time your mask may be removed is when you are using the OUTDOOR seating areas and are with your group. As of September 22nd, 2021 all guests over 12 are required to present a proof of completed vaccination as per Ontario government mandate.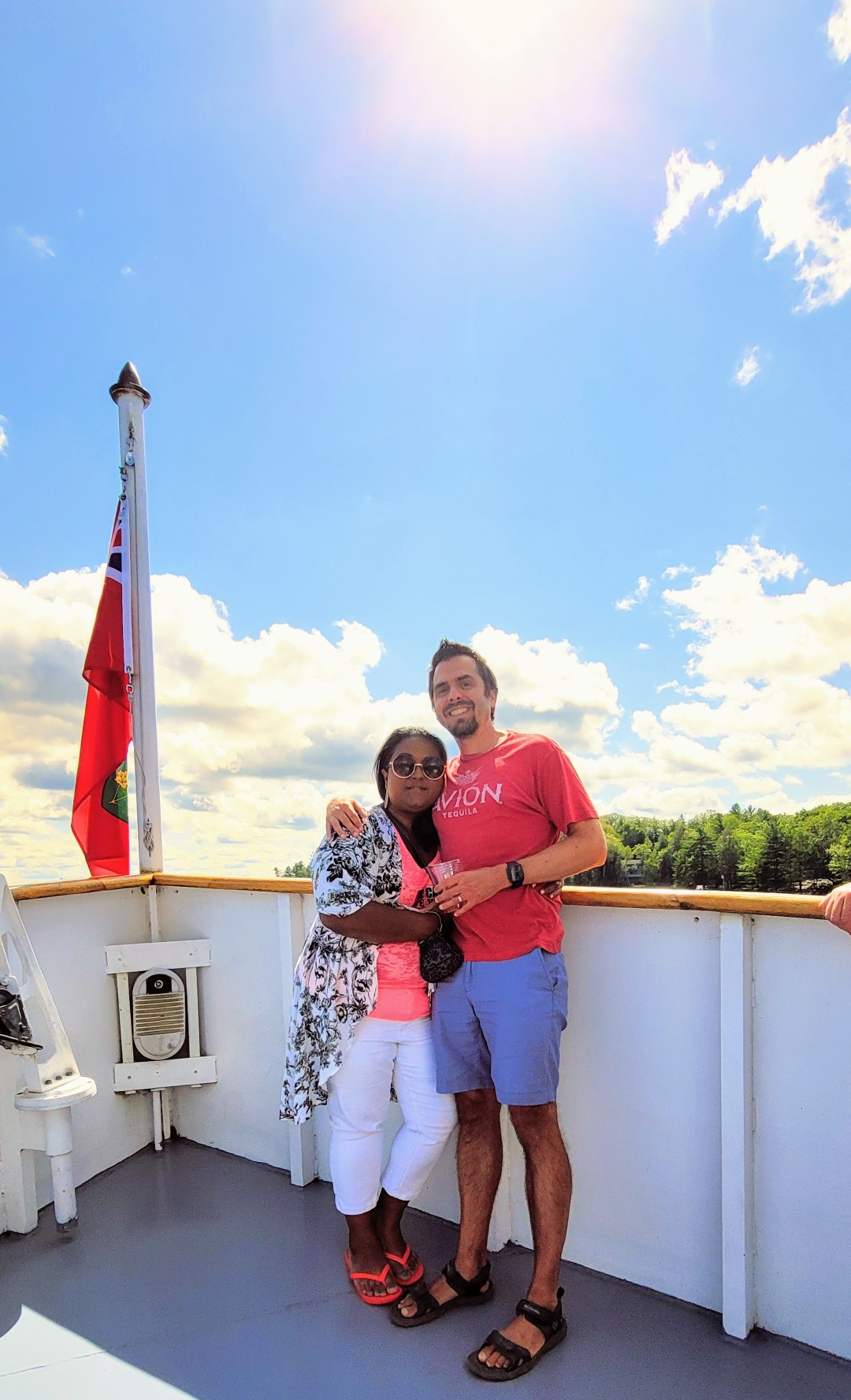 We found seats outdoors towards the front of the boat and was able to buy snacks and beer on board the Wenonah II which we enjoyed whilst looking at the many mansions that some locals call "cottages". We were guests of Muskoka Steamships but as always, opinions are TOTALLY ours!
Muskoka Discovery Centre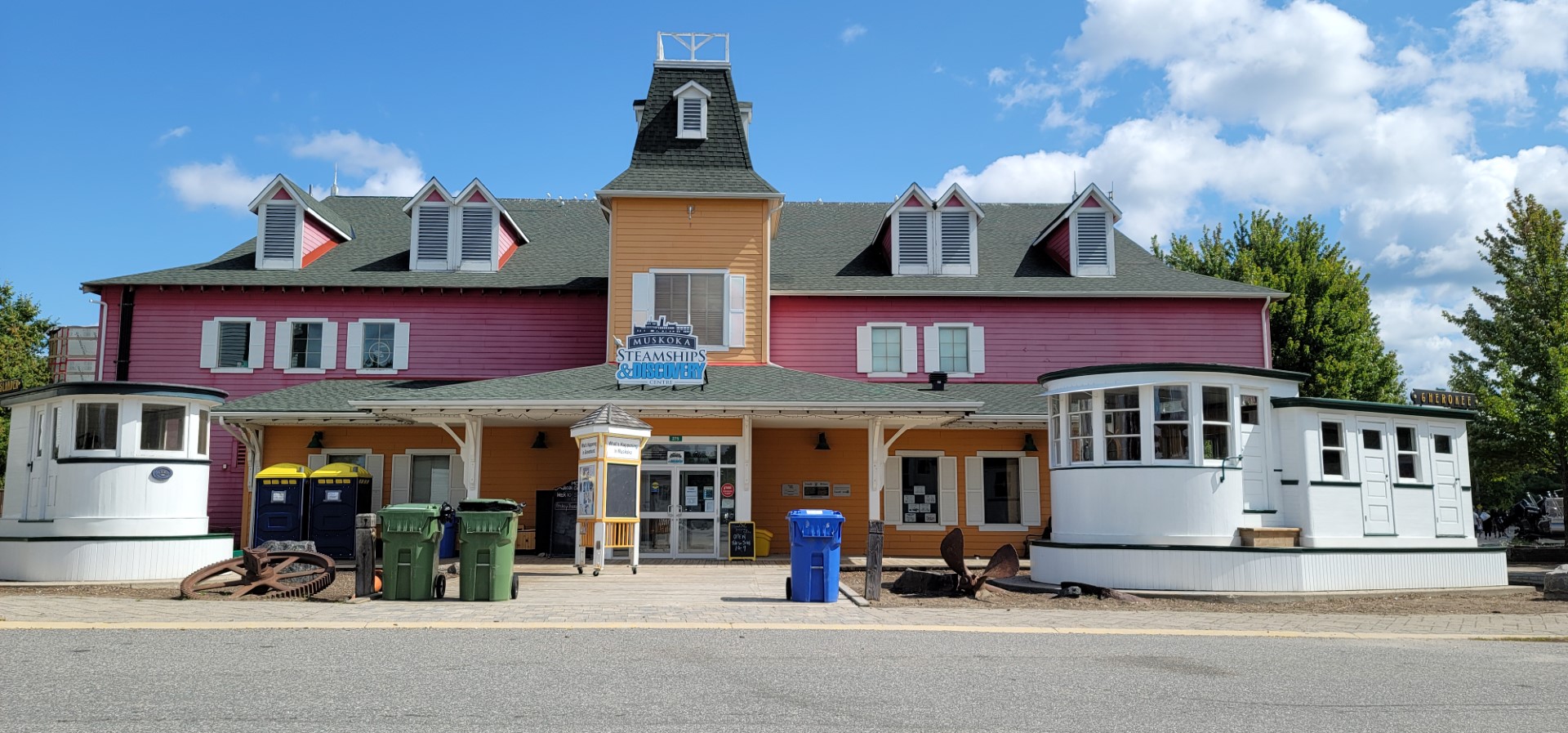 Along with Steamship tickets we were given access to the Discovery Centre which was a short drive away. This one of a kind museum offers galleries, interactive exhibits and a children's play area that will entertain those of all ages.
During these Covid times it isn't often that the kids can play with toys and interactive exhibitions so it was a delight to see them exploring the space (masked of course) as they learned about the ships, the importance of water to the Indigenous communities and about the local watersheds.
Santa's Village
I've wanted to visit Santa's Village for years (you guys already know how much I love Christmas!) but sadly I did not make it out there on this trip. However I wanted to mention that this family friendly spot is great for young kids. Yes there's Santa but there's also ziplines, rides, a petting zoo and SO much more. I've been eyeing their cabins and hope to take the kids there before they get too old for this kinds kitsch, which I love so much.
Bracebridge Falls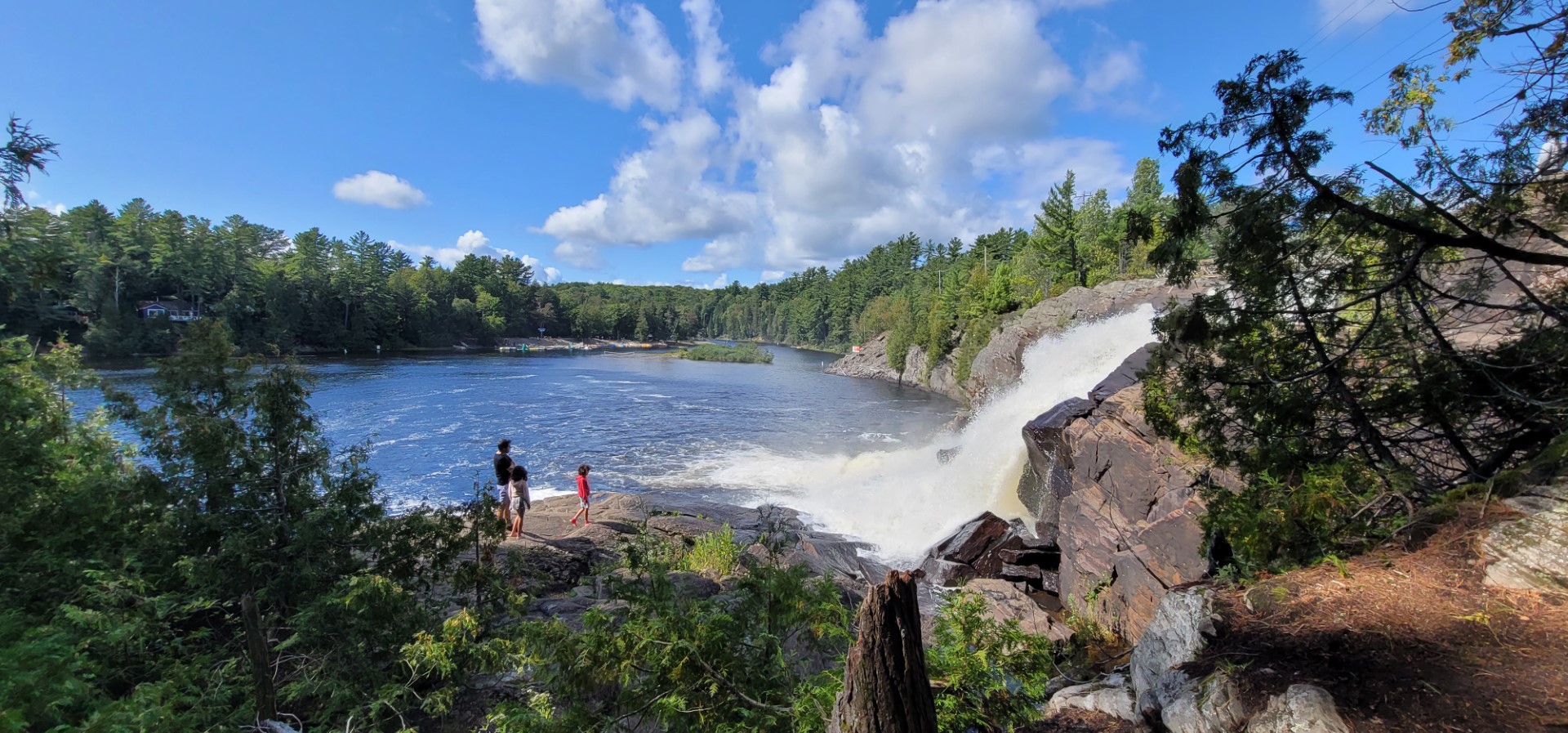 I was actually surprised when I heard that visiting Bracebridge waterfalls was a regular activity for the locals. Bracebridge is home to three major waterfalls, all located within a 10-minute drive of the Downtown area. We decided to hike into High Falls which had an easy entryway. We parked our car and was by one of the five waterfalls in less than 3 minutes. My kinda hike -hahha! Big High Falls was quite epic to see.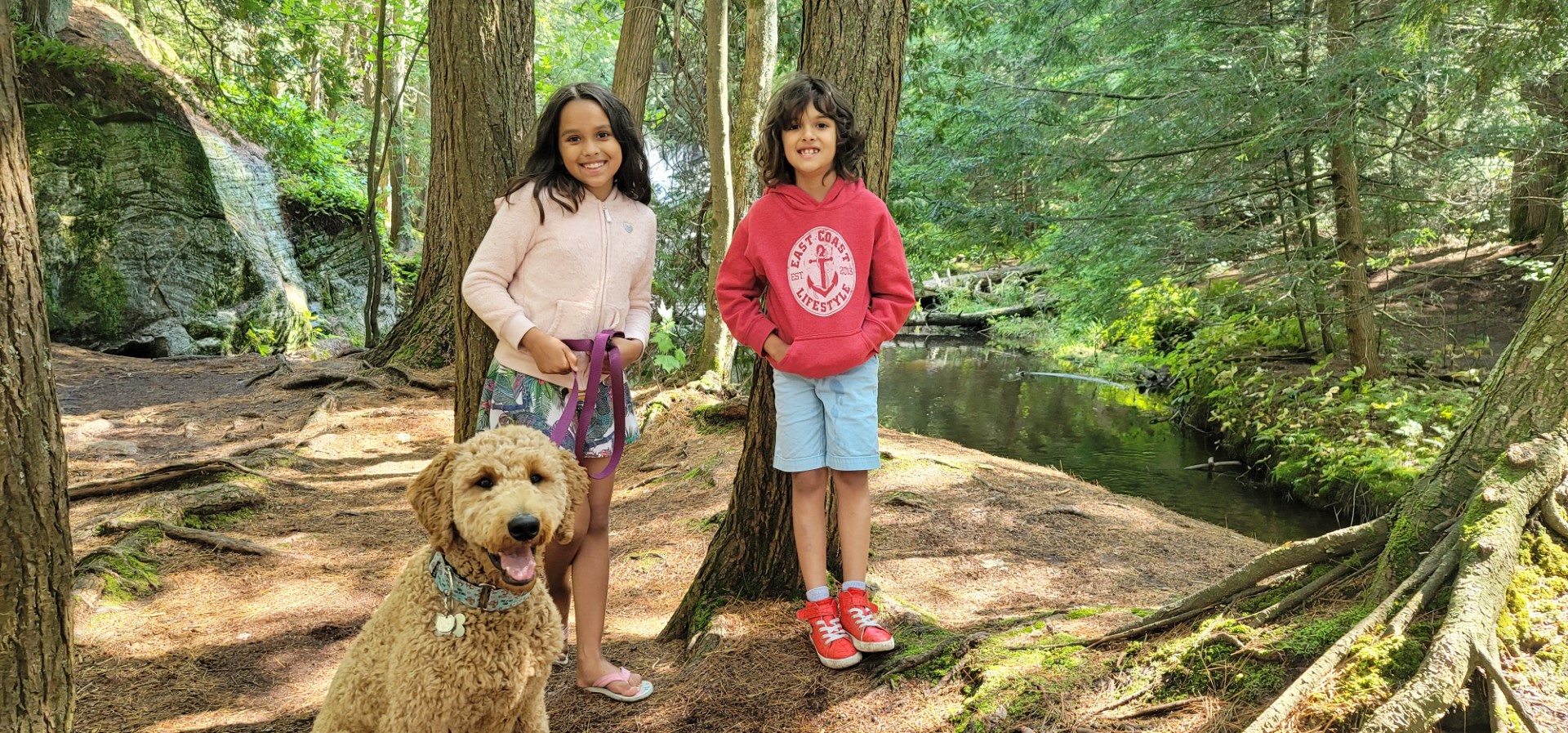 We continued into the woods because we were told that the rest of the falls, Pott's Falls, Muskoka Canyon Falls, Little High Falls and a 5th man-made fall, were further down. We made it to one and then the kids started whining so we decided to head back to the car which was only 5 minutes away. As you can see… we didn't make it that far into this hike, but we got some pretty nice pictures huh? I mean.. memories. We made memories.
Bracebridge Festivals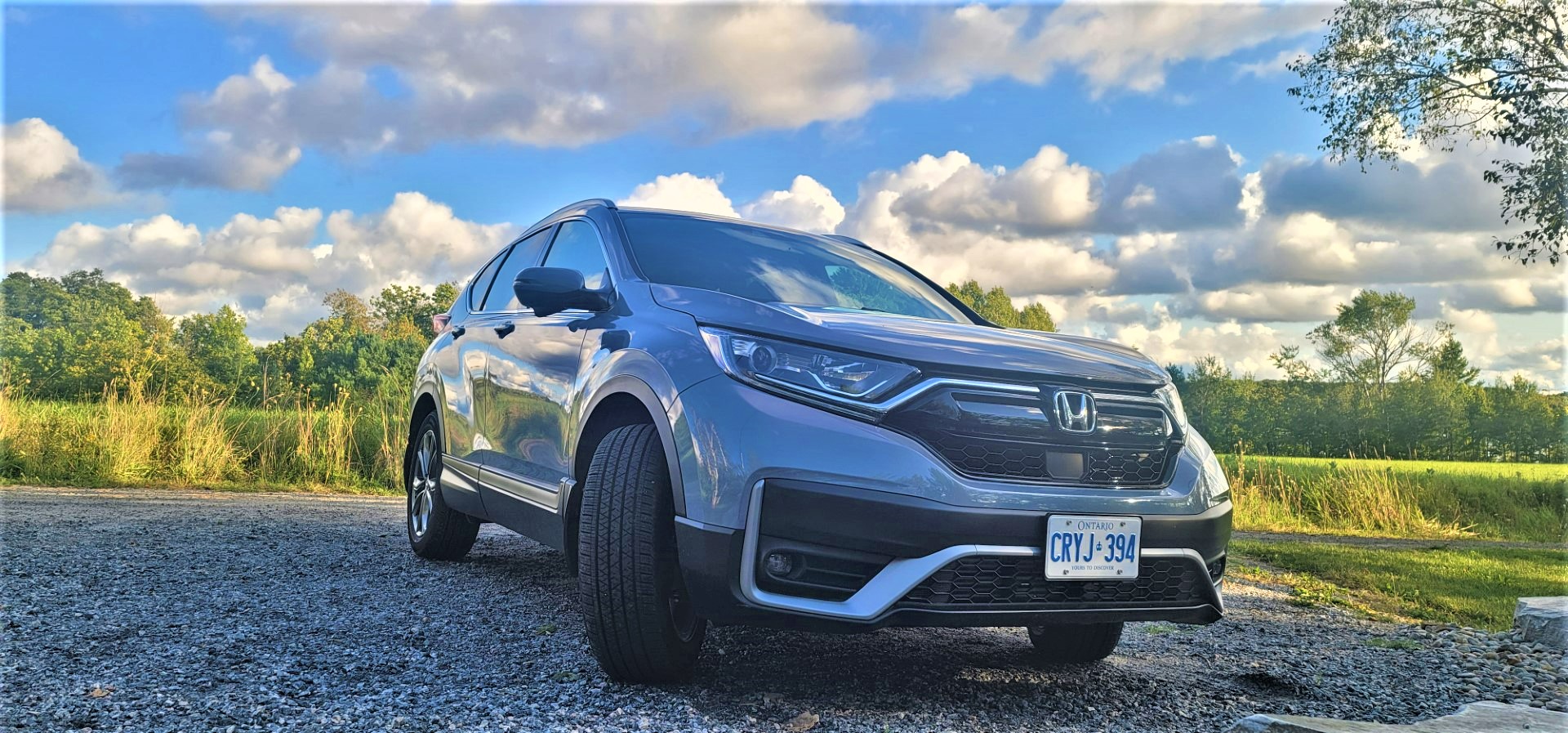 Bracebridge hosts festivals all year long and some of them sound SUPER fun. They host everything from a Macaroni festival to a Fire & Ice festival so timing your Ontario road trip around one of the festivals is a great ideas! The Bala cranberry festival is what I've got my sights on but I don't know if we'll be able to make that happen anytime soon as it seems to fall around the kids' birthdays.
Looking for more fall trip ideas? How about the cheese trail?
Best Eats in Bracebridge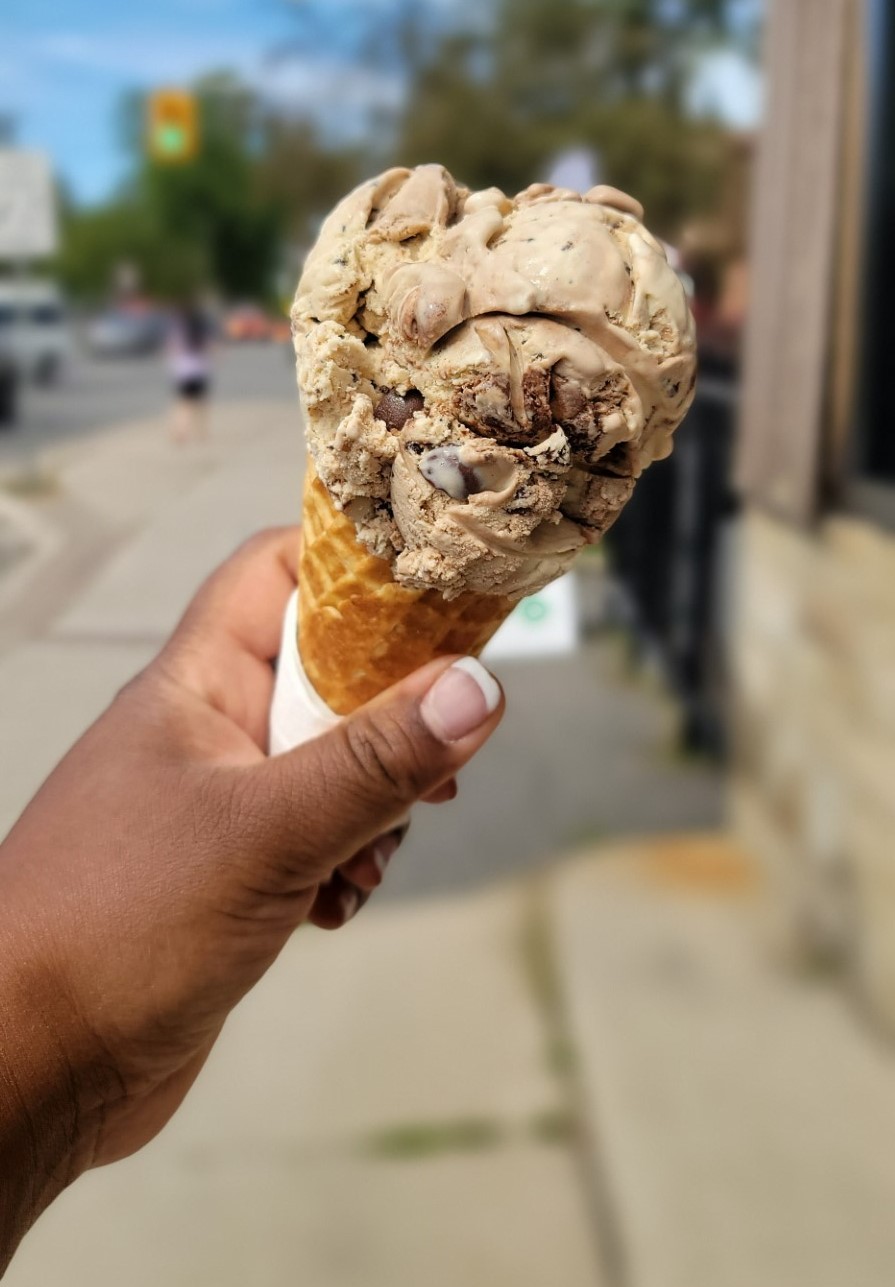 We actually ended up cooking at our cottage each day so I didn't really dine out at any of the local restaurants. Shocking, I know! We did grab treats from a few bakeries and my friend also recommended some spots to us so here's some ideas to get you started.
Grab ice cream from Momma Bears. Get your butter tarts from The Bakery in Gravenhurst or Erika's Bakery. Mexican eats from El Pueblito. Indian food from Marigold Unique Flavours. Pub vibes at Old Station.
Oh and don't forget to swing by Muskoka Brewery and Katalyst Brewery because they're both fab and most of the brews we consumed that weekend was from one of these spots!
Best Time to Visit Bracebridge, Ontario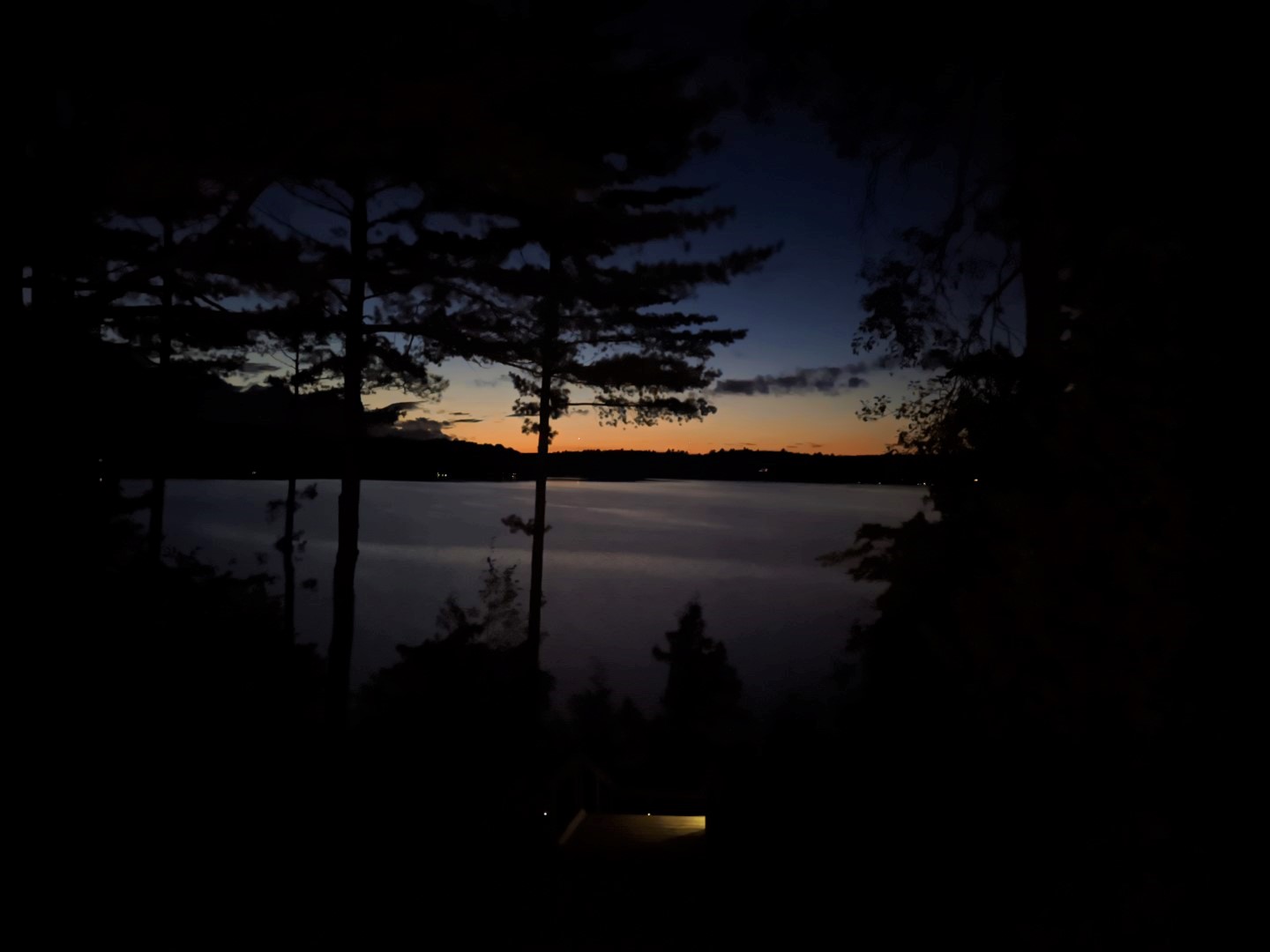 With many festivals and beautiful outdoor spots to enjoy, Bracebridge is an Ontario road trip destination all year long. In the summer you get to enjoy their beaches, in the winter you get to embrace the winter sports here. However, Bracebridge is also one of the best places to experience the beauty of Ontario's fall colors. Algonquin Park is an hour away and Arrowhead Provincial Park is only 20 minutes away, both are great during all seasons.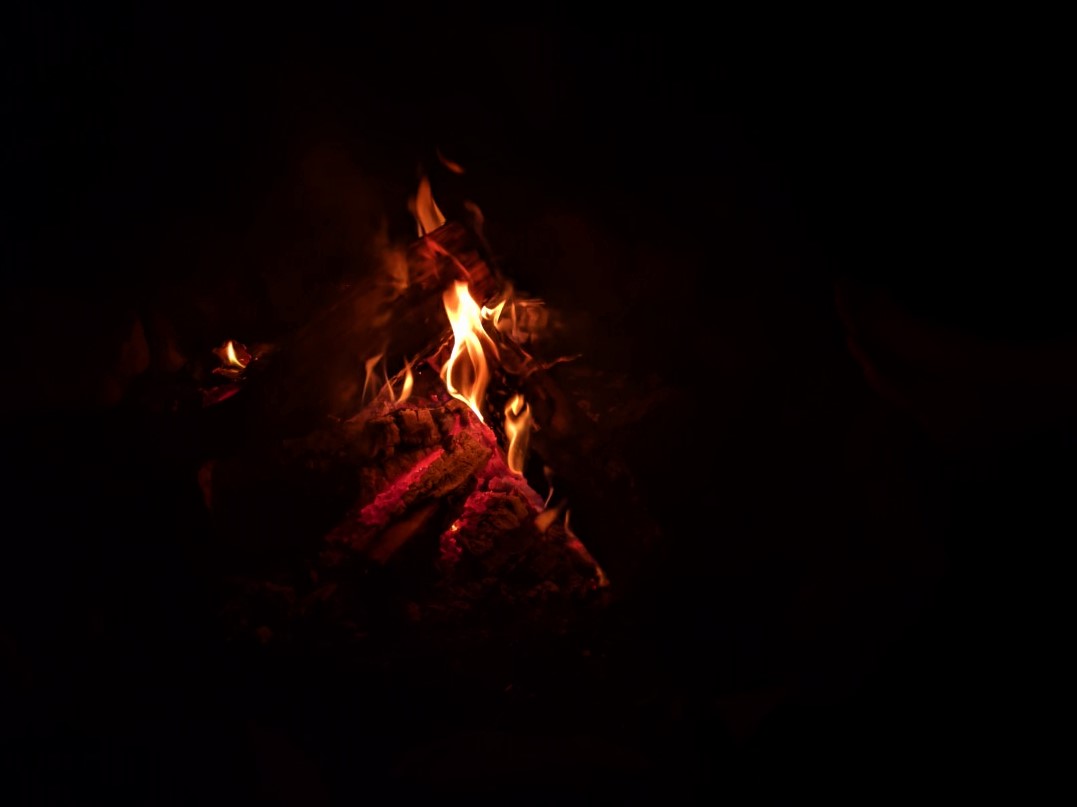 Cuddled up in your favourite Hoodie, toasting marshmallows and being cozy in front of a fire – sounds pretty awesome, no matter the season!
For a full list of Bracebridge beaches, parks and trails check out this website. Holly's Cottage had water access so we didn't feel the need to visit the beaches but on my next visit, I will have to explore. This was the perfect way for us to end summer before the kids started in-person learning!