Where ever you look you hear about someone or another being forced to live a gluten free lifestyle. I thought it sounded absolutely horrible! Eessh! The thought of living without the many many MANY delicious items containing gluten! *shudder*   Shortly after my delivery last year I noticed that my forearm and legs were itchy. Very itchy. I dismissed it as dry skin and had read about dry skin being common towards the latter stages of pregnancy and soon after delivery. Fast forward a year and I'm still itchy and had not done much to solve the issue. Instead I itched away. *scratch*scratch*
Finally a month ago I decided to visit a naturopath. After much research I chose the Yorkville Naturopath only because I found their prices to be reasonable and they had an appointment available sooner than most. While I can't comment on how Dr. Ruchi compares to other Naturopaths (never having been to one before), I can say that she took her time to explain things to me and it was great that she was just starting her third trimester (with her second child). For some reason this gave me the impression that she was able to relate to me and would help solve all my itchyness. As expected she gave me a list of things to do: food journal, drops (UNDA), liver test, thyroid test…. It took me a month after meeting her to really buckle down and give most things she assigned a go.
I just completed a week of experimenting with a gluten free lifestyle ( I'm still waiting for my allergy test, which will be in January!!) because I itched till I bled a few too many times. Surprisingly, gluten free living wasn't tough at all! Bread and pasta are the toughest beasts but luckily for every gluten free band wagon jumping being there's many gluten free bread and pasta options out there that's fairly easily available at your local grocery store. More and more of us are starting to experiment with this lifestyle and are noticing a change. I for one am not itching as much, but given that gluten lurks in many items (ketchup!!!?? soy sauce!) it can be a bit tricky at times. Especially for a condiment loving fiend such as myself.
However coming up with fun dinner options aren't too tough, especially when entertaining guests. Check these gluten free recipes out !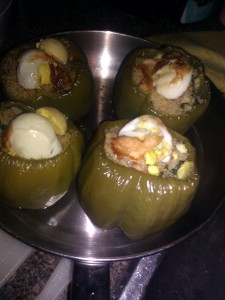 Quinoa stuffed peppers : For the first time ever I made quinoa well ! Yay me! Prep quinoa as per instructions on the packet. I used vegetable stock, tossed in a few fresh cashews and lentils with the water and once the concoction was boiling, pilled in the quinoa. Once it was nearly ready I tossed in some chopped kale and fluffed it all up. This was then carefully spooned into the cavity of a cleaned out pepper. Placing the filled peppers in a shallow pan with a bit of water and tossing it into a preheated oven (350C) for 40 minutes made the quinoa crunchy and the kale just nice. If you think the quinoa is too dry, feel free to pour in a teaspoon or two of water into the quinoa. The cashew flavour definitely dominates the quinoa but if you'd like to add a bit more flavour top it all off with  half a boiled egg (deep fry it if you can afford the calories!). The fully cooked yolk added a great creaminess to the whole dish! This was just a starter to accompany a gluten free shepherds pie (same recipe but without all the sauces!) but we were quite 'stuffed' by the end of the first course! Even the hubs who isn't a fan of quinoa loved it! SCORE!
Fixing mains aren't too difficult because most recipes we make at home do not have gluten (as long as you avoid the easy sauces and pre-mixed seasoning). Desserts on the other hand… try staying away from that cupcake and tartlet floating around the office! I had to find some good desserts for a dinner we attended recently. Both these recipes were fairly well received!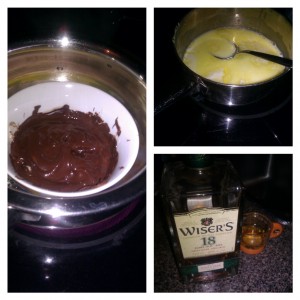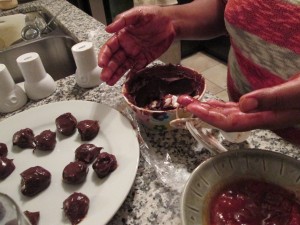 Gluten free whiskey truffles : If you're like me and don't own a double boiler, boil water in a large saucepan and lower a small bowl into the sauce pan. Toss in 8 oz of milk chocolate. In a separate pan boil half a cup of whipping cream with a tablespoon of butter and once you see the cream bubble up the sides and your chocolate becomea nice and silky, slowly stir in the cream to the chocolate. Now comes the fun part! Add in three tablespoons (for an intense flavour) of Wiser's whisky. There's many liquors you could play with here, Kahlua, Malibu, Carolans, Chivas… the list is endless. Stir everything and remove the bowl away from the saucepan. Let it cool to room temperature for an hour and then refrigerate for four hours. Next comes the messy part, using a melon baller or those small measuring spoons, scoop out the chocolate and roll to the desired shape. I chose to dust the chocolates with coffee and cinnamon but you could dust with icing sugar or cocoa powder as well. Voila! These 20 truffles refrigerate well and is sure to add a punch to any dinner party!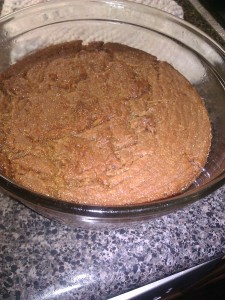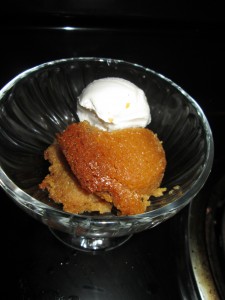 Spicy pudding : Boil a cup and a half of whole milk and slowly whisk in a mixture of  1/3 of a cup of cornmeal and half a cup of milk. Stir in 1/4 cup of corn syrup, 1/4 cup of sugar, 2 tablespoons of butter, 1/2 teaspoon of salt, a teaspoon each of ginger, vanilla and cinnamon. Mix well and transfer to a buttered oven proof dish. Place this dish in a larger pan and fill the pan with water up to the half way point of the pudding dish. Cover with foil and bake at 375C for an hour. Remove the foil cover and bake for another two hours. Let it cool a bit and serve ( I used an ice cream scoop!) warm with a dollop of whipped cream! Given the corn base, the pudding was slightly dense but full of flavour and the cold whip cream was the perfect addition to the warm pudding flavours. Next time I might add in some Lamb's Spiced Rum to give it a kick!
Got any recipes to share?