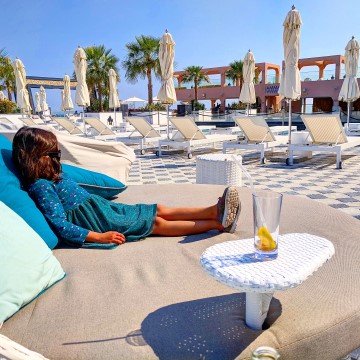 Located an hour and a half from Dubai is the luxurious family friendly Fairmont Fujairah Beach Resort. As you know, we've been huge fans of the Fairmont properties and so it should come as no surprise that I was very eager to experience this newly opened property in Fujairah. Fujairah is one of the 7 Emirates in the United Arab Emirates and used to be a place my family would holiday at when I was growing up in Dubai. Fujairah is known for its rugged mountains and beach vibes and our stay at the Fairmont Fujairah was filled with pretty sunsets, exquisite cuisine and friendly service. We had compared UBER prices to get us to Fujairah from Dubai and the private transfer offered through the hotel was actually the best deal, so something to keep in mind if you do not have your own transportation to get to Fujairah from Dubai.
Disclosure : We were hosted as guests of the Fairmont Fujairah Beach Resort but, as always, opinions are TOTALLY ours
During our recent visit to Dubai we decided to escape the hustle and bustle by spending two nights at a luxury hotel in Fujairah that not only had plenty of activities for the kids, but for the parents as well. Nestled amongst the hidden valleys of the majestic Al Hajar Mountains, the Fairmont Fujairah Beach Resort lies along the coastal region of Dibba, the second largest town in the emirate of Fujairah. Fujairah is home to forts, museums and mosques but many families flock here for the water sports and chance to be immersed in nature. With the Dibba mountains as our backdrop we decided to spend our time on the resort, exploring everything on offer for families looking for some rest and relaxation.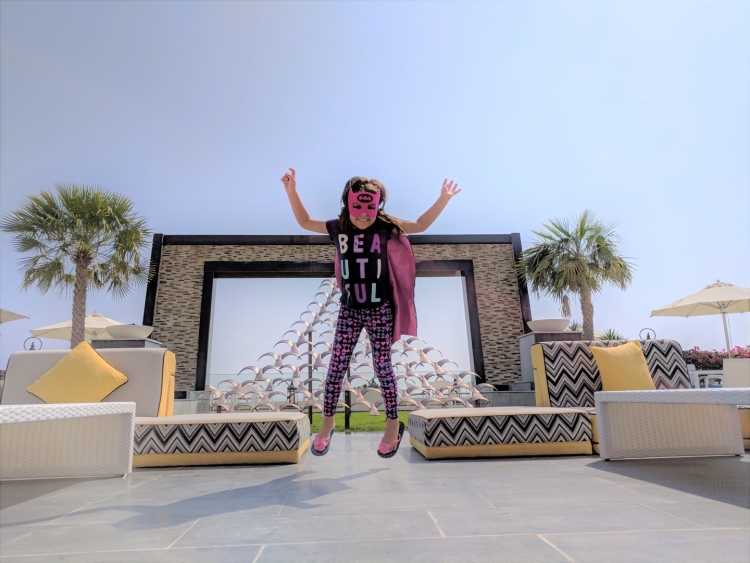 Rooms and Suites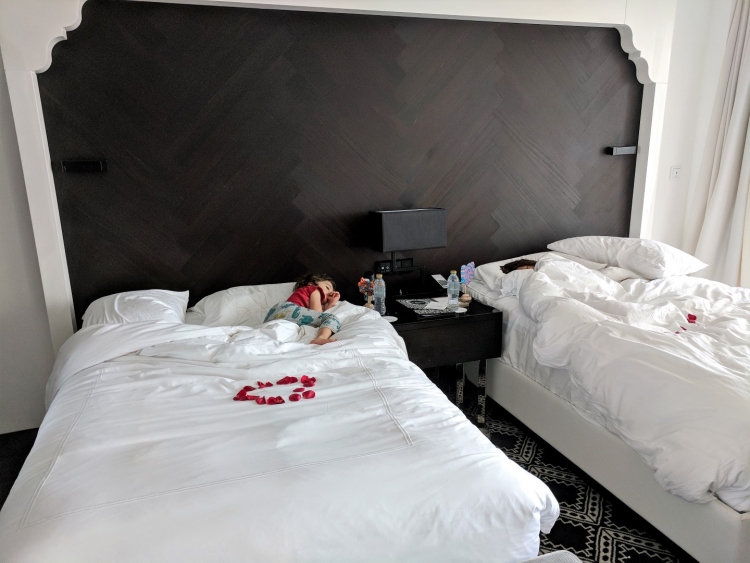 As soon as I stepped into the lobby of the Fairmont Fujairah I was welcomed by the friendliest guys who charmed the kids too. I mean, did you see the video above where they carried Baby Boy? Baby Boy who is VERY distrusting of strangers? The next thing that caught my eye was the gorgeous lobby design. A showcase of art pieces from around the globe, the resort's interior design is a juxtaposition of modern bohemian meets art-deco infused with arabesque touches. These design elements continued into our rooms and I took so many pictures because it embodied my vision for our downtown Toronto condo. As Fujairah's only art inspired resort this luxury sanctuary comprises 180 guest rooms and suites, all of which features either marina or ocean views. We were in a family suite which meant that Chris and I had our own space and the kids had theirs. We even had a veranda where I was able to catch the sunrise and get some work done one morning. Ah… the peaceful bliss of birds chirping, the sun peeking out and the aromas of a cup of coffee. Perfect way to channel that writing mojo!
Kids Club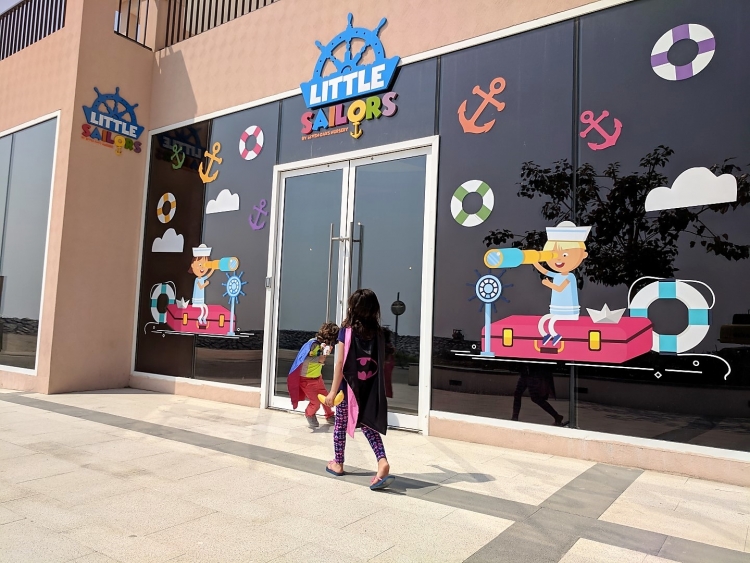 For families the Little Sailors Kids Club is the biggest draw. Why? Simply because you can drop kids aged 4 and above and they will be happy to hang out with the lovely staff. During our stay a lovely lady, Preety, took care of the kids and ensured that they were entertained with arts and crafts. However, she must have worked quite the sweat as she allowed the kids to go rock climbing numerous times during our stay! While the club space was relatively small it was packed with a game station, a crafts area, rock climbing wall, a mini slide for toddlers and space for parents to sit and relax at. The kids kept asking to go back to this Kids Club in Fujairah and even their last few minutes on the resort were spent here!
Restaurants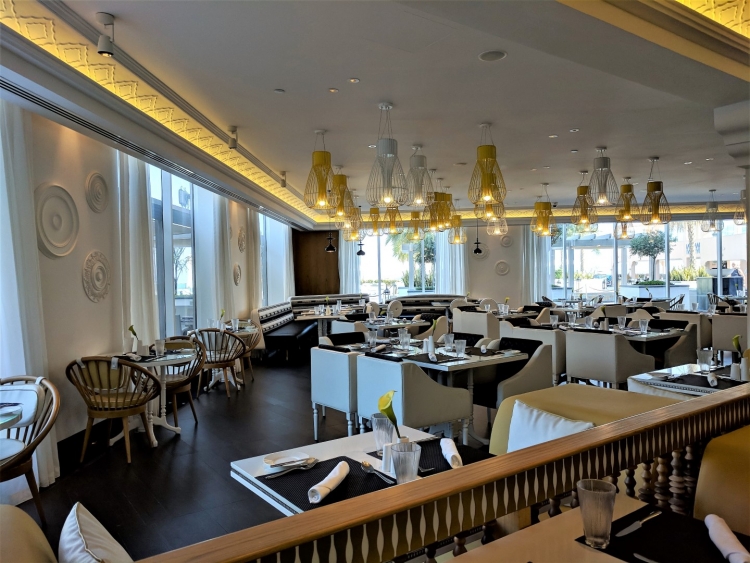 The Fairmont Fujairah Beach Resort is home to three restaurants ( in addition to the cafe, tea lounge and poolside lounge), each offering a unique set of flavours and even the kids menu was different! I loved seeing the kids' favourites (burgers, pizzas, fries) mixed in with healthy local fare (rice, noddles, fresh seafood). We spotted high chairs and change tables throughout the resort and yes, the kids received crayons at each restaurant because the kids menu had activities on them! If you're looking for some stellar cocktails be sure to try the ones on offer throughout the resort.
Canvas, the resort's all-day-dining restaurant is an interactive experience with live cooking stations. We loved sitting on the patio for our buffet style breakfasts and even enjoyed doing so for dinner one night. I loved that the buffet had your basic staples but also brought in local elements and yes, the hummus was damn good! Please ensure you try the Umm Ali here because it really is one of the best ones I've ever had!
Lava Dining, Lava Beach Club's 'MediterrAsian' restaurant offered a fantastic selection for our lunch one afternoon. The miso cod is what dreams are made of! This is the spot you want to go to if you're looking for a bite between your hangs at the pool or beach.
My favourite restaurant was the Copper Lobster with its nod to the emirate's seafaring history.  The nautical-themed restaurant also features a London-style gastro bar and a market-style display room but we opted to sit outside and enjoy the Dibba Bay mussels and Lobster pot with Harra Lobster while being serenaded by live music. At one point the kids wanted to go for a walk so the staff kept an eye on them as they played with flowers from a nearby garden.
Spa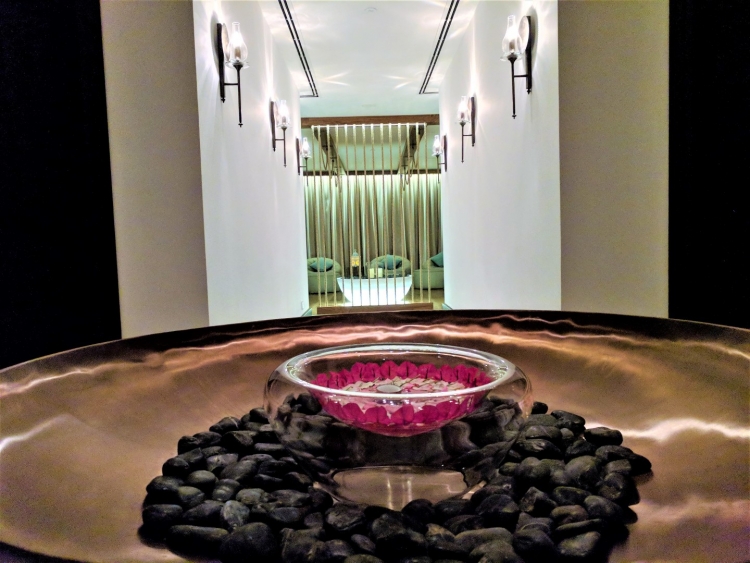 While the kids were at the Kids Club I snuck out for a massage at the Willow Stream Spa. This Fujairah Spa is inspired by nature's elements of earth, air, fire, water and wood, experience the healing goodness of nature with signature treatments designed for living with abundant energy. I opted for a massage but next time I definitely intend to experience their Fujairah Hammam! Ensure you give yourself plenty of time to relax in the steam room, the sauna and the magical shower room where you can experience the feels of an amazon rainstorm (including lightning effects!) or relaxing waterfall.
Pools and Beach Club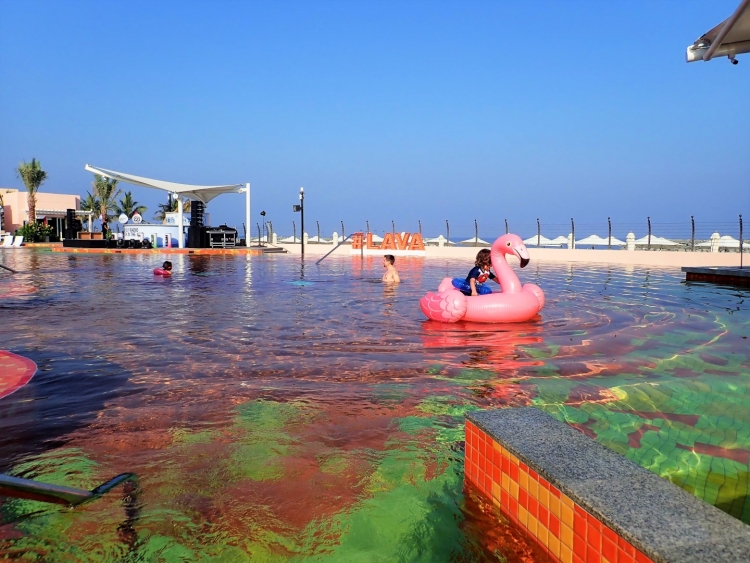 If you have a mermaid in your family, they'll love the pools at this 5 star Fujairah resort. The main pool (Lava)  is family friendly during the day but by evening turns into an adults only space with the lounge area transforming into a party. This Lava pool has six 'in pool' Jacuzzis and a sunken pool bar where the kids enjoyed ordering drinks at. We also spotted the pool below with a gorgeous design and it was being refreshed during our visit but I was informed that it was an adults only pool.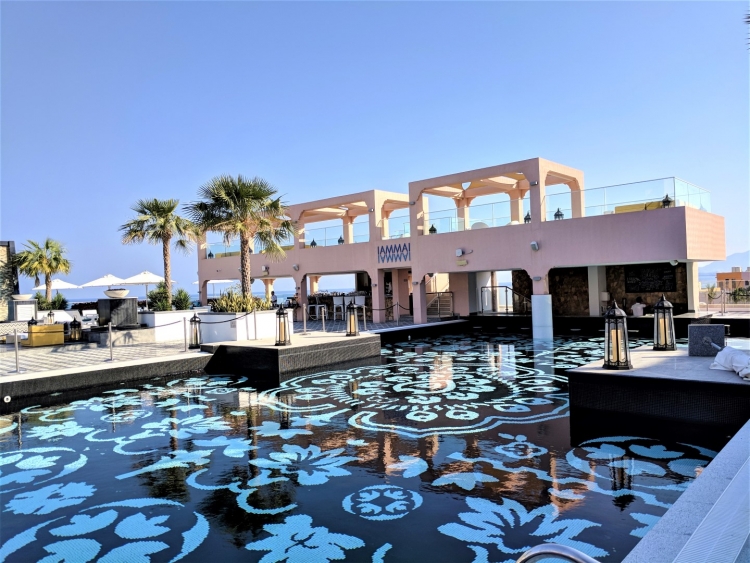 Slightly away from this main area is the children's pool with a splash pad. Our two loved hanging out in the shallow waters and spraying each other with the water pumps.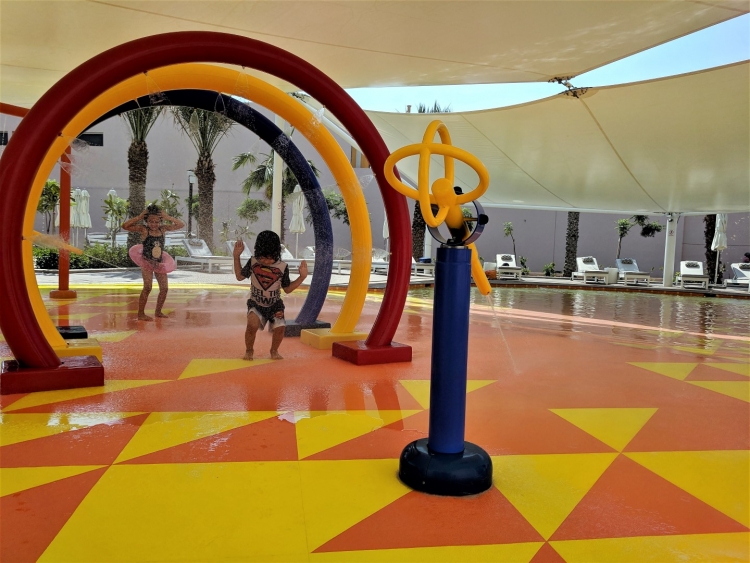 There were plenty of lounge chairs (some even IN the main pool!) and there were life guards at both pools. The pool definitely had a very Ibiza-esque vibe to it all and was enjoyed by families and party lovers alike.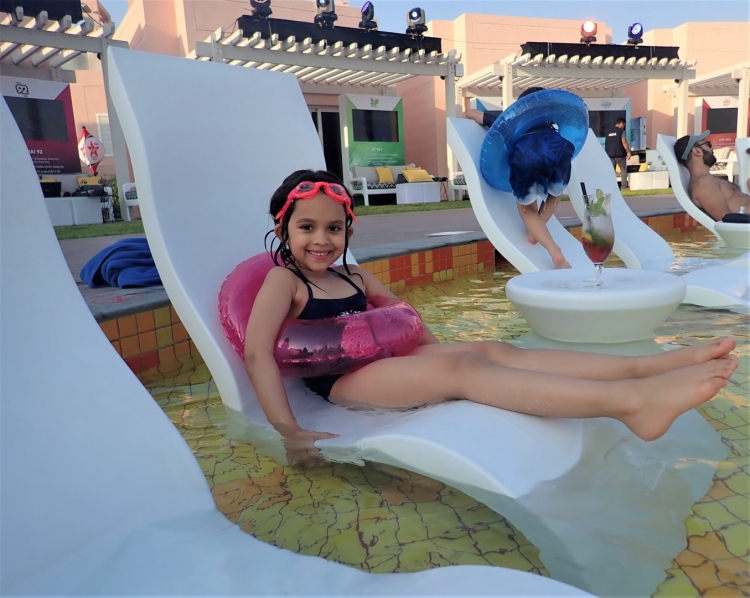 In addition to the pools there is also a private beach area with sunbeds and umbrellas. During our early March visit the resort was not crowded at all and we had the space mostly to ourselves. That is, until the Jellyfish made an appearance!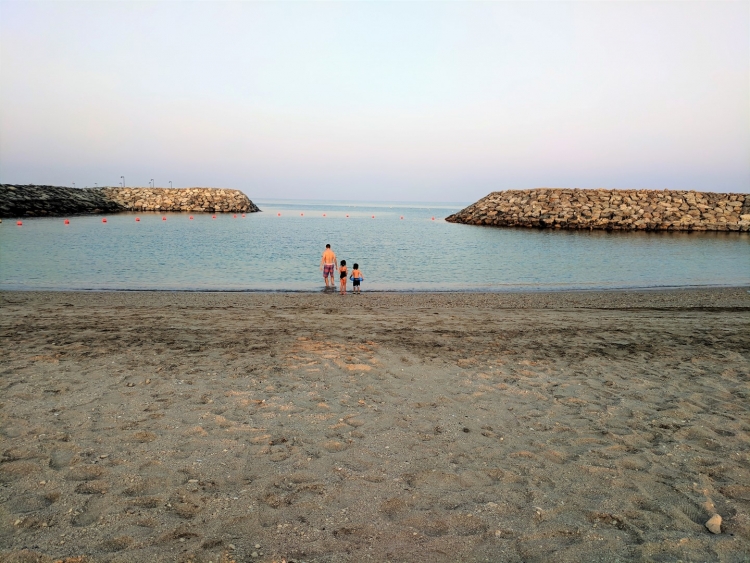 Even if you're not staying on the resort you can get gain access to the pools and beach by getting a day pass. Something I'd definitely do if I were ever passing through the city of Fujairah.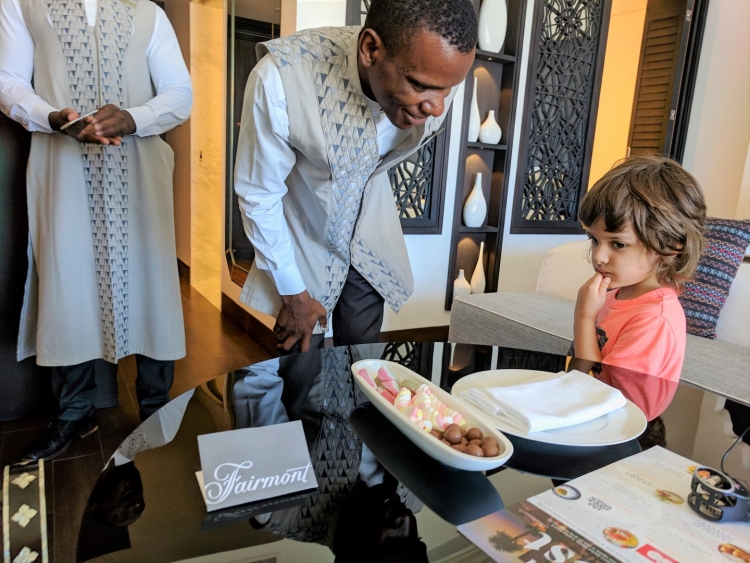 We have such fond memories of our stay at the Fairmont Fujairah Beach Resort and have already heard positive feedback from friends who have visited since. The luxurious setting, the exquisite culinary delights and the elegant decor were only out shined by the generous and authentic hospitality of the resort's staff. Everyone was always eager to help and would often volunteer to do things we didn't even think of asking!