The world seemed slightly safer when we decided to travel to Dubai and back again last month. However, I do remember how nervous we were to embark on our first international flight since the start of the pandemic and how I was in disbelief that we'd actually get to see my grandmother and aunt. December 2021 seems like so long ago now that we're back in lockdown here in Ontario but I want to share our flight experiences and the travel restrictions for Dubai. The city of Dubai has managed to entertain travellers and locals throughout these times and I'm so glad we (2 adults and 2 kids) were able to take the trip when we did. It was much needed for our souls and mental well-being, that's for sure!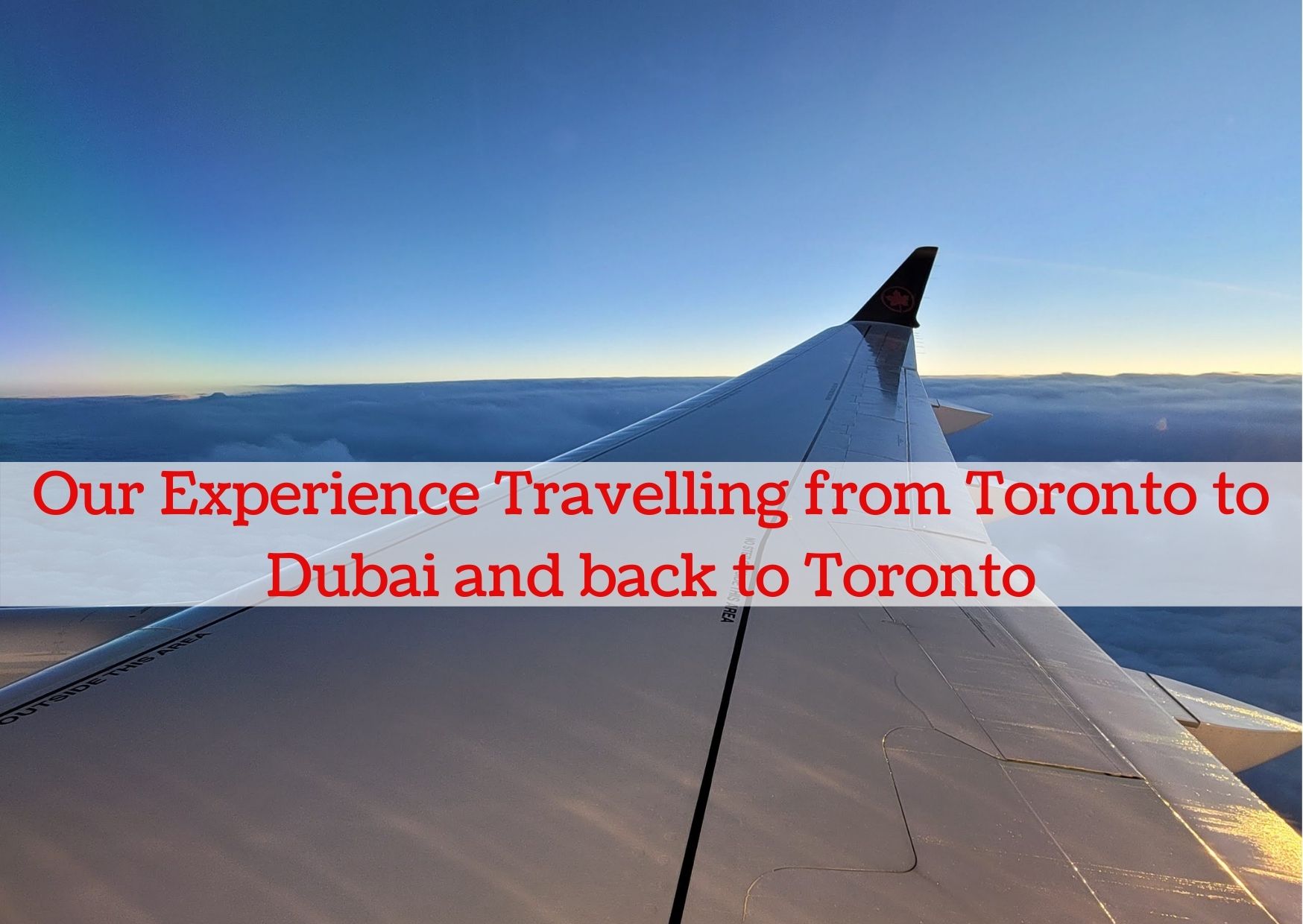 As always I will preface this by saying that things are still changing daily so check the links I share for the latest information.
COVID Travel Rules for Dubai (from Canada)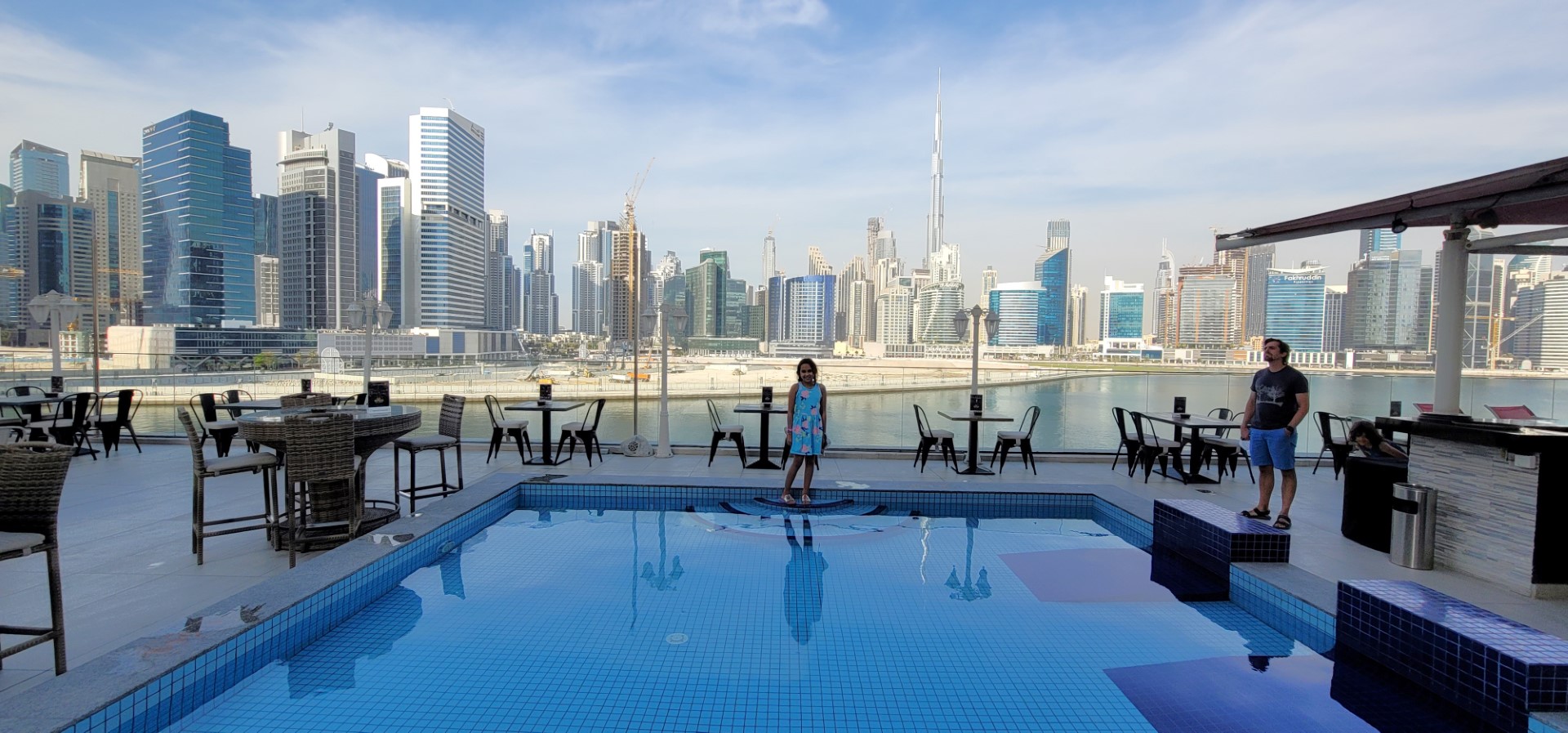 To travel to Dubai from Canada we had to show an RT PCR test done 72 hours prior to departure, proof of travel insurance (not COVID insurance) and proof of vaccination for the adults (proof of vaccination was a Canadian rule as Dubai does allow unvaccinated travellers). We were also asked to download the Alhosn app (I never used it during our 10 day trip even though I had it installed). Please note that unvaccinated travellers arriving from Canada must take an RT-PCR test on arrival in Dubai, quarantine for 10 days and take another PCR test on day 9 from arrival. Vaccinated travellers from Canada are exempt from quarantine and additional testing. Please note that there are certain countries that are on a no-transit list so be mindful when you're choosing your layovers.
The above listed documents were checked by the Air Canada staff prior to our departure and then again in Heathrow by Emirates staff. Upon arrival in Dubai no one asked for anything but I suspect everything was already in the system because at the Toronto check-in there was an issue with my long name and the patient Air Canada staff handled it by calling the Dubai Immigration contacts to figure this out. This implies that they were trying to put me into the system when they encountered the hiccup.
I will also mention that I pre-registered all of us on the ICA Smart Services website prior to our departure. Did I NEED to do this? I have no idea but our landing immigration process was smooth and since the process only took me 10 minutes to do, I would advise those travelling to do the same.
We found the Emirates website to have the most comprehensive guidelines when it comes to Dubai travel requirements. Yes, I was checking their site twice a day leading up to our flight. I will also mention that Air Canada and Emirates both have helpful social media teams and they were quick to answer my many questions via Twitter (direct message).
COVID Test for Travel
There are so many different types of tests out there and the requirements and costs for these change frequently. What we did is still in place so I'll share our experience.
COVID Testing Experience | Travel to Dubai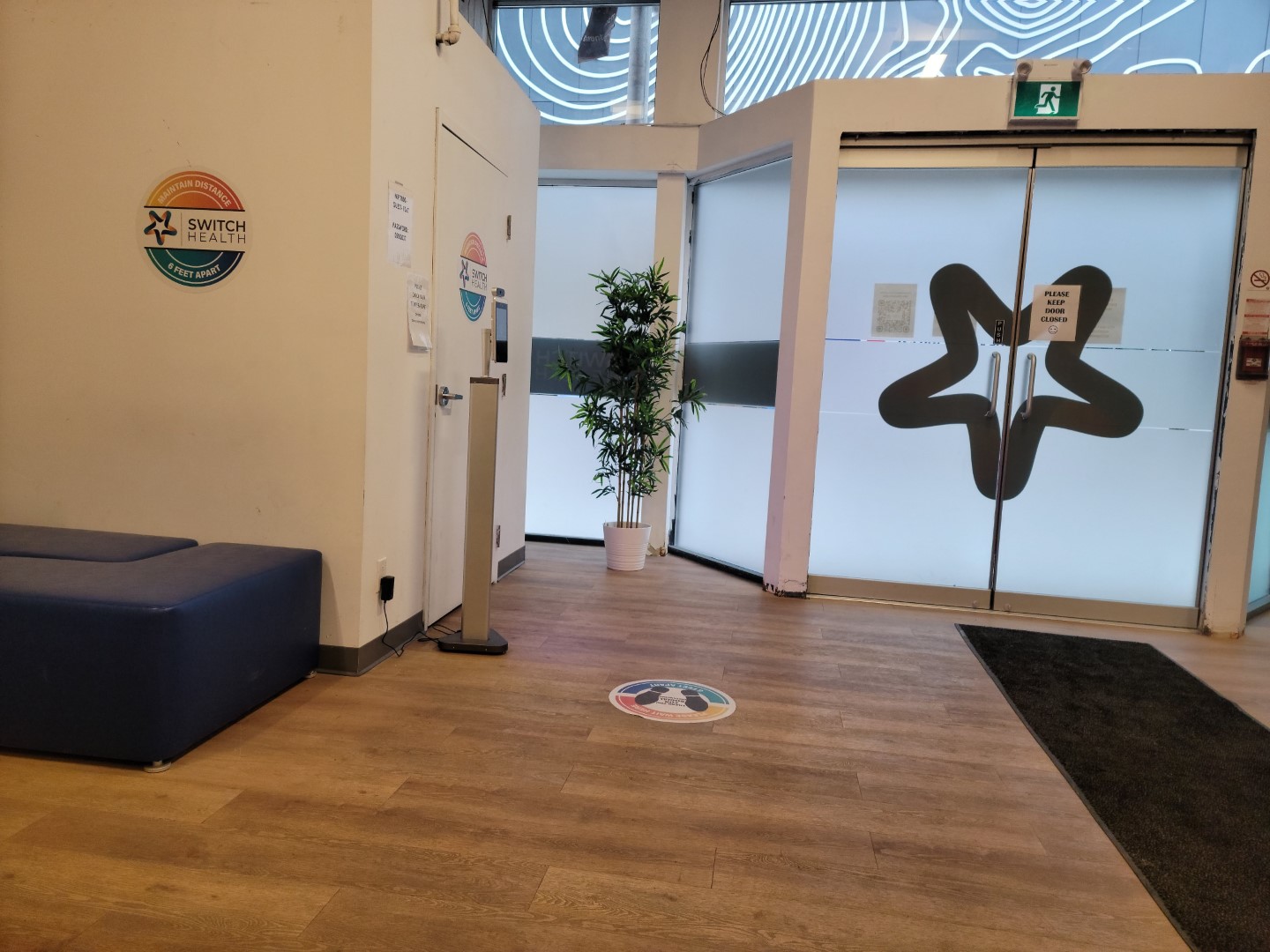 In order to travel to Dubai from Canada and enter the city, you need a PCR test done within 72 hours of your scheduled departure flight. We knew that Switch Health was a reputable Air Canada and Emirates approved provider so we opted to be tested at their downtown Toronto clinic. In Toronto most pharmacies also offer PCR testing but using the airline discount code we got Switch Health coupons that made it only $120 each for Chris and myself. Kids under 12 do not need to be tested to travel to Dubai.
They also had a clinic that was within walking distance to our downtown Toronto condo. Most of the other spots that were slightly cheaper would involve a pricey Uber ride. Upon arrival at the Peter Street clinic, our passport details were confirmed (we had to bring our passports in with us) and we were taken to individual areas to be tested. It was speedy and we were out within 10 minutes (please note that we had appointments prior to arriving at the clinic). Super efficient and a very sterile environment which is an important factor these days.
We did our test around noon and Chris had his results by 9 p.m. that very day. I on the other hand had to worry and didn't get it until 1 p.m the following day…. we left home at 2 p.m. for our flight! It was absolutely my fault as they do say it takes up to 24 hours (it's up to 48 hours now at most testing locations). The document we received had all the details including type and time of test, lab location, passport number, full name and date of birth. All things that are important for our travels.
RT LAMP COVID Test Experience when Flying to Toronto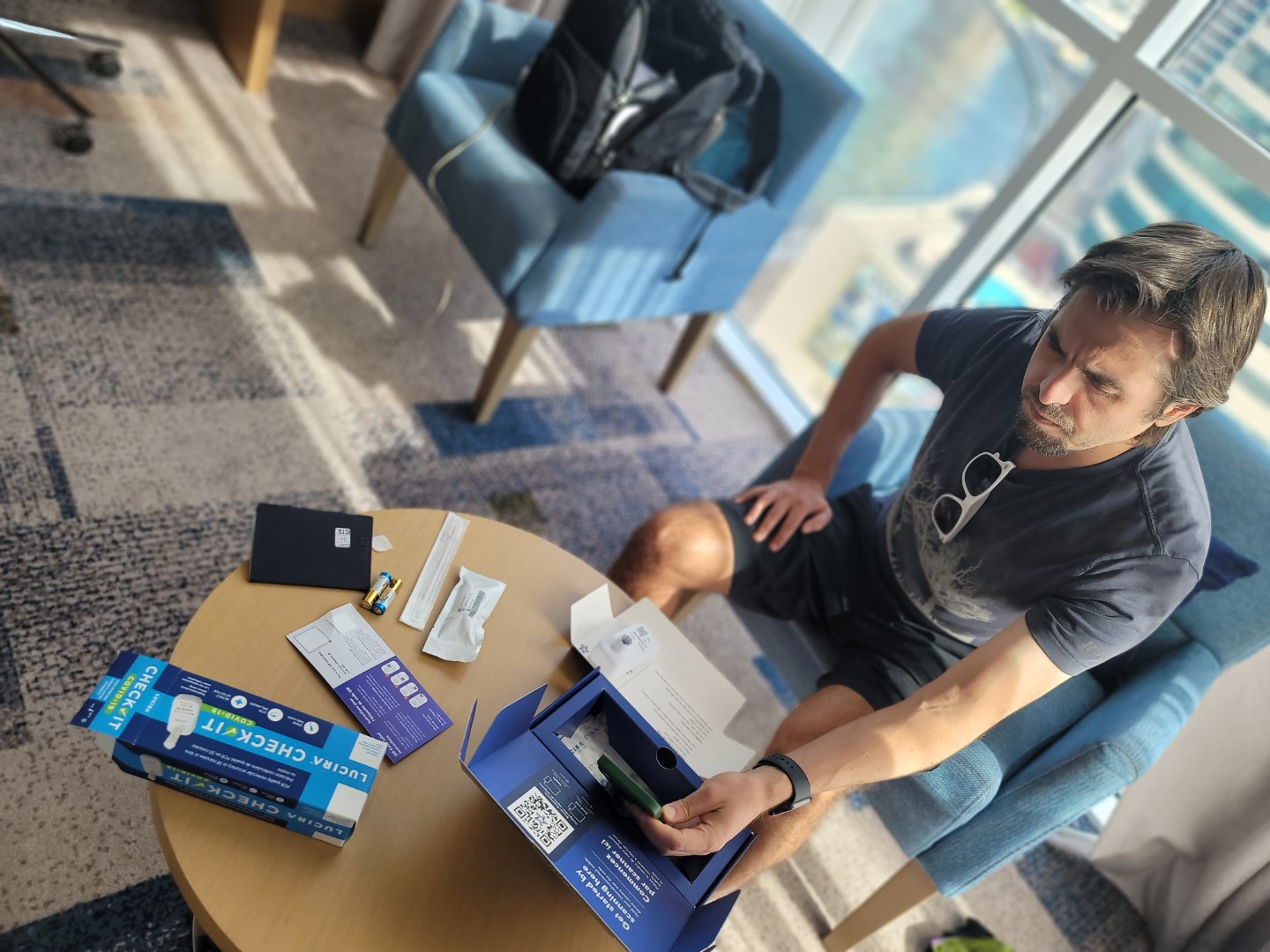 Canada allows all molecular tests so we took the Switch Health RT Lamp kits with us. These can be purchased and they will be shipped to your home in Canada so that you can travel with them. Yes they are a bit bulky and takes up a fair amount of space (you could easily repack them safely if you wanted) but the convenience of doing the test in your accommodations with a virtual nurse is a huge time saver. Also, results are available within 45 minutes! Convenient right? We were informed that one could get PCR tests in Dubai for about 50 Dhs (CAD 17-ish) however, when I did speak with friends they told me that it was upwards of $74 in reality and there was a backlog during the holidays with delays up to 3 days, so keep this in mind.
Once you open your kit there is a QR code that can be scanned, it'll take you through all the steps and I highly recommend doing all family members in one go because you'll have the same telehealth professional and things will proceed much quicker. We ended up doing it three different times and learned our lesson! Create your Switch Health account, add the kids and any other members as dependents and then start the testing process is my advice. Once you're ready you put in a virtual request to meet with a telehealth professional and they guide you through the testing (on one occasion we waited 15 minutes to be connected with someone but the other two times it was within minutes).
Ensure you have a good internet connection! We struggled a bit and then switched to our mobile data thanks to our Rogers Roam like Home plan. The telehealth person watches you open the various packages and talks you through the process. In the end they bid you farewell and within 30 minutes you will see your RT Lamp Kit provide your result. At this time you will also get a text (or email-based on preference) reminding you to upload a picture of your device into your account. Shortly after you will receive a very official looking document containing the results of your test. With these kits you already know the answer without having to wait for the official document and that's a huge relief.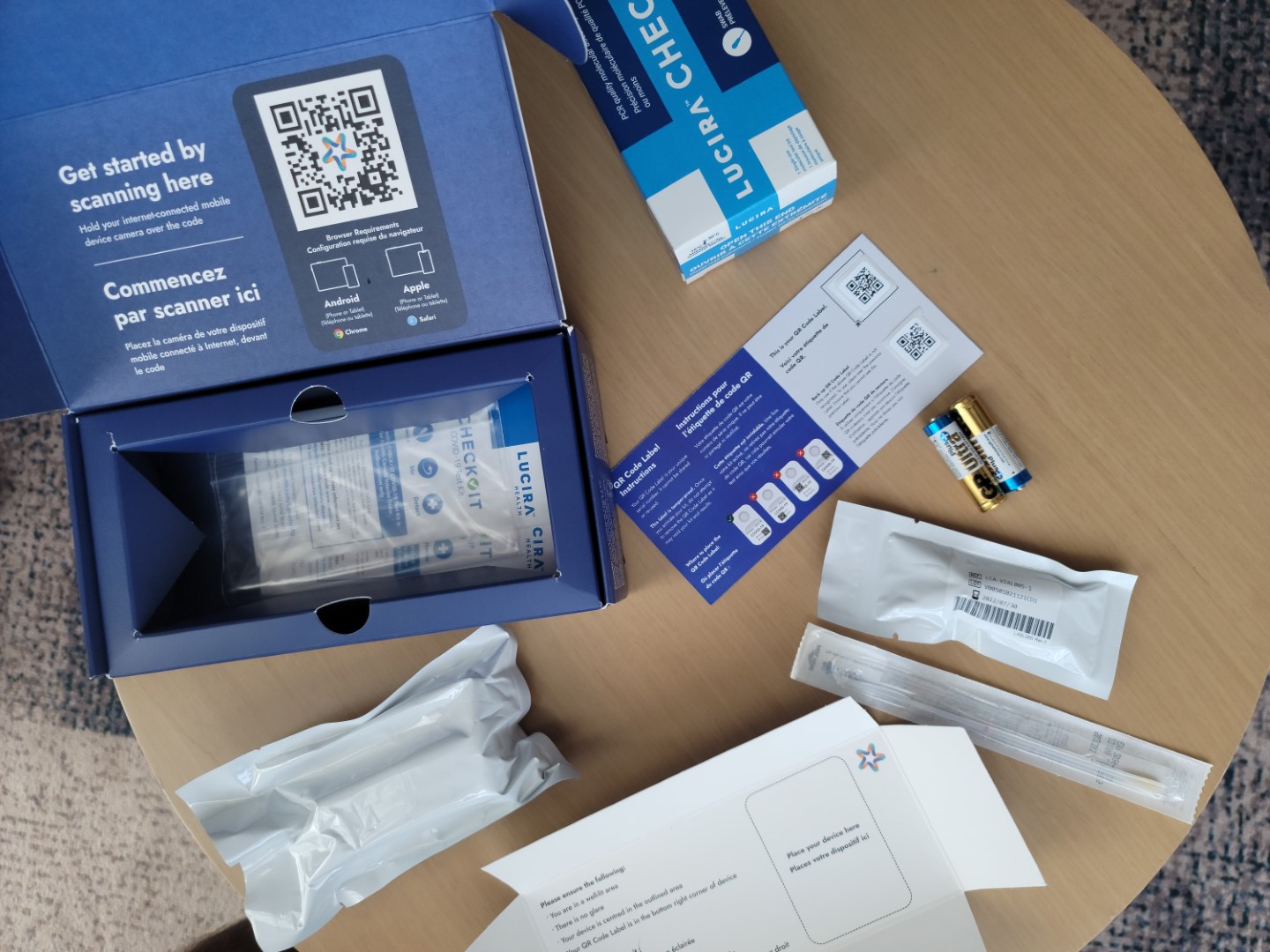 Ideally you should order your kits at least a week before travel but given the recent delays with everything, I say sooner the better. Not like they expire quickly! If Switch Health is sold out, I have heard good experiences with Meenta ones as well.
View this post on Instagram
Toronto to Dubai Flights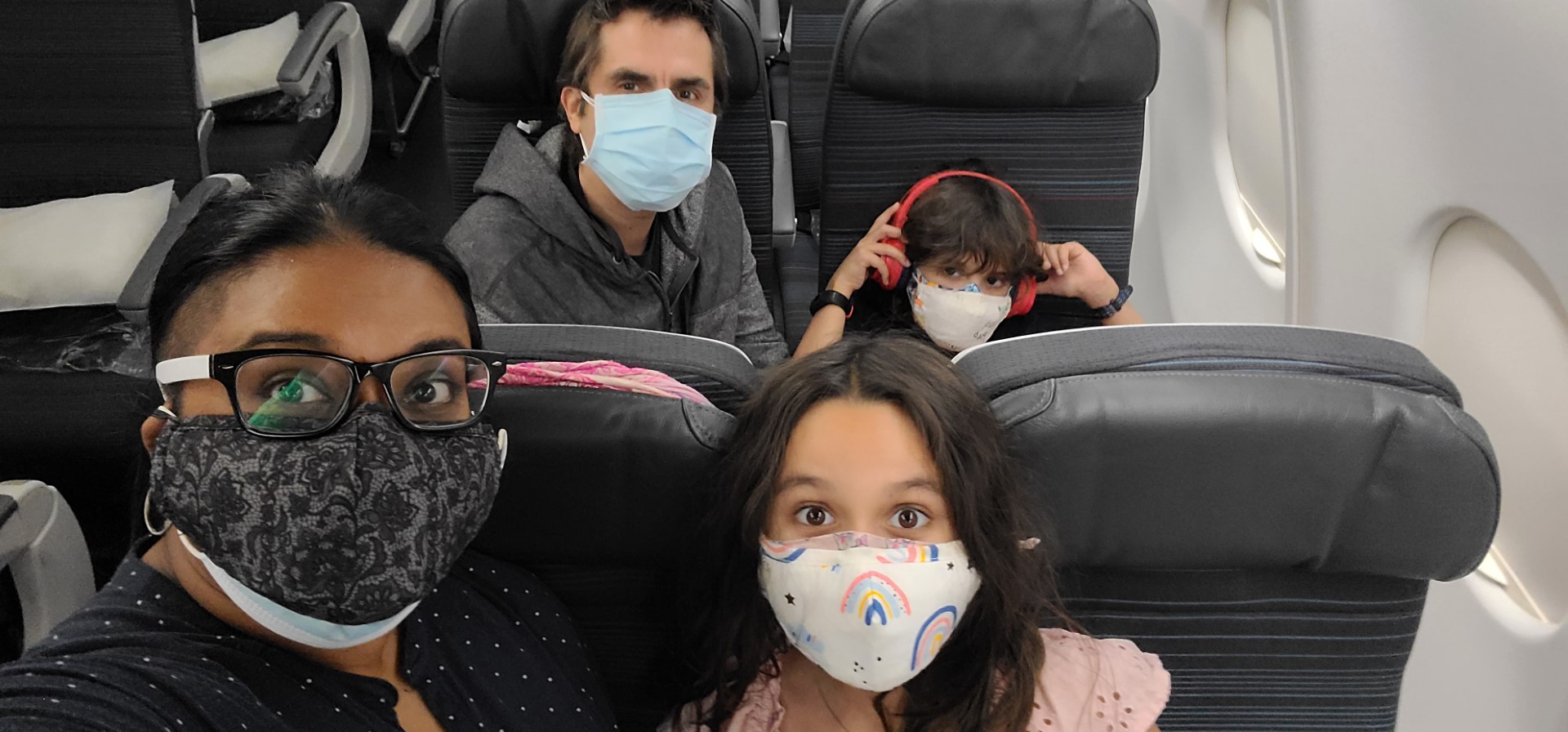 We booked our tickets with Air Canada knowing that if things were to cancel, we'd at least be able to use the credit for local trips (unlike the American Airline credit from our March 2020 Texas trip that's about to expire!). The flight was a code share one with Emirates taking us from Heathrow to Dubai.
Air Canada flight from Toronto to Dubai
Our 7.5 hour Air Canada flight from Toronto to Heathrow was fairly smooth. Cabin crew were great at reminding everyone to keep their masks on and they passed around mask and sanitizer packs when we sat down. Announcements were made to ensure that everyone stayed masked when cabin crew were near your row at meal times…and most people heeded the requests. We were being extra careful and waited until those around us had finished eating before we shoveled the food into our mouths. Overall the flight was uneventful in the best way possible. The kids watched their screens and I snuck in a movie in-between a snooze session. Next thing we knew, we were in Heathrow for our layover!
Emirates flight from Heathrow to Dubai
Our flight was a bit delayed so we had about 2 hours for our layover versus the 3 hours. Luckily it was sufficient time to switch between terminals (there were train and busses to shuttle everyone around) and we even swung by duty free quickly. Emirates staff checked everything again before boarding the flight.
Having grown up in Dubai (and my mom worked for the airline way back when), I was a huge fan of Emirates and as always, they greeted the kids with smiling faces and the cutest backpack. Akira and Apollo loved the handheld remote controls for the entertainment system and their kids meals. Unfortunately for us, our cabin comprised of passengers flying from London to Dubai for the F 1 Championship. The groups were jovial and in party mode. Most of the older men refused to keep their masks on. Announcements were made informing passengers that we could directly request people to mask up but of course that did not happen.
The kids slept for most of the 7 hour flight and we landed in Dubai around 8 p.m. on a Thursday night.
Dubai to Toronto Flight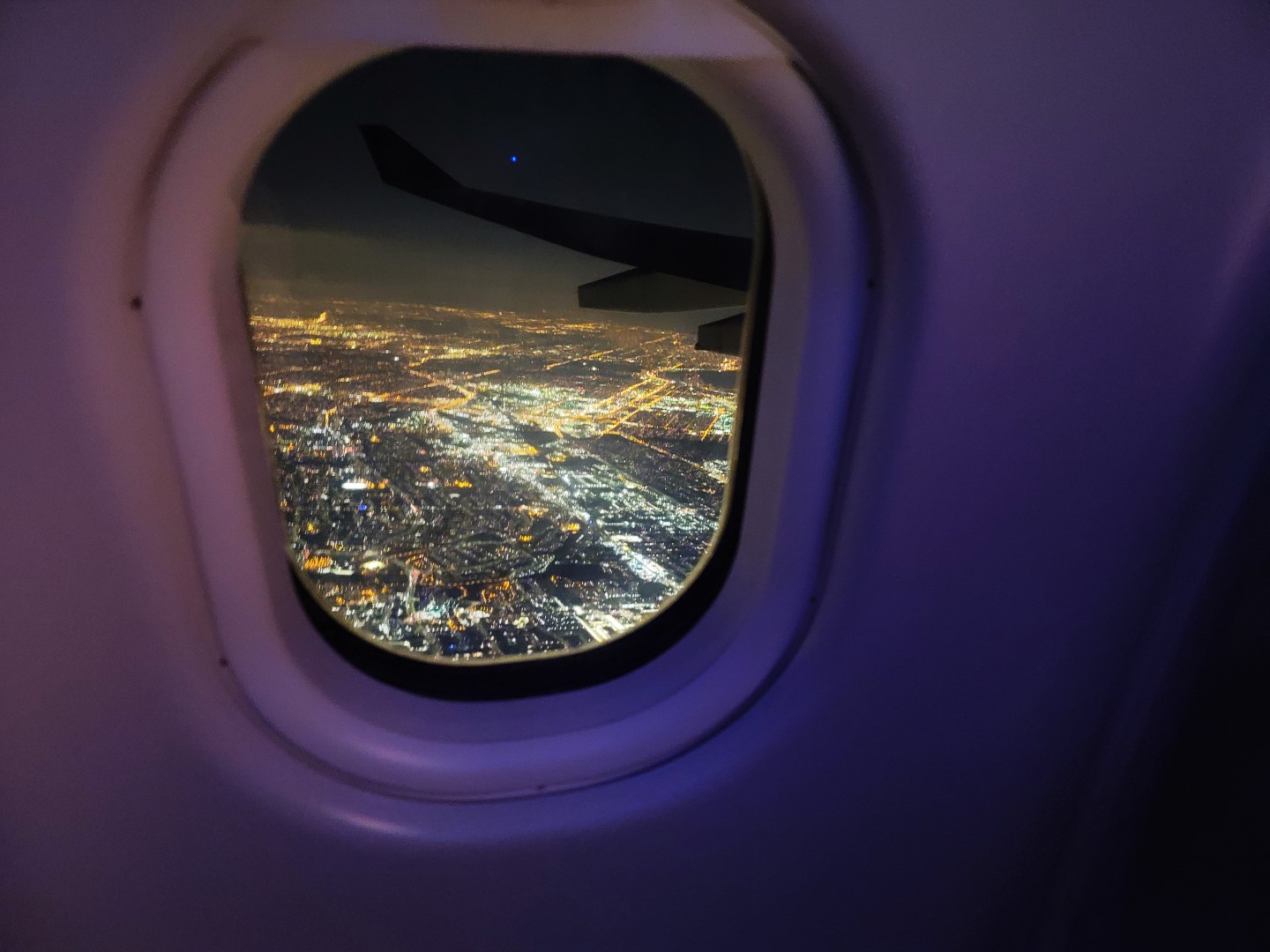 Our return flight from Dubai to Toronto was a direct one with Air Canada. Protocols were in place, everyone stayed masked for most of the 14 hour flight (minus food/drink breaks) and cabin crew were attentive and friendly.
Travel to Dubai | Airport Experience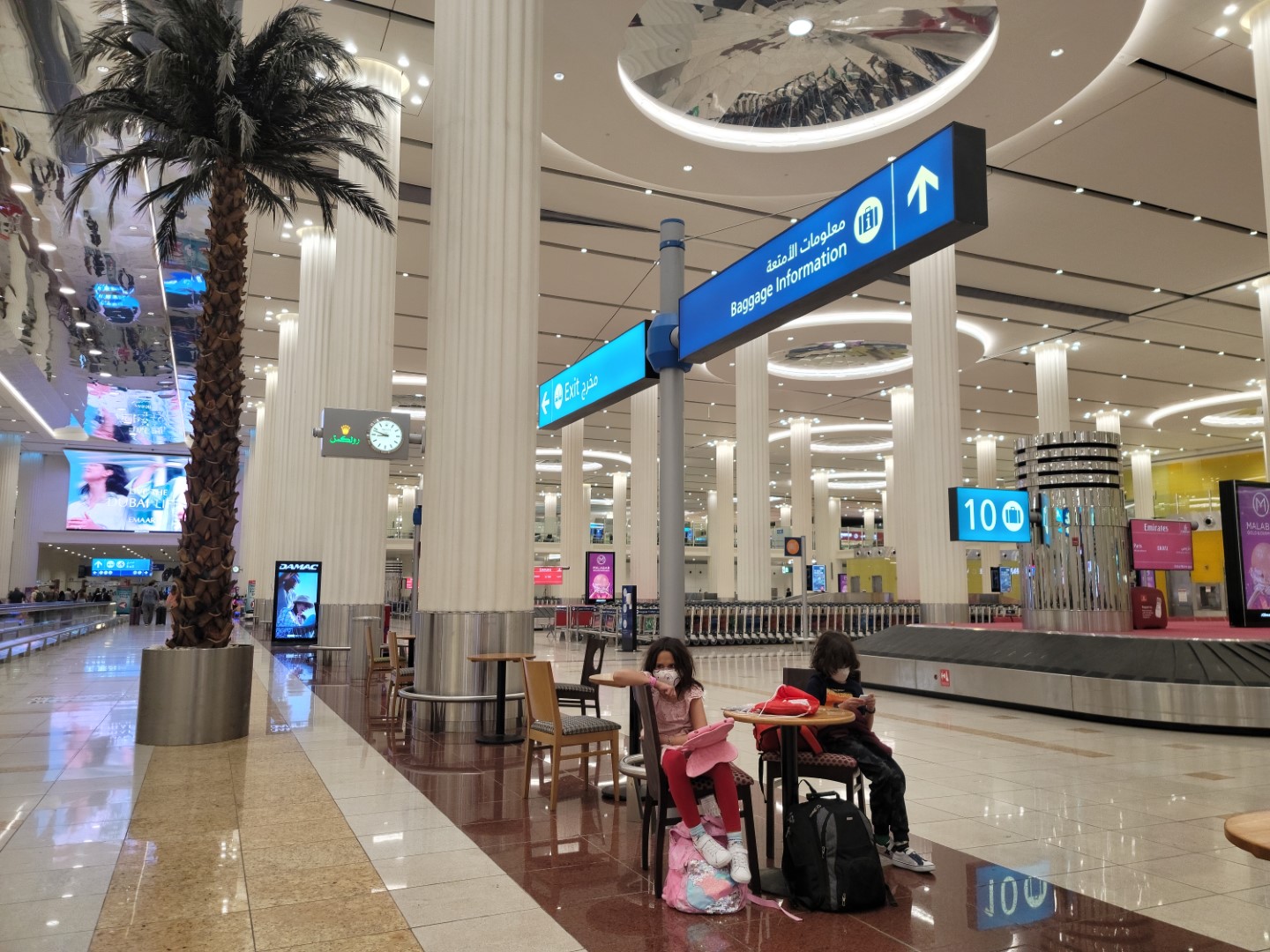 When we landed in Dubai I was pleased to see that free strollers were readily available for those in need. Ours are too old for strollers but I still notice these little details. Overall our arrival experience was smooth. We stood in line for about 20 minutes before seeing an immigration officer who stamped us through with no questions (Canadians visiting for short trips receive free visas on arrival). They had also dropped a Du phone chip with 1GB data in the adult passports but we didn't end up using it as our Rogers Roam like Home plan was far more convenient. It took us about 20 minutes to clear through the baggage area where we waited for our luggage before proceeding to the Duty Free. We are huge fans of the Dubai Duty Free and loaded up on alcoholic beverages as there were quite a few deals to be had if you're a spirit lover. Wine is still on the expensive side here. We had family picking us up but if you're looking for taxis and other modes of transportation (Uber etc), it's all available.
For our return journey we arrived at the airport 2.5 hours early and had plenty of time to spare as the entire check-in process was so smooth. We had our negative RT Lamp tests printed along with our proof of vaccination, e declaration app (this is not mandatory but could save some time on arrival in Pearson) and the ArriveCan app. Everything was checked and we had plenty of time to roam around Duty Free and for Chris to enjoy some coffee before our midnight flight.
Toronto Airport Experience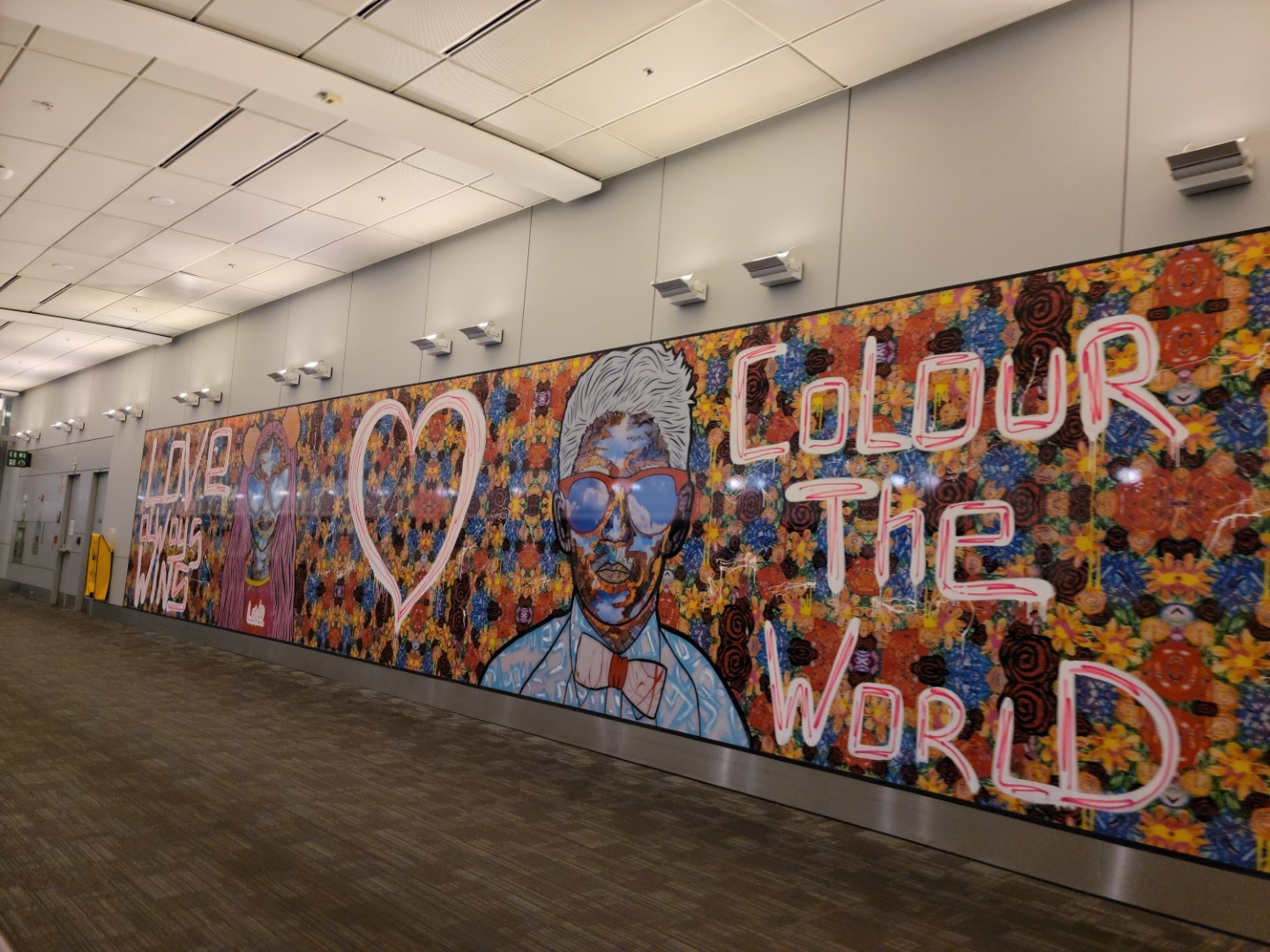 Living in Toronto we had heard plenty of horror stories and advised to get to the airport 3 to 4 hours early. We arrived 3 hours before and the self-check-in and security areas were rather empty. However my passport always has issues and we had to line up for 30 minutes to speak with an agent who then spent an hour with us to solve the issue (basically my name is too long and even though my passport has an additional sheet with my full name, we hit some bumps). Even after all that excess time, we still had an hour to spare after security. We debated on heading to the lounge but decided to hang by the gate and order some dim sum from Sur Sur Lee to tie us over until our 6:30 p.m. flight.
For our return to Canada, we landed early in the morning around 5 a.m. and luckily for us, there weren't any crazy lines. Within 40 minutes we had completed immigration (where the kids and Chris received green stickers and I was the only one with a pink one), grabbed our bags and completed my random landing PCR test (results arrived the next day at 11 a.m.). We had many friends who spent 2 to 3 hours at the airport upon landing so I was very grateful that we got out in timely fashion!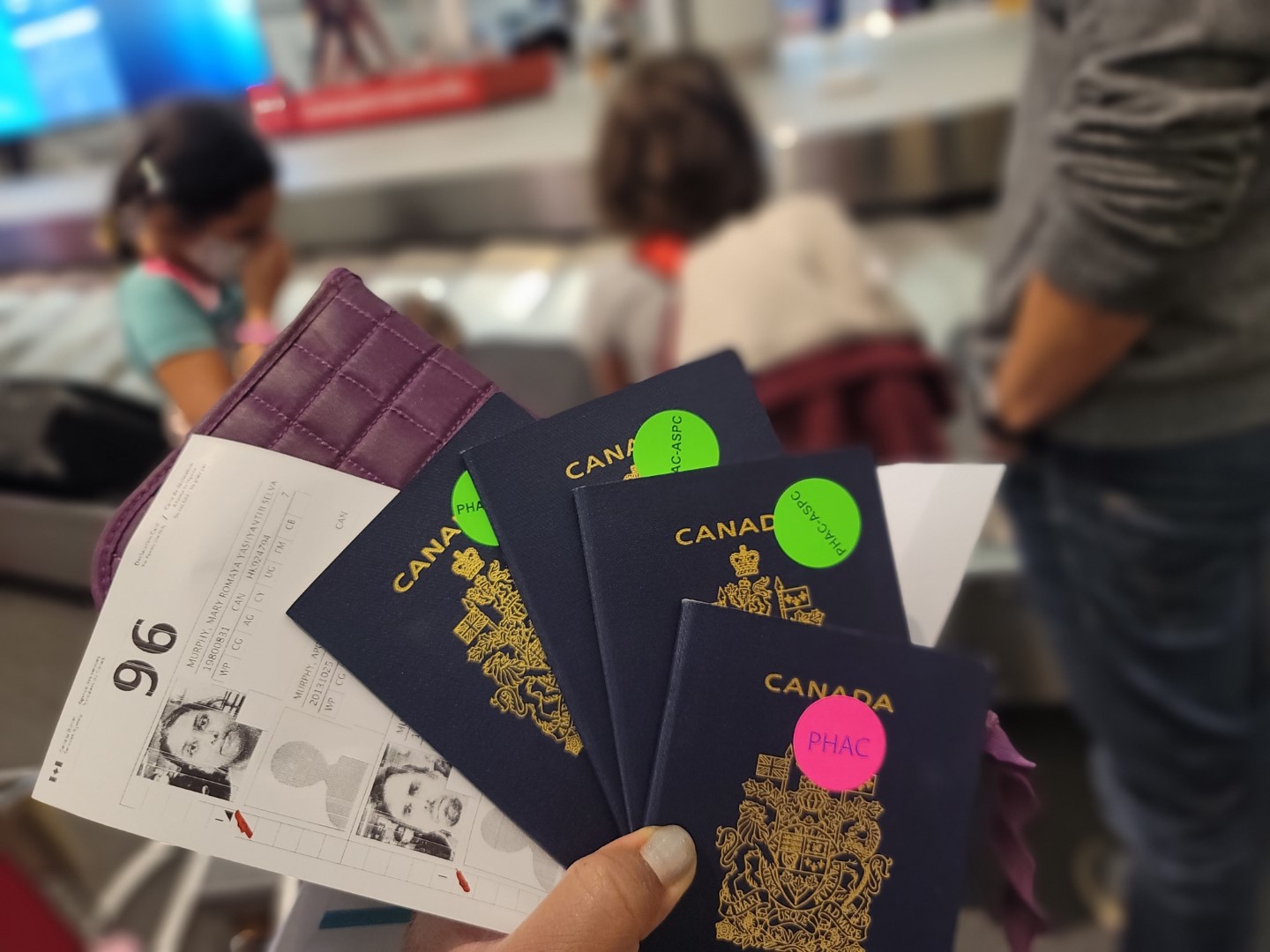 I debated on leaving Chris and the kids to pick the bags up while I went and did the test but unfortunately that isn't an option as we were all on one immigration slip and so we had to exit the area together. The testing is done in the meet and greet lounge area so you have to exit in order to access it. I already had a Switch Health account from the previous tests so I was in and out within 10 minutes.
COVID Travel Rules for Toronto (from Dubai)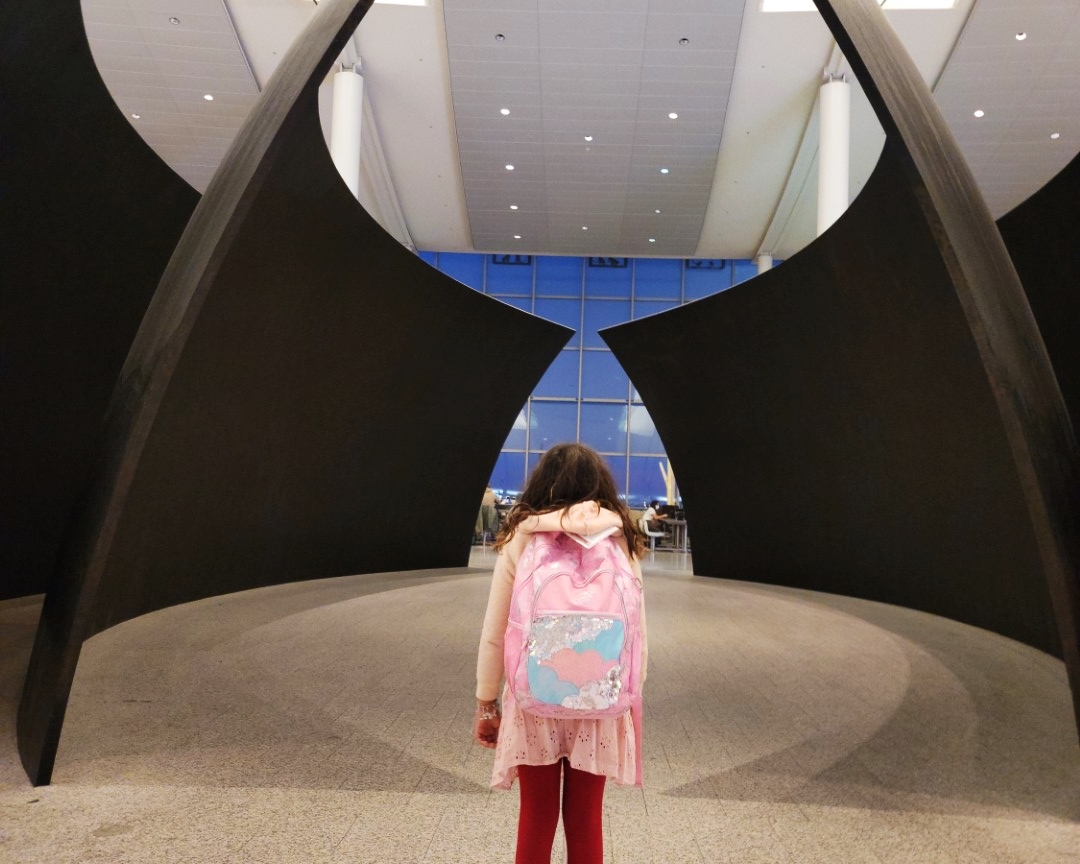 The rules have stayed the same for the most part in regards to entry into Canada via Toronto. You need proof of a negative COVID 19 Molecular test completed within 72 hours of SCHEDULED departure (so delays won't hurt you), proof of vaccination if you want to avoid quarantines and the ArriveCan app to be downloaded and filled out. Canada also allows passengers who have tested positive 14 to 180 days prior to departure to show proof and avoid taking additional tests. At the moment most passengers arriving into Pearson International Airport are being tested on arrival and must quarantine until their test results arrive.
If you want the latest information for vaccinated travellers this link will help. Unvaccinated can try this link.
There were so many details to keep in mind and rules to monitor daily. That is the price of travel these days. We used to once only have to worry about flight delays, lost bags and missed connections but now we must also worry about potential quarantines, additional cost of tests and the constant fear of being locked out of a country. Even with all those hurdles, I'm still so ready to travel and explore places that make it safe for locals and tourists to immerse themselves in the culture.