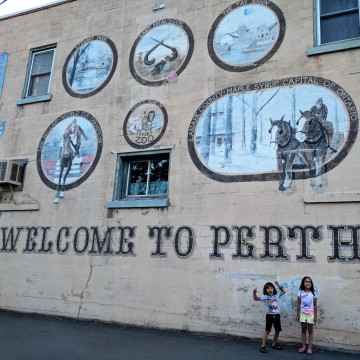 Until our recent trip to the town, I had not heard of Perth, Ontario, nor did I know that Lanark County is the Maple Syrup capital of Ontario. The town of Perth is older than Canada itself. I found that surprising! The county took its name from Lanark in Scotland and the town of Perth was established in 1816 as one of three military settlements created to protect Canada from a possible American invasion following the War of 1812.
We spent four days in Perth with our kids this summer and discovered one of Canada's charming towns. Located about a four hour drive from downtown Toronto and an hour from Ottawa, Perth is one of the most charming places we have visited in Canada. It's a road trip worthy destination for both culinary lovers and families looking for adventure.
Disclosure : We were hosted by Lanark County but, as always, opinions are TOTALLY ours! 
Where to Stay in Perth with Kids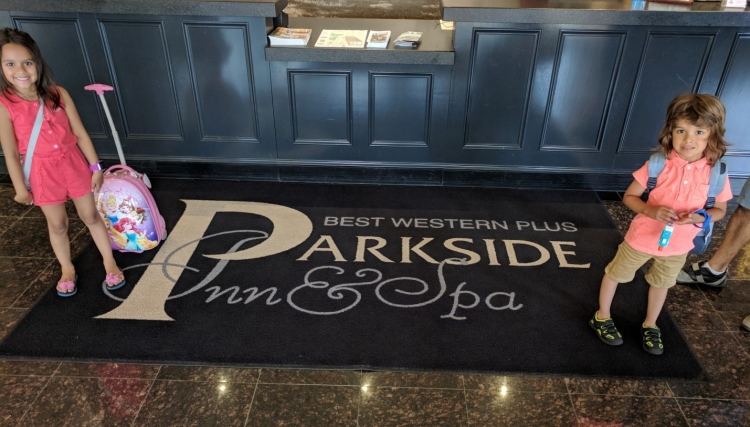 We arrived into Perth on a Monday evening and spent four nights in the town. Thanks to our central accommodations at the Best Western Plus Perth Parkside Inn, I quickly discovered the walkable downtown core. My only Best Western experience, 7 years ago, didn't impress me much, and so I have actually avoided staying with them in recent years. However, I was told that the Best Western Plus Perth Parkside Inn was one of the best options in town. Knowing that options can be pretty limited in small towns, Chris and I agreed to stay there with the kids. I'm glad we did!
Our Park View suite was the perfect way for us to spread out and unwind during the week. The staff were very friendly and went out of their way to ensure that we were having a great time. The kids had their own pull out couch in the living room while Chris and I were able to have a drink and catch up on Netflix in our room once they went to bed. We also had a kitchenette and a dining table, along with two bathrooms. Amazingly, our bathroom had a Jacuzzi that lit up. The kids ensured they took their nightly baths in that bathroom!
Breakfast at the inn was fairly basic, but it had items we could all enjoy, including gluten free for me. My only issue was that the hot food was the same every day, which meant it was egg muffins, ham and sausages each day – all good options but we could have used a little variety. The kids didn't mind though…especially since there were waffles, yogurt, cereal, milk and muffins. I grabbed an apple each morning and was able to fill the kids' bottles with juice so that was very convenient. If you're looking for a place to stay in Perth, the pool and steam room at the Best Western are reason enough!
What to do in Perth with Kids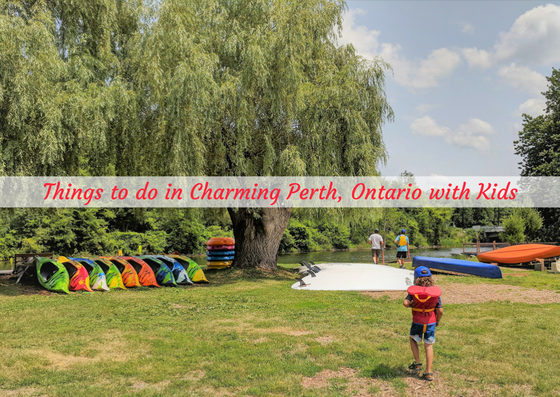 As you pull into downtown Perth, the first thing you might notice are the heritage stone buildings that date back to the 1800s. Never have I seen original buildings so well preserved and still in use for every day operations like restaurants, cafes and shops. The downtown core is compact and one can shop and roam along the Tay River as you explore Perth. Everywhere I looked, I learned something new.
Because Perth was formed well before Canada came to be, you'll be able to see some fun historical spots like the oldest continuously running clothing store in Canada! Architecture enthusiasts will enjoy reading about the heritage buildings in Perth and Lanark County. Read on and you'll learn that there is even a Sri Lankan connection! We discovered that there was much to discover for families with young kids. Below is a summary of explorations during our leisurely four days in Perth, Ontario with kids.
Conlon Farm
If you have kids, you'll want to swing by Conlon Farm for some time at the playground and splash pad. Just don't expect any animals, as the farm is no more. However, the 54 acre space is designed with young kids in mind, that's for sure. If you time your visit properly, you can also grab some ice cream at the canteen and watch local kids playing baseball and soccer. We found a small skateboard park, tennis courts, volleyball pitches and a tobogganing hill too!
Murphys Point Provincial Park
This park was the main reason we visited Lanark County this summer. I was so impressed by how many different things one can do at Murphys Point Provincial Park with young kids. We're not hikers (not yet anyways), but we were able to go into a Mica mine, swim in the warm beach, watch some boat building activities and hang out at the playground during our 4 hour visit. If you'd like a full breakdown of things you can do at Murphys Point Provincial Park, click here!
Perth Outfitters
This place is a gem of a spot run by the cutest couple, Ian and Jeannie! The year round activity centre provides everything you need to enjoy a day on the water (or ice) with kids. They have a mini put course but where our kids gravitated towards was the kayaks and pedal karts. They run a summer camp on site and had life jackets for kids of all ages and the Perth Outfitters staff were able to tell us everything we needed to know so that we were able to confidently roam around the Tay river on our own.
The staff know all about the various routes – from one hour trips to over night adventures. Perth Outfitters also have canoes and boats available for rent.  Four and a half year-old Baby Boy was able to find a Pedal Kart he could ride himself, though I made sure to stay right behind him in mine, just in case he went off the path (it was protected and there was minimal danger really). I really wanted to try my hand (or foot) at Stand Up Paddle Boarding and totally regret not doing so as the conditions were absolutely perfect!
Heritage Bikes
One of the most fun activities we did was take to a bike tour with Heritage Bikes. Before exploring through downtown Perth, our guide ensured that everyone had the right helmets and gear. I am not overly confident on a bike, so our guide ensured that Baby Boy and I were on a bike with him, while Chris and Little Monkey used one together. Just look at the picture below of the 5 us touring around! Doesn't that look fun?
The highlight was the individual tour we received as our guide was also the owner of Heritage Bikes and, just like all his staff, he knew everything about the history of the town. He took us by Inge-Va house, where we learned of the town's Sri Lankan connection in a now abandoned house. We also visited the site of the last duel in Canada (can't believe that was a thing but given that this one was a feud about love, I guess I can believe it!).
On one of our last stops, saw the Mammoth Cheese, which also has quite a story. The kids loved the one hour tour it as much as we did. It's definitely a fun way to tour the city. If your kids are older, they also have bike rentals that allow you to tour on your own and venture further. Riding old school bikes is definitely a novelty and I would love to do again!
Spa and Barber
Looking to embark on a daddy-son or daughter-mom date? Downtown Perth provides two great options that I thought worth mentioning. There is a "husband daycare" where dads can not only get a haircut and hot shave but also a beer! For kids they offer free drinks, popcorn and video games. The vintage barbershop, aptly named "Father and Sons", was pretty busy and so Baby Boy and Chris were unable to get appointments because we stopped in after 5 pm. Little Monkey and I had more success. We were able to sneak into the Parkside Spa for  Mommy & Me manicures! It was a lovely way for us to do something together without the boys. Of course, Little Monkey was beyond thrilled with her first manicure. She was able to pick up sparkly pink and purple polish and while this is no Glama Gals, it was just perfect for this trip!
Wheelers Maple Farm and Pancake House
Oh what fun spot this is! I wasn't sure what to expect at a maple farm during the off season, but the 30 minute drive from downtown Perth was well worth it. The most bizarre thing Chris and I have ever seen is probably the "chainsaw museum" we found on site. SO MANY CHAINSAWS you guys!!!! SO MANY! There were over 600 antique chainsaws along with many other interesting logging related items. There was also a maple museum and alpacas on site. However, the main attraction was the restaurant, where we ordered maple pancakes, coffee and a few treats. Their gluten free pancake were actually REALLY delicious too!
For kids, there are a couple of swings and a sliding tube (for lack of better words) made up of construction pipes and a rickety zip line, which the kids didn't want to leave. Family owned Wheelers Sugar Bush is one of the largest maple producers in Ontario. It is the Guinness Book of World Records holder for the largest collection of maple syrup artifacts. What's amazing is that everything is free of charge – the only thing you pay for is the food you eat or purchase at the restaurant. Talk about a great community!
Stewart Park
It's hard not to roam through Stewart Park when you visit the town of Perth. Such a picturesque and peaceful spot right in  the downtown core! We thought we'd picnic there one day but didn't get around to that. You'll definitely want to take a stroll or bike ride through the park to see its charming bridges, swimming holes and rock formations. We were visiting during the lead up to the popular Stewart Park Festival and saw everything being set up when we were leaving but sadly didn't have a chance to experience the festival in person.
Fresh Produce from Farms
As with any road trip, we often look for delicious snacks and local treats. When we swung by the gas station next to CC's on the Rideau for ice cream, we also continued a bit further to Coutts Country Flavours shop to buy some pies and treats. Afterwards,  we continued on to Miller's Bay Farm, where we found the BEST strawberries we have ever tasted. Luckily, we nabbed the last basket of strawberries from their road side stand and Baby Boy couldn't have enough of them! If you visit during the season, you can also pick your own!
Perth Brewery
I know I know, this should be under food but all we did was swing by for a few samples and bought some beers to take back to the room. Given that there isn't much on offer for kids at this family run brewery (sparkling water kept them busy while we sampled), I recommend a quick visit to learn about their beers, especially as all of them are deemed safe for gluten sensitive folks! I thought that was very interesting. While it isn't gluten free in a traditional sense, an enzyme added during their production process lowers the part per million threshold below the required amounts to be deemed gluten free. They also use local ingredients.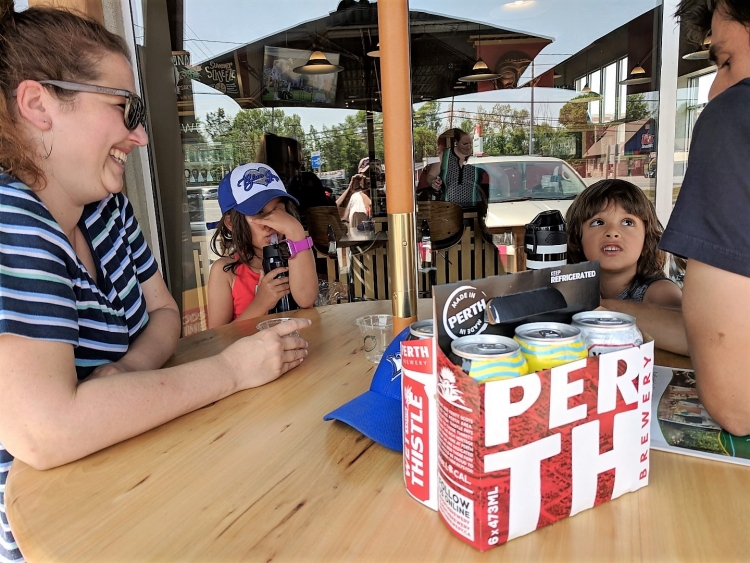 As always, I had a long list of things to do, some of which I didn't get to. If you have the chance, check out the theatre scene or tour the Seven Wonders of Lanark County. The kids had long days, so I didn't think I could drag them along for some live theatre. It will be on the agenda next time. I will plan to do one of the hour-long historical walking theatre tours at the start of our next visit! I should also mention that Lanark County is home to some wonderful trails, and Chris even managed to get some running in as he trains for his marathon. Here's a map if your family is looking for some more outdoor adventure ideas! On the flip side, my mom wants to visit Perth so she can see the Tisarana Buddhist Monastery, where you can join the monks for a round of meditation, a puja or pot luck lunch.
[themify_hr color="gray" width="100%" border_width="1″ ]

[themify_hr color="gray" width="100%" border_width="1″ ]
Where to Eat in Perth with Kids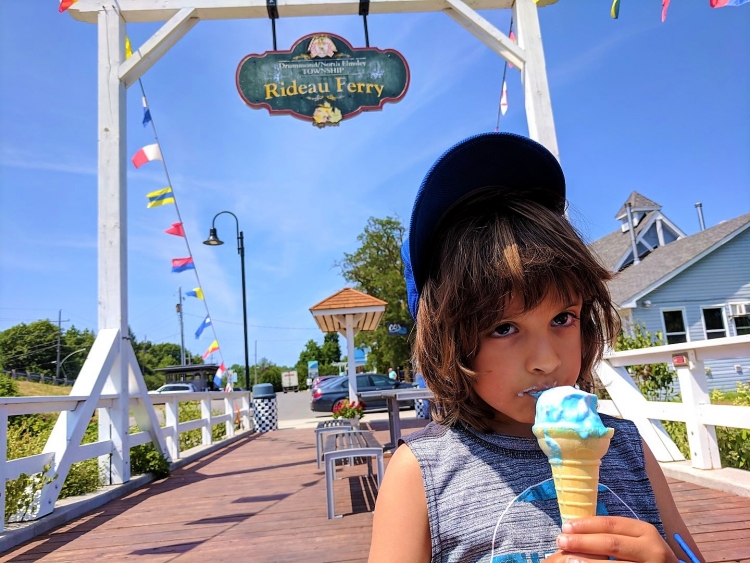 The culinary scene in Perth totally caught me off guard. I'm used to visiting small towns and resorting to eating pizza and pasta with an unhealthy dose of burgers. This is what I expected in Perth but I couldn't eat enough because the food was fantastic!! I'd head back just to visit the restaurants we didn't get to! Chris wrote a detailed post about our food discoveries in Perth so you can read all the juicy details there but my biggest advice is to make a reservation if you can! On a Tuesday night we couldn't get into two spots that were on our list and we bumped into other tourists who were just as shocked as we were that the restaurants were so busy! Luckily, even the random drop in we ended up at was AMAZING!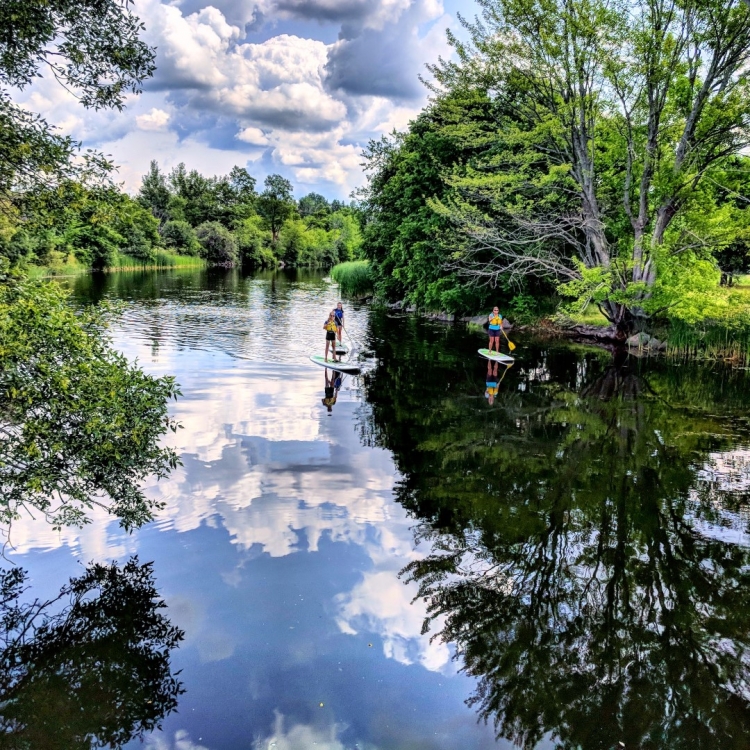 If you're looking for an off the beaten path but super cute town, Perth should definitely be on your list. I hope to explore more of Lanark County next spring because I want to go and tap some maple syrup, wouldn't that be super fun? For more ideas and to create your own custom itinerary visit the Lanark Tourism site. Definitely reach out to us with any questions you may have.