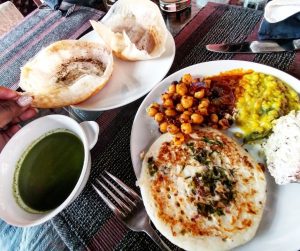 One of the things I was most excited about as we planned our trip to Sri Lanka was the chance to explore some uncharted territories – mainly the North of the country. While my dad grew up in Colombo, most of his family is from Jaffna, and he not only went to school there for a bit, until very recently, he also had family in the city. However, due to a civil war that took place between 1983 and 2009, my brother and I had never visited Jaffna. That all changed during our most recent trip and while the city doesn't have many traditional attractions, it was a good experience for us to see how the residents have moved on since the end of the war. I'll begin by saying that one can easily visit the North now and there's no need for clearances. Neither is there any reason to feel insecure or in danger even if you do spot some military crews patrolling the city.
My dad no longer has immediate family in Jaffna, but we made it a point to drive a fair distance to see his grandparents' homes and the church where he served as an altar boy. When it came to booking our accommodations, my dad said he had it under control and the spot he chose looked decent online. We were 7 adults and 2 kids and so we needed quite a few rooms. After driving 5 hours, during which we snacked on mangoes from Jaffna that we bought off one of the many street vendors we encountered en route to the city, we arrived at a guest house and decided that we should probably take a quick walk through house. We had already hit a couple road bumps with other accommodations during our trip.
Oh Boy! I really don't think I'm overly picky but this was yet another spot that did not work for us – between the strong fumes from cleaning products, the dingy mattresses and the dirty pillow cases, we near ran out, much to the owner's dismay.
There we were, sitting in the van with the A.C. blasting, trying to figure out what to do for the night while the kids whined about how hot it was. Everyone decided to look at me to figure it out and luckily I had great coverage during our travels thanks to the Rogers Roam Like Home plan.
If you are not familiar with Rogers Roam Like Home, it's a service that lets me use my phone just like I do at home. The plan works in over 100 destinations worldwide and any Rogers customer can add the feature when they travel, so check it out. I love that it's only $10 a day (for International destinations outside of North America) and that you only pay for up to a max of 10 days per monthly bill! If you roam within a Roam Like Home destination for more than 10 days during the same billing cycle, you can continue to use Roam Like Home at no extra charge! Unlike my dad who got a local sim card, I had the same number I use when at home. This meant that I was able to text with our nanny, chat with a few close friends and surf the web to my heart's content. Your plan is the same as the one you'd use at home so its business as usual as far as your mobile needs are concerned. You may also recall that because I was on the Rogers Roam Like Home plan when I was in China, my social media channels were all accessible!
So here we were, desperately searching for accommodations at the farthest point of our journey. A quick troll through booking.com and TripAdvisor informed me that there really was only one hotel option (we decided to stay away from all guest houses and house rentals after the earlier incident!). Jetwing Jaffna was the hotel we found and a quick call to them (you may recall that calling Sri Lankan hotels usually get you a cheaper rate than the online one) saw us rushing over to check into three rooms there. There are two things that I loved about the Jetwing Jaffna – the decor and the food. While the rooms were relatively basic (tourism is a young industry in Jaffna and you definitely cannot expect ultra luxury there just yet), the art in the room was totally gorgeous and, most importantly, the beds were comfortable. No smells anywhere either!
I also had the best Nasi Goreng EVER here. I'm so glad I ordered this one dish from room service while the rest of the family decided to get some takeout from a spot nearby. The breakfast at Jetwing Jaffna was also amazing. Between the local Tamil cuisine and the traditional Sinhala dishes, I was in heaven!! We got to have everything from freshly cooked Milk Hoppers to Rasavalli Kilangu Kool/ Purple Yam Porridge. Honestly, I'd go back just to dine there for breakfast. A beautiful spread!
Jaffna does show signs of the war that waged on for 25 years. Many of the buildings are bombed-out or bullet riddled but we felt safe walking around at night. It was a bit bizarre walking into another "hotel" (where the restaurant the rest of the family ordered food from was), only to realize that it was the oldest hotel in Jaffna. Many of the soldiers and war generals used to stay there and the receptionist even told us the tale of a very prominent government official waking  up at their "hotel" and then marching to a nearby venue where he shot and killed a fair number of people. Talk about a macabre history lesson!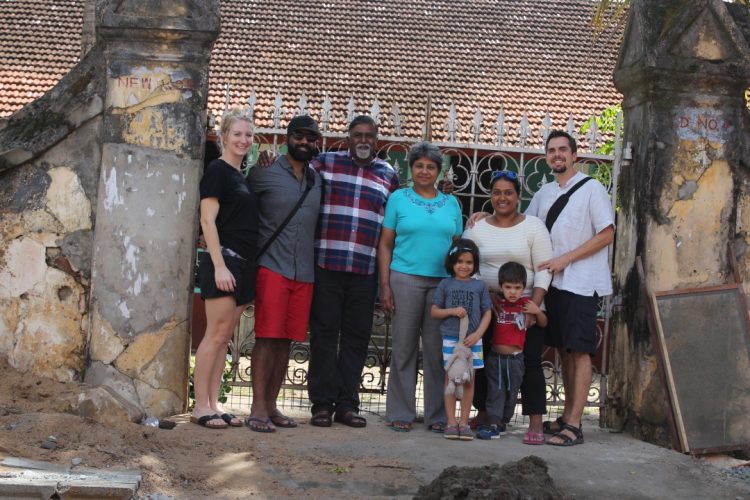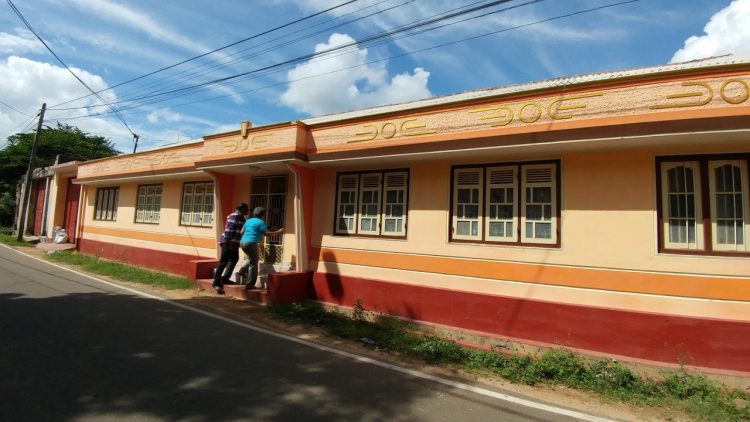 Most of those who are living in Jaffna have seen and experience the war and they all have tales to tell. While I didn't have a chance to chat with strangers, we were welcomed into someone's home and that gave me a glimpse into their lives. My dad showed us his maternal and paternal grandparents' homes (they were very close to each other!!) and at one point a lady came out to see what we were doing. I'm sure we looked quite the site as all 9 of us gathered outside the gate for a group picture! My dad told her what we were doing and the next thing we knew she was banging the door down and told the new inhabitants to give us a tour! Strange as it was, we walked in and my dad reflected on his visits there as a teenager. Not much had been done to place and we even spotted some antiques like a rusted barber chair! The city may have scars from the war but the houses in Jaffna are so colorful and that's one thing I'll remember for a long time.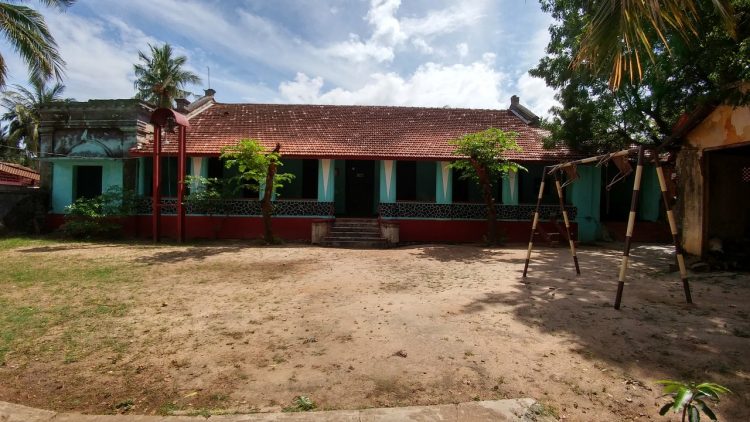 My dad had two items on the agenda for our one night visit to Jaffna and that was to see the houses and to visit the famous Shrine of Our Lady of Madhu. I wasn' t sure what to expect at the shrine but was told that many make a pilgrimage to this holy spot, as miracles can happen with just one visit. Little Monkey and the hubs whined about removing their footwear yet again and the main Church was undergoing construction but that didn't stop us from lighting a candle and spending a few minutes inside.
We also explored nearby Mannar Island and the Koneswaram Temple but for me Jaffna was more of a pilgrimage to see what my dad spoke of all these years. The food we had was better than what we had eaten in Colombo, and it's heartwarming to see the community building themselves up after the war. I wish I had time to explore more of the street food (the one spot I did grab snacks at was amazing!) and I'd definitely like to return in a couple years to see how the city has progressed.