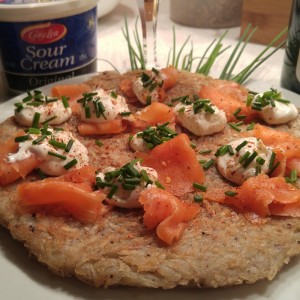 With the colder weather here I'm finally getting in the mood for soups and comfort food. For our most recent wine club gathering I was perusing through the LCBO Food and Drink magazine when I noticed a bunch of their skillet recipes. I'm all about the one pan dishes because it means less to clean and so I my curiousity got the better of me and I decided to try out their Skillet Rösti recipe.
Rösti is a Swiss dish that was originally eaten by farmers for breakfast and reminds me a bit of the North American hashbrowns. What appealed to me most about Rösti is that it seems like a such a simple dish to whip up and one that would work well for dinner, breakfast or lunch. Gotta love versatile comfort dishes!
Since this was for wine club I decided to fancy up my toppings a bit and add a bit of spice as well. Which is how I came to serve a Garlic Rösti topped with Smoked Salmon, Chives and Gay Lea's Gold Premium Sour Cream.
Disclosure : I am part of the Gay Lea Ambassador Campaign and I receive special perks as part of my affiliation with this group. The opinions on this blog, as always, are totally mine!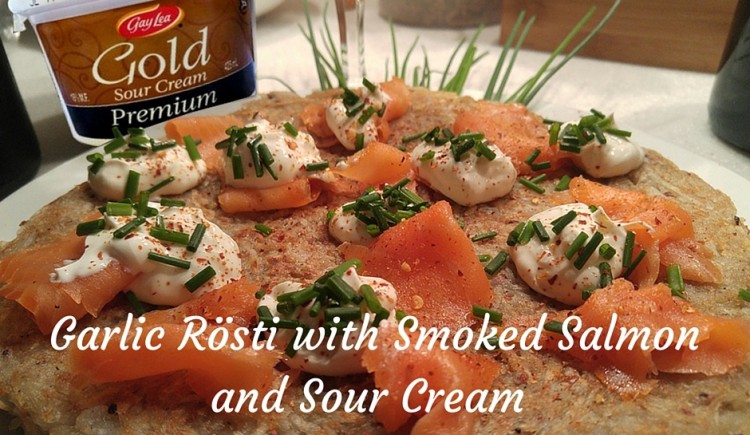 Prepping the base is what takes the most time but even with the prep work, this dish took me less than 20 minutes to make … with Baby Boy yelling for his iPad and Little Monkey whining away!
Grate 5 medium sized potatoes and 2 cloves of garlic and toss into a large bowl. Mix in a spoon of melted butter, 2 tbsp of flour, salt and pepper (to taste). Toss until well combined and the potato pieces are covered evenly with the flour.
Then add 1 tbsp melted butter and 1 tbsp coconut oil to a skillet and heat (medium level of heat). If you like it to be a bit thick, go for a smaller pan or make extra batter!
Next, plop the potato mixture into the hot pan and press down firmly with a spatula. I kept whacking it which got quite the response from the kids! Cook over medium heat for 5 to 6 minutes or until it is golden brown underneath. Definitely don't flip the Rösti too early on as you can break it apart. I flipped it around the 6 minute mark and let the other side also brown up a bit for a nice crunchy taste.
I have a huge spatula which made my life easy but another tip is to loosen the Rösti from the pan with a spatula and slide it onto a plate. Place another plate on top and holding both plates together, flip them over. Carefully slide browned-side-up rösti back into the skillet and continue cooking for 6 to 7 minutes more. Please note that you only have to cook each side ONCE, I was just giving alternate instructions on flipping.
Once  both sides were nice and crisp, I slid it onto a plate and dressed it  up with smoked salmon, dollops of rich, creamy sour cream and specks of chives. Since we like things a bit spicy I also sprinkled chili flakes to give an additional pop of colour.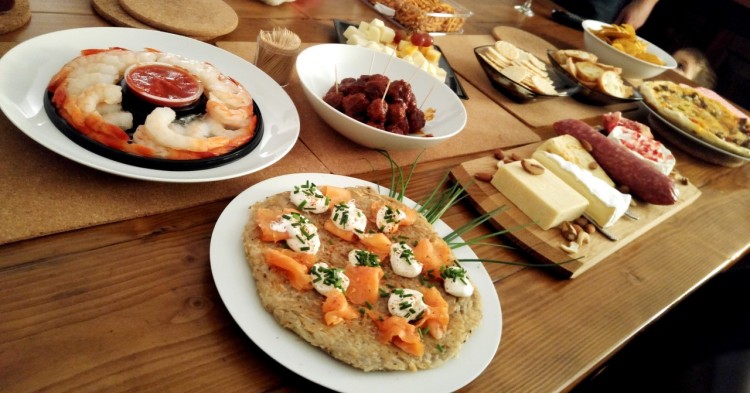 One issue I encountered was that the dish definitely tastes best when served warm and so it's best to cook these close to meal time. I must also tell you that I decided to experiment with two types of sour cream, the original version, most of us are familiar with and the Gold Premium Sour Cream. I wasn't expecting much of a difference but was pleasantly surprised by how rich, creamy and decadent the Gold Premium version was. It added an element of richness that really balanced out the chili flakes and I'm so eager to play with this sour cream and experiment a bit more. I even read somewhere that this sour cream is perfect for Guacamole! Can you imagine? Superbowl is coming up so I may just have the perfect opportunity to test out some new recipes!
What's one comfort food you fancy up for social gatherings?