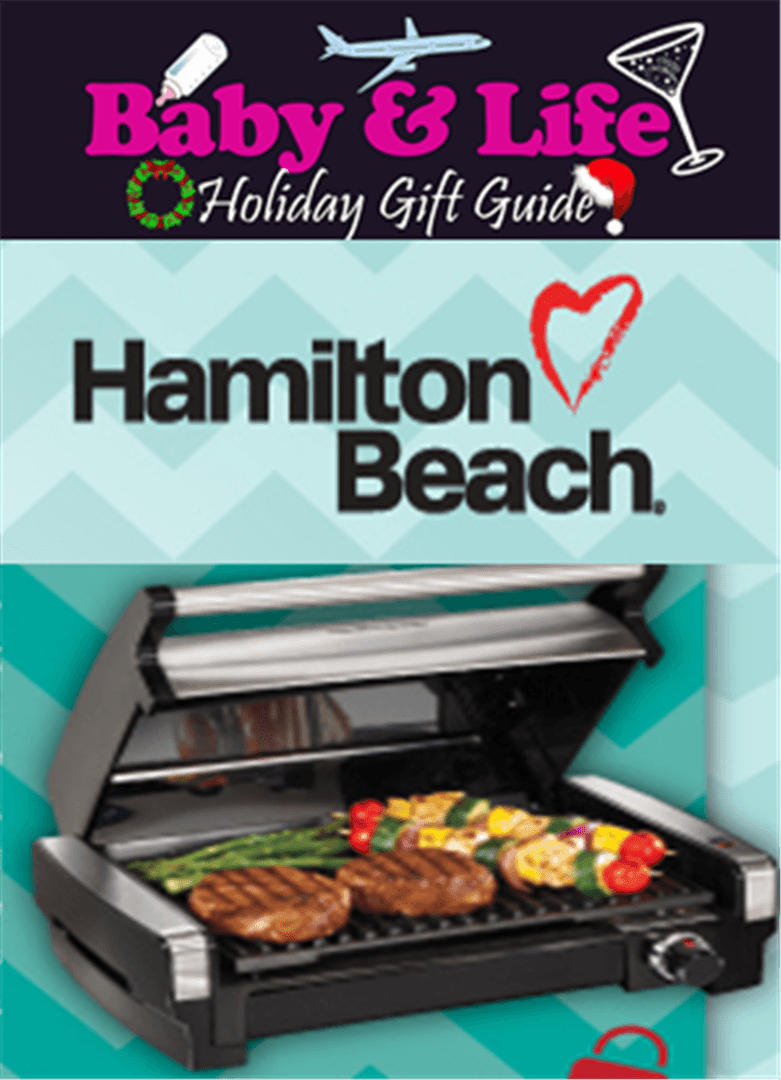 We found the perfect way to keep summer going! On Day 2 of Baby & Life's Holiday Gift Guide Giveaway we have the Hamilton Beach Searing Grill to share with one of our Canadian readers. As you know I've been a fan of Hamilton Beach for a while now, so it should come as no surprise that I wanted to share this super fun indoor grill that can have you making burgers (or chicken.. or.. veggie patties.. or.. you get the drill) all year round.
Let's talk about the important stuff… yes the removable hood, non-stick plates  and drip tray are all  dishwasher safe which means no handwashing involved, and in my case…less chance of the dirty grill plates laying in my sink for days! As you can see in the video, we've already made quite a few dishes on the searing grill and honestly, the food stays juicy and has that outdoorsy flavour which is just what we want. The drip tray was a pleasant surprise…you'd be surprised by the amount of oil collected when I made my Tandoori chicken! The adjustable heat controls make it ideal for cooking various dishes (hello chocolate melt tortilla wraps!) and there's a red/green light that tells you when the grill is ready for you and your deliciousness.  My favourite part of the Hamilton Beach Searing Grill is that it's light and compact enough to fit into a shopping bag, which means I can take it with me wherever I want….when I entertain at my parent's place or when we go to a cottage. If there's one thing I'd like to change it would be a longer chord though the issue is easily rectified by using an extension chord.
Thanks to Hamilton Beach Canada one lucky winner will receive their own Searing Grill! Enter through the Rafflecopter below and swing by tomorrow to see what else we've got for you or click here to see what else you can win!!