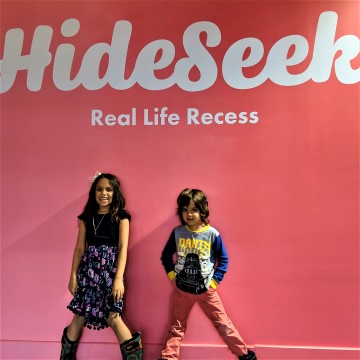 Living in downtown Toronto with young kids, there's never a shortage of things to do in Toronto and explore. When I first heard about HideSeek, I knew Little Monkey would want to visit, and I was right. HideSeek is a pop up experience (similar to Happy Place and The7TO) that kicked off this past weekend and goes until June 2nd 2019. It's an immersive experience where kids and adults of all ages are encouraged to release their inner child. I thought that we'd share some tips in case you are planning to visit HideSeek with kids and baby in tow. We also have a fun giveaway for a family of 4 to visit HideSeek, so read on for your chance to win tickets to Toronto's HideSeek!
Disclosure : We were guests of HideSeek but, as always, opinions are TOTALLY ours!
Where is HideSeek Located?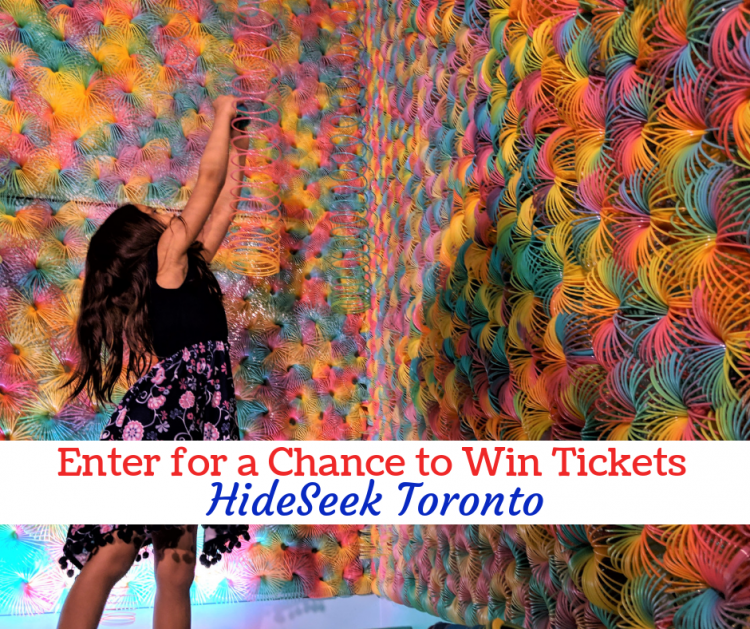 It's close by to one of my favourite wine bars in Toronto (Paris Paris),  at 1305 Dundas Street West (Dovercourt Road and Dundas Street West). HideSeek takes place until June 2nd and are open on Thursday and Fridays from 12 pm-10 pm. Saturdays and Sundays from 10 am-10 pm. Please note that they are NOT open Mondays to Wednesdays.
What Exactly is HideSeek?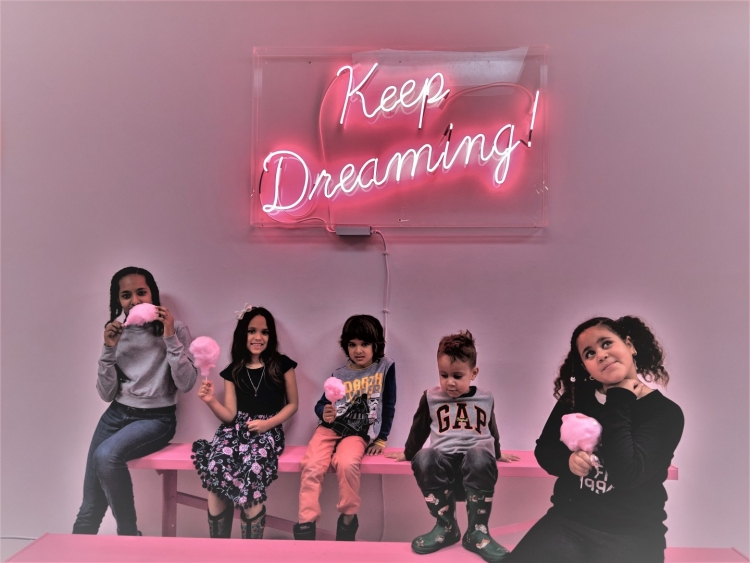 Hideseek is an immersive pop-up experience inspired by childhood nostalgia. Think slinkys, blow up couches, glow in the dark rooms and cotton candy! There are various rooms to explore and play in so get ready to take ALL the pictures you want! HideSeek is the brainchild of a group of Toronto based entrepreneurs and so this is the first HideSeek pop up.
Can we Take Strollers into HideSeek?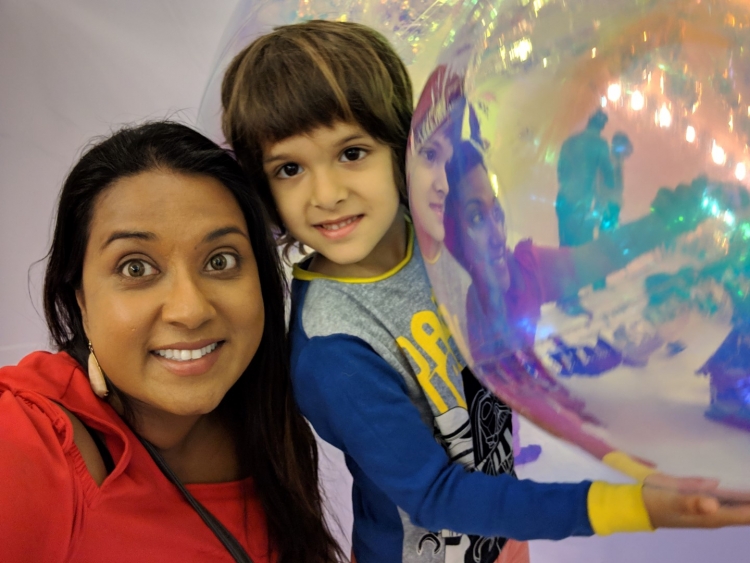 Not into the rooms but there is a FREE coat check area where we parked our friend's stroller. We actually ended up dumping our coats ( we were there in a group of 6 kids and 3 adults) in the stroller, making it easier for everyone! We had a 1 year old with us and she just roamed around and had fun…we just had to ensure she didn't photobomb pictures being taken! IF you're wondering if you can take a baby to HideSeek, the answer is yes. Babywearing at spots like this is always my recommendation. The only room that freaked the baby was the one with dangling plastic chains but all else was a very happy experience.
Tips for Visiting HideSeek with Kids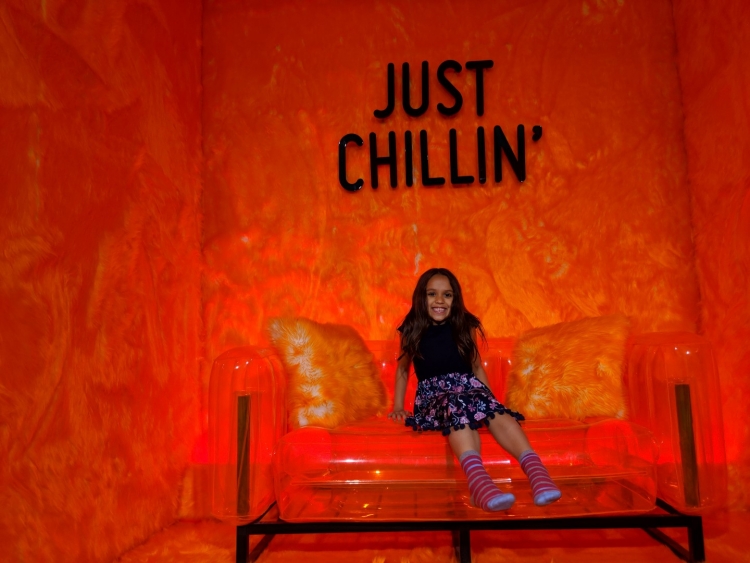 Tickets have a timed entry to ensure there's no over crowding but they do allow you to come in up to 30 minutes from the start of your hour. You don't want to miss your time slot so get there on time is my advice
It took us 60 minutes for a leisurely stroll through the place but without kids it is supposed to take 45 minutes. We visited at 4 p.m. on Sunday and it wasn't overly busy. That said, we did wait for about 3 minutes before experiencing some installations but the kids didn't mind because there was always something to do! You can stay for as long as you want but they do not allow you to rewind back to an installation so it's always a forward momentum (luckily none of the kids asked to go back to any of the rooms)
No outside food or drink is allowed but there is cotton candy, bubble gum and sweetarts when you get halfway. It was the perfect sugar rush to keep the kids focused
There are washrooms on site and there is a baby change table
Children aged 3 and under do not need tickets and there are no discounts for children. At the end of the day you're look at about $125 for a family of 4 to visit (including tax and fees). Only you can be the judge of how much the photo opportunities and hour of smiles is worth
Know that you will be removing your shoes and any loose items before you jump into the ball pit
There is a wall that kids (and adults) can write on but know that there are special markers (do not accidentally take the pencils and crayons that are part of the artwork, like we did-oops!)
The staff at HideSeek are totally awesome and since we did visit during opening weekend, I think they had a lot of energy. I hope they maintain that because everyone we engaged with were happy, peppy and friendly with the kids
Who SHOULD NOT visit HideSeek
If you don't like fun, stay away. It's not a spot for a Grinch or for those not interested in taking pictures and acting silly. As you know Chris isn't a fan of these spots but he joins us because he knows the kids and I have fun in places like these. He also ALWAYS ends up playing with one of two installations so it's not all doom and gloom for him.
If you're like me, you definitely want to check out Toronto's HideSeek and I can't wait for you to come back and let me know your thoughts! Enter below for a chance to win 4 tickets to the HideSeek. Please note that because this is a timed entry event, I cannot guarantee that I will be able to secure tickets for your first choice, but if you are the winner, I will do my best to get one of three time slots you request.