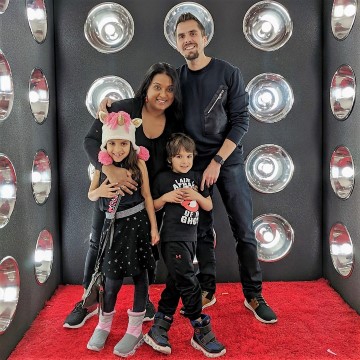 Happy Place has arrived in Toronto!!! Earlier this week we swung by Happy Place with our kids during a media preview and I thought that we'd share some tips in case you are planning to visit Happy Place with kids in tow. We also have a fun giveaway for a family of 4 to visit Happy Place, so read on for your chance to win tickets to Toronto's Happy Place!
Disclosure : We were guests of Happy Place but, as always, opinions are TOTALLY ours!
When I showed our friends on Instagram what awaited them at this pop up exhibit, I received many questions, which is why I am answering some of them here and giving one lucky family the opportunity to visit the HAPPY PLACE in Toronto! Get ready to listen to some awesome tunes as you walk through an immersive experience where you get to act like a kid again!
.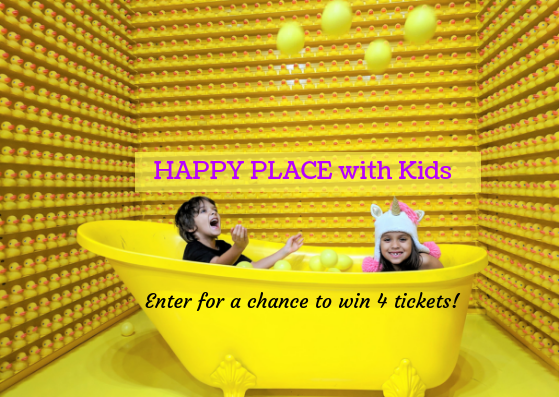 Where is HAPPY PLACE located?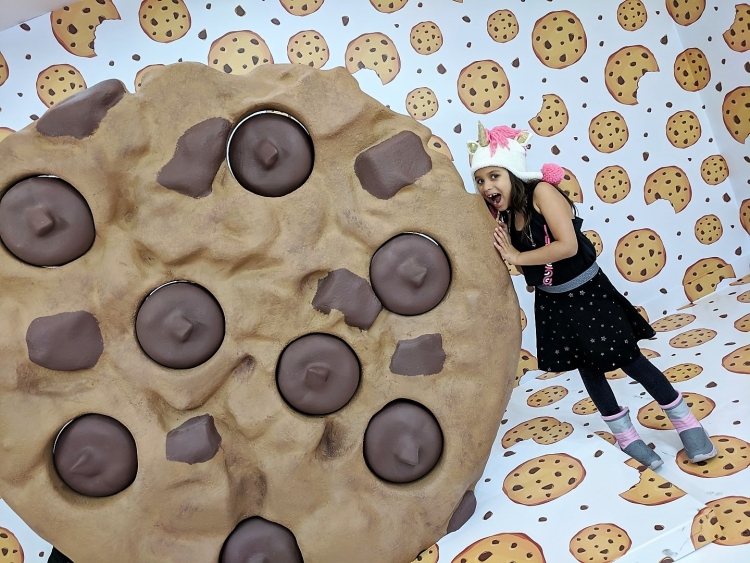 HAPPY PLACE is on the Harbourfront in downtown Toronto (it's in the building where the old pet shop used to be, close to Amsterdam Brewhouse) and will be here until January 1st. Please note that HAPPY PLACE will be closed on all Tuesdays except New Year's Day.
What exactly is the HAPPY PLACE?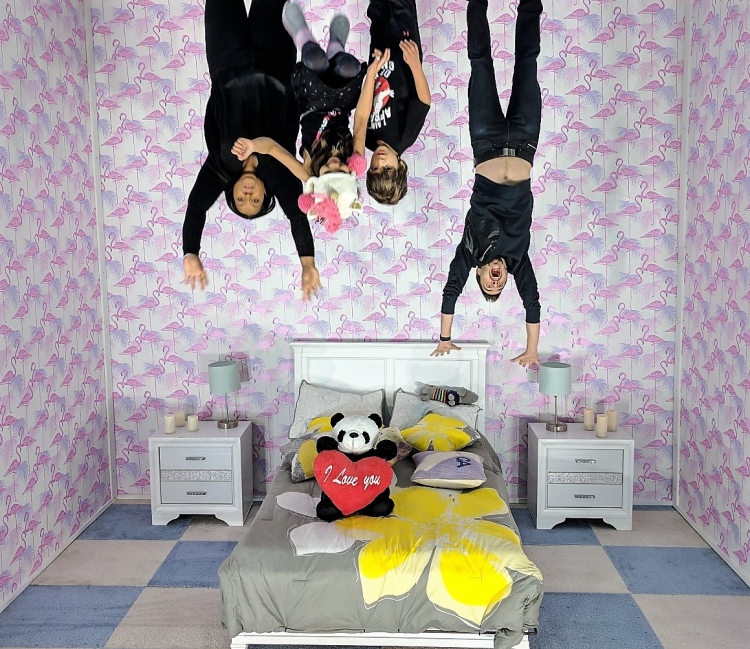 In this day of gloom and doom, this is a space to fill your life with bright colours and gleeful happenings. It truly is a space to act like a child…unless of course, you're Chris. Can't say he found the place entertaining like I did. The entire place is filled with multi-sensory immersive rooms that will give you a chance to grab some awesome pictures for those Christmas cards. The space is designed in a way that MAKES you want to take pictures (unless you're Chris).  Don't get me wrong, he enjoyed hamming it up in the seven-foot stilettos made of a million candies (he said it reminded him of the shot he took in Amsterdam with the kids last summer) but at the end of the day, he would have been happier watching sports at home. The kids and I were more than happy here as we jumped off a double rainbow into a pot of happiness and jumped around in the world's largest confetti dome. Don't get me wrong, Baby Boy had two mini meltdowns (one of which is happening in the above picture) but for the most part, it was an hour of happiness!
Can we take strollers into HAPPY PLACE?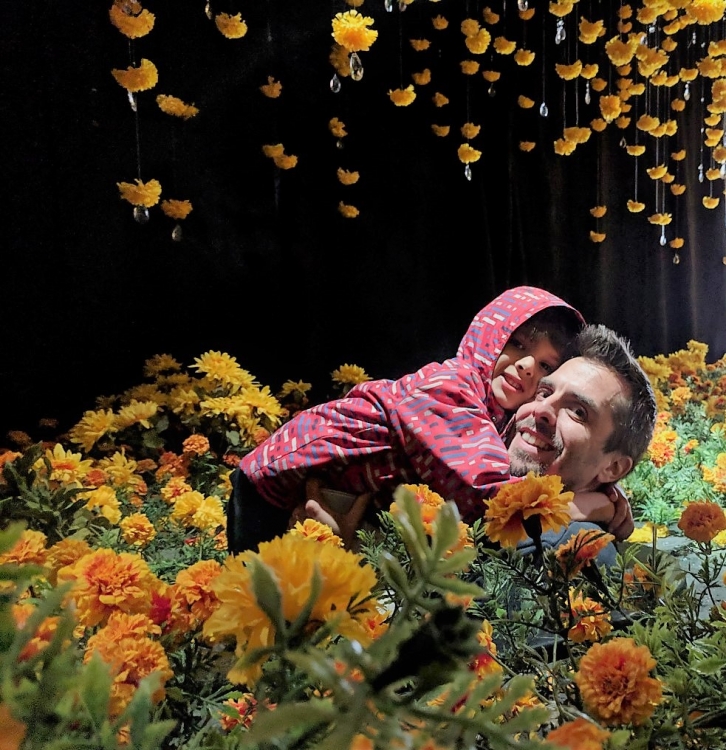 The official answer is no! During my media visit I did see a stroller inside but in all honesty, I'd recommend that you baby wear instead. While the space is wheelchair accessible, many of the displays require you to get into objects (think bathtub) and you would be holding up the line if you tried to buckle and unbuckle in each room. You should also note that backpacks, selfie sticks, tripods, large umbrellas, strollers and weapons of any kind are prohibited.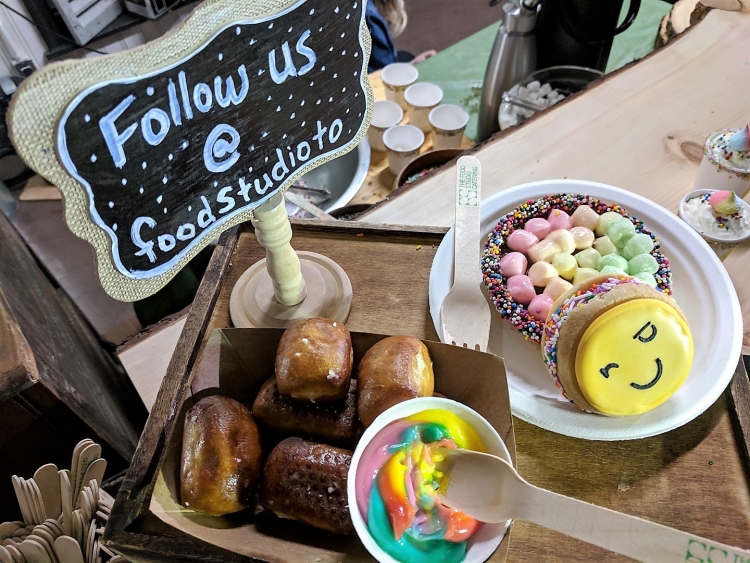 Tips for Visiting HAPPY PLACE with Kids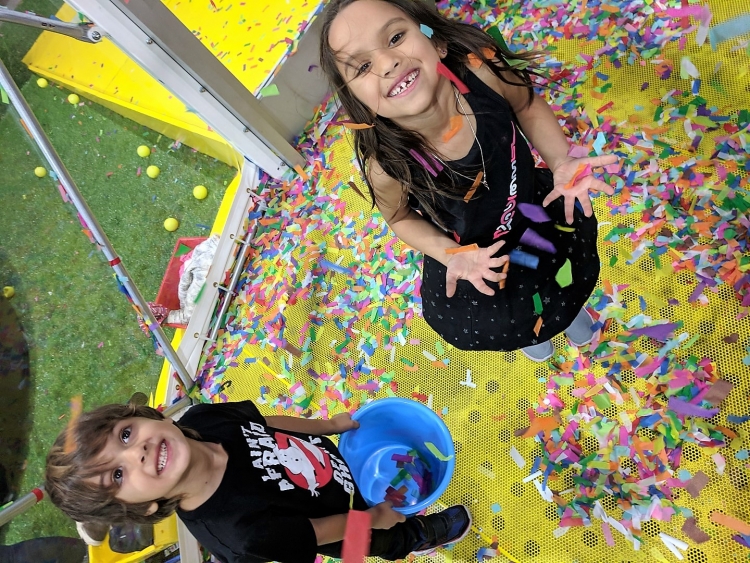 Tickets have a timed entry to ensure there's no over crowding and because we all know the struggles of getting anywhere on time as a family, I highly recommend that to you give yourself plenty of time to get to the Harbourfront Centre. You don't want to miss your time slot.
It took us 90 minutes for a leisurely stroll through the place but without kids it is supposed to take an hour. Baby Boy wanted to go back and jump into the ball pit/pot of happiness however it was getting late and we wanted to get them into bed but we could have easily stood back in line to get there, had we wanted.
No outside food or drink is allowed but no one checked our bags either. By the end of our visit 7 year old Little Monkey was VERY thirsty and we hit up the lemonade stand (proceeds from the lemonade stand are in benefit of charity). You can find food and drink options at the upper level near the confetti dome and ball pit. We received some hand sanitizer during our visit but to be safe, bring your own!
There are washrooms on site but luckily we didn't need a bathroom break (yes, 5 year old Baby Boy is STILL in diapers!!)
Children aged 4 and under do not need tickets and there are no discounts for children. Week day tickets are slightly cheaper but at the end of the day you're look at about $150 for a family of 4 to visit. Only you can be the judge of how much the photo opportunities and hour and a half of smiles is worth.
Know that you will be removing your shoes and any loose items before you jump into the pot of happiness at the very end.
They do hand out some M&Ms (as soon as you enter) and the tiniest of cookies (near the cookie room) so you will be able to bribe the kids if needed.
You will be standing in line waiting for people to take their pictures at each of the displays. Think of it like waiting in line to get on a ride at a theme park. Prep your kids for that. I bribed mine with the promise of a rainbow cheese sandwich (it actually tasted good!).
Plan your family shots if you can ( I ensured we all dressed in black because everything was so colourful there). I had grand plans of taking a picture of all 4 of us jumping into the pot of happiness but Chris decided he didn't really want to do it and he was a lousy photographer as well….below is the best JUMP shot he got of us! People in line are happy to help out so keep an eye out for those that look like they know what they're doing and ask them to click your pic!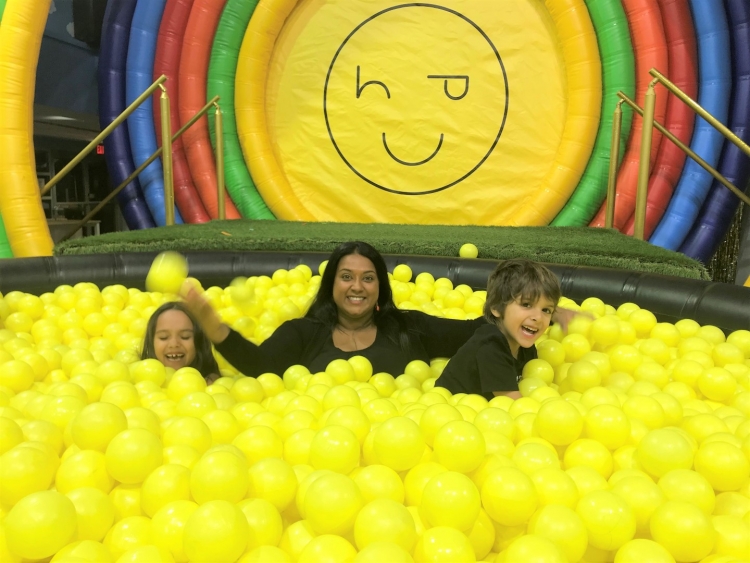 Who SHOULD NOT visit HAPPY PLACE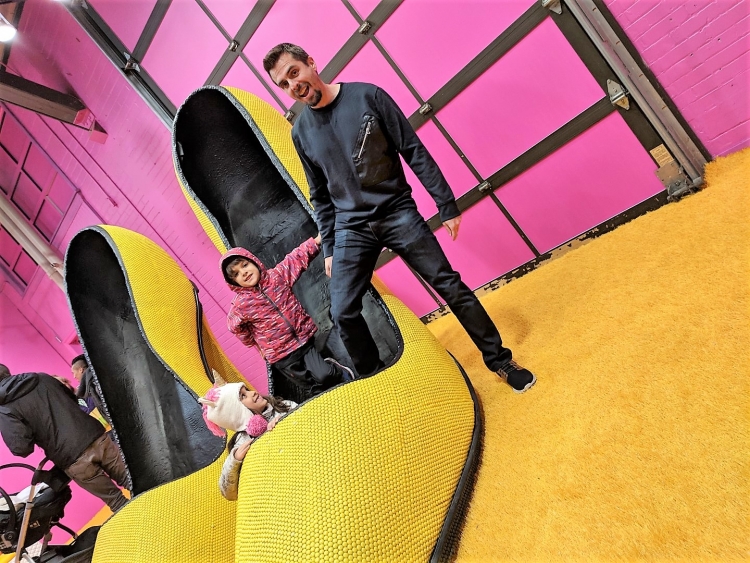 If you are a germaphobe or someone who doesn't like taking photographs and hamming it up, this is not the place for you. It might as well be the "Good Place" (tell me you watch that show on Netflix!!) for you, so don't do that to yourself!!
My friend Arienne from SeeYouSoon.Ca filmed her visit with another friend of ours, Kristin from Vacation Couple and as you will see below, HAPPY PLACE just as fun for adults as it is for kids! Check out her video for an additional chance to win tickets as she has a giveaway too!

If you're like me, you definitely want to check out Toronto's HAPPY PLACE out and I can't wait for you to come back and let me know your thoughts! Enter below for a chance to win 4 tickets to the HAPPY PLACE. Please note that because this is a timed entry event, I cannot guarantee that I will be able to secure tickets for your first choice, but if you are the winner, I will do my best to get one of three time slots you request.
Good Luck!!