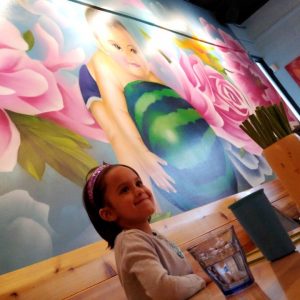 Toronto's Chinatown is home to many delicious restaurants but I'll be the first to admit that it can be daunting trying to choose where to go and then once you're in, what to eat. I like to visit the Chinatown restaurants with my Chinese friends because they know EXACTLY what to get and you'd think I'd have learned what I should order by now…but… nope. I'm a full on comedy of errors when it comes to ordering dishes at Chinese restaurants. While I will definitely still frequent the Chinese restaurants, newly opened Jackpot Chicken Rice is now my new favourite spot in the hood. For numerous reasons!
The main reason I wanted to visit them was because I saw an Instagram post featuring their decor and the baby on the wall caught my attention. When a friend was visiting us two week's ago, she asked to eat something delicious and Asian…I thought a visit to Jackpot Chicken Rice was the perfect choice that Sunday afternoon and hoped dearly that the food would hit the spot for us all.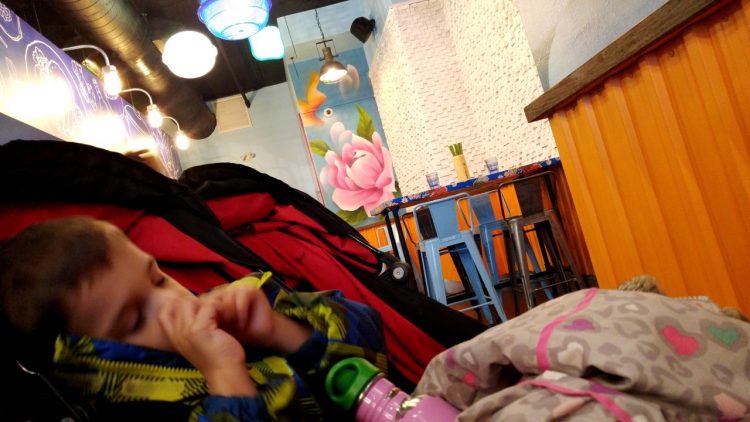 IT DID! The menu is small which makes it easy to make a decision. Jackpot Chicken Rice is a Hainanese Chinese restaurant and the focus is around the Chicken Rice, often referred to as "oil rice". I've been told that it's cooked with rich chicken broth and that explains why it's so addictive! I could eat bowls and bowls of it in one sitting! Piglet that I am. Little Monkey loved the rice ( I ordered a side dish bowl for her) but since Baby Boy was fast asleep in our double stroller, so he had none! He slept the entire time and I was glad we were able to park the double stroller by our table with no issues. While the high top tables had fun patterns on them (great for Instagram shoots!) the regular tables work best when dining there with young kids. There is a set of stairs leading to the washrooms but once downstairs we spotted a bench if we desperately needed a spot for a diaper change!
The dishes are mainly served with either poached Hainanese chicken or Southeast Asian style roasted chicken and a variety of dipping sauces. They only offer dark meat here and the hubs wasn't too pleased initially but having tasted the moist and flavourful dish, we totally understood the reason for the dark meat! You also get to choose if you'd like the fried skin and as I say…ALWAYS get the fried skin! Even if you don't want it, someone else your table will. They serve the fried skin in a separate bowl and it comes at no extra cost (vs. ordering it as a side) which meant that I ate the hub's and my friend's fried skin happily! Our meals also came with a wintermelon soup which warmed us up that cold day and definitely helped round the meal.
I particularly enjoyed the soy-sauce egg which reminded me a bit of a pickled egg and was cooked to perfection. The tempura-battered broccoli in a lemon mayo was also a hit with our group.  Definitely a must order dish for our future visit. I was tempted to try the Foie-Gras given my love for all things Foie-Gras but sadly I didn't have the room for it. NEXT TIME!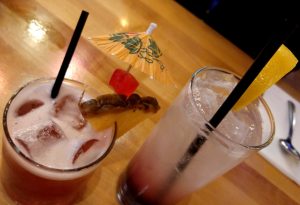 Drinks wise they make decent cocktails and carry a few craft beers which can be hard to find in the Chinatown area (unless you venture towards Kensington Market). We ended our meal by sharing the Kaya French Toast which was hard to photograph but delicious! While I'm not a cooked pineapple fan, even I loved this dish and it reminded me of the one I ate in Singapore when I visited as a child.
Many have mentioned that the dishes are pricey (given the extremely cheap options nearby) but I feel that the prices are on par with some of our other favourite restaurants. Our server told me to order the smaller dish because it wasn't all that much less food for half the price and so I did. My friend and the hubs were hungrier and got the full plates and sure enough… I received nearly as much food as they did (a piece of chicken less).
I plan to visit with my mom the next time she's in town because they also had vegetarian items on the menu which are supposed to be just as awesome!