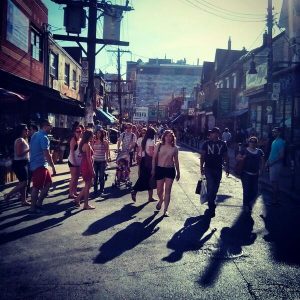 Kensington Market in downtown Toronto is one of the spots I always recommend tourists scope out and it has been years since I last shared stories about the area!  As with many of Toronto's neighbourhoods Kensington Market keeps evolving but still holds on to that grittiness I love so much. This eclectic Toronto attraction is definitely one of the things you should add to your list of things to do in Toronto (with kids or without). There's plenty to explore culinary wise in this national historic site of Canada where cultures meet and where you can take a sensory journey around the world.
Updated  : Summer 2020
Locals flock to Kensington Market to procure quality spices from around the world and some of the best cheese, bread and green living products, but as with many tourists, we locals go mostly to soak in the charm of the busy streets. While I'll be the first to say that it can be quite difficult to navigate the narrow sidewalks with a double stroller, it continues to be one of our favourite summer time activities (even after the kids were born). We've braved snow and rain in Kensignton but summer and fall is when you'll find us there more often. One thing to point out is that Kensington Market can be a bit slow after 9 p.m. and there have been times we've found it difficult to find late night snack spots or restaurants. However there's plenty of bars open late into the night though those may be hard to get into, especially with young kids in tow.
Go for the vibe, stay for the food and linger for graffiti.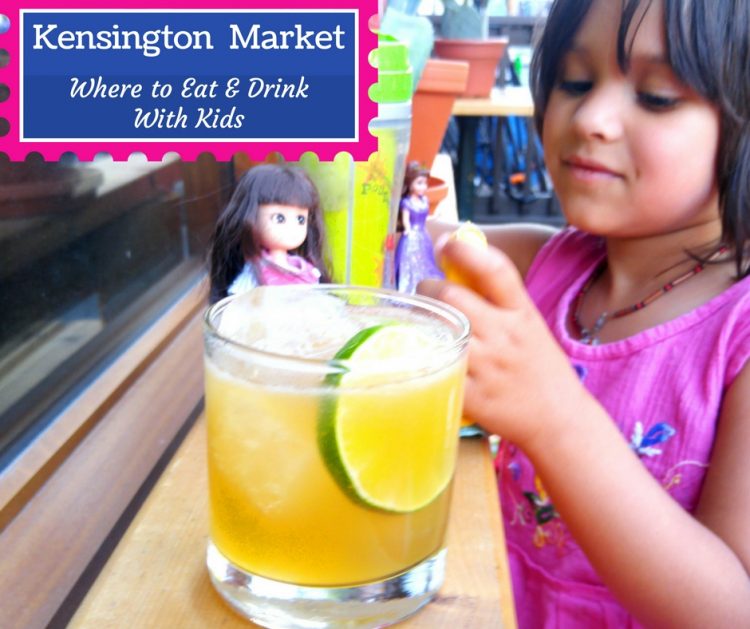 There are many spots to dine and drink your way through at Toronto's Kensington Market that' for sure. However, for first time visitors to Toronto, it can be overwhelming as you walk through the two main streets and many side streets. Restaurants and bars are also constantly changing here and many are so tiny that it's hard to bring a stroller in (even if it's just to stow away). I'm definitely glad that the kids now scooter around and that we no longer have to worry about our double stroller. Kensignton Market is a spot we frequented before we had kids and even these days, we try to sneak in a date night in Kensignton because it's a fun spot for a date night in Toronto.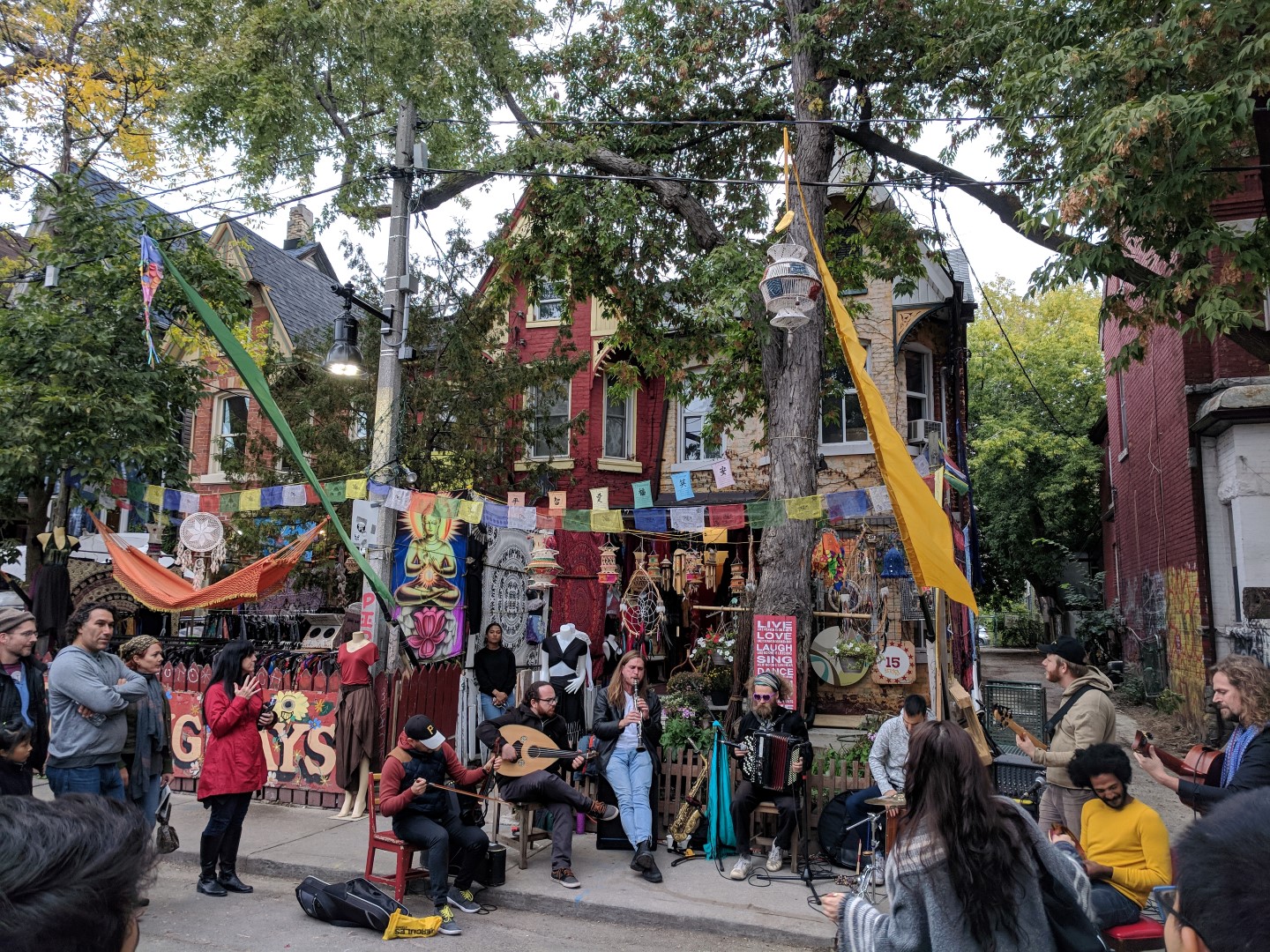 Below are a list of our current faves mixed in with some tried and true spots that have stood the test of time. We've taken our kids to each of these but if the space is small, one of us goes in to grab the items and then we dine as we walk the streets or at spots at Kensington Brewery who allows guests to bring their own food. 
Best Bars in Kensington Market 
Sit Down Restaurants in Kensington Market 
Snacks and Treats – Grab & Go
Best Shopping in Kensington Market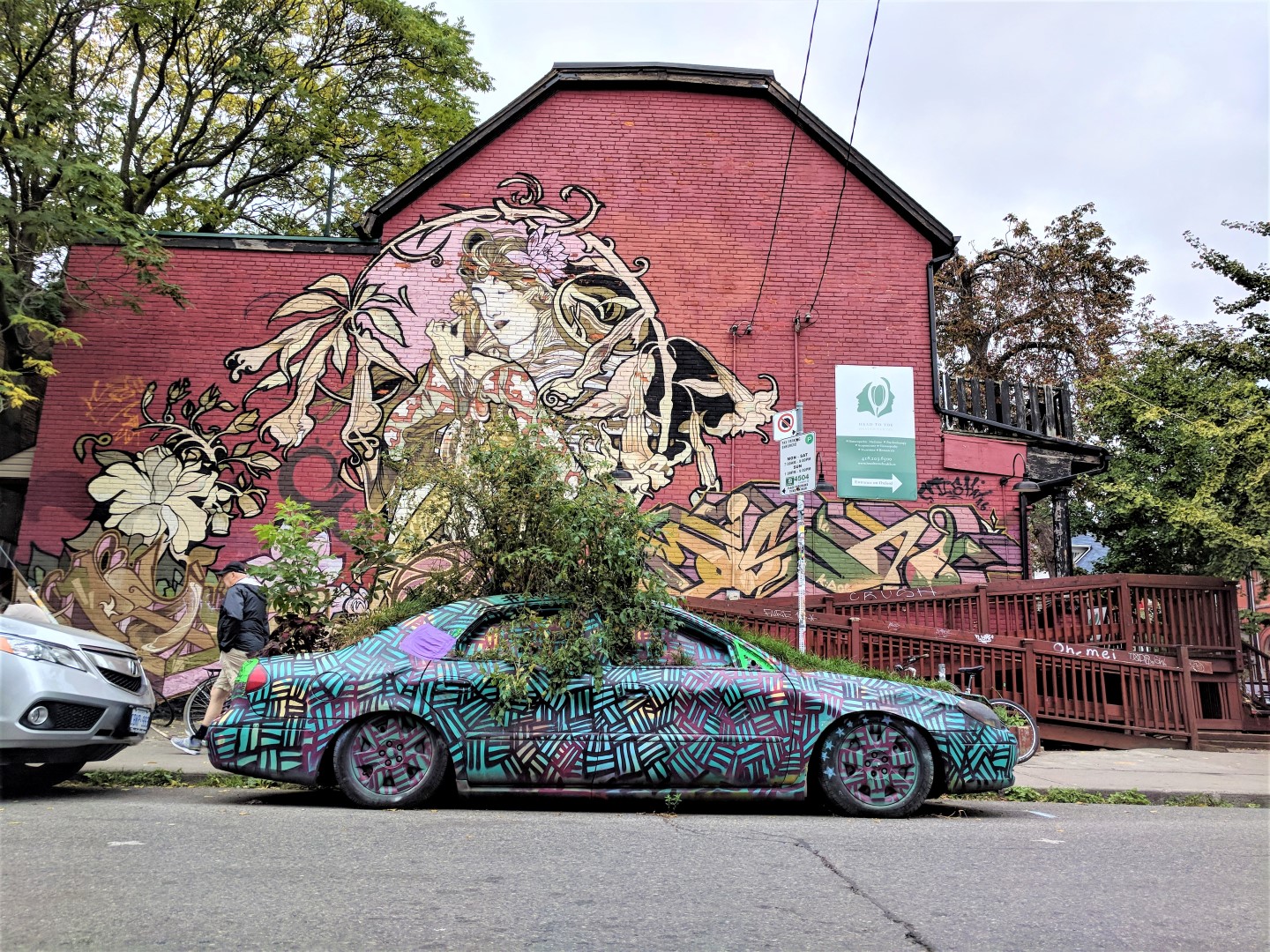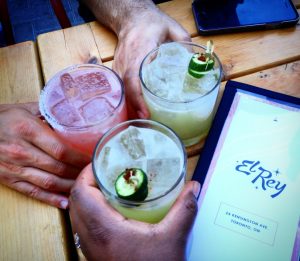 Every last Sunday of the month during the summer, Kensington is a pedestrian only zone which makes it easy to push the stroller around! Each visit to Kensington Market sees me discovering new works of street art and learning about new artists and musicians (most of whom just start playing on a street corner). Also, just around the corner from the main Kensignton Market strip is Baldwin street, quite possibly the best hidden/forgotten food street in Toronto!
p.s There's playground in Kensington Market but given our desire to sit on patios, the kids are yet to play there!