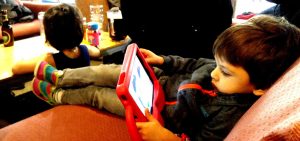 I'll be the first to tell you that my kids watch way too much TV according to what is deemed "the norm". With Little Monkey we plopped her in front of screens from a very early age ( started with Skyping sessions with grandparents) and by the time she was 9 months, she was gladly swiping away. By age two she was comfortable sitting through an entire Disney movie in one seating and that's when we wondered if perhaps she was getting too much screen time. Around the same time Baby Boy came along and we decided to try a mini social experiment. Baby Boy was not going to get his own iPad until he turned two. Trust me,  this was the hubs' idea, not mine!!!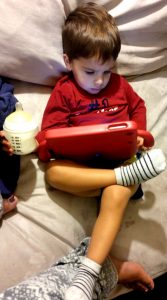 If you remember, Baby Boy wasn't talking all that much even close to his second birthday. Call it coincidence but after we handed him his own iPad….we were getting full sentences a month later!! In fact I recall his first sentence around 11 p.m. one cold night at my parent's B&B in Niagara on the Lake over Christmas break "Go get me my pillow". Yeah.. he forgot the please there. I was shocked because he went from sounds to a full sentence within the month. While we could look at other influences helping him on the speech front, I really do think it's the Neflix and YouTube shows he watched that helped him (and US!!) out.
The content they watch is of course key. Baby Boy now wakes up announcing "I want my red iPad. Is it morning time?" I'd say on average 2.5 year old Baby Boy is in front of a screen 5 hours a day and Little Monkey averages about 2 hours a day. She's much better at playing with her toys and puzzles so we see her consumption going down and she's also in full day school. Baby Boy on the other hand could easily spend 10 hours a day and still want more!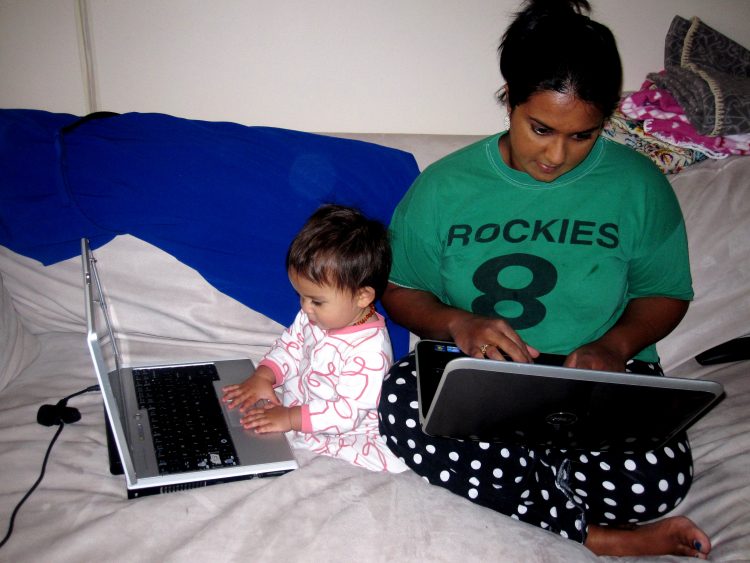 Why do we allow our kids to have as much screen-time as we do?
We need some peace and quiet (how else can we sleep in until 11 a.m. on weekends when they're up at 9 a.m.?)
They learn plenty from the shows they watch, yes including Dora and Toopy and Binoo!
We need some peace and quiet (and I'm waaaay too tired to entertain them)
I actually like listening to the youTube song "Daddy Finger Daddy Finger, where are you" a zillion times a day
We need some peace and quiet (so I can get dinner going while the hubs is at the gym)
I don't have to think of creative sensory sessions – the kids tell me what they want to do after seeing it on Netflix's BabyFirstTV
We need some peace and quiet (so we can hang with our friends on weekend nights)
We want them to be aware of pop culture and current trends (in their circles it's all about the latest cartoons and silly songs)
We need some peace and quiet (so we can work during our work from home days – which is every day for the hubs!)
They pick up educational skills like counting and reading from shows like Magic School Bus, Leap Frog and VeggieTales on Netflix
I suppose some may say we're just lazy… but you know what? We still take the kids outdoors, they play with their friends and toys on a near daily basis and they also love to ready. So…if lazy is keeping us sane and the kids out of trouble…I'm totally okay with that!