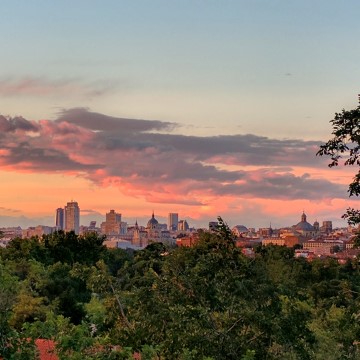 Since we spent 2 months exploring Spain with our kids, we've received a number of emails about visiting Spain with kids. If you are wondering which Spanish cities would be great for a family holiday, you have a number of great choices. Spain is filled with so many amazing destinations and to be honest, every city was kid friendly. Spain's culture is very family focused. No matter where you visit, you and your family will feel welcomed.
Every city we visited had a playground every couple of blocks, ice cream shops at every corner and plenty to keep parents and kids busy. That said, I do understand that most families only have a week to ten days for a family vacation and will have to narrow in on a couple cities to visit, so here's my advice based on some of the questions we've received.
Do We Visit the North or the South of Spain?
Oh this is such a hard one! We loved the relaxing vibes of the south, while the north was filled with so many amazing cultural and culinary finds. Whether you go North or South also depends on the time of year. We spent much of April in the South, exploring the cities of Málaga, Granada, and Seville, and even at that time of year, the temperatures were pretty hot on some days. The coast is never too far away, but I would not want to spend the summer months in Southern Spain.
My advice is this; If you're looking for beach vibes (especially during the winter months), you want to head to the South. For those looking for culture and culinary delights, the north is a good area to explore (though we also found some amazing restaurants in the South). Fortunately, Spain has a great train network and so you can easily zip between major cities in just a few hours. I definitely recommend trying to make it to some of the spots in the middle, like Madrid, even if you can't get to the opposite end of the country in one trip.
How Many Days Should We Spend in Spain?
We spent two months and still didn't get around to seeing all of the major cities in Spain. So the answer is, spend as many days as you can. I had been saving our visit to Spain for years because I knew I wanted to explore the country in depth but you can visit for as long or as short as you'd like. We spent two days blissful in San Sebastián. Its vicinity to France makes it the idea weekend getaway for the French, since it is small enough to explore in just a weekend.
Most of the cities we visited we were able to cover in 3 or 4 days, but if you are visiting Madrid or Barcelona, you should set aside at least week. We spent 5 days in Barcelona and barely scratched the surface. For the smaller cities we visited, Zaragoza, Seville, Málaga, Grenada, San Sebastián, and Ronda, we spent between 2 and 5 days, giving us time to explore most of the items on our list.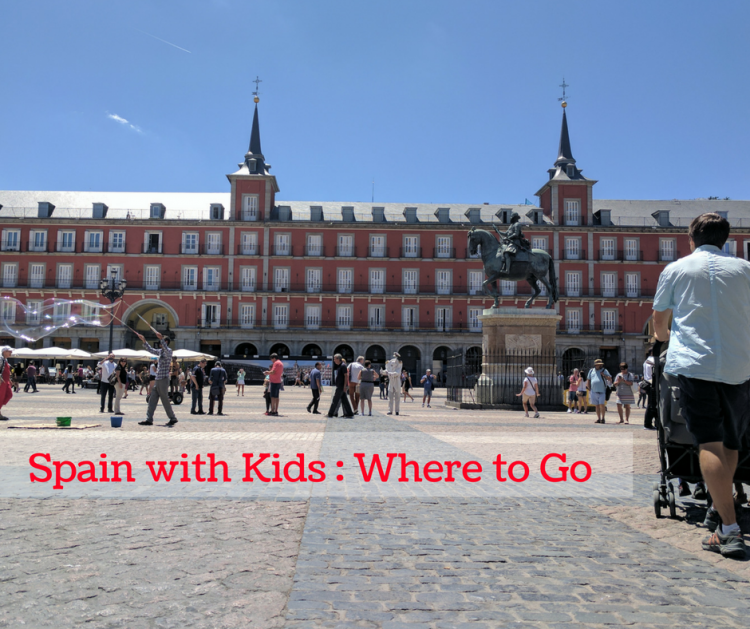 Which Cities to Visit in Spain
Ah! Probably the most popular question we receive. Here's a quick run down of how many days we recommend at each of the cities we visited (click the city names for more details)
Málaga: A lovely beach and cultural vibe. The birthplace of Pablo Picasso, this city is great for those looking for the best of both culinary and beach life. We recommend spending 3 to 7 days in Málaga. Click here to see some amazing pictures of Malaga.
Marbella and Mijas: Not much was open when we visited Mijas in April, so if you're looking for a beach town to laze around in, be sure to have a car and ensure it's "in season".  We're not beach bums but definitely found it very pretty and 3 days was plenty for us. Great area to make a day trip to visit the Rock of Gibraltar!
Ronda : Such a cute town, with views that totally took our breath away. You could do a day trip to Ronda, but I recommend an overnight stay so that you can enjot the city's beautiful sunset and visit El Quinqué to enjoy one of the best flamenco shows you'll find in the country. 1 day. Click here to see some amazing pictures of Ronda.
Granada : Tapas culture reigns supreme in Gradana. There is much we missed during our visit but I can tell you that this city has plenty of Andalusian culture to share (especially if you haven't visited Morocco). Plan ahead because everything books up early in the city and I know I'm biased but I did find it hard to navigate this city with a stroller. 2 days.
Seville : We loved the culture and food here and would choose Seville over Granada if we had to. Plenty to see and eat here and I highly recommend spending 3 days in Seville. Click here to see some amazing pictures of Seville.
Barcelona : However many days you have, they're just never enough for this city. Barcelona is massive and teeming with people. I recommend booking your accommodations in two different parts of the city so you can get a good feel for this vibrant Spanish city, see it's wondrous sights and sample its delicious food. 7 to 14 days.
Madrid : We took it easy in Madrid and didn't visit many of the museums but there's quite a bit to do here. If I had to choose between Madrid and Barcelona as a food and art lover, I'd opt for Barcelona, but Madrid contains mysteries that I am sure we missed. 5 to 10 days.
Zaragoza : A small city that is often forgotten about but it's a great one for kids, as it is easily navigable and there's a great food and craft beer scene as well. It's downtown features two majestic cathedrals that need to be seen. 2 to 3 days.
La Rioja : You need a car to explore this wine region and things are a bit spread out but if you base yourself in Logrono, you will find a charming vibe that made this my favourite food spot in Spain. 2 to 3 days if you want to visit the wine region.
San Sebastian : Every food and craft beer lover needs to visit this Spanish city that borders France. It's known for the rambunctious nightlife but we found it quite charming with kids as well. 2 days (perfect weekend getaway).
We didn't visit Bilboa, Stiges and Valencia but people have great feedback and it's easy from Barcelona as well.
[themify_box style="light-blue shadow" ]
Check our our YouTube Playlist of Spanish Cities
[/themify_box]
General Tips for Visiting Spain With Kids
Groceries were easy to find and we loved stocking up on Spanish snacks for our day trips – deli meat, cheese, fresh fruit and crackers are all easy to find but remember that some spots shutdown during the afternoon and on Sundays for siesta. You do need to plan ahead and we found ourselves grocery shopping in the night more often than not.
Fresh milk isn't as easily available (though can be found in bigger supermarkets). We were happy with the shelf-stable UHT milk packs and opted for "Entera" which meant full cream/whole milk. We also couldn't find any Pampers in Spain but did find that the local brand was good enough. We did spot Huggies at every pharmacy and in the big supermarkets. Most cities are quite walkable so we definitely needed our stroller and most attractions (and many restaurants) were easy to navigate with a stroller.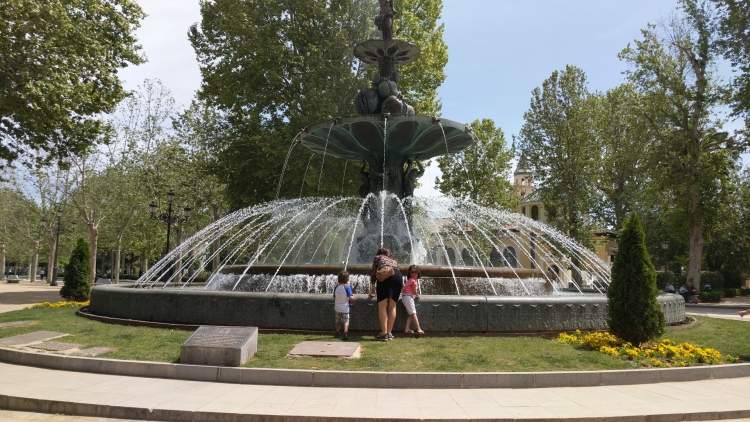 City passes were helpful once we got to the North of Spain as some allowed us to use the local buses at no additional cost, which meant we could leave the stroller at home since our kids were 3 and 5 years old and capable of walking for about an hour with one or two brief stops.
The Spanish love kids, so we were able to hang out on patios late into the night without anyone giving us the stink eye. The best part was that some cafes and bars even had a playground attached! Everyone spoke English in the bigger cities, but we did find Google Maps and Translate helpful for the smaller towns.
One thing that caught us off guard is the rampant smoking – we even saw grandparents puffing away sitting in front of infants. You may want to sit indoors to avoid the smoke or at least scan a patio before sitting down next to a table of smokers (hard to avoid as 3 out of 5 people on average were spotted smoking at any given time during our 2 months of travel).
Spain is an amazing country and I'm so glad I saved this one until we were able to spend a significant time exploring the country. Will we be back? Definitely. There is so much more for us to see and eat!