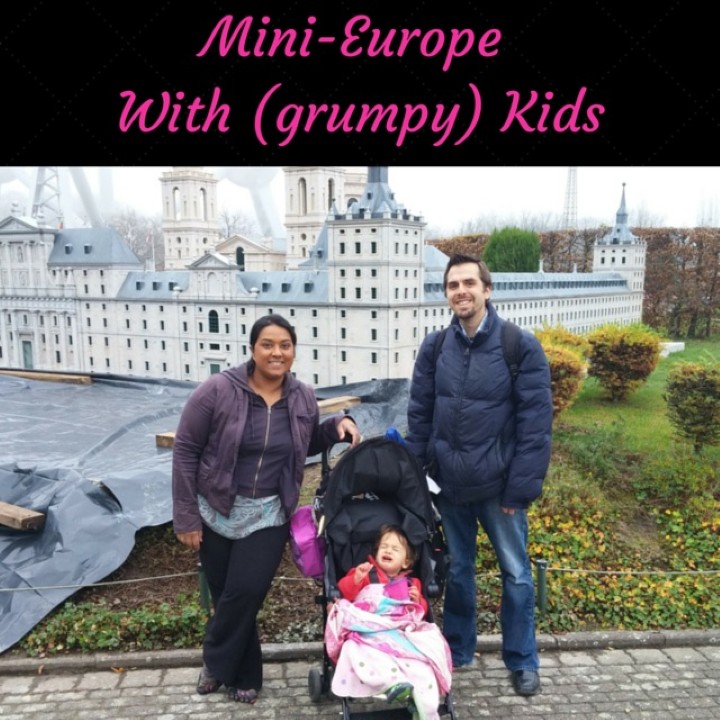 One of my fondest memories of Europe as a kid was visiting the Madurodam in The Netherlands and so when I discovered that there was a similar attraction in Brussels I was SO excited to take the kids there. Okay.. and I was pretty excited take myself there too! Mini-Europe is a park near the Atomium that allows one to tour around Europe without leaving the park! So cute I tell you. It's nestled in the Bruparck which has everything from bars and restaurants to a water park and even a cinema (all for kids of course).
It was one cold cold day ( remember how cloudy it was during our visit to the Atomium) and the kids were not dressed appropriately but luckily we had Baby Boy in a stroller and Little Monkey was still ready to explore after our visit to the Atomium next door. We knew we wouldn't last long at Mini-Europe but because I wanted to visit the spot we swung by for an hour. What I didn't know going in was that a good half an hour would be spent trying to console Baby Boy and Little Monkey who were both very fussy, in need of snacks and plenty of hugs.
Disclosure : Our visit was hosted by Visit Belgium, but as always, opinions are totally mine!
Once I got them settled we finally got around to exploring Mini-Europe's miniature models of  buildings in the European Union. The buildings are at a scale of 1:25 and there were about 80 cities and 350 buildings represented in the park. It's stroller friendly and you can leisurely walk through the space listening to the bells of Big Ben and the eruption of Vesuvius. You can even make the Berlin Wall fall! My favourite part was watching the miniature airplanes move around.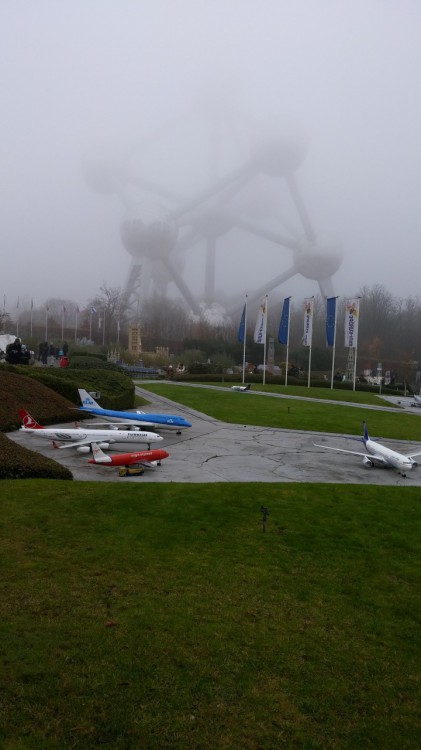 Even abbeys, churches and town halls can all be spotted as you walk through Europe. There aren't many places where you can say ' oh I just spent an hour walking throughout Europe!" We took our stroller easily through the space and there's a cafeteria where you can enjoy a warm meal at. Yes there's bathrooms and change tables easily available as well. My kids were in a rotten mood but what amazed me was how detailed everything was and I'd love to see the place in the evening. I hear it's gorgeous once everything is lit up.
Mini-Europe was a mini disaster for us and yet I will say that if you're in the area, it's worth a visit to. It's a charming little spot that older kids will absolutely love. The space is toddler friendly with buttons to push and many anthems playing but if they're tired they won't find much to excite them. Adults who geek out on travel and who are fascinated by architecture will love this place.
Have you been  to Mini-Europe or a similar place?