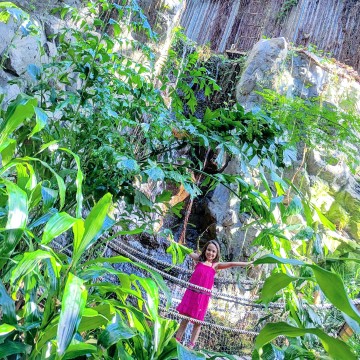 We have been visiting the Ontario Science Centre in Toronto since our kids were babies and have come to realize through first-hand experience that the Ontario Science Centre is fun no matter how old you are. It's no secret that the grandparents love taking the kids to the Science Centre – mainly because they enjoy learning and playing at this family-friendly attraction in Toronto. This is as close as we come to having a children's museum in Toronto. If you're a tourist looking for things to do in Toronto with kids and have a day to dedicate towards some educational fun, this is your spot. Many Toronto families, like us, have a membership to the Ontario Science Centre. Our kids love going there, and it's a great place to spend the day.
Disclosure: This post is in partnership with the Ontario Science Centre but, as always, opinions are TOTALLY ours!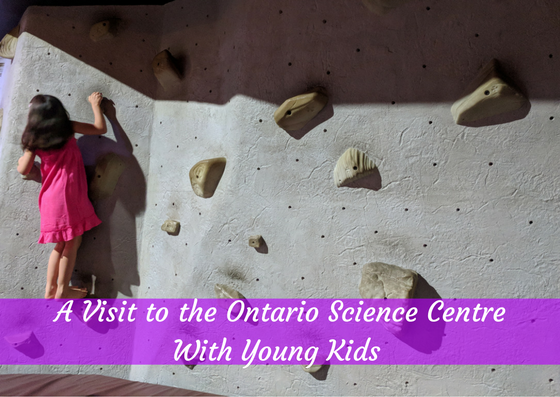 The Ontario Science Centre is one of the world's first interactive science museums and is focused on hands-on learning for visitors of all ages. Its mission is to inspire a lifelong passion for the human journey of discovery and it's definitely achieving that! Just watch the video below to see how we recently spent our day at the Ontario Science Centre with our 4- and 6-year-olds. Baby Boy and Little Monkey know their way around the Science Centre and have their favourite spots, which they share with you!
[themify_hr color="gray" width="100%" border_width="1″ ]
Getting to the Ontario Science Centre
Driving is probably the easiest way to get to the Ontario Science Centre as there is ample paid parking available on site. I will admit that using public transit to get to the Science Centre isn't as easy as some of the other Toronto attractions, but it's totally do-able. You can take the TTC to Pape Station and then hop on the 185 Don Mills Rocket or 25 Don Mills buses to the Science Centre. We've done this a couple times and usually involves a 50-minute ride from the Eaton Centre.
Tips for Visiting the Ontario Science Centre with Young Kids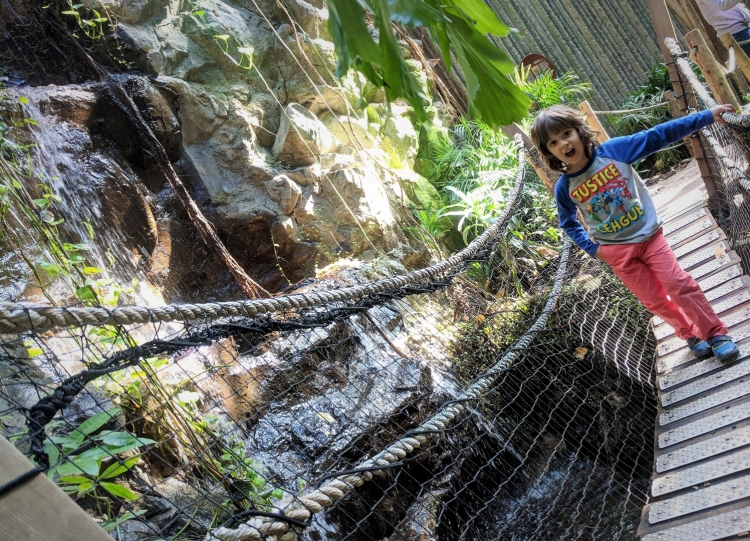 If it's your first time visiting, plan to spend the entire day here as there is plenty to do.
Be sure to speak with the friendly staff on-site and ask them about any special appearances or performances as there is always something new and fun happening.
If you have very young kids, bring a stroller with you. While they have a nap, you can enjoy the special exhibits! The Science Centre is very stroller friendly and there are easily accessible change tables and high chairs.
There is a self-service restaurant on site that offers freshly made warm food but if it's a busy time, be prepared for a bit of a wait. Always plan ahead and have some snacks on you for emergency hunger pangs and check out the cafes on-site as well.
Bring a reusable water bottle and fill it up at the water fountains located throughout the building.
Bring a change of clothes because inevitably they will get wet or the kids will spill something on themselves
We've visited on numerous occasions and even on the busy days, the space isn't over crowded as the Science Centre is quite massive. So don't let a special event and fear of over-crowding deter you from visiting.
Know that your kids will want to play with the displays outside the Science Centre – there are giant rock spheres, telescopes and more before you even enter the building and our kids insist on stopping there on the way in and on the way out!
Highlights of the Science Centre for Young Kids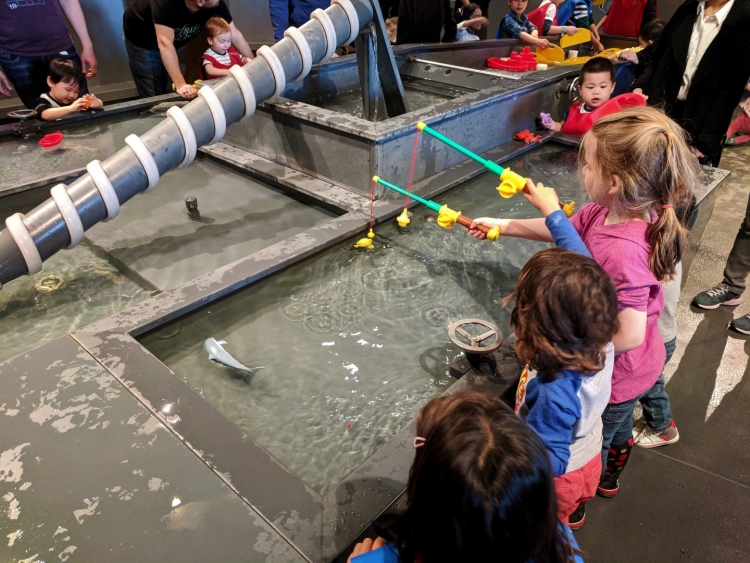 The staff at the Ontario Science Centre have done a bang on job when it comes to creating engaging displays that educate. I learn something new on every visit! With many different displays and exhibit halls, it can be a daunting task to narrow down the ones to visit. If you have kids under 8 years of age, the following are our favourite areas. There are other great areas for older kids so be sure to take a look at the Ontario Science Centre Map as you plan your trip.
 OMNIMAX Experience with Young Kids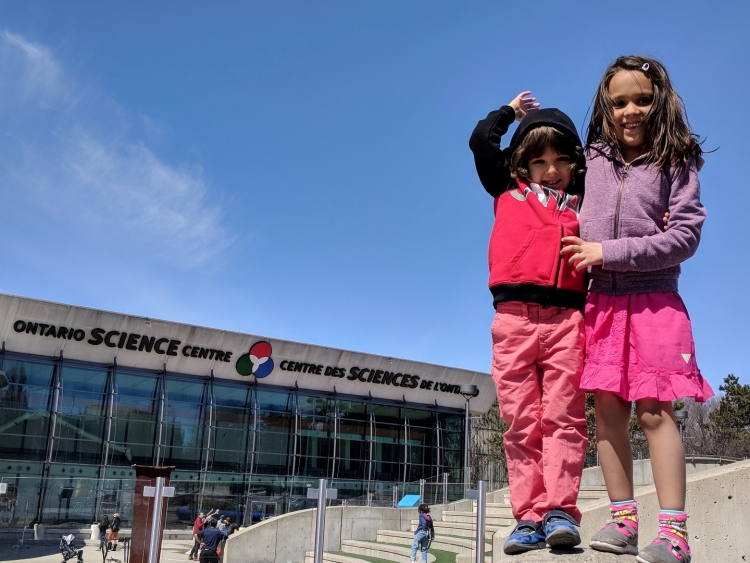 We finally had the chance to take in a film on the giant dome screen at the Shoppers Drug Mart OMNIMAX Theatre and loved the experience. We watched Under the Sea because we thought it would have the most appeal for our kids. They enjoyed learning about the coral reefs and marvelled at the range of marine life featured in the film, through they did get scared a couple times when the bigger fish were eating the smaller ones. If you plan to watch a film, my recommendation would be to do so at the start of your Science Centre visit, before the kids get too tired and restless.  That said, we decided to do it half way into our visit and it was a good opportunity to sit down and relax (though they did get slightly restless for the last ten minutes). The new IMAX documentary adventure Pandas just arrived and I'm excited for us to catch that one the next time we visit.
If you're looking for a family-friendly Toronto attraction, the Ontario Science Centre should definitely be on your list. It's an educational and entertaining visit and one that will have the entire family engaged. Whether you're travelling with a baby, toddler or older kids, there's something for everyone! With summer coming up, be sure to check out their day camps  if you live in the Toronto area.