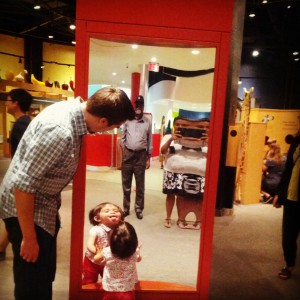 We had originally thought the Science Centre would be a bit too advanced for a baby or toddler, but clearly we were mistaken! A couple weekends ago we made it out for a visit and was absolutely shocked by how much fun everyone had – from the 1.5 year old kid to the 60 year old BIG kid! There's plenty of exhibitions and displays that will not only entertain, but also educate along the way.
For the younger visitors there's dedicated Kidspark section for the 8 and under and within that section there's a separate section for the under 4 age group. Though in all honesty the Little Monkey was fascinated by all the sensory exploration, the bright colours and the cause and effect of pretty much every display. The hubs was into the ancient rocks and the video game arcade (yes we played Donkey Kong and Atari games from our youth!). The grand parents were also along for the ride and my mom was the biggest kid of all, running around learning about the rainforests, the formations and the various innovations.
---
---
One plea I have is that the kid's supermarket was a bit of a mess with meats and veggies (plastic don't you worry) strewn all over and abandoned carts filled to the brim with goodies. It would be great if we encourage our kids to return everything once they're done with the shopping spree. I saw a couple moms running around trying to clean up and I did attempt to help as well but then five minutes in realized that I hate cleaning my own house…let alone a public supermarket! Sorry!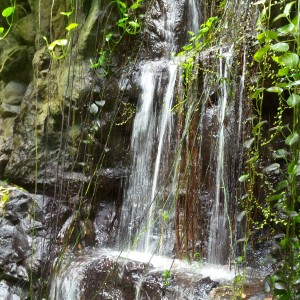 Despite visiting on a long weekend, the place didn't feel crowded. The Ontario Science Centre is huge! We originally anticipated spending two hours looking around but ended up staying till closing and still wanted to play! Four hours of exploration and we still weren't done. There were plenty of cafes and kiosks scattered throughout the various levels but we opted for a full sit down lunch at the Valley Marketplace and I was very pleased to see a good mix of offerings. From pastas, burgers and pizza to milk, fruits, veggies and yes even candy! Something for everyone and definitely a better spread than at most "touristy" spots. Though shamelessly we opted for a large family size pizza.
As for stroller access, let me tell you. You have nothing to worry about. Everything is well spaced out and you can easily navigate the stroller to each display and section. Even the men's washroom had a change table (yay!! your turn Dada!). In addition there are dedicated baby rooms for nursing, diaper changes or just a time out. Plenty of seating meant that this preggo had a chance to sit down and take a load off every hour or so (admittedly after the fourth hour I was chasing the seats every ten minutes!).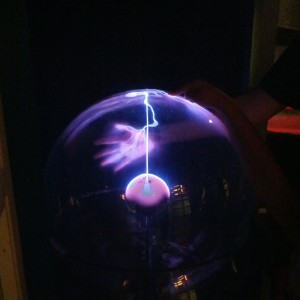 As the pictures and video displays illustrate, there's plenty to entertain the tiny tots and the kids trapped in an adult's body! Whether you're a tourist or local, the Ontario Science Centre is definitely worth a visit. They are accessible by public transit though keep in mind that Pape Station is still not equipped with an elevator so there are a couple stairs you need to take in order to catch the bus to the Science Centre. Construction is in place so hopefully the elevator will  be in action sooner rather than later! All said and done there's lots of ways to interact with the kids at the Science Centre and a great way for adults to interact with their little ones. Lots to be learned, whether you're 1 or 61! Go forth and release your curiosity!