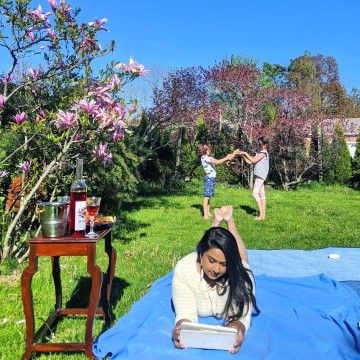 If you're looking for some ideas to entertain your young kids this summer while you attempt to do some work, I have some ideas for you. For those lucky enough to have a small condo terrace or backyard these ideas are for you! Unfortunately for us, our downtown Toronto apartment does not have a private terrace or balcony and that is one of the reasons that we moved in with my parents. Access to a small backyard or balcony definitely helps during these times when most Toronto summer camps are closed or parents are weary of sending their kids out into the world. Over the last few months we've been enjoying the benefits of a backyard and have come up with some creative ideas to keep kids busy for a few minutes at a time and away from their screens (which I will openly admit, we utilize as a crutch WAAAAY too much). Most of these ideas are fairly budget friendly as I am aware that quite a few Toronto condo families have only temporarily moved to accommodations with backyards and terraces so no big investments will be suggested, don't you worry! We've also got a fabulous giveaway for 3 lucky winners who will either win some Frozen 2 Freezies from DeeBee's Organics, a Play Kit to keep kids busy or an Aveeno Sunscreen pack!
Splish Splash Pool Time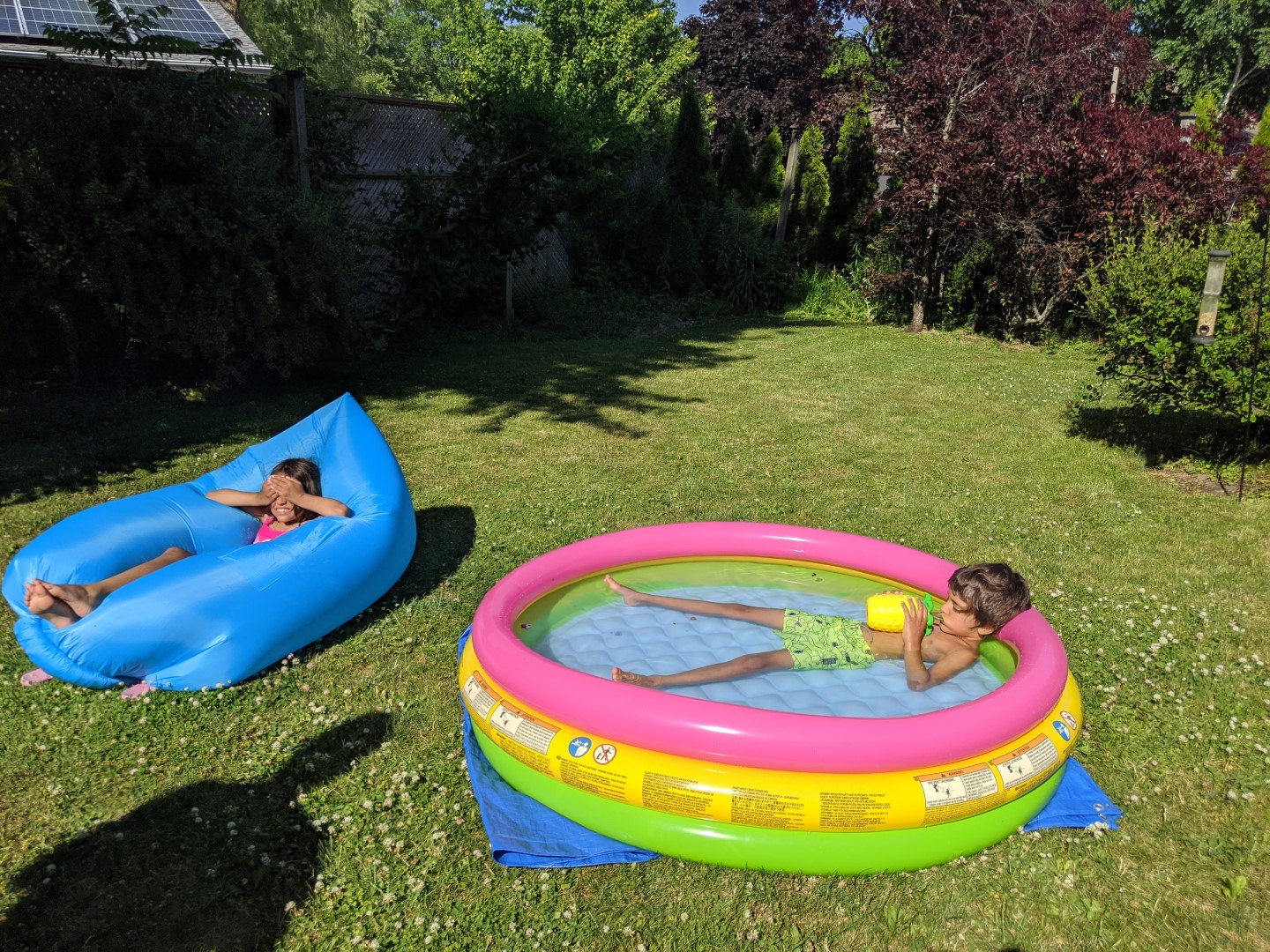 Swimming is one of our favourite summer activities and when our condo pool closed down for the pandemic, I knew we had to buy a small pool. The pool was one of the things that really entertained the kids. There are so many cheap options including this $20 blow up one my dad purchased. I also saw some fun sprinklers for under $20 too and nearly bought this unicorn one when it was on sale and this pineapple one. I liked the sprinkler mat too.
We're used to warm water in our condo pool so when the hose water used to fill the inflatable pool was too cold for the kids we went in search of ways to easily warm it up. The best trick we found was to place a black garbage bag on the surface and on very hot days, it attracts the heat and warms the water in a couple hours.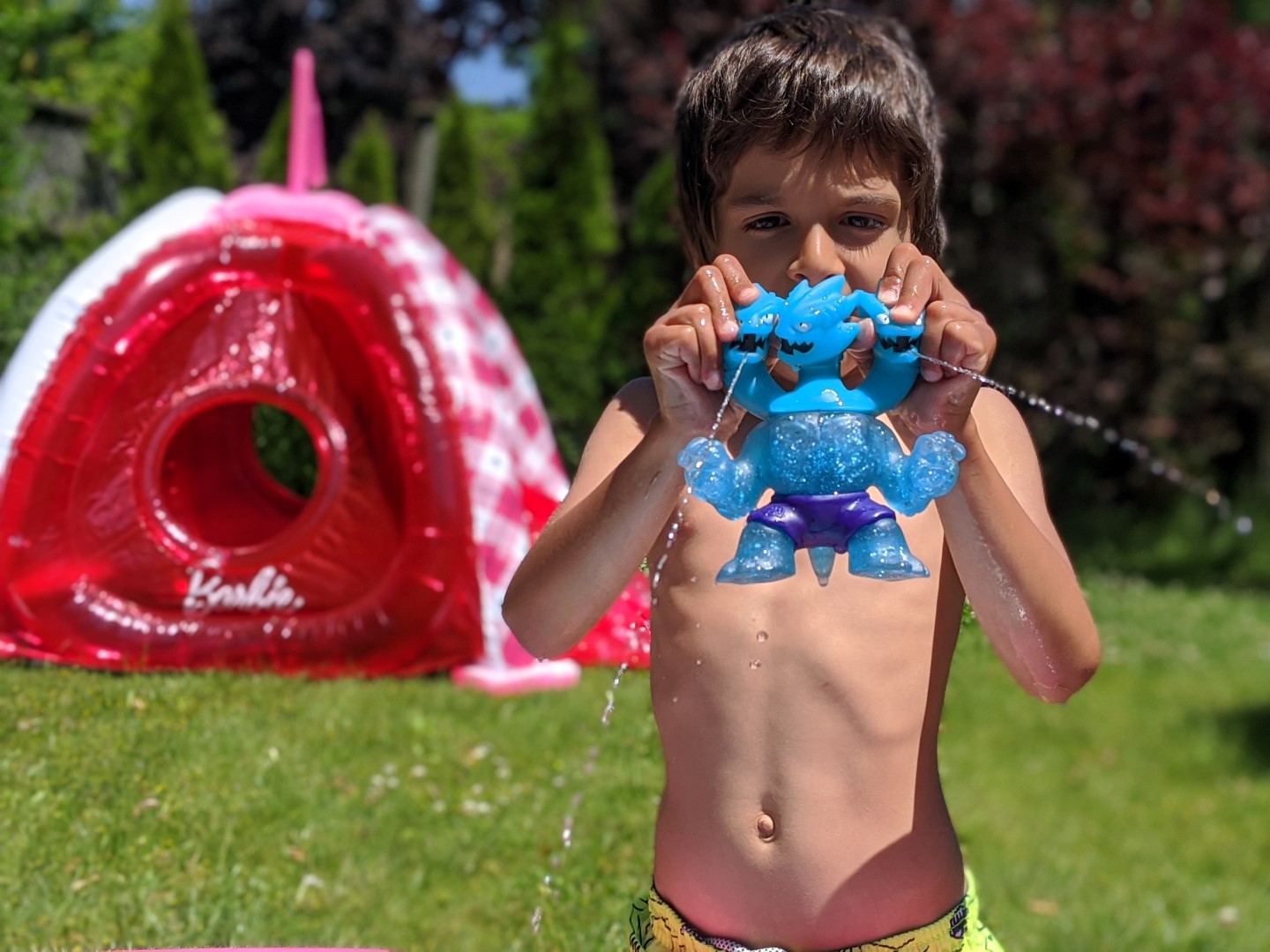 We thought long and hard about getting a bigger pool so that the adults could fit in it too but knew that it would be too much effort so the small pool was an easy choice. It was like a wading pool and the kids loved taking their toys in there for hours of entertainment. The Goo Jit Zu water toys were Apollo's favourite while Akira is still in her pony stage.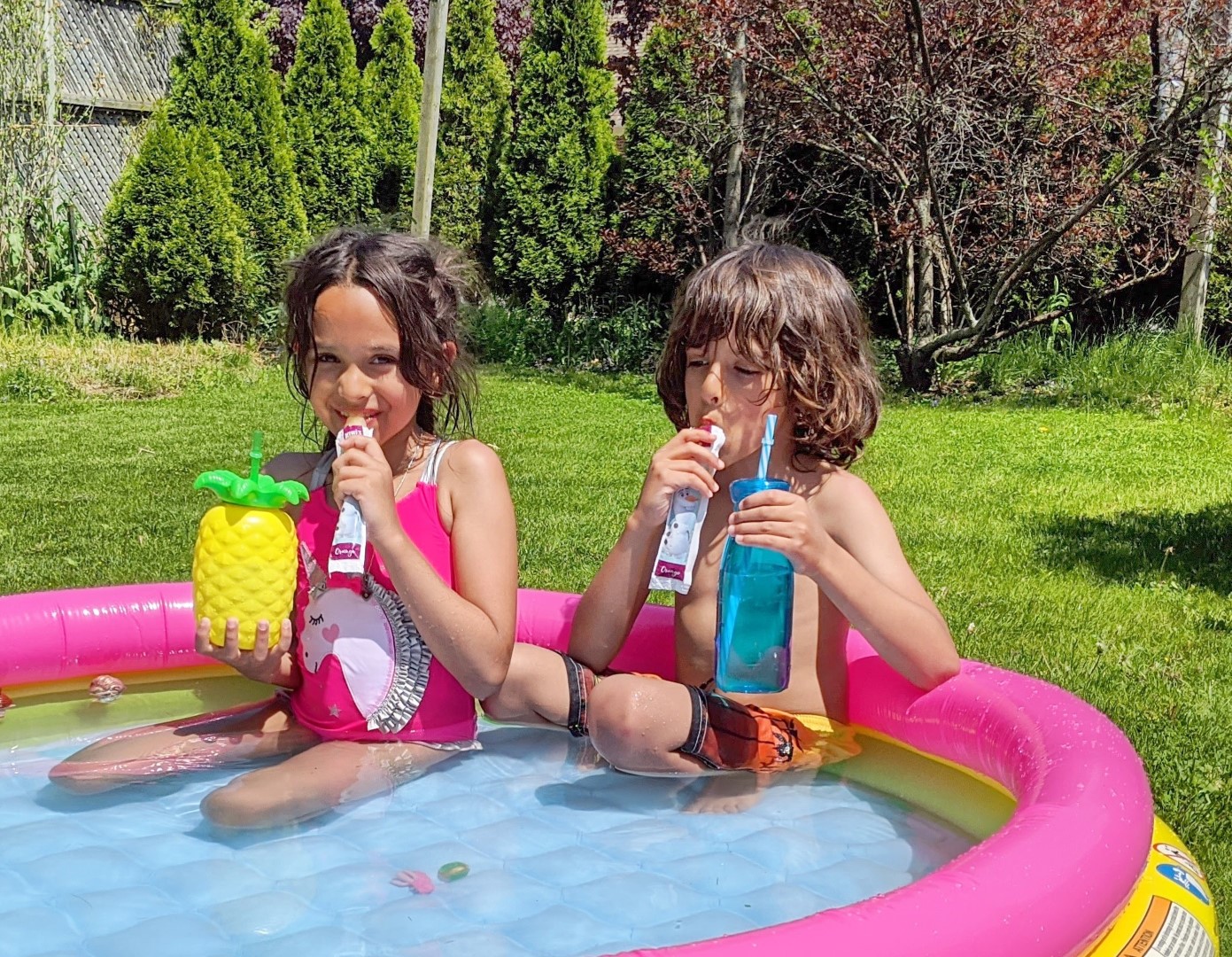 Just when they would think about getting out, I'd tempt them with some Dee Bee's Organic ice lollies and that would buy me another 30 minutes! It's all about the surprise and delights. In the early days the kids spent 4 straight hours in the pool and I ensured that they had drinks and snacks nearby as well. The DeeBee's Organic FruitPops are organic, non-GMO, gluten-free, dairy-free, vegan and kosher so it was an easy treat to toss at the kids. Continue reading because we have a pack of Frozen 2 Freezies up for grabs! Did I mention that this Canadian company is a women owned B Corp?
Camping in Your Backyard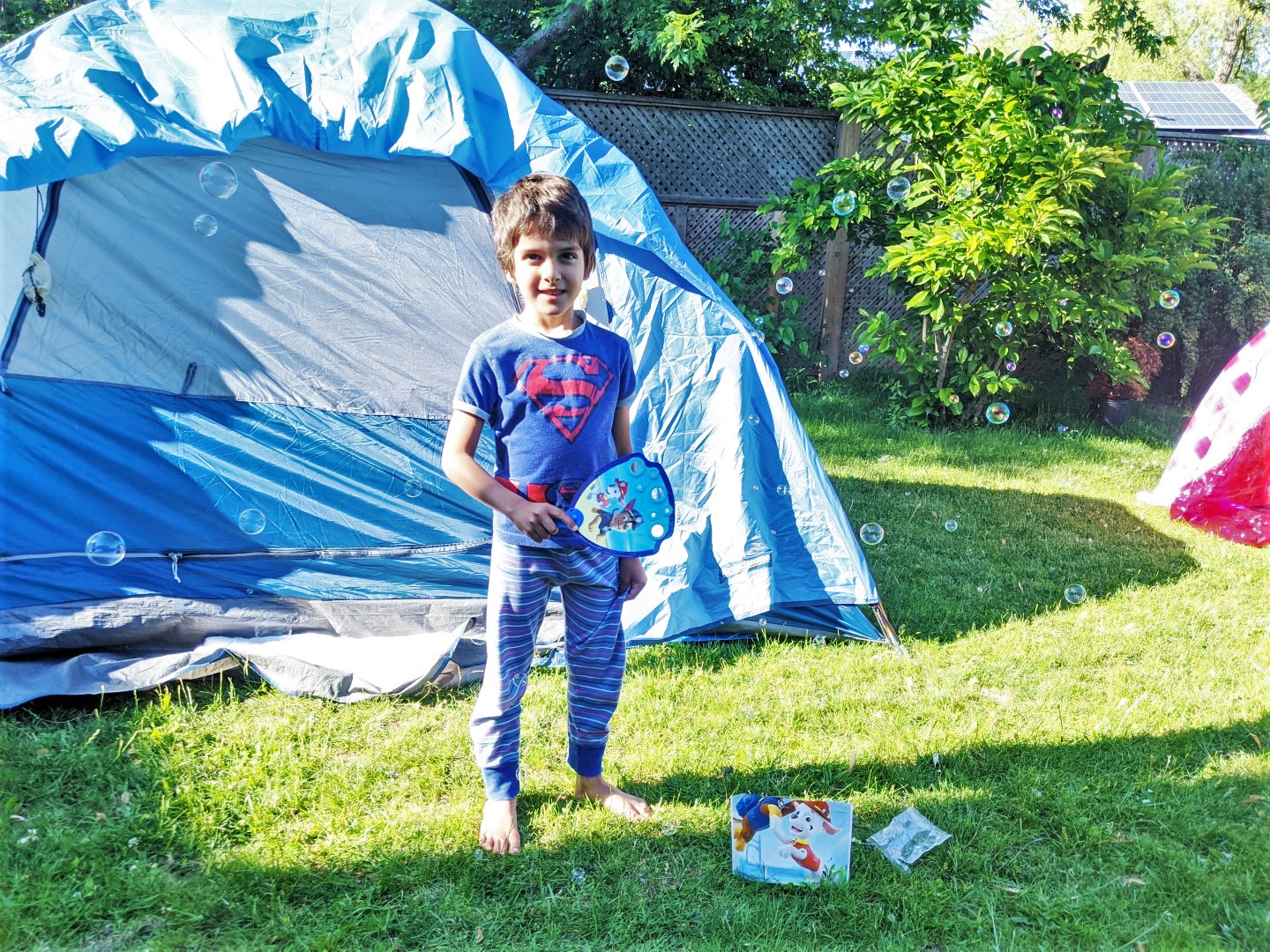 Our kids have never been camping so they were thrilled when we found my brother's old tent in the garage. I suggested that the tent be Apollo's private space so he could invite Akira or other family members in whenever he wanted but we all had to ask for permission before we barged in. Giving each child their own space was a great idea in the end but more often than not, he'd insist on Akira being there with him.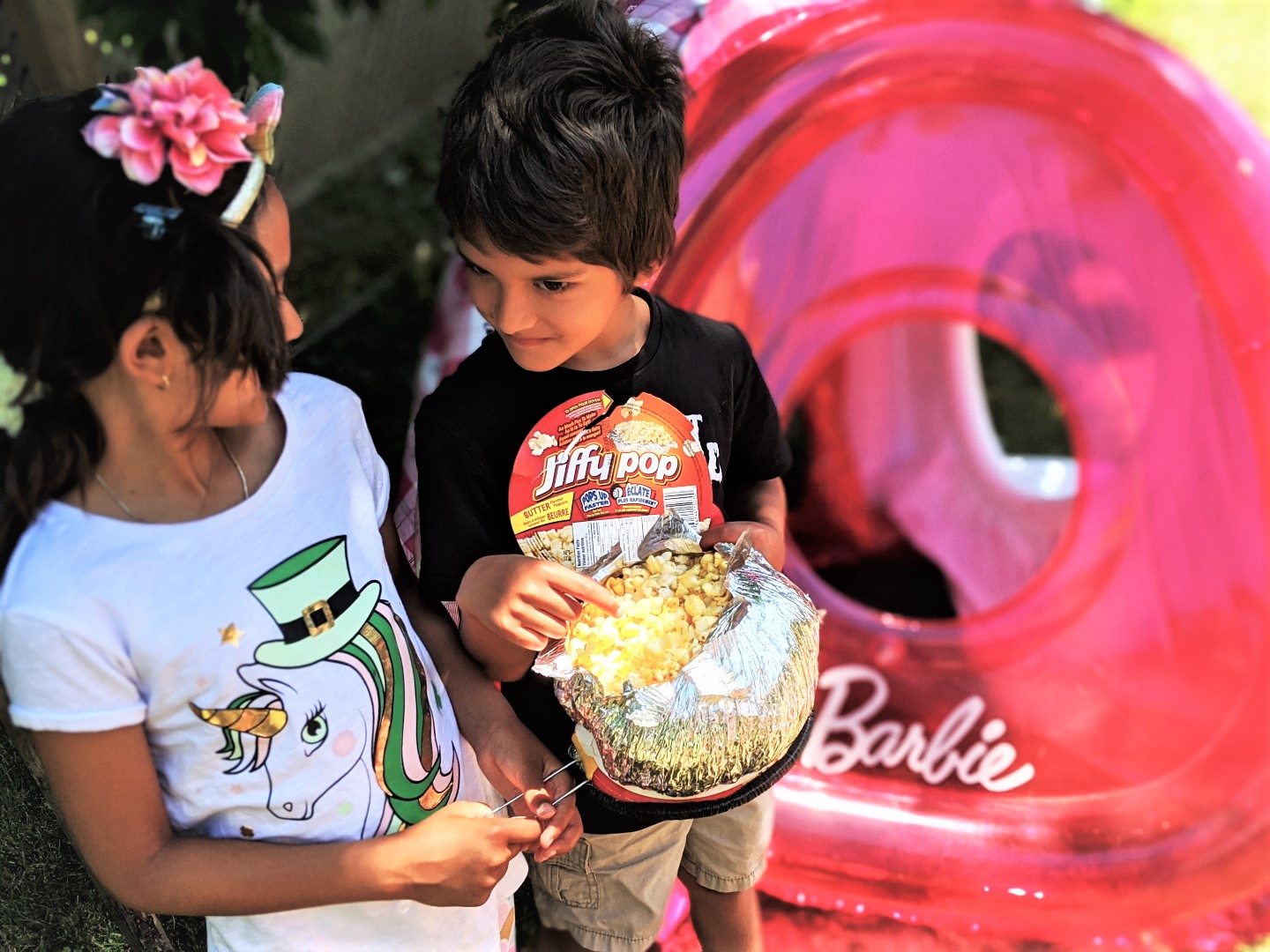 Popping some Jiffy Pop and making smores on a small camping stove was quite the treat on Friday nights for them. While Chris and I chatted with our own friends on our virtual parties, the kids had their own party.
Bouncy Castle Rentals
The day I moved in with my parents my plan was to buy a trampoline or a bouncy caste. However I soon realized that these are very pricey items and so it took me a couple months to find rental companies. I never did end up renting one but I hope to do so before the end of the summer. If you're in the GTA, here are a couple bouncy castle rental companies I have found : Castle Kid, Kammazing (we had characters from them last year!) and Ontario Inflatables.
Having one would definitely tire the kids out, that's for sure. If I ever see one on sale I'd totally purchase it because it would definitely be put to use for years to come. The Little Tykes brand is one I hear good things about in terms of longevity. This crazy sporty bouncy castle looks pretty epic doesn't it?
Activity Box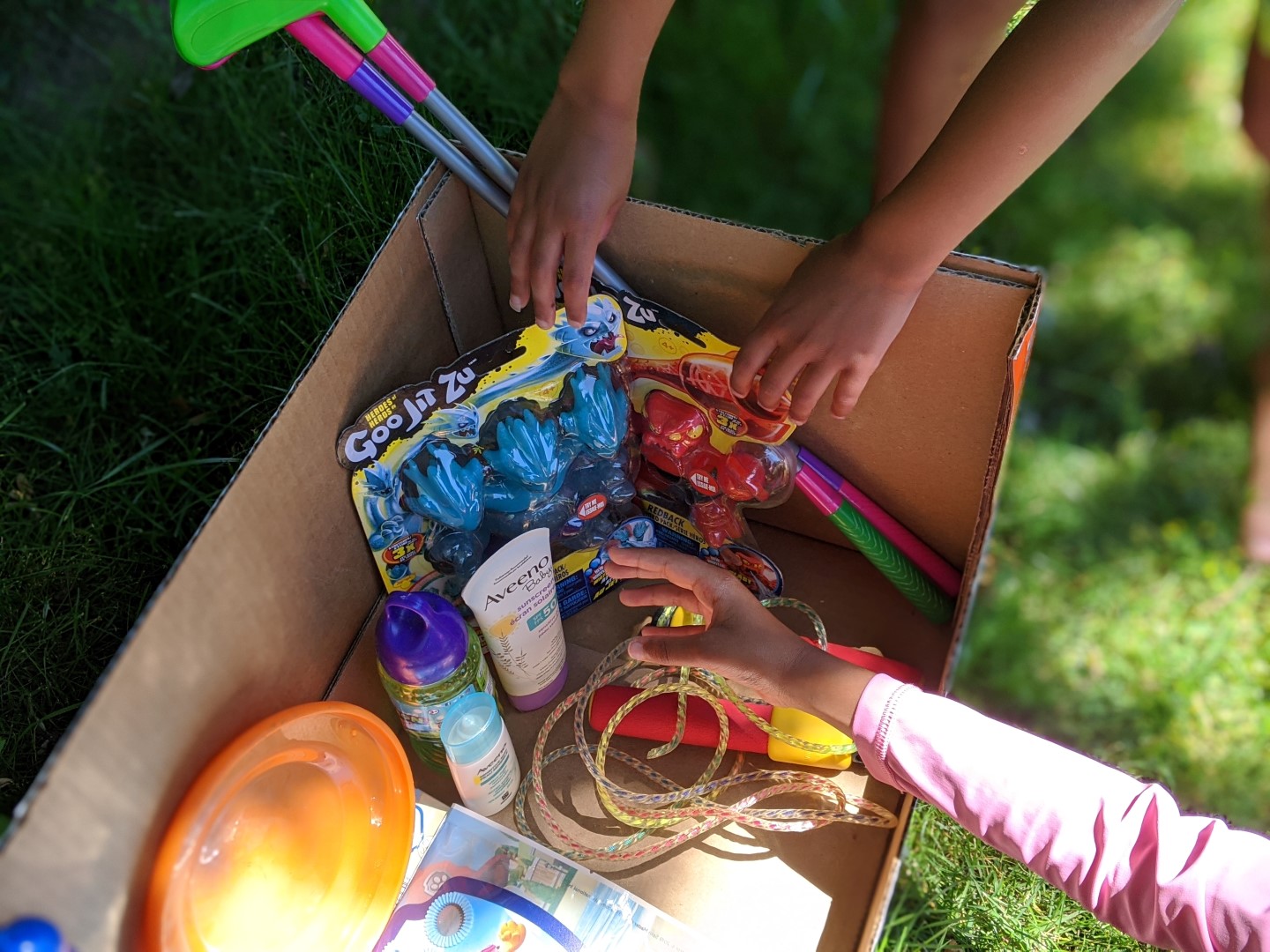 You know those times when you need to dash into a call or the kids say they're bored? Well this activity box was created for those moments. I have an indoor and outdoor one. Indoor one has books and colouring activities while the one for outdoors has skipping ropes, frisbees, bubbles, water toys and random things I've purchased from the dollar store. It's quick and easy, and some items may even live longer than the one hour of entertainment!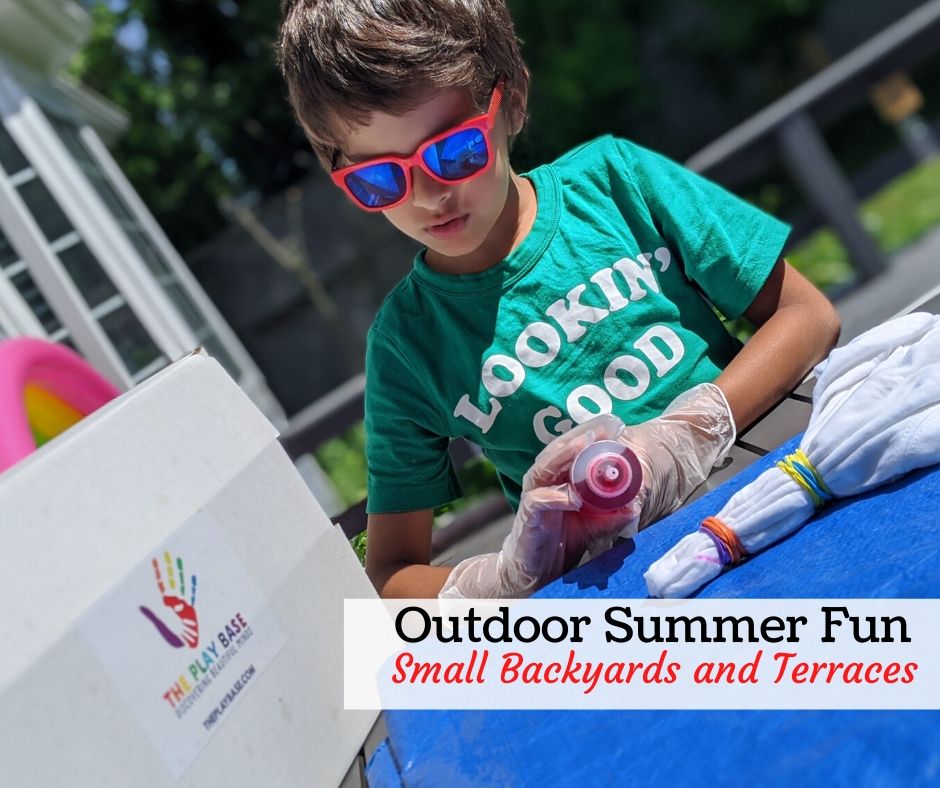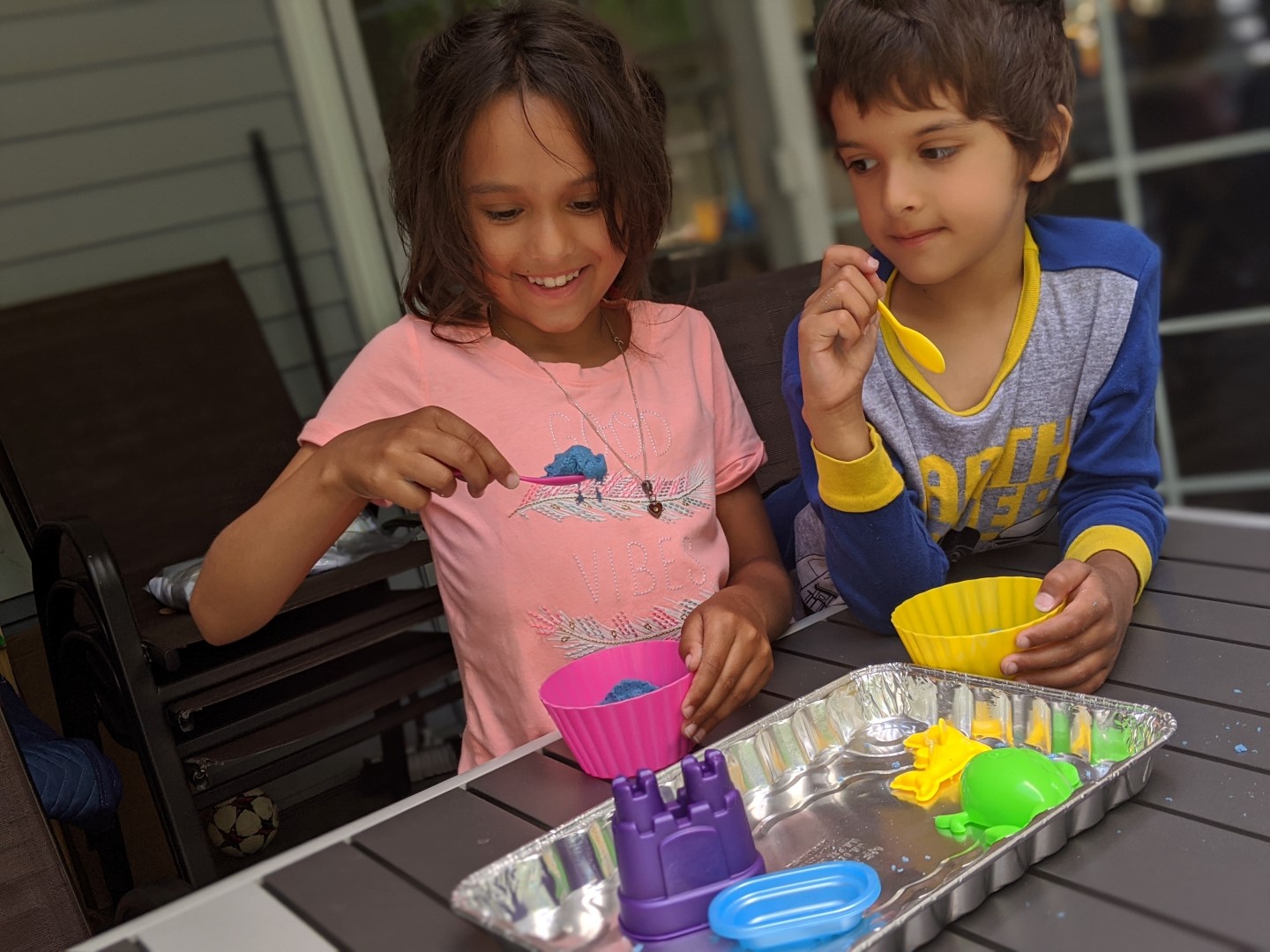 If you are looking to outsource the activity box, I highly recommend The Play Kit. Not only is the Toronto based company offering free delivery within the city, but they also donate a portion of the proceeds from each of kit to Black Youth Help Line. Their new mask kits are also a great way to ensure kids like wearing their masks! My kids spent about 8 hours over the course of two weeks playing with the various activities in our messy kit and tye Dye kit (a double kit retails for $80 while single kits are in the $45 range). Every activity and craft includes easy to follow visual instructions to promote independence. Keep reading because we have a kit up for grabs (you can choose which kit you'd like).
⠀
Picnic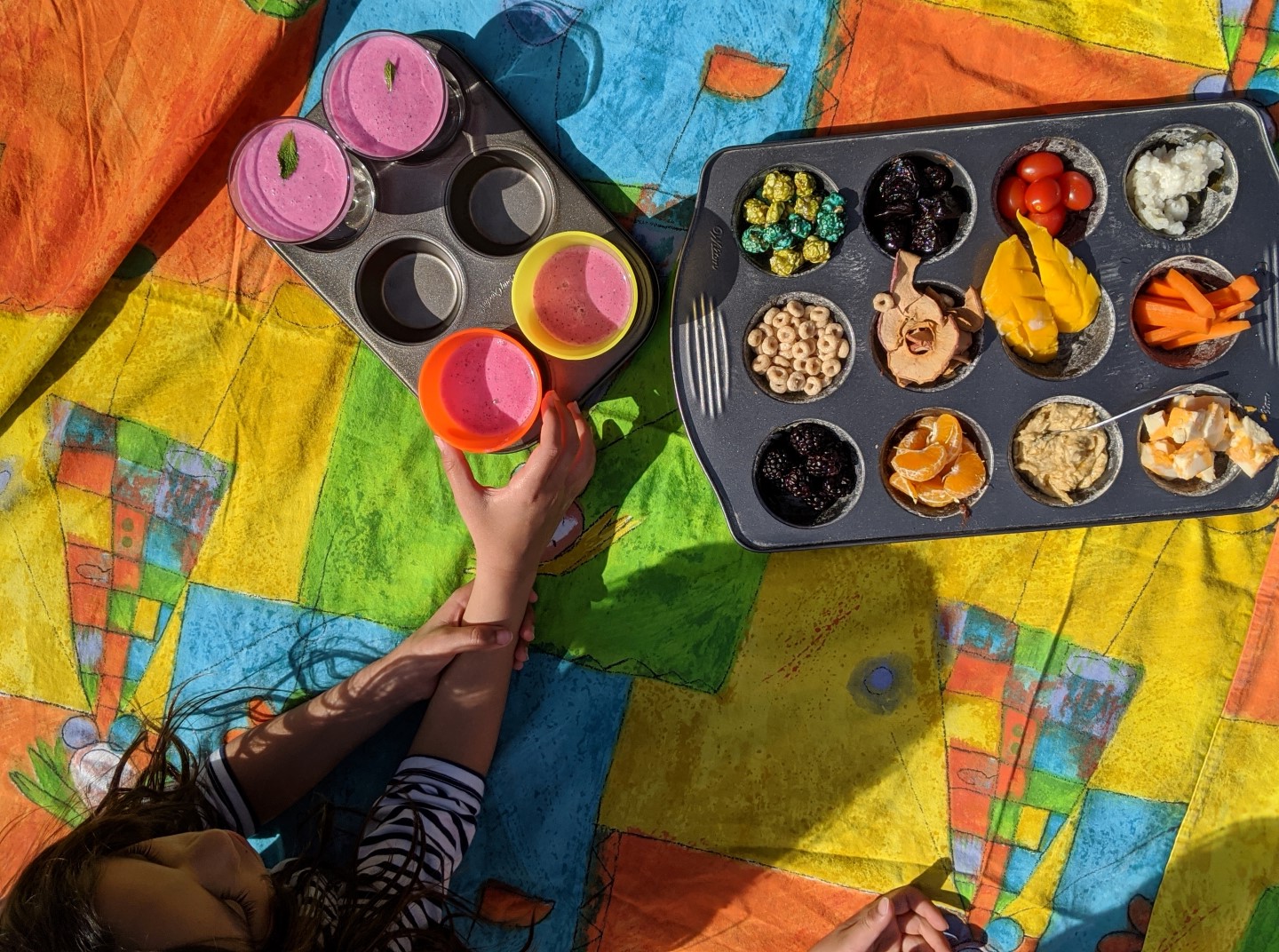 One the easiest activities and an easy way to get some fruits and veggies into my kids is to plan a picnic. These are quite impromptu affairs where I'll plop down a blanket, throw some fruits and veggies into a cupcake pan and pour them some drinks. They're happy to play a game of cards as they nosh on the goodies. Some days I join them and sneak in a few pages of reading!
Sunscreen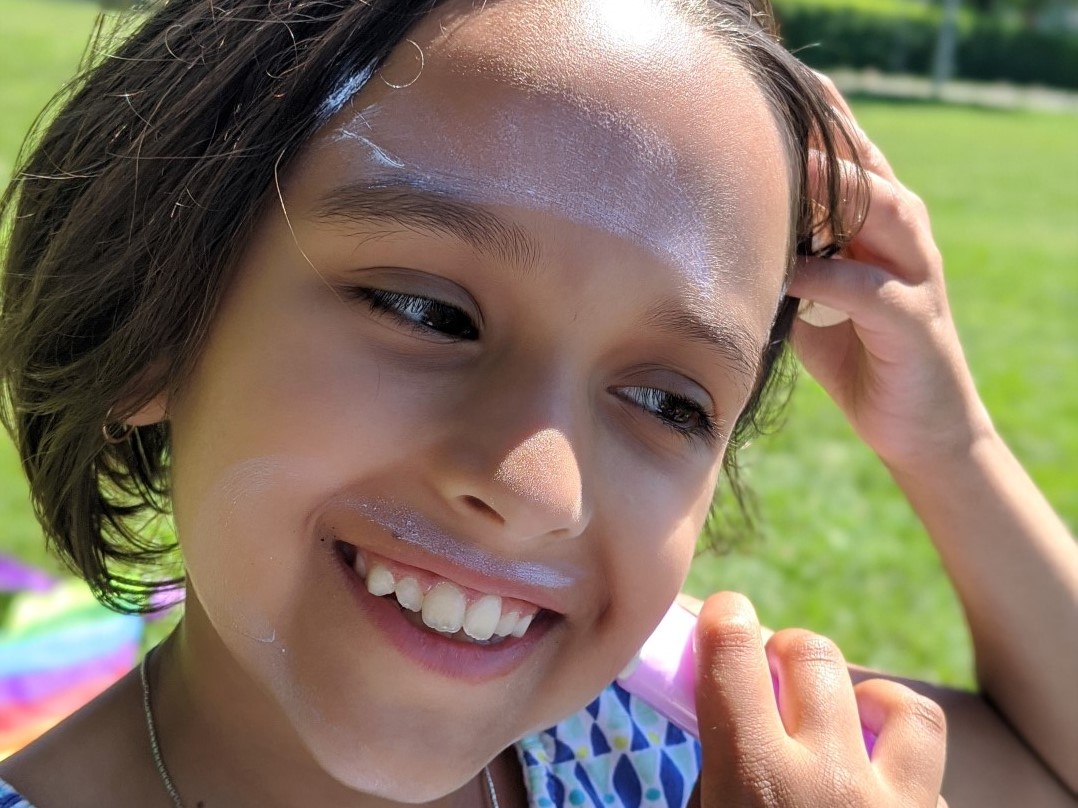 A bit of a PSA. It's hot out there and though it's tempting to just let the kids run into the terrace or backyard, we've been reminding ours to lather up in sunscreen. I've used a number of brands over the years but the AVEENO Baby line has been a consistent one in our home. Akira in particular is loving the new range of products from AVEENO BABY, especially the Sensitive Skin Mineral Sun Stick (SPF 50). She finds it easy to apply and the stick is super convenient to travel with as well. I ofcourse love that the newly reformulated premium sunscreen uses a natural UVA / UVB filter, for effective sun protection and is free of all parabens, phthalates, dyes, fragrances, and traditional (chemical) sunscreen filters. It's also sweat-and water-resistant for up to 80 minutes. There are a bunch of innovative formats when it comes to sunscreens from AVEENO and one of you will get to sample them all! Enter below for a chance to win $150 worth of AVEENO sunscreen products including
AVEENO BABY Sensitive Skin Face Sun Stick SPF 50
AVEENO Sensitive Skin Ultra-Light Sunscreen SPF 50
AVEENO Sensitive Skin Sunscreen Stick SPF 50
AVEENO PROTECT + HYDRATE™ Sunscreen Lotion SPF 30
AVEENO BABY Sunscreen SPF 50
AVEENO Sensitive Skin SPF 50 Face
AVEENO Sensitive Skin Sunscreen SPF 50
I recently chatted with What She Said about how to keep kids entertained this summer. If you're looking for more ideas, have a listen!
Alright!! The time has come for me to share more about the giveaways we have for you!!! We'll be picking three winners and they will receive one of the following gifts : a pack of Frozen 2 DeeBee's Organics Freezies OR a Play Kit (you will be able to choose which one your kid will enjoy the most) OR an AVEENO sunscreen gift basket worth $150. Please note that this contest is only open to Canadians.