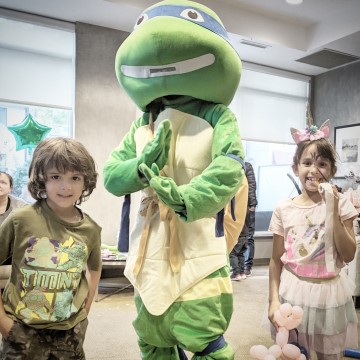 This year Baby Boy wanted a Teenage Mutant Ninja Turtle party and so half of our Magical Cowabunga themed party was in fact all about Ninja Turtles. Now, at times when I'd accidentally call it a Magical Ninja party some friends were confused and thought it might be a Ninjago or martial arts themed party. NOPES! It was all about the Ninja Turtles and I loved it because I was into the Ninja Turtles during my younger dates. This was a theme I really got into! From the decor to the food, I thought of some fun and creative ideas to bring our Teenage Mutant Ninja Turtle 6th birthday to life!
Ninja Turtle Decorations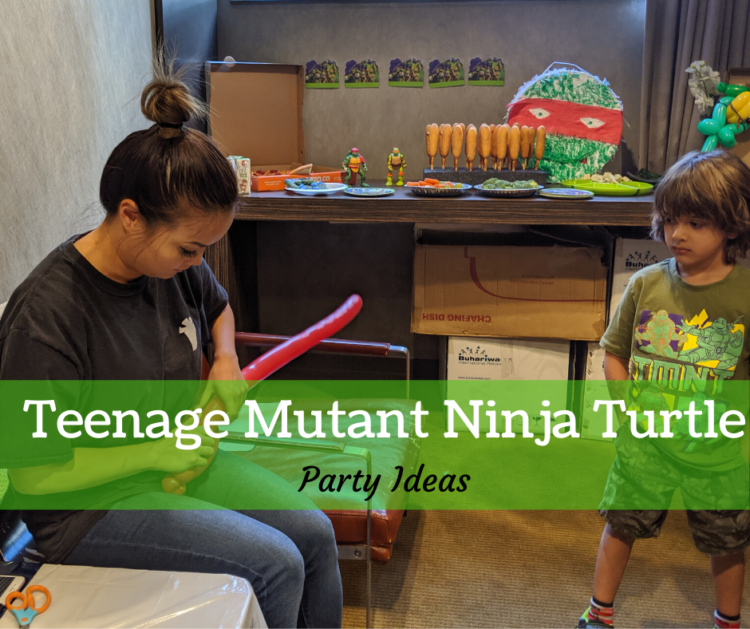 Balloons : This was an easy choice for me as Illooms has some green light up balloons which we discovered at last year's Ghostbusters birthday. In addition, I purchased some cheap plastic balloon sticks from the dollar store and used those to blow up the "helium" ones I had found on Ali Express. They were a bit difficult to stick on to the condo party walls but worked well on the mirrors!
Invitations : I had ordered the invitations (along with cups and plates) from Ali Express and these had arrived on time unlike the unicorn themed ones. In addition to the evite I sent out to our friends, Baby Boy was able to invite some friends from school who we'd never met before. I was so glad he was able to have some of his own friends at the party for the first time ever!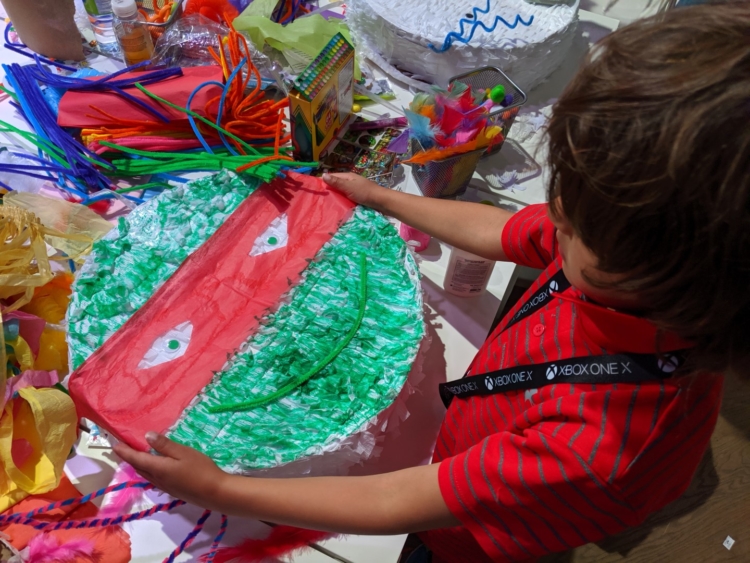 Pinata : During a recent Xbox event the kids had an opportunity to design their own pinatas and Baby Boy did such a fab job at designing his one that it was the focal point for the food table!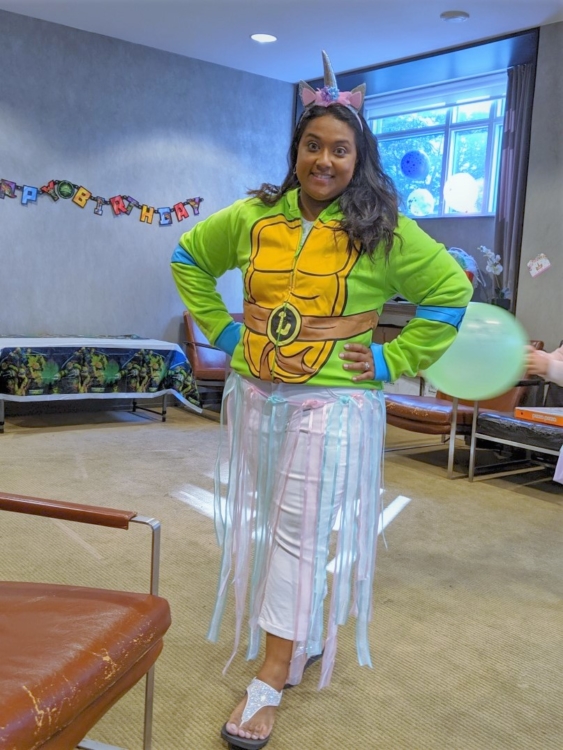 Outfits : My dad bought Baby Boy a new Ninja Turtle T shirt from Walmart and I picked up a hoody from Party City. Of course, Chris realized he didn't have anything in theme so he ended up taking the hoody from me and I ended up being a Magical Unicorn instead of a Magical Cowabunga!
Teenage Mutant Ninja Turtle Entertainment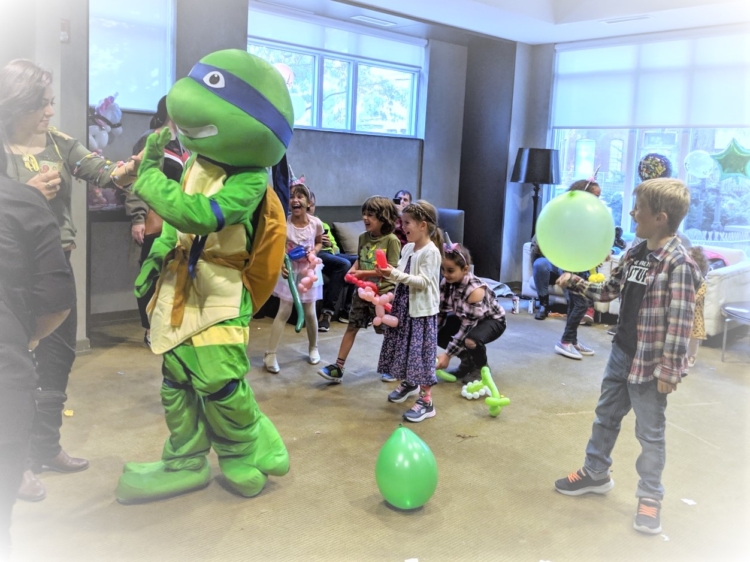 I have never had official entertainment at our parties but this year Kammazing Events in Toronto reached out asking if they could help bring some additional smiles and so I said yes. It was the best decision ever because I didn't have to entertain the kids this time around. The Ninja Turtle Character got the party started by playing a game with the kids. They were a bit hesitant at first but got into passing the parcel with Leonardo's help. If you're hosting a kids birthday party in Toronto and looking for kids entertainment, check out Kammazing. We had a face painting lady and a balloon twisting lady for 2 hours and I had a chance to actually sit down for a few minutes! Many of the boys were thrilled to interact with the Ninja Turtle and even asked me if he was coming back later!

Ninja Turtle Themed Food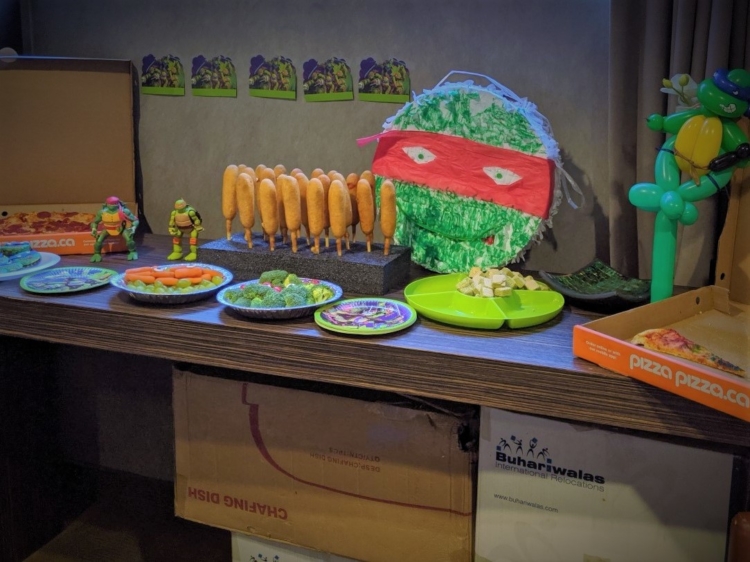 Pizza :  Of course we had to have pizza for a Teenage Mutant Ninja Turtle party, right? An easy order in solution was very popular with the kids!
Ninja Turtle Fruit  and Veggie Platter : Each year I try to do themed fruit and veggie platters and it was an easy one this year. Depending on the combinations you have on hand you can use grapes or broccoli for the face and then use carrots or tomatoes for the mask. I usually place ranch dip in a small circular bowl for the eyes but this year I had some candy eyes I had purchased for the cakes so I used them instead. I'm always surprised by how many kids truly love broccoli!
Green Tea Loaker Crackers :  I had a green bowl and so I placed a bunch of Loaker Green Tea bites and I'm quite certain that it was the adults who enjoyed these deliciously addictive Swiss crackers!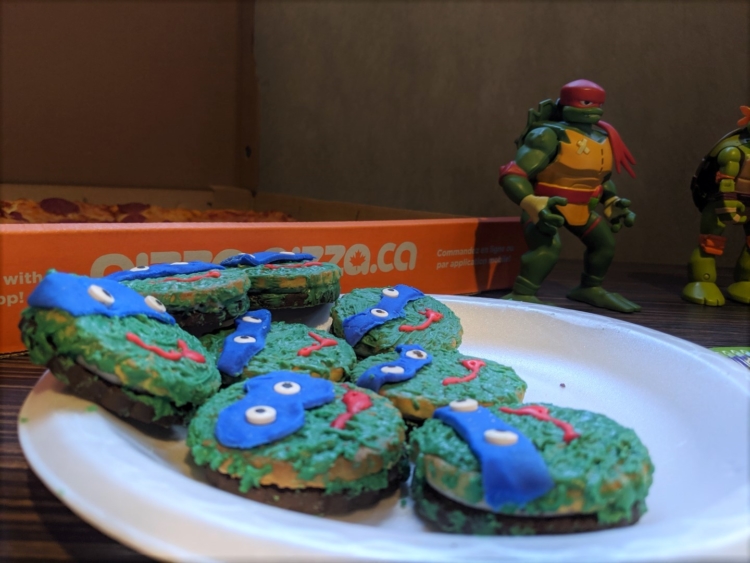 Ninja Turtle Oreos : I had fun making these! I meleted green chocolate wafers I had purchased from Bulk Barn and coated the Oreos in it. Before it could cool down too much I also cut little rectangles of blue fondant (also a ready made pack) and used the tiny white eye candy I had purchased for the cake pops. It's as easy as that!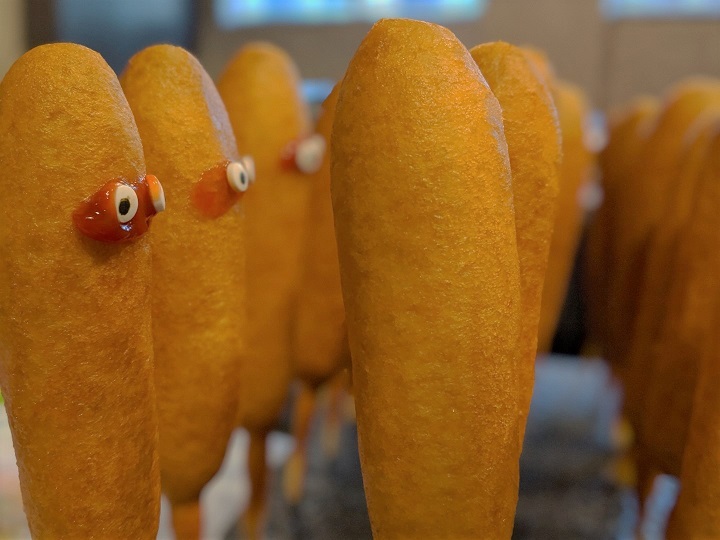 Ninja Pogos : In an effort of having something all kids love I had Pogos which were dressed up with Ketchup masks! We had the new Maple Flavoured Sausage and the Smoked Bacon on offer. I could have easily used fondant and made the other masks as well but I ran out of time.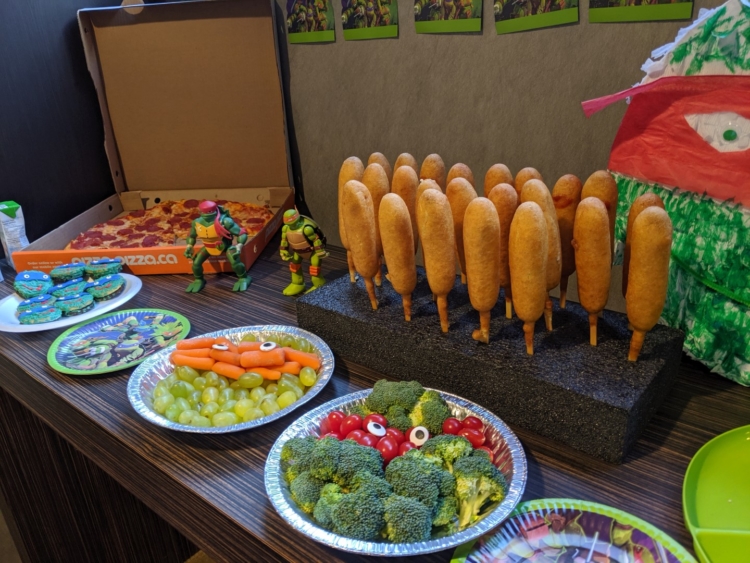 The  rest of the food was placed in the front room for the kids to grab what they wanted but in the kitchen we had a full spread of Afghani food we ordered from Kabul Express. It was an absolute hit and despite ordering enough for 20 people, we fed 30 adults and a few kids.
Ninja Turtle Cake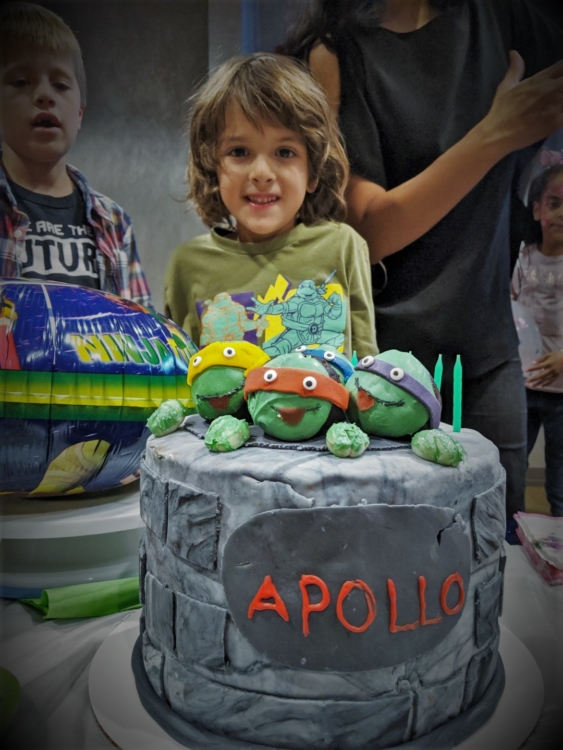 My mom slaves over the party cakes (and she makes two, one for each grandchild) and goes 48 hours without sleeping because of her need to make things perfect. Baby Boy's Ninja Turtle Cake was dairy free and easily the most popular cake at the party. It was pure chocolate goodness and she made some cake balls for the faces too. Isn't it magnificent?
Ninja Turtle Drinks
Ninja  Turtle Mocktail : Not as fancy as our unicorn one but we served lemonade with a small drop of green food colouring. We could have easily served Green Apple KoolAid or celery juice. Here's also a list of green drinks we made for St. Patrick's Day.
Ninja Turtle Cocktail : For the adults we served a drop of green simple syrup topped by 1.5 ounces of Gibson's Finest Rare 12 Year Canadian Whisky (which we received as a gift) and pineapple juice. The green simple syrup was left overs from a rock candy experiment that didn't work and I left it at the bottom of the glass so that those who wanted a sweeter drink could stir it in and others could just let it sit at the bottom.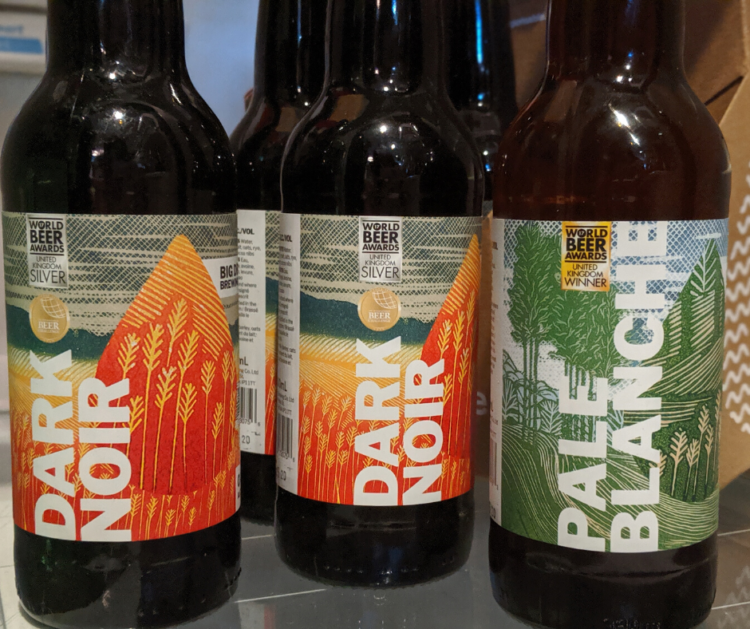 Non Alcoholic Beer : While we did have a couple craft beers on hand, since Chris was running his marathon the next day we also had some craft non alcoholic beer from Big Drop Brew which we had received as a gift. I was surprised by quickly these disappeared and I think it's because unlike other non alcoholic ones, the Dark Noir actually tasted like a stout and the Pale Blanche like a pale ale. Will have to try the Citra IPA and Sour one soon!
Ninja Turtle Loot Bag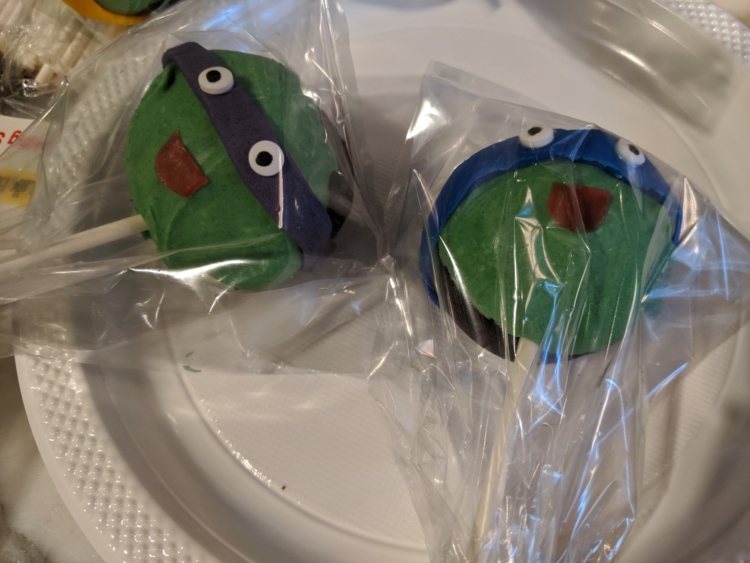 Given that I am SO NOT A FAN of loot bags (much to chagrin of many kids, including my own) I always have an edible giveaway. This year my mom made Ninja Turtle cake balls which we handed when the kids were leaving. Kids received a Ninja Turtle Mask on arrival and I bought these from Party City.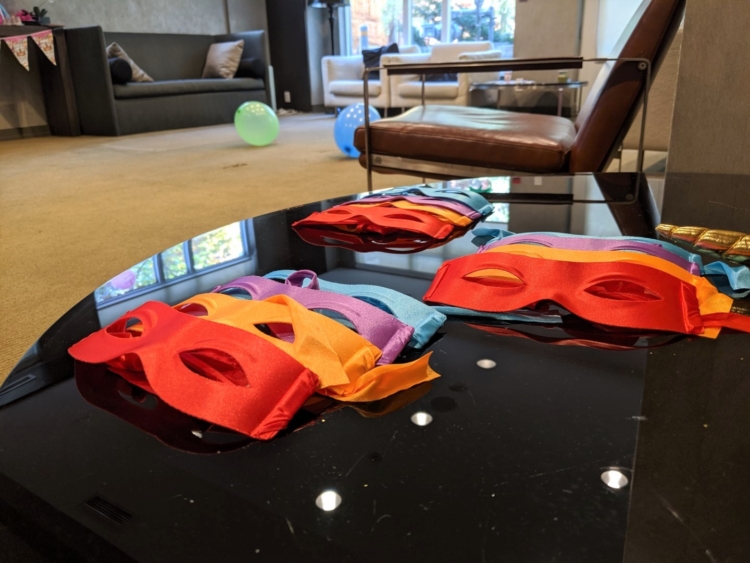 Planning a kids party is fun for me but I'm realizing how much more chaotic it gets each year as they kids grow older. Despite Little Monkey's grumpiness at the end of the party, Baby Boy was thrilled and thanked me for the best party. If you're looking for some easy Ninja Turtle birthday ideas, I hope this has inspired you. Let me know of other ideas you might have!