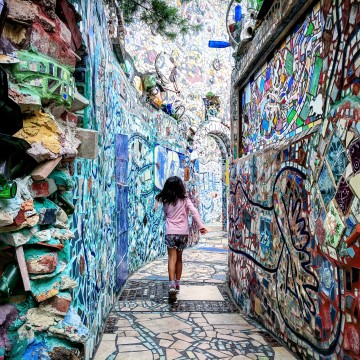 When I asked a friend of mine what we should do during our visit to Philadelphia with kids, she mentioned Philadelphia's Magic Gardens. Initially I thought she was talking about a garden filled with flowers and given that we were visiting Philadelphia in October, I wasn't too keen to follow up on that suggestion. Luckily, I gave into my curiousity and noticed that Philadelphia's Magic Gardens is actually a big shiny gallery that's filled with knickknacks and mosaics, all things that I'm drawn too. Clearly my friend remembered my obsession with shinny things!
Disclosure : Our visit was in partnership with Visit Philadelphia but, as always, opinions are TOTALLY ours. 
Philadelphia's Magic Gardens is a non-profit organization art gallery spanning 3 city lots on South Street in Philadelphia, Pennsylvania. It is the largest work created by mosaic artist Isaiah Zagar and our group of 4 adults and 4 kids loved the hour we spent there. There is an indoor gallery but we spent most of our time at the outdoor labyrinth. We could have done it in half an hour but we all loved looking at the intricate details as you can see in the pictures below!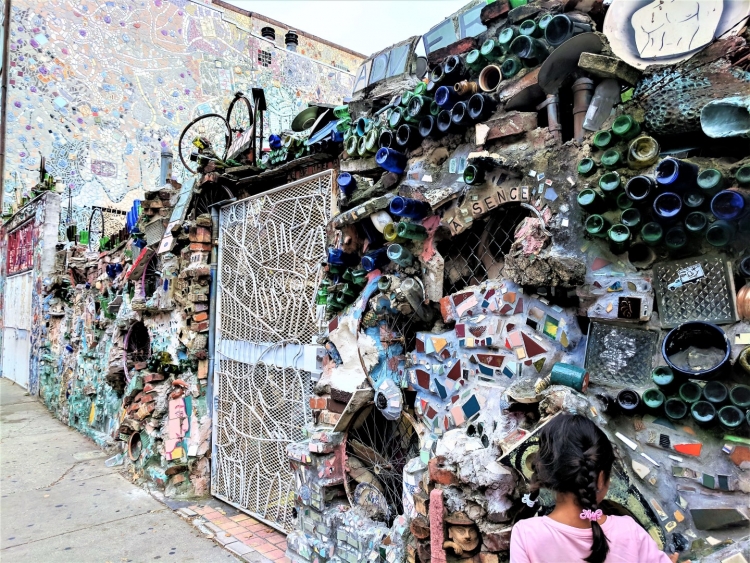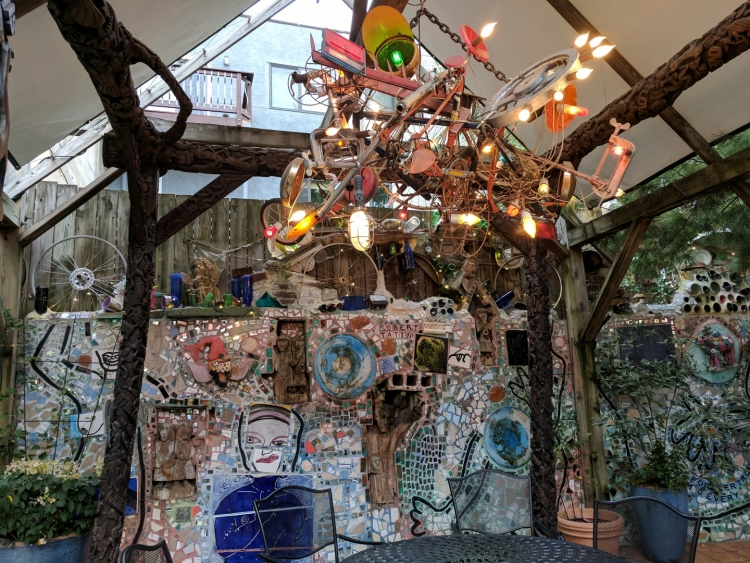 We had our double stroller and the staff were kind enough to open the side gate for us so Baby Boy could stay asleep. While Little Monkey and her two friends explored outdoors, I went inside and took a quick look at the gallery comprising of artwork from all over the world. For us, the main attraction was definitely the mosaics outside. We spotted everything from broken mirrors and ceramic figurines to plates and wheels. A medley of random items came together to create a weird and wonderful outdoor gallery. The site is enveloped in visual anecdotes and personal narratives that refer to Isaiah's life, family, and community, as well as references from the wider world such as influential art history figures and other visionary artists and environments.
There's definitely a history lesson in how Isaac and his wife managed to save the property from being demolished. A good read if you'd like to learn more about the community. It's about how a community came together to prevent the city from demolishing the South end in favour of an expressway and how Isaiah who suffered from a mental breakdown used mosaicking as a form of therapy. This was during the era known as the South Street Renaissance and today you can see mosaic work throughout the neighbourhood, not just in the gallery.
As we roamed around taking in the artwork, we told the kids not touch the walls while they "ran-walked" down the steps in the maze that is the outdoor labyrinth. Be sure to bring your cameras when you visit this unique gallery. We heard there are long line ups on the weekend and lucked out by visiting one Friday afternoon when there was no line up.
A visit to Philadelphia's Magic Gardens should definitely be on your list of things to do in Philly with or without kids!