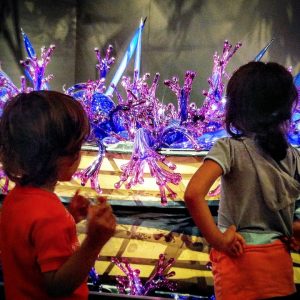 We've been hearing nothing but amazing things about the Chihuly Exhibit at the Royal Ontario Museum in Toronto and so one Sunday, the four of us made our way, ready to be dazzled. The hubs and I had visited the ROM many years ago but hadn't been back in ages as I didn't think the kids would enjoy it. How wrong was I? Also, what was I thinking? Dinosaurs "live" at the ROM!!!
The ROM has various kid focused programs in place and whether you're looking for camps, PA day activities or sleepovers, they've got you covered. They even have a ROMKids Junior program for kids aged 2 to 4! The ROM has many exhibits and permanent galleries that allows you to explore history and culture while learning with young kids along, I wasn't sure how much we'd enjoy the galleries and was pleasantly surprised to discover that the ROM is quite possibly the BEST museum in Toronto for those with young kids. This is because there's many hands on galleries that allow little ones to dress up, run around, play and explore. I've been complaining that we don't have a fun Children's Museum in Toronto and it's probably because the ROM really is all we need!
Favourite Spots at the ROM for Young Kids
CIBC Discovery Gallery : We could have spent four hours here easily because it has everything the kids needed for an entertaining afternoon.  Little Monkey tried on costumes, Baby Boy loved digging for dinosaur bones and reading away in a tepee. Pre-schoolers have their own special area with puzzles, toys and costumes to try on which was where the kids really focused their attention at. Please note that there's stroller parking spots before entering the main space.
Patrick and Barbara Keenan Family Gallery of Hands-on Biodiversity : Spotting frogs and playing with fossil and shark jaws were the highlights here.
Reed Gallery of the Age of Mammals : All four of us were able to geek out in this gallery as we marveled at the full skeletons on display of dinosaurs and other mammals.
Life in Crisis Schad Gallery of Biodiversity : It was hard pulling the kids away from this gallery as they were very curious to learn about the moths, rhinos and whales.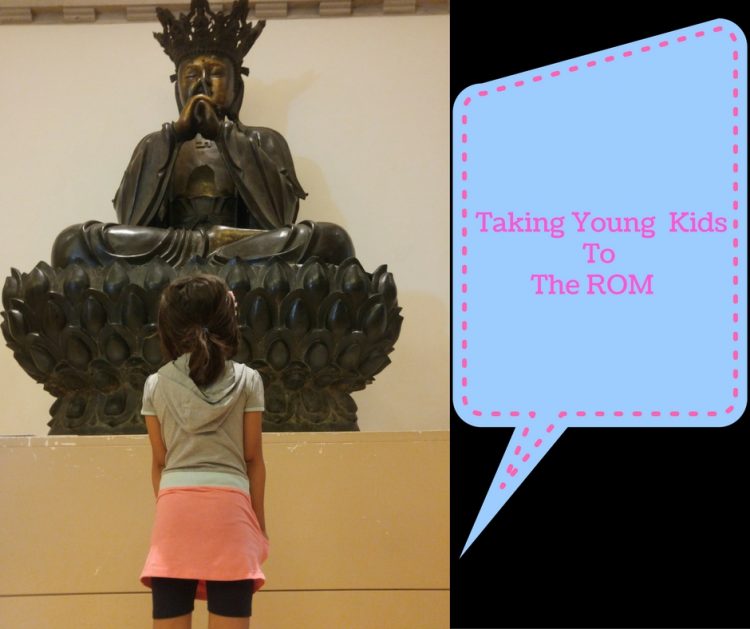 Chihuly Exhibit 
As some one who loves colourful shiny things, I've been following the Chihuly Exhibit for a couple years and was so thrilled when I saw a friend post an image on Instagram letting me know that Dale Chihuly's work was now in Toronto. Dale Chihuly is an American sculptor who does magical things with ice, water, glass and neon, creating works of art that truly dazzle.
The Exibit is on the lower level at the ROM and is very stroller friendly. When you purchase your tickets, be sure to mention that you also want to visit the Chihuly Exhibit because it isn't included as part of the general admission. Obviously things are brightly coloured and made of glass here, so kids running around is not recommended and I'd suggest strapping kids into the stroller, just to be safe! Holding hands as you explore the exhibit is another way to ensure nothing goes wrong (as it invariably can with young ones running around!). The Chihuly exhibit is here in Toronto until January 2017 so be sure to make a visit over before it departs.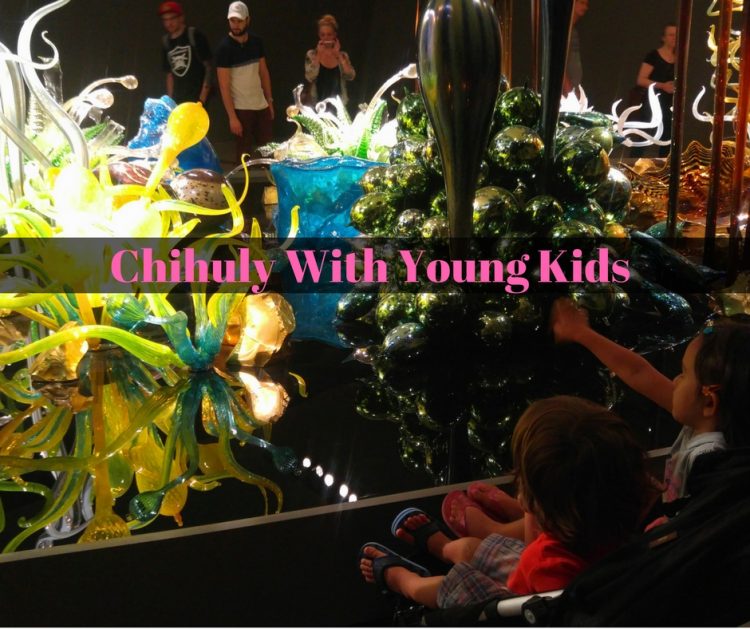 Our visit to the ROM with kids really made us realize how kid friendly and kid focused the museum is. The entire space is stroller friendly though you should pay close attention to which elevators take you where because not all stop on all floors. Also, kids can't just snack in the galleries so plan for snack breaks at the cafeteria and keep an eye out for water fountains to refill the bottles at. Needless to say, we're already itching to go back and visit the ROM, especially because the kids are asking! We didn't even explore half of the museum during our four hour visit, so this is definitely one spot we will return to. One sure way to entertain kids of all ages is to have them explore the free virtual tours of the ROM from the comfort of the couch. If you're visiting Toronto definitely put the ROM on your must see list and if you're looking to gift an experience for someone living in Toronto, an annual membership to the ROM will definitely be appreciated as will a $10,000 Chihuly vase from the gift store!