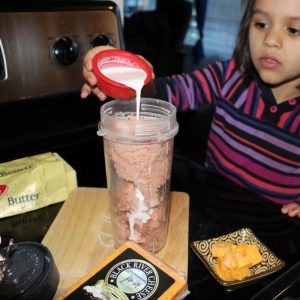 If you follow our Instagram stories, you know I love having the kids in the kitchen any chance I get because it's just one way to keep them from fighting with each other or being glued to their iPads. Little Monkey has always shown an interest in cooking but it was only recently that Baby Boy has expressed interest. Our nanny tells us that he's showing some chef-in-the-making skills, pulling eggs from the fridge, stirring it into a mess and even seasoning it with pepper for her to make scramble eggs each day!
What I didn't realize was how Little Monkey was picking up a few mathematical skills along the way. You see, during our recent parent teacher conference, her teacher mentioned that she's quite good at quickly tallying things up and asked if we practiced at home. Neither the hubs nor I had been paying attention to her mathematical skills but I do recall asking her to grab certain amounts of items as we whip up our dishes at least once a week. She loves pulling ingredients together so that's what most of her cooking tasks revolve around – choosing x amount of tomatoes, pulling x cups of flour, x tablespoons of butter e.t.c. Not only do I get some peace and quiet, but she was also learning! A total win.
Disclosure : I am part of the PTPA Brand Ambassador Program with Gay Lea and I received compensation as part of my affiliation with this group. The opinions on this blog, as always, are TOTALLY ours! 
Couple weeks ago we went out without the kids to celebrate the hub's birthday and my friend, Erica from Everything Mom & Baby, and I shared a Spuma dish from Birreria Volo that had the two of us craving it the next day.  All I remember was that the Spuma dish contained Whipped Mortadella, Butter Cream and Ricotta. It was pure melt in your mouth goodness that reminded me of creamy pate or liver mousse.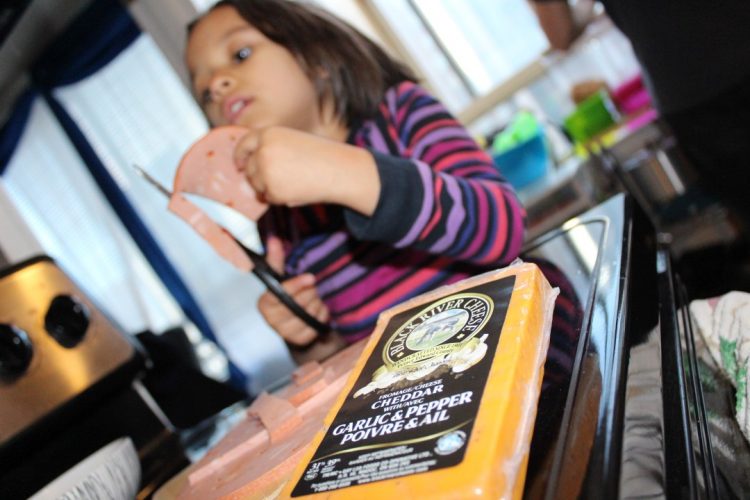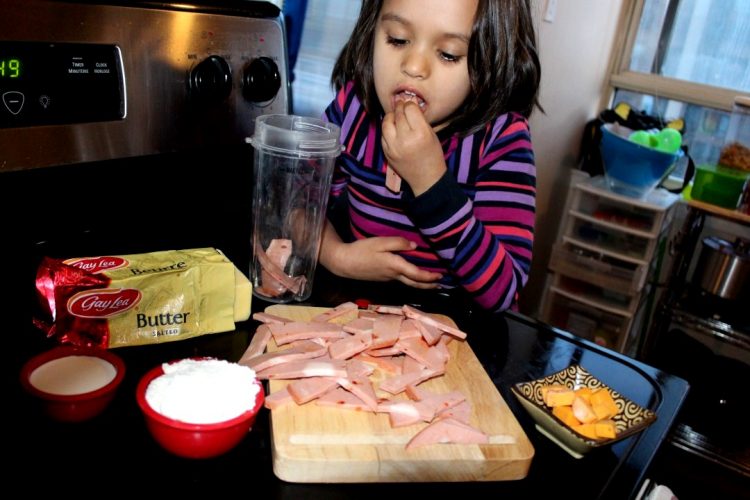 I woke up, slightly  hungover, the next day and decided that we HAD to go shopping to gather the required items. Little Monkey joined in on the mission (though sadly, she wasn't a fan of the end result!) and helped me from start to finish. I'm pretty sure she ate more mortadella strips than she gave me to blend, but she did tell me that she started with 30 pieces and that she gave me 25….so she only ate 5! How about that math?
This recipe is very easy, you're basically blending everything together and then adding whipped salted butter for that extra creamy texture. The butter makes a huge difference and it took me a couple tries to determine the missing factor! Spuma di mortadella is, in fact, nothing more than whipped "Bologna ham", but it is absolutely delicious and an easy appetizer to whip up for when guests turn up!
Spuma Mortadella Recipe 
12 ounces Mortadella
4 ounces Salerno ricotta cheese
2 ounces Black River Garlic & Pepper Cheddar
3 table spoons of Gay Lea Salted Butter
¼ cup heavy cream
Pinch of freshly ground nutmeg
Sea salt
Black pepper
We bought the Mortadella from our deli counter and had it cut into thick slices so Little Monkey was able to cut them into smaller pieces. We also cubed some Black River Garlic & Pepper Cheddar. If you haven't heard of Black River cheese, you MUST explore them. I fell in love with their Maple Cheddar and the Garlic & Pepper Cheddar which launched as part of their 110th birthday celebration is perfect in this recipe.
First I made the whipped butter which was easy to do. Using a hand mixer we blended the Gay Lea Salted Butter and the cream to get a smooth creamy texture. Next up we pulsed the mortadella in a food processor until finely ground (add a spoon of cream if you are struggling with the processor) and added creamy Salerno Ricotta and Black River  Cheddar before blending until smooth. Then we slowly folded in the whipped Gay Lea Salted Butter, nutmeg, and seasoned with salt and pepper to taste. That was it! We had enough to last us a whole week but it makes the perfect amount for a party and only takes 10 minutes to make.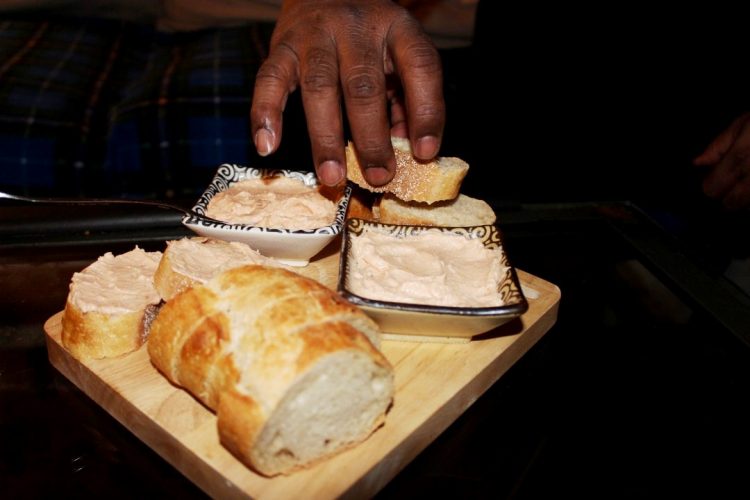 You can serve with toasted bread and add it to a charcuterie board! You KNOW I'm making this again for our next wine and cheese night. My dad was visiting us when we made this and he insisted on taking a small container filled with the creamy goodness home with him!