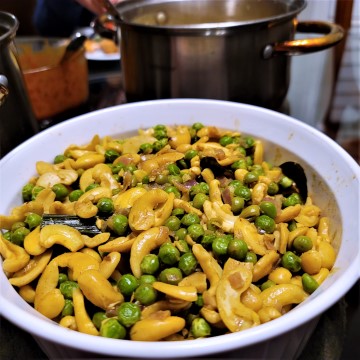 We eat a lot of Sri Lankan curries, especially when we visit my mom, and the Sri Lankan cashew curry is one that I request frequently! This vegan curry is creamy and unlike most Sri Lankan curries, it isn't spicy. Even kids are sure to enjoy this easy curry recipe. I recently observed my mom making this curry and when I shared the behind the scenes on Instagram, I received many requests for the easy cashew curry recipe. So here we are!
Tips for Making the Sri Lankan Cashew Curry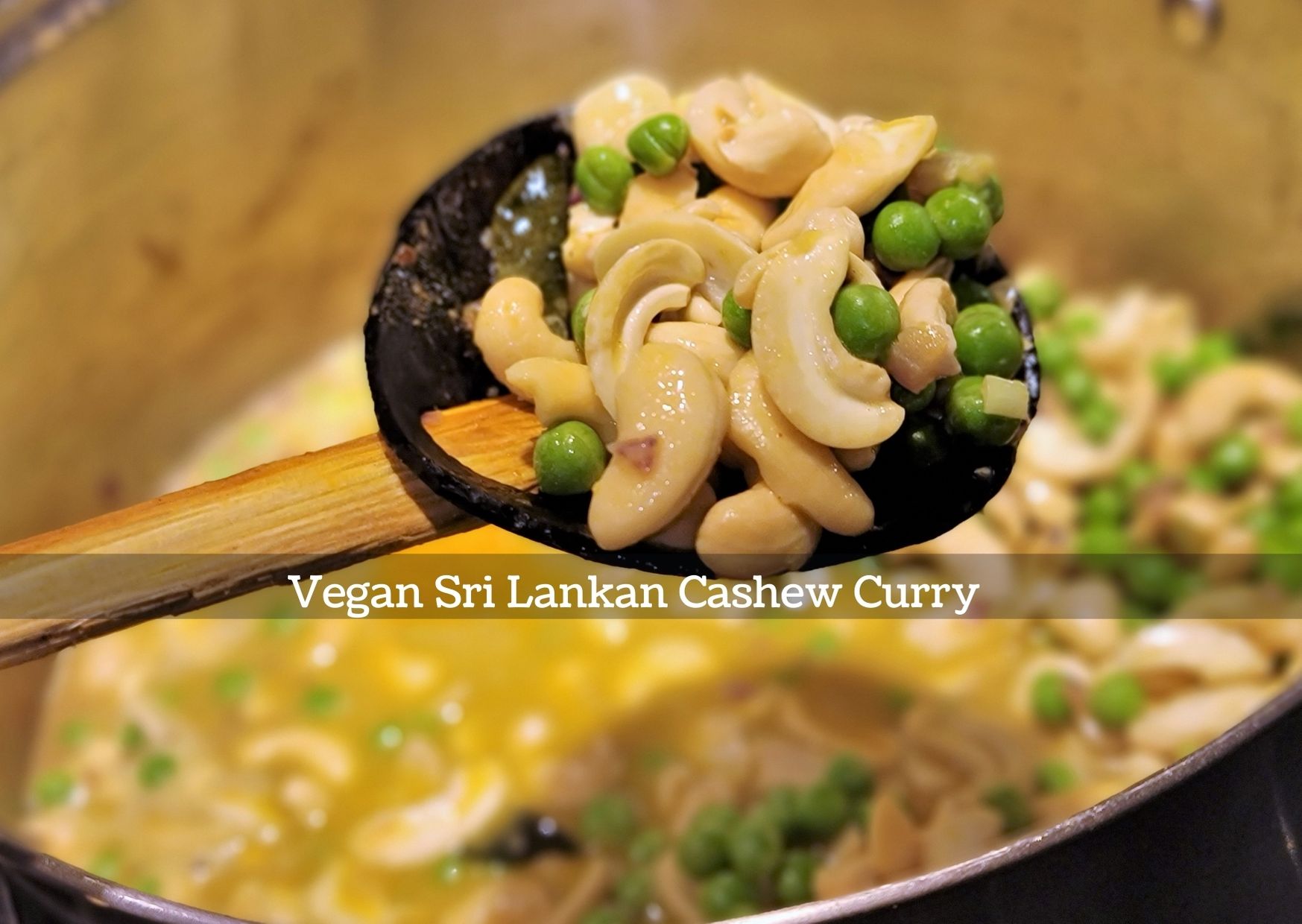 I think one of the most important things to remember when making this cashew curry is to use raw cashews. Please do not use the salted versions that you find next to the peanut tins! You want the raw ones, which I know can be expensive but it's oh so totally worth it! You also want to split the cashews and soak the raw cashews (which are peeled and cleaned at purchase hopefully) in a bowl of room temperature salted water. This makes the cashews plump and juicy. My mom soaks the cashews overnight when making her Sri Lankan Cashew Curry but if you're like me and decide on an impromptu curry session, then a 2 hour soak will do (but the longer the soak, the better for the curry).
View this post on Instagram
You can customize this recipe as you wish. I like peas in mine but you can easily omit those. You can also alter the cooking time if you like crunchier nuts by cooking the cashews in the coconut milk for 15 minutes or on lower heat. If you want the curry to be thicker, avoid placing the lid when cooking the nuts. Alternatively you can add some water to increase the gravy once you have added the peas. You can make this curry to suit your needs! Some of my aunts add chili powder, sugar and fennel seeds to theirs and you can definitely add green chilis too. I like to keep this dish on the creamy side because I usually have it with pickles and spicy curries.
What to Serve with your Cashew Curry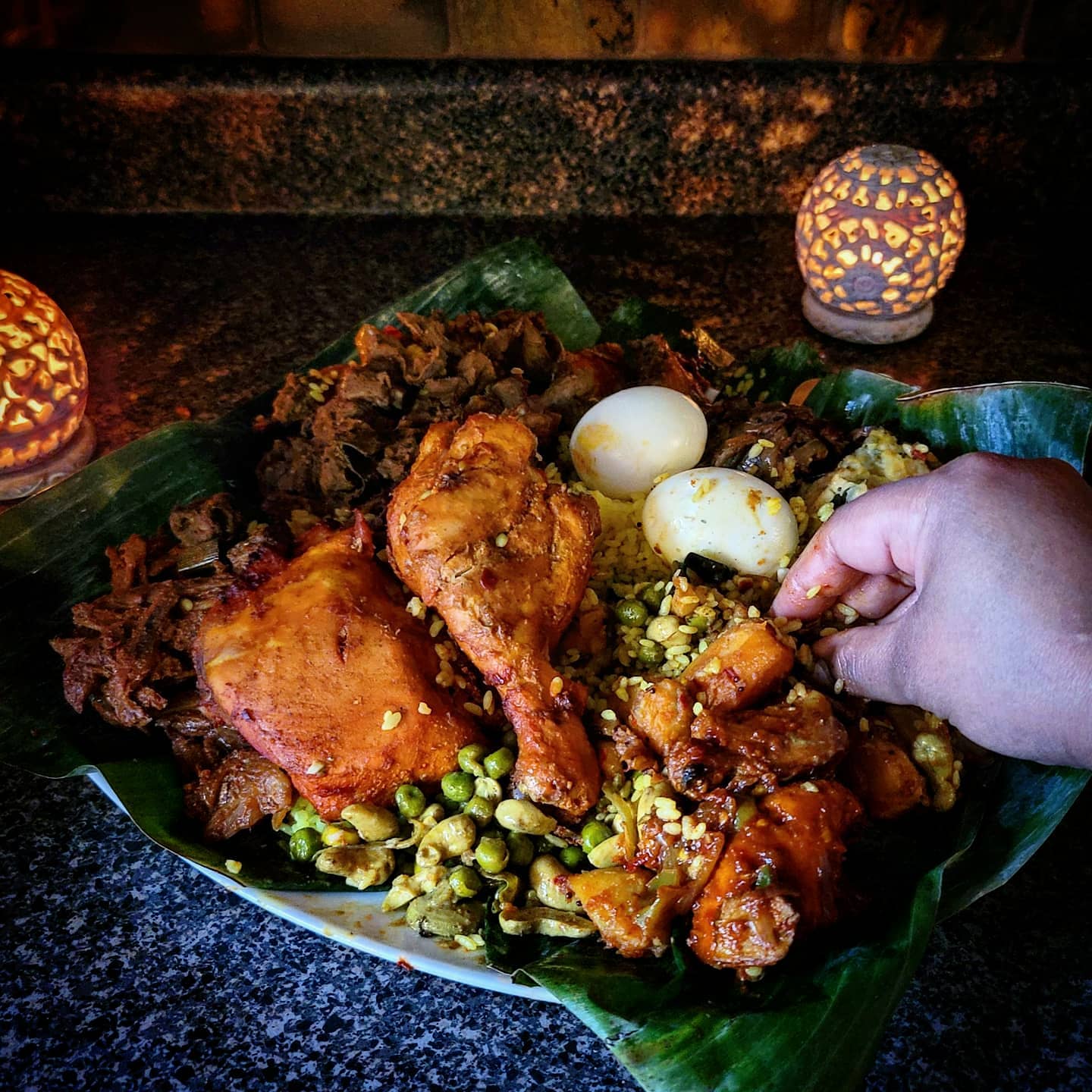 When I eat Lamprais there's always some cashew curry and that's how I first started liking cashew curry when I was a child. Now I just load my plate with rice and 5 to 6 curries when I enjoy a Sri Lankan meal. Remember my mom's Brinjal recipe (Battu Moju)? Oh it goes so well with this curry as does my Sri Lankan apple curry. If you're looking for fusion ideas. I think this would go well with curries from other cultures as well. I'm known for grilling chicken and serving it with rice and leftover cashew curry…so there really is no wrong way to serve this curry. I'd be lying if I didn't admit to eating this cold, straight out of the fridge, on its own. That said, this cashew curry is best enjoyed warm!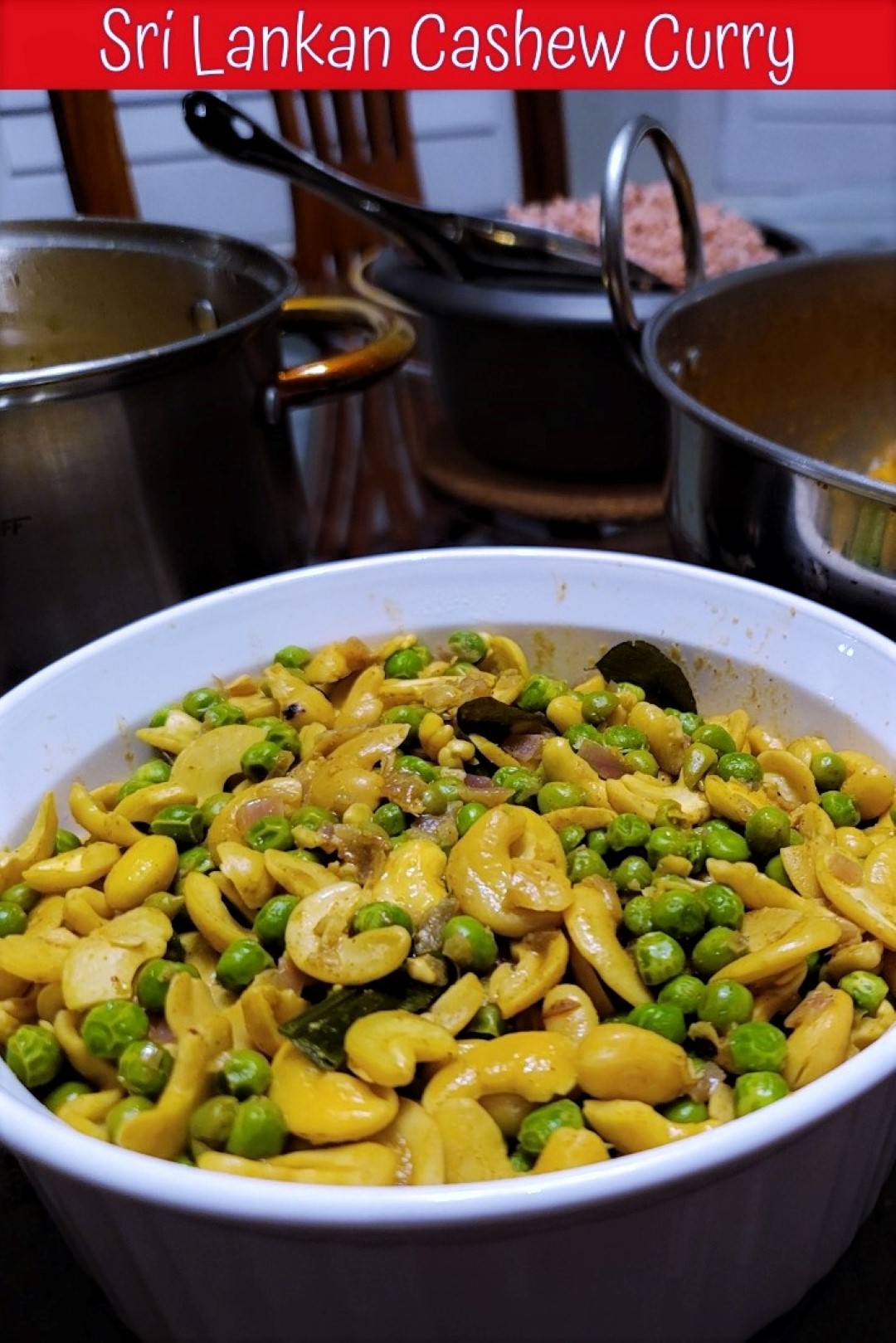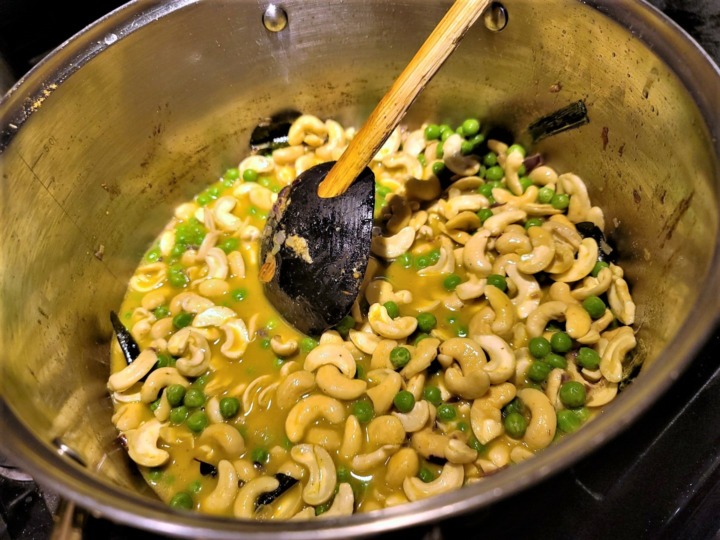 Yield:

6 Servings
Sri Lankan Cashew Curry
Total Time:
2 hours
50 minutes
Creamy vegan Sri Lankan Cashew Curry
Ingredients
2 cups of raw unsalted cashews (soaked for 2 hours or overnight)
2 tablespoons coconut oil
1 onion finely chopped
4 cloves of garlic grated or finely chopped
2 rampe leaves (optional)
10 curry leaves (handful)
2 tablespoons of roasted/dark curry powder
1 teaspoon of turmeric
1 cinnamon stick
1.5 cups coconut milk
1 cup peas (frozen is fine)
salt and pepper to taste
Instructions
Soak your 2 cups of raw (split) cashew in a bowl of water (add 1 teaspoon of salt). You can do this for 2 hours if you're in a hurry but ideally this will be soaked overnight
Drain the cashews
Heat a saucepan and add 2 tablespoons of coconut oil
Once the oil is hot add curry leaves and rampe
Add onions a few seconds later
Once onions are translucent, add garlic and continue to sauté for another minute
Add curry powder, turmeric and a pinch of salt into the pan and stir well
Toss in the cashews and continue to stir
Once the cashews are coated in the spices, add the coconut milk and cinnamon stick. Close the pan with a lid and let it simmer over medium heat for 20 minutes
Toss peas into the pan and continue to cook until peas are cooked

Nutrition Information
Yield
6
Serving Size
1
Amount Per Serving
Calories

451
Total Fat

38g
Saturated Fat

19g
Trans Fat

0g
Unsaturated Fat

17g
Cholesterol

0mg
Sodium

70mg
Carbohydrates

24g
Fiber

4g
Sugar

5g
Protein

10g