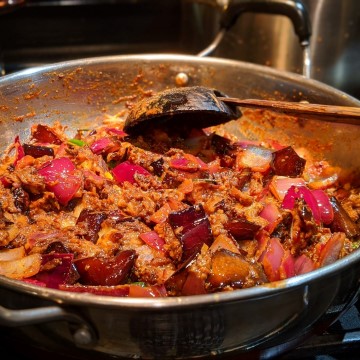 This Sri Lankan eggplant dish is one of my faves but I had never made it at home myself. Instead, I would wait for my mom or aunt to make it and would often "steal" the fried aubergine pieces before the recipe was complete. Eggplant has so many names but if you're a brinjal, aubergine or eggplant lover, this Sri Lankan Wambatu Moju is an eggplant recipe you will want to try!
What is Sri Lankan Wambatu Moju?
Before we go too deep into the recipe I wanted to let my non-Sri Lankan friends know what exactly a Wambatu Moju is. In our home we call it Batu Moju and it's a side dish that accompanies a traditional rice and curry spread. It's almost like a pickle or anti-pasto, similar to chutneys in some manner as well. When we say "pickle" in Sri Lankan recipes we aren't talking about those green cucumber shaped guys my kids and Chris love devouring. Instead I'm talking about a tangy, sweet and spicy combination that can found in a jar along with the condiments in your fridge (okay I see the similarities). Mind you, this particular Sri Lankan "pickle" only keeps for about two weeks in an air tight container. It's definitely a great way to get aubergine into your diet without stressing about it. My mom tends to make this once a month and if she's lucky, the batch will last her a week. Unless we're all home and then this Sri Lankan Brinjal pickle recipe is gone in two or three days!
Vegan Batu Moju Recipe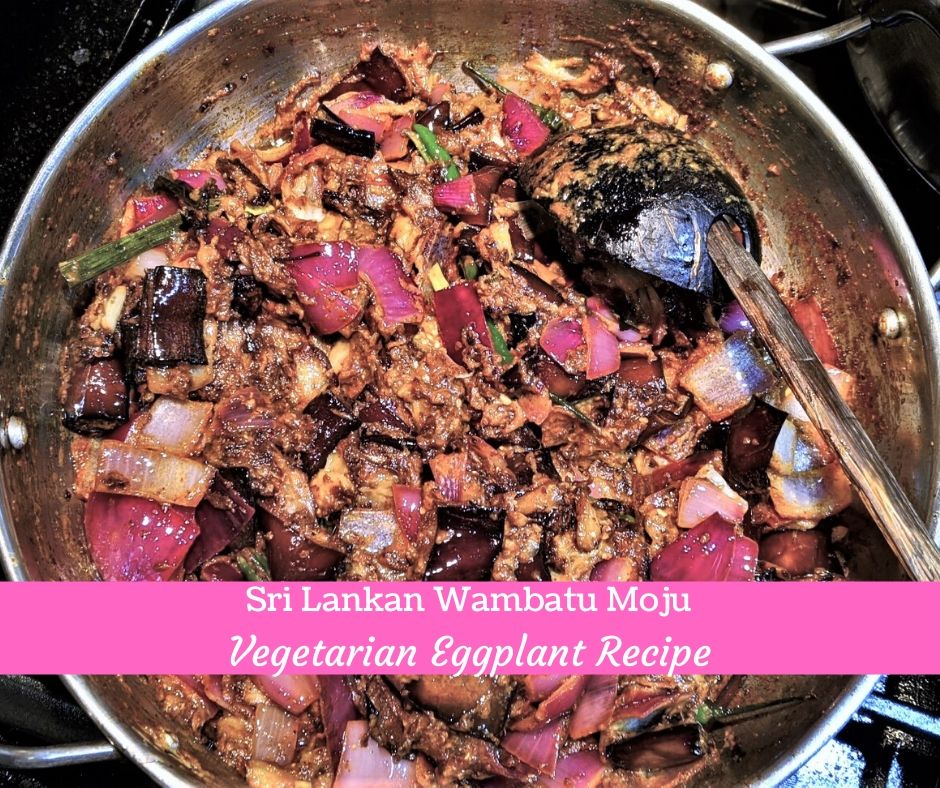 Eggplant Pickle Ingredients:
500 grams of eggplant cut into thick strips or 1 inch cubes (about 2 medium sized eggplants)
½ a teaspoon of turmeric powder
2 – 3 cups of oil (for frying)
250 grams of sliced onion (one large or two medium sized onions)
100 grams of green chillies (eyeball a handful)
2 tablespoons of ginger paste (finely grate an inch long piece if you don't have ginger paste)
2 tablespoon of garlic paste (4 cloves of grated garlic)
1 tablespoon of chilli powder (to taste)
1 ½ tablespoon of ground mustard (a tablespoon of mustard seeds also work but ensure you get these in oil first)
2 tablespoons of sugar
1/3 cup of vinegar
Salt to taste
¼ teaspoon of roasted curry powder (optional)
Aubergine Moju Instructions
1. Cut the eggplant into thick (1 cm width) 1 inch long strips or into 1 to 1 ½ inch cubes. You want them to be as similar in size as possible so that they fry up evenly
2. Place the thick strips of eggplant in a bowl and add turmeric and chilli powder mixing well so that every piece of brinjal is coated in the spice. Let this sit for 10 minutes
4. Heat oil in a frying pan but do not let it smoke. You want the eggplant pieces to sizzle and fry up within seconds of touching the oil. Fry them in small batches and place them on a paper towel to absorb any excess oil
This is the part where I come in and eat the plain fried eggplant pieces!!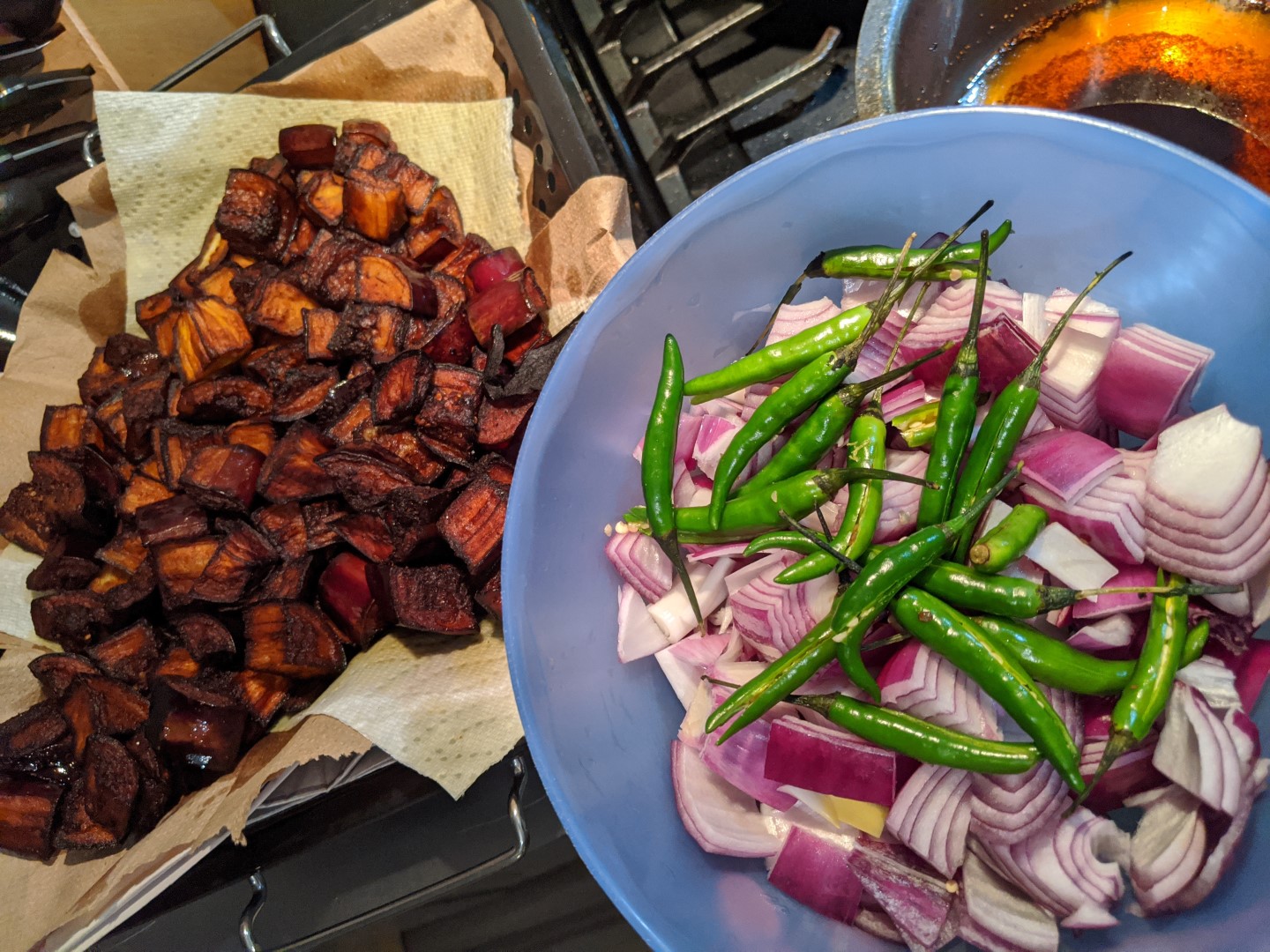 5. Add 2 tablespoons of oil (can use the left-over oil from the frying pan) to a heated saucepan and saute the onion and garlic paste. Cook until onions are translucent and then add the ginger paste, ground mustard and roasted curry powder. Mix everything and let it cook for about 5 minutes continuously stirring. If you're using mustard seeds add that to the oil first and then mix in the rest
6. Add green chillies and cook for two minutes before you add vinegar, salt and sugar. Continue to cook on high heat while tossing it well.
7. Turn the stove off and add the fried brinjal immediately. Toss well making sure not to squash the brinjal. You want everything to mix well but not get overly mushy. The eggplant will soften and absorb the flavours from the other ingredients
8. Taste and add more salt if necessary
Tips for Making this Eggplant Recipe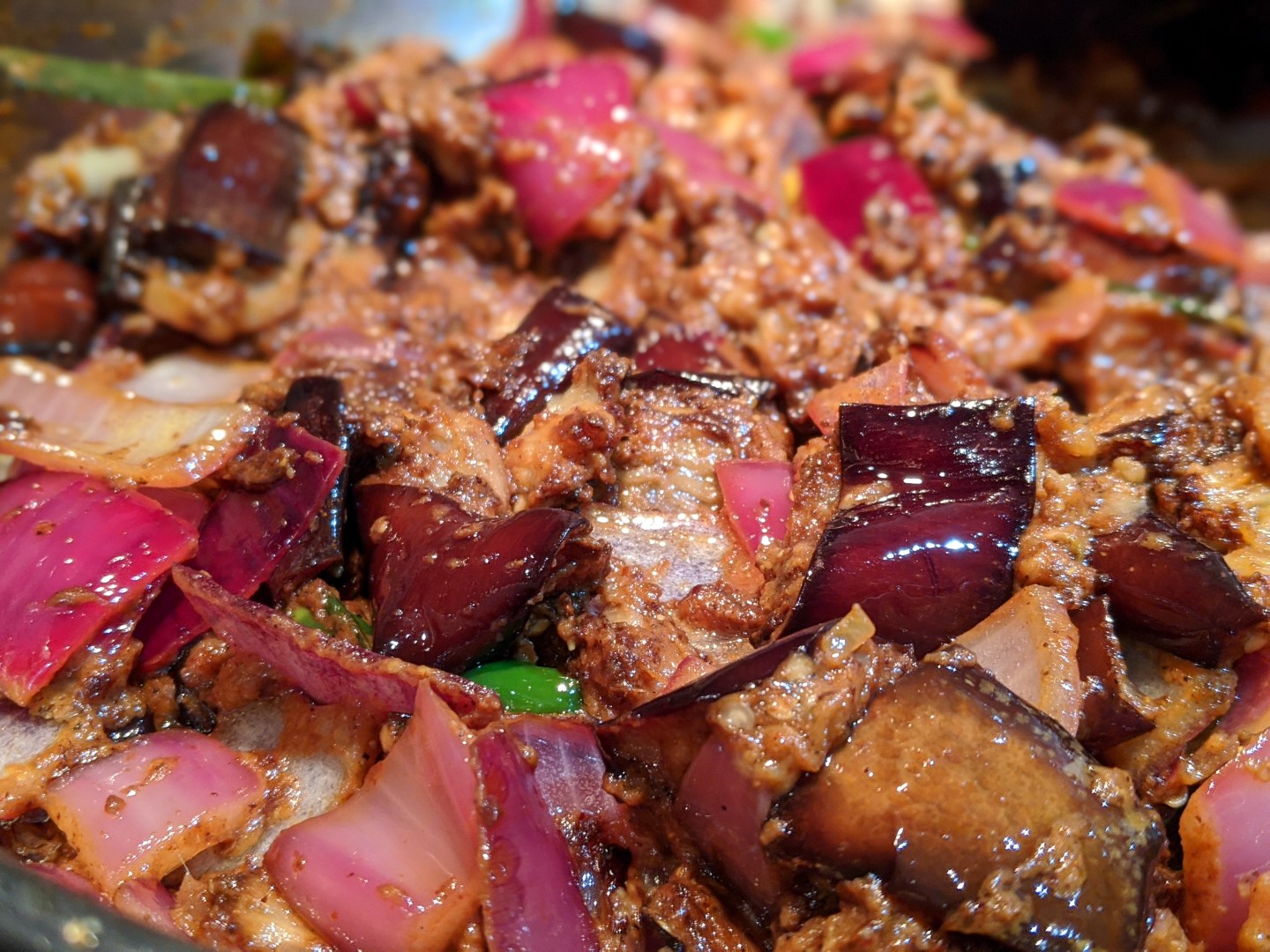 Eggplants come in a variety of styles, shapes and sizes. We prefer the shorter stubbier ones in Sri Lankan cooking but often, in North America you have to pick the ones you have easily available.
Ensure you cook them soon after you buy them because they tend to taste bitter as they age
I personally like chunkier pieces of onion but this boils down to preference. You can thinly slice your onions or swap it out for a handful of uncut red shallots. Actually red shallots are my favourite.
If you decide to make a larger batch, you can store the Batu Moju in an air tight bottler. We store leftovers in jam jars frequently.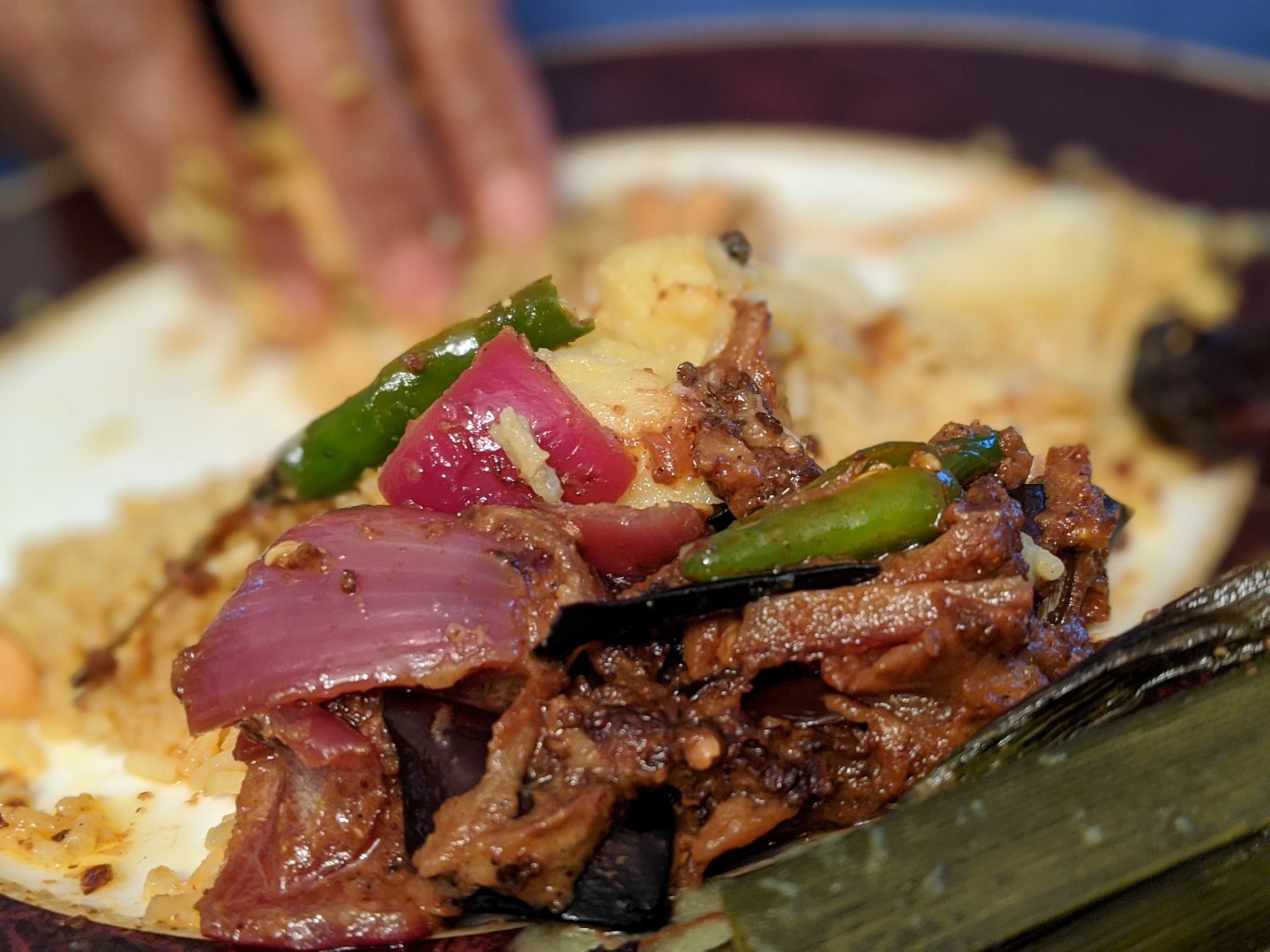 As I mentioned above, this isn't a curry but it can be served as a side dish when you're having rice or roti. Now that I'm thinking about it, it may even be great as a fusion pasta dish. Batu Moju is often eaten at room temperature so you don't have to warm this dish once it has been cooked. Though I do microwave it for a few seconds if I'm pulling a jar from the fridge. If you're looking for vegetarian dishes to bring into your meals, this would be a good one. If you try it, please let me know your thoughts!