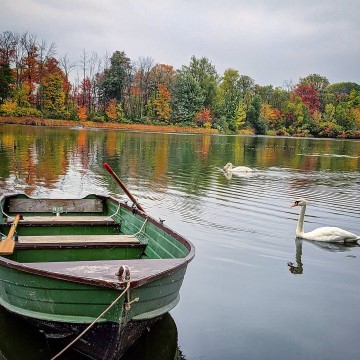 We recently packed our family of four into a MINI Cooper Countryman and enjoyed a quick road trip to Stratford, Ontario. Chris and I had enjoyed a romantic getaway in Stratford a few years back and when we were recently chatting about "where can we take our kids in Ontario?" this city on the Avon River came to mind. We spent two days in Stratford Ontario with our kids, exploring the outdoor spaces and culinary scene, and it was heart warming to see the kids relax and unwind. I'm here to share our thoughts on how to explore Stratford safely and respectfully during these times. Chocolate lovers will want to pay close attention, that's for sure!
Disclosure : This post is in partnership with Visit Stratford but, as always, opinions are TOTALLY ours! 
Note : During these times, we're always mindful of exploring places with caution and we do our best to support local shops and enterprises during our short local getaways. As always, please stay at home if anyone is feeling unwell, mask up PROPERLY and sanitize your hands prior to entering and leaving each establishment you visit.
A Family Friendly Ontario Road Trip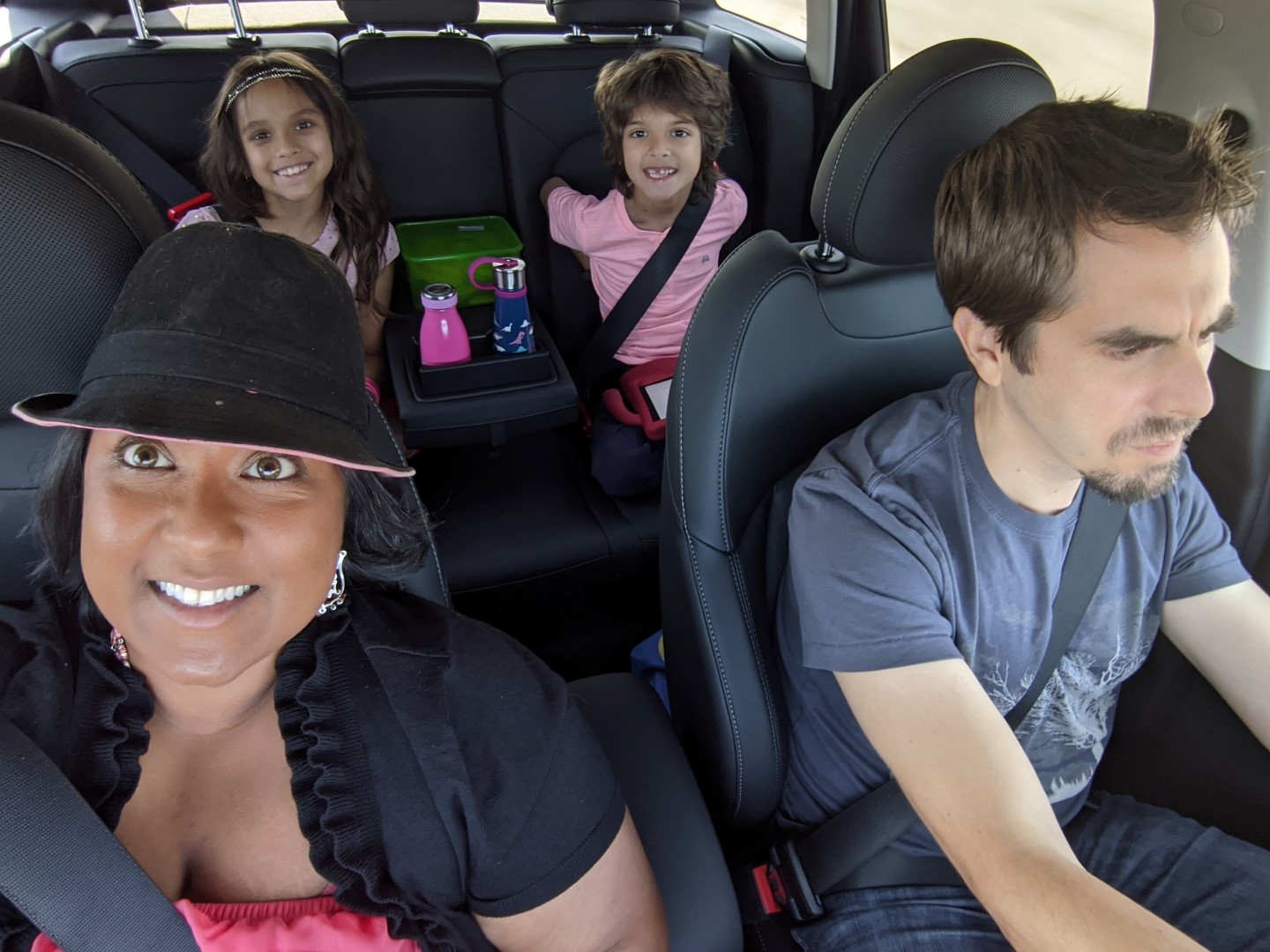 Located only 40 minutes from Kitchener, Stratford is a cute city filled with scenic views, culinary delights and a walkable downtown area. During this road trip we enjoyed the comforts of the 2021 MINI Cooper Countryman we were invited to test out. Given our previous experience road tripping in Chris' dad's MINI, we were shocked! The Countryman is built for families and had more space than my dad's SUV. Three people can actually sit in the backseat and there was plenty of leg room for all. In addition, the trunk (or boot as I still like to call it) had enough space for luggage and a hidden lower trunk space for additional small items (super helpful for all those treats and gifts you'll be shopping for in downtown Stratford). Beyond the space and comfort the highlight for us was how gas efficient this hybrid car was. Over the weekend we drove for about 7 hours (500 kms) and didn't even go through a tank of gas. The cute British nod with the Union Jack taillights didn't go unnoticed by me either!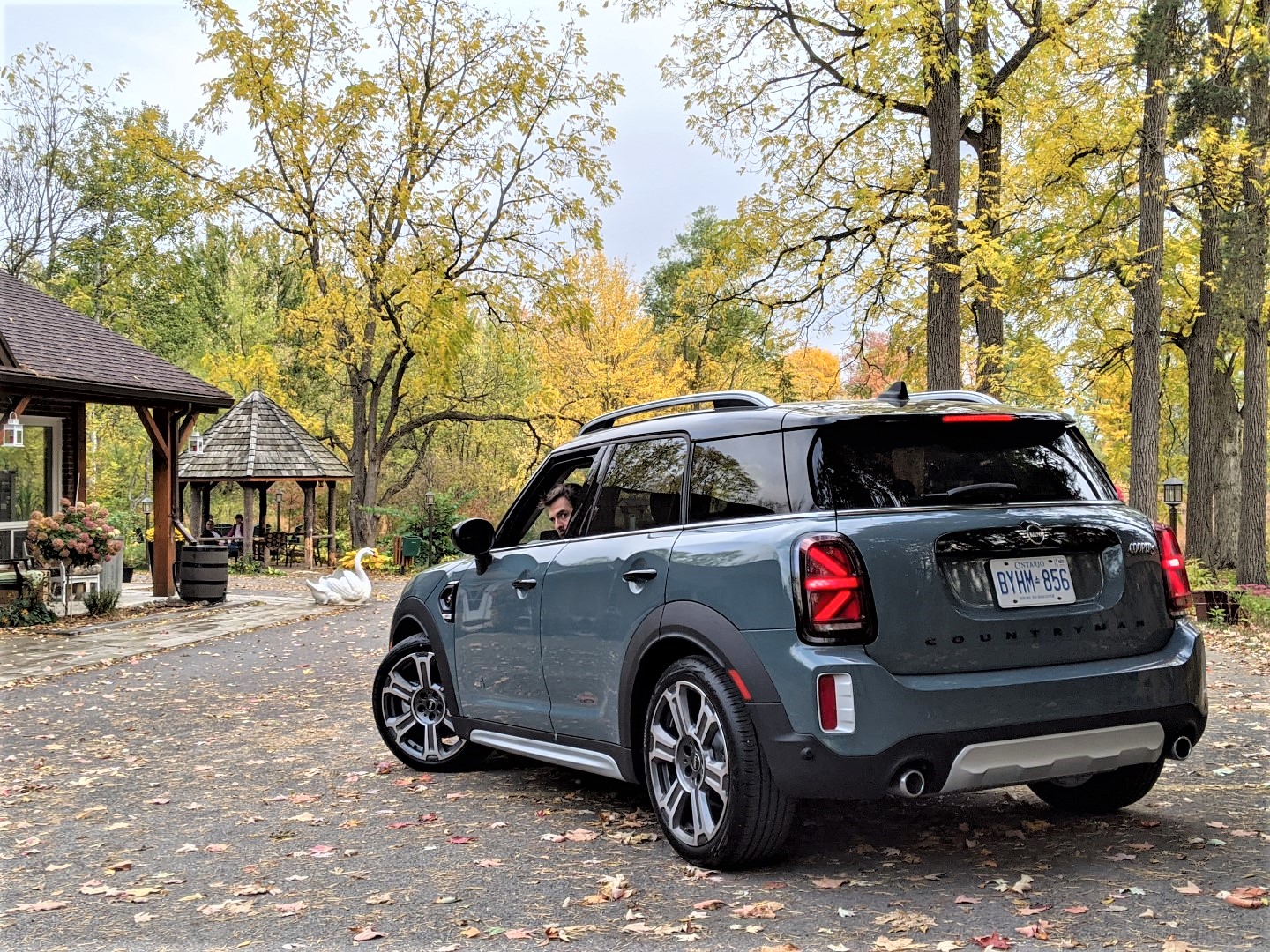 No matter what season it is, Stratford is a picturesque city in Ontario and there's always something to do. The best part is that you could easy do a day trip (depending on where you reside), spend a weekend or even a full week here and still find ways to have fun. When it's safe for your family to roam again, keep Stratford in mind!
Where to Stay in Stratford with Kids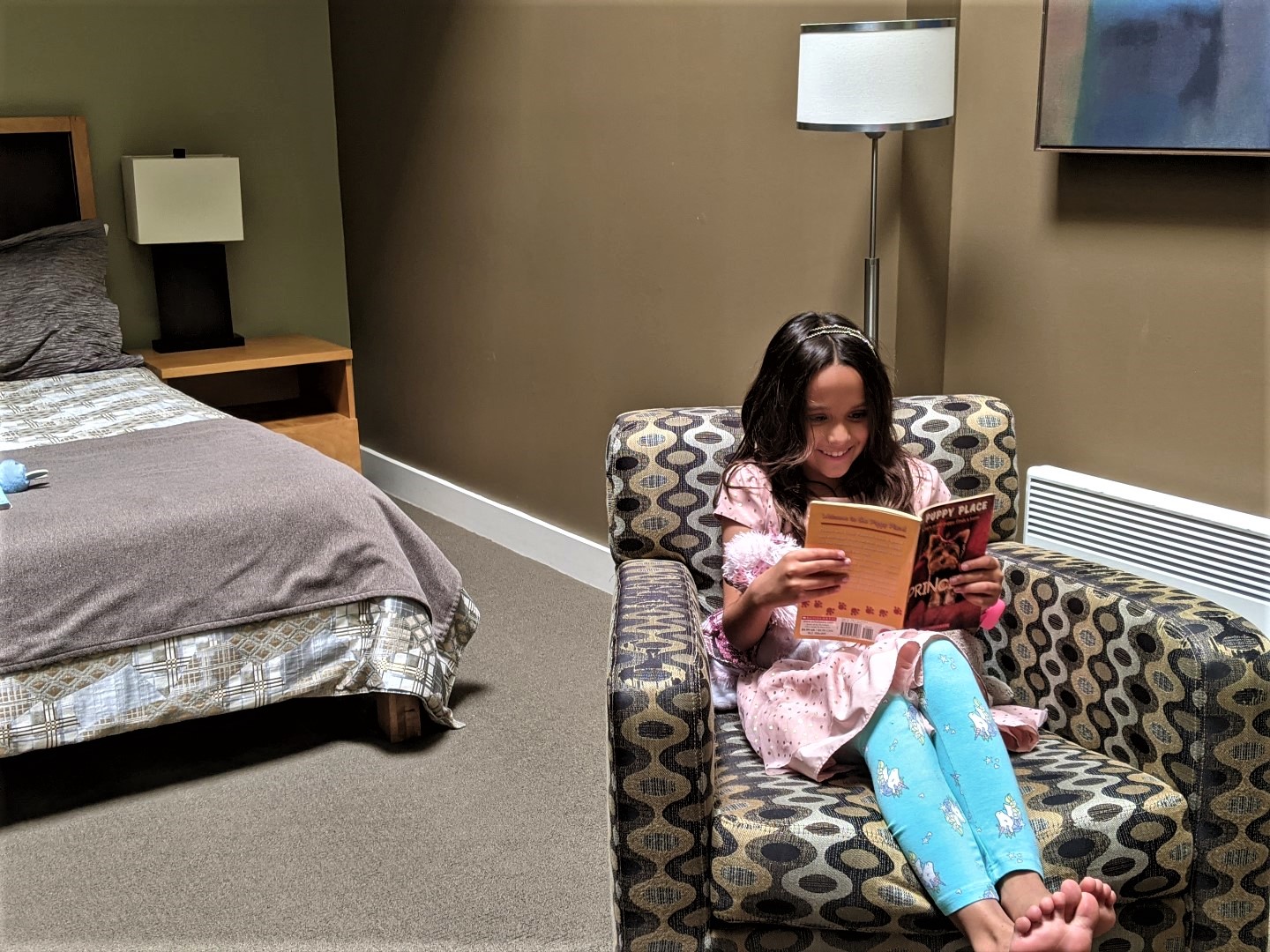 Stratford has a variety of accommodation options ranging from bed and breakfasts to hotels. Given that there are many Victorian houses, bed and breakfasts are a popular option for romantic getaways (we stayed at one on our first visit) but at the end of the day, it depends on what your family is looking for.
On this trip we stayed at the Bentley's Lofts at 99. Above the Bentley's bar is an Inn and before you go any further, I'll mention that we heard no sounds from the bar/restaurant. We spent one night and didn't see anyone else in the hallways either. During these times they are doing a great job following protocols and ensuring that rooms are kept empty for at least two days between guests. While I wouldn't normally opt for an Inn, I wanted to experience a stay here because it looks perfect for families. We had a two bedroom loft style apartment (think open concept) and the kids had two single beds upstairs (which is where the bathroom was too) and we had our king bed (and a fireplace, sitting area, table and kitchenette) on the main floor. If your family wants to spread out yet be close to all the restaurants and shops, this is a great budget friendly option. My only tip would be to bring some air freshener with you as the place was a bit stuffy with no windows in our room. As usual, despite the room being very clean, I wiped down all surfaces with disinfectant wipes and used a disinfectant spray on the beds, pillows and chairs.
On our next visit, I'd opt for a stay at The Bruce Hotel for full weekend trips because you're close by to the action but also able to enjoy full hotel amenities (including a beer lovers package). However, if you want to be surrounded by nature and still be within a 10 minute drive to downtown Stratford, I highly recommend taking at peek at Forest Motel. They have cottages that I'm eying for a future trip when it's safe for us to be reunited with our bubble.
Needless to say, you have plenty of options when it comes to finding the best places to stay in Stratford.
Things to do in Stratford, Ontario with Kids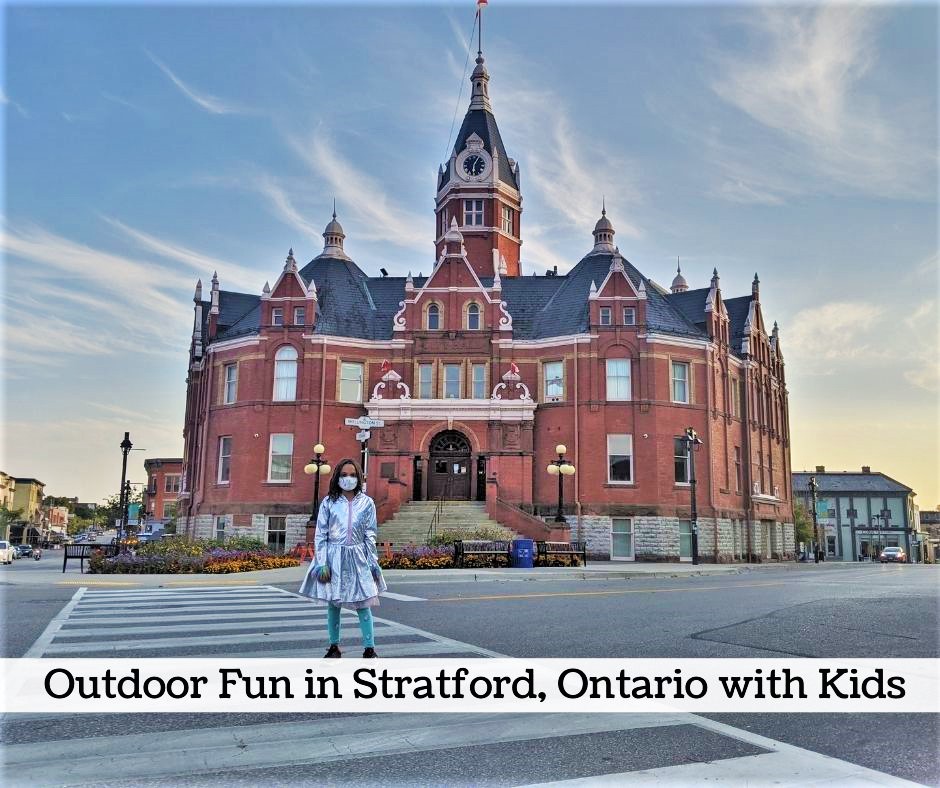 Stratford is well known for their theatre scene but sadly this year, due to the pandemic, theatre has been paused in many cities. This one included. However there are plenty of other reasons to visit Stratford as we discovered! We had our kids with us on this visit but truth be told, we'd have done most of these things even if they weren't along, so the below ideas aren't just for those with kids in tow.
Places to Eat and Drink in Stratford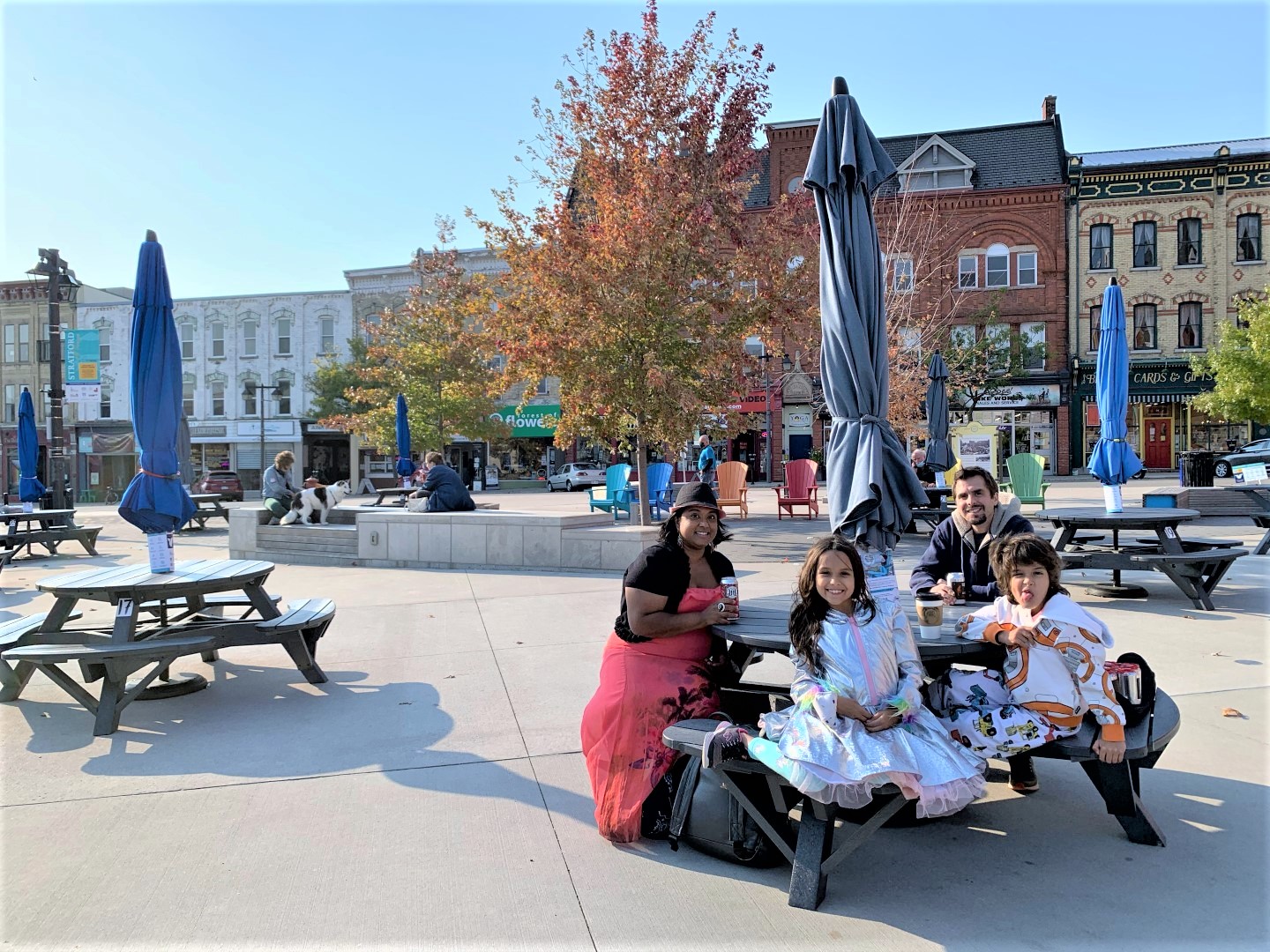 Al Fresco Dining : You guys! We can finally drink in public like many civilized nations across the world!!! YES!! Stratford's al fresco dining program allows you to purchase food and drinks from licensed establishments and enjoy them outdoors in designated areas. Please note that you're not allowed to BYOB and the police do monitor the area but if you do things legally you can joy a couple drinks and delicious eats in the great outdoors. No brown bags or reusable "coffee cups" required (you know what I'm talking about). Alcohol is permitted only during the following hours: Sunday to Thursday: 4 – 7 p.m. and Friday to Saturday: 11 a.m. – 7 p.m. There are three locations you can dine at; Market Square, Memorial Gardens and on Tom Patterson Island. These spots not only have properly distanced tables and hand sanitizer stations but there's also adequate garbage bins for all your trash (please keep the space clean). We grabbed lunch from Noodle Zone and brews from Black Swan and Heritage Hops Brew Co for our Market Square al fresco session. This program is in place until the end of October but I hope they keep extending it and that other Canadian cities jump on this band wagon.
Breweries : While this is totally for the parents, I want to mention that there are a couple breweries in Stratford. Some of which are right downtown and easy to walk into when exploring the area. Chris and I highly recommend swinging by these spots to either stock up your room fridge, take back home, enjoy on their patio or to savour during your al fresco dining experience: Black Swan Brewing, Heritage Hops Brew Co, Jobsite Brewing Co and Shakespeare Brewing.
Dining in Stratford : Stratford is well-known for their culinary scene and one of the top places I recommend for a foodie road trip. During this visit we focused on outdoor activities and only dined at one patio, AO Pasta. We had some delicious house-made gnocchi and the meatballs were amazing. The menu was classic homemade goodness which was perfect on a cool October night. The restaurant is also named after two of the three owners' kids so you know that this is a family friendly restaurant in Stratford. We plan to enjoy outdoor dining into the foreseeable future which is why we bring blankets with us and layer up for our meals these days. Please remember to check if the restaurant you want to visit is open because many are closed on Sundays or Mondays. I wanted to swing by Braai House and Revival House but sadly ran out of time during this visit. My friend Solmaz recently wrote about all the best spots to dine at in Stratford and I recommend you taking a peek at that to plan your food route!
Food Shopping : This is quite possibly my favourite type of shopping! Stratford is home to some cute shops and you'll be able to get some meaningful treats for loved ones. We always buy our balsamic vinegar from Olive Your Favourites (they have some great olive oil too) and I love to bring back cheese from The Milky Whey Fine Cheese Shop . Be sure to grab chocolates from Chocolate Barr's Candies (the most exquisite looking chocolates!) and Mint Smoothies (it's actual chocolate and not a drink) from Rheo Thompson Candies. Gin lovers be sure to visit Junction 56 distillery for a fine array of flavoured gins. IF you want to buy art, candles and clothing, check out these options!
Outdoor Things to do in Stratford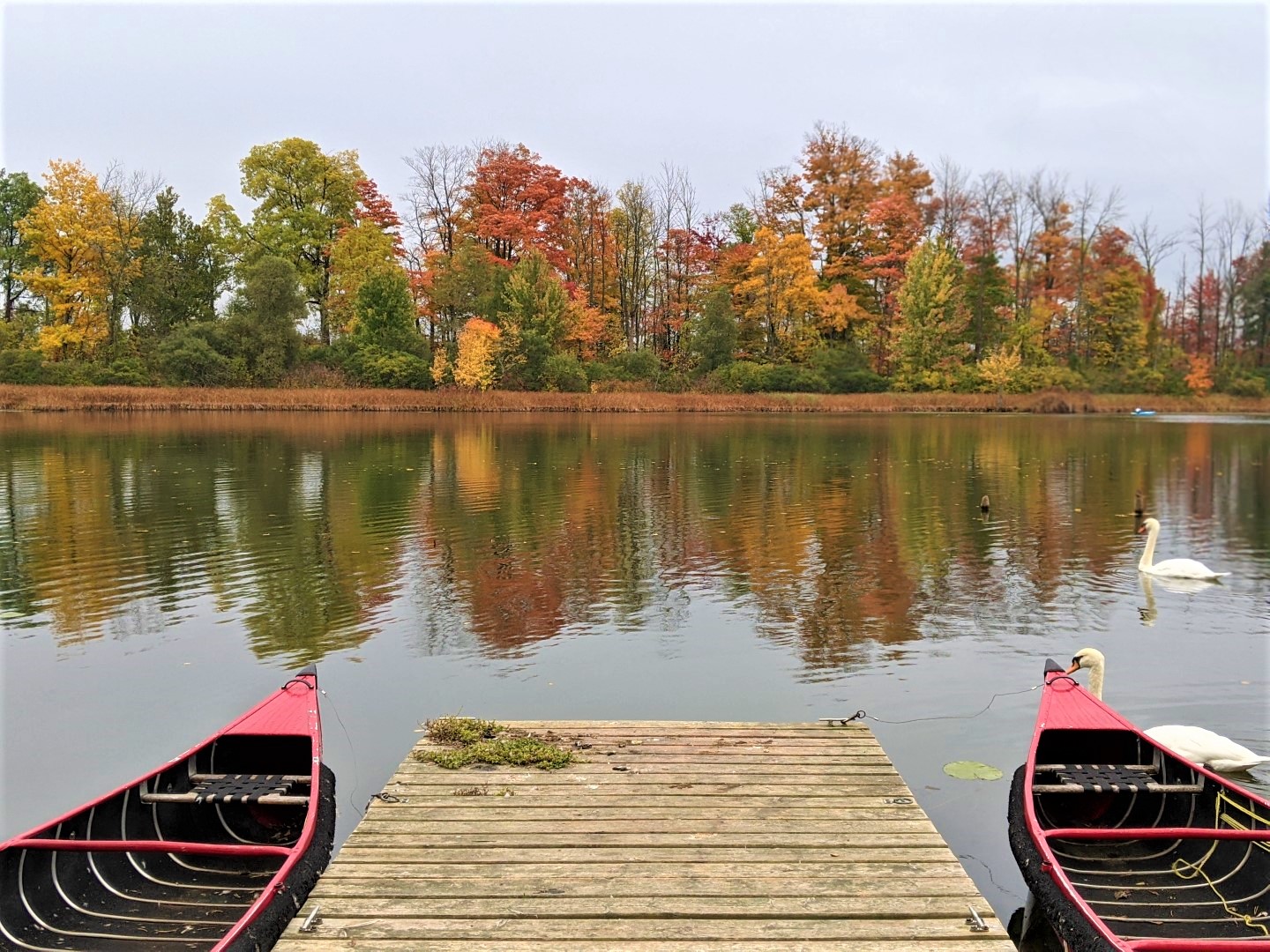 Skate Park : If you have kids along, bring their bikes or scooters (and protective gear) with you because they'll love the ramps set up at the Skate Park in downtown Stratford. The park is located at 270 Downie Street and is a multi-use skatepark with features for skateboarding, in-line skating, scooters and BMX biking. This can be a busy spot so visit during the off-peak hours and I would advice masking up for this activity. There are park benches for parents, so grab a coffee and enjoy some time here.
Photography : Fall is the perfect time to take family photos, in my opinion. The trees are changing colours, you can layer on outfits and best of all, you'll have the pictures in hand for those holiday calendars and cards. During our visit to Stratford we took some fabulous photos by the River. Here are a list of the parks in Stratford where you can take some lovely pictures. We took ours by the Victoria River just across from York Street. All you need is a tripod and you're good to go!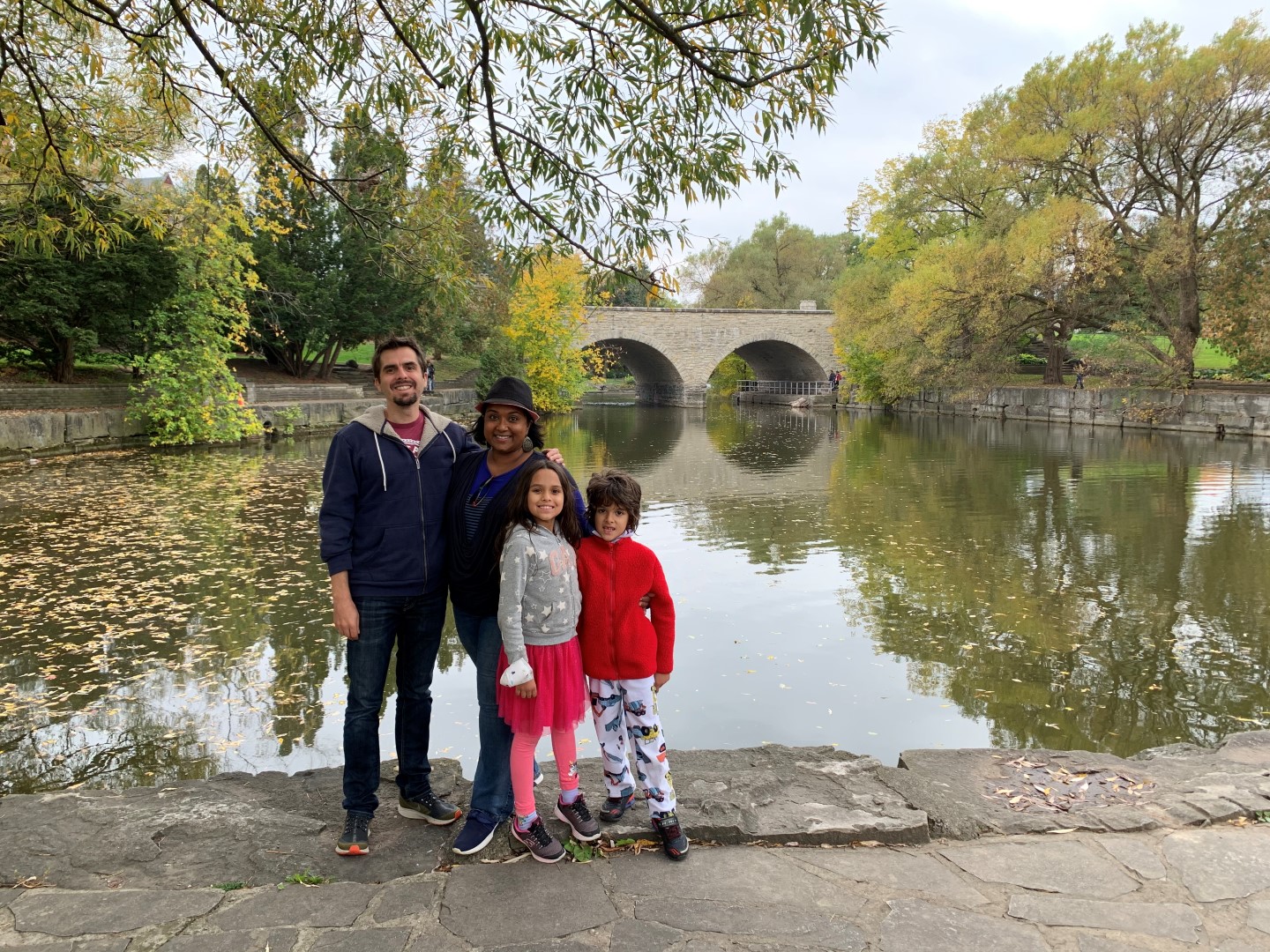 Forest Walk : Speaking of photography, the ones we took at the Forest Motel were fabulous as well. We did not stay at the motel but we did experience their forest walk. This new program follows COVID protocols and ensures that the groups are small with plenty of space between guests. Our guide took us on a 2 hour adventure where she taught us about the trees on site, the history of the property and some local stories. The famous Stratford Swans were in their winter holding so we didn't see any in the downtown area but saw a family of swans on the water here. The kids were kept engaged with a scavenger hunt and the tour came with a lunch (sandwiches, muffins and fruits) and a mid-trip snack of coffee/tea/hot chocolate/drinks and energy bars. If you want more details about the $40 forest walk (there's going to be a snow shoeing version in the winter) you can find it here.
Unique Stratford Experiences for Families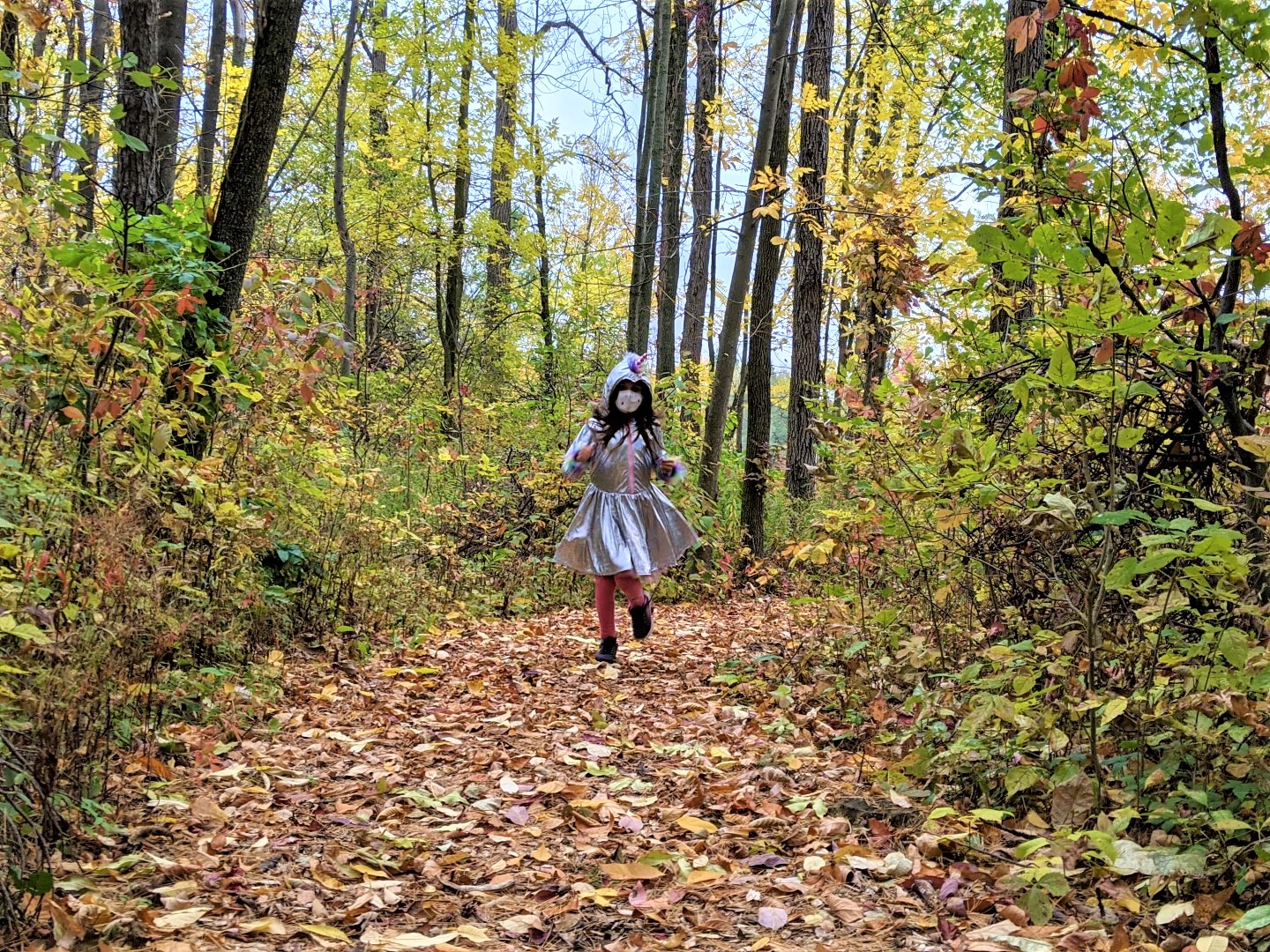 Cuddle with Rescue Cats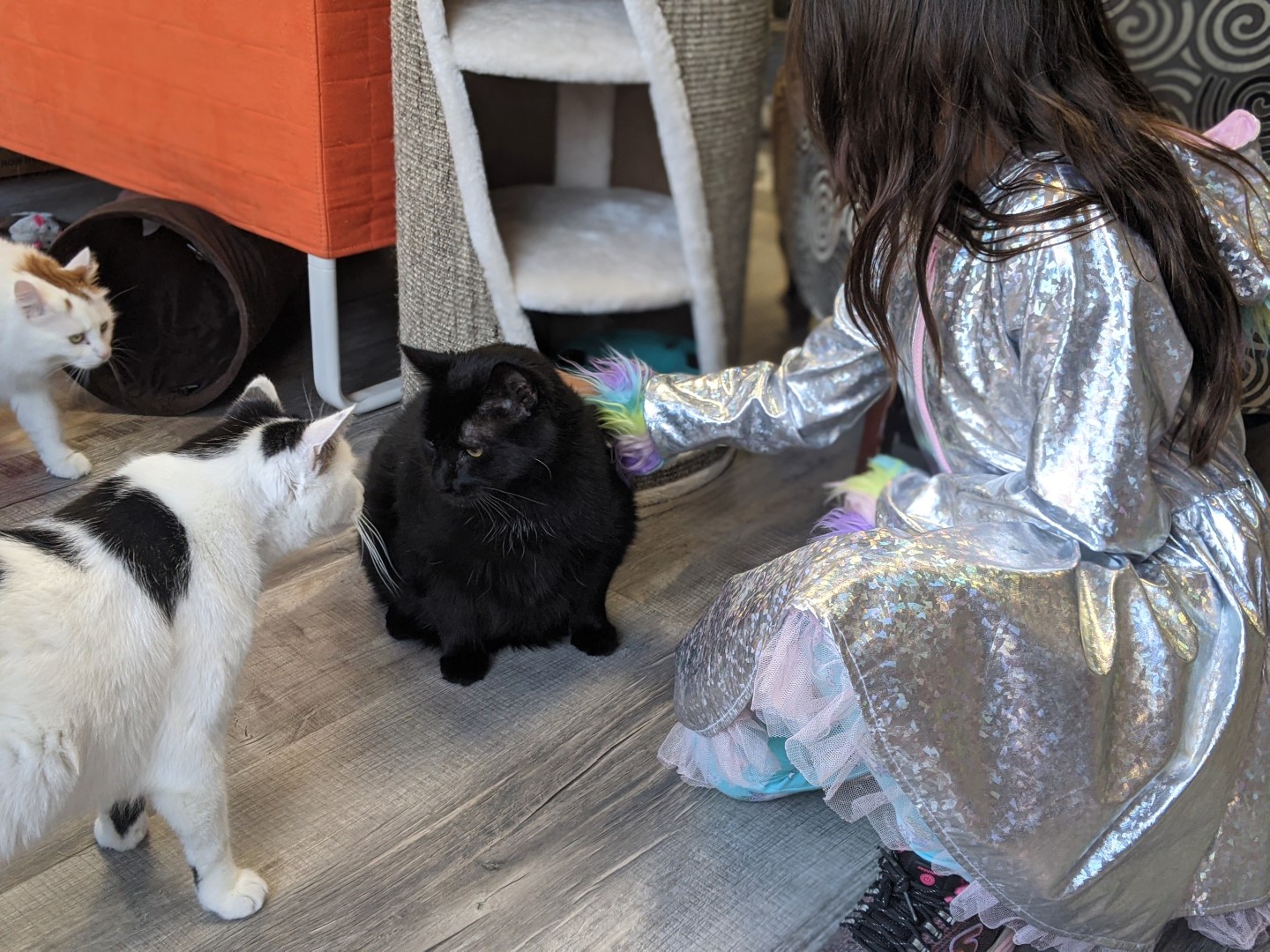 Alright I said we did things outdoors but this is an indoor activity that Akira spotted during one of our mother daughter strolls. The boys were resting in the room and the two of us visited Alley Cat Cafe not knowing what to expect. We didn't eat or drink anything but we did pay $7 for the two of us to visit the cats for half an hour ($9 per adult per hour and $5 per hour for kids under 14 years of age). Most of the Stratford cats are rescue ones awaiting adoption and the staff were properly masked (as were we). They told us about the cats, which ones like to be petted and which ones will come over for a treat. This is a cute spot where you can continue to be masked the entire time and even a non-cat lover like me did not notice any "cat smells". Akira was in cat heaven and while it didn't stop her from having a meltdown later that day, it did bring a smile to her face for the solid 30 minutes (yes I can tell she was smiling behind the mask).
Take a Bite of this Ontario Chocolate Trail in Stratford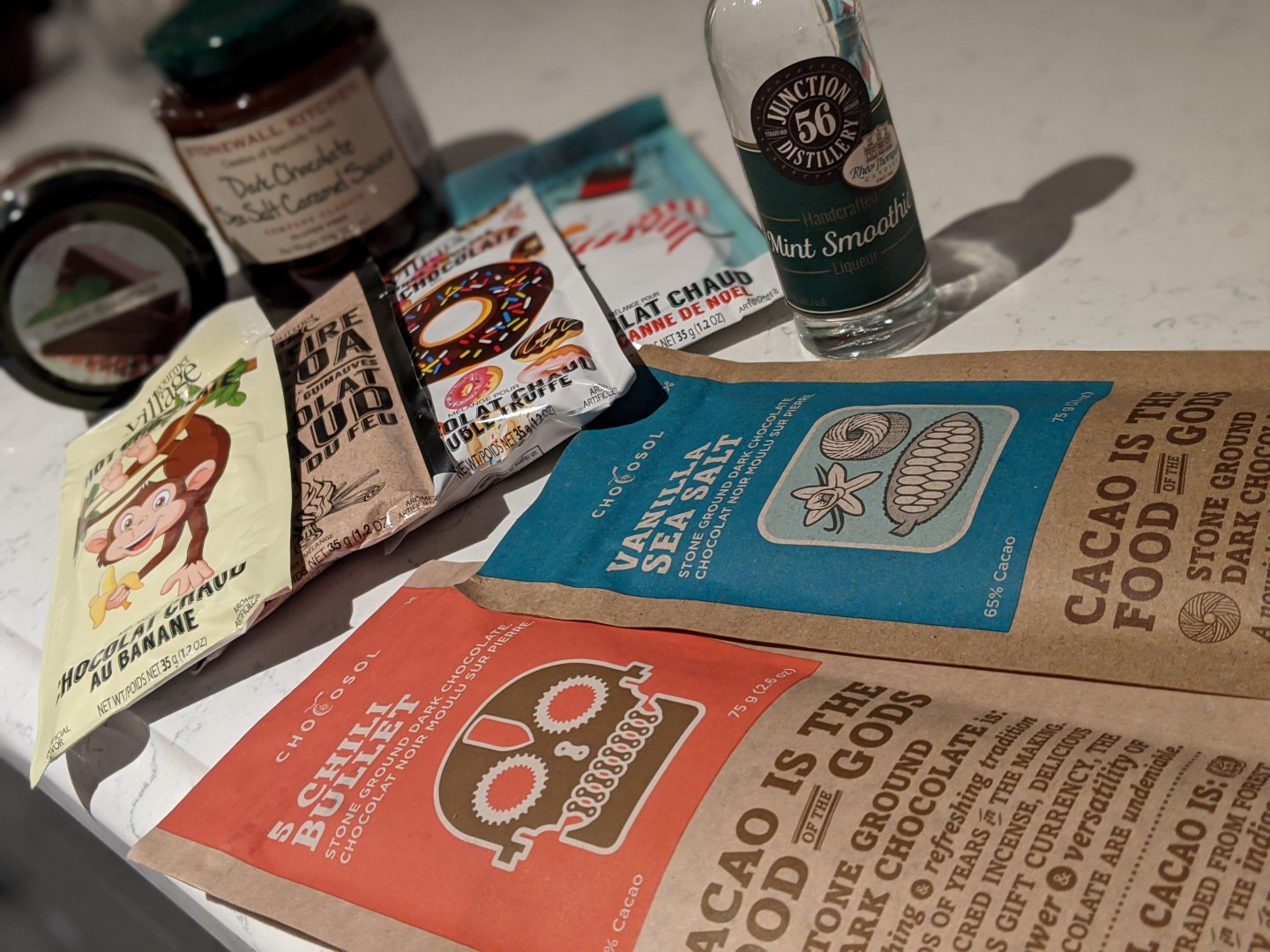 A chocolate trail sounds lovely right? This program is on offer throughout the year and it can almost feel like you're trick or treating! You buy a $30 passport (my family of 4 shared two passports and found that it offered plenty for us to share) which gives you access to 6 spots of your choosing out of 20+ options. Each place lists what they are offering so you can pre-plan your route. We decided to do a mix of chocolates and some other treats to bring back home which is a lovely way to keep the memories of your trip alive! Some places like Black Angus Bakery were a drive away (but also gives the largest batch of treats) while others like Chocolate Barr's Candies is in the downtown core (and gives you 4 pieces of chocolate per passport!!). We brought back hot chocolate packs, Chocolate spreads, Chocolate balsamic vinegar and some chocolate bars powered by pedaling bikes! They even have a Chocolate Porter for parents at Black Swan Brewing and I enjoyed a delicious Chocolate latte at The Livery Yard. If you're two adults and two young kids, the two passports will be sufficient and you can always buy a few extra treats on your own at your favourite shops. If your kids are older or you don't want to share, get your  own passports and if you don't end up using all your tickets you can always save it for a future visit as they don't need to be used on the day you purchase them. Please note that you do need to be masked to enter each of the places and everyone is asked to visit the hand sanitizer stations at most of the spots we visited. Be respectful as you explore and if like us, you aren't comfortable removing your masks indoors at cafes and restaurants, you don't have to! All our treats were packaged for us similar to takeout options and we enjoyed them either walking down the streets, at one of the alfresco spots, in our room or back at home.
While the chocolate trail was definitely the highlight (and focus) of our trip, I will admit that the other outdoor activities were also just as fun. It was nice to relax and absorb the benefits of being outdoors. We truly lucked out with awesome weather during our visit but I know I wouldn't hesitate to return during the winter either!