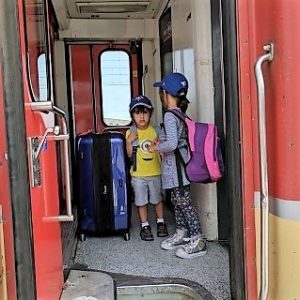 Morocco has been on my bucketlist for as long as I can remember. I may have grown up in Dubai,  Bahrain and Karachi but the charm of Morocco was something that still held a lure. I never knew how or when I'd get here but when I found out that we were heading to the South of Spain and that Morocco was a ferry ride away… I knew I had to make it happen. The hubs wasn't fully convinced of exploring Morocco as he's not a big fan of the ashtray that is Dubai (people smoke anywhere and everywhere). Getting him on board wasn't easy but I knew I had to show him the country and that he'd be charmed as well. I mean, parts of  his favourite film of ALL TIME, Lawrence of Arabia, was filmed in Morocco after all!
I spent many hours researching the various tours available and things for us to do and pretty much made it my mission to figure out a game plan for us. Visiting Morocco with young kids seemed daunting and having travelled through Sri Lanka with them, I was expecting an equally hard journey. The best option looked like hiring a tour guide to escort us through the country and so I did find a driver through Mint Tours for 140 Euros a day (we did not end up using them). We were going to spend three weeks in Morocco so that would have been pricey but the comfort couldn't be beat. At least that's what I thought.
We then heard about the buses and trains which I wasn't too keen on because I expected them to be dirty (germaphobe alert), hard to navigate and time consuming. Only one of those three points are true – yes it takes a bit longer to get anywhere on the train than it does by car. Our first train ride was from Tangier to Fez and we opted for the 1st class cabin which meant that we were in a small carriage for the 6 hour train ride. We were content enough with only two strangers joining the 8 seater cabin. One hung out for the entire ride but the other (who gave us some "advice" got off half way-more on this when we share our Fez stories). Our second train ride was an 8 hour journey from Fez to Marrakesh on one of the more modern trains and I couldn't tell the difference between travelling on Amtrack or Via Rail and the ONCF!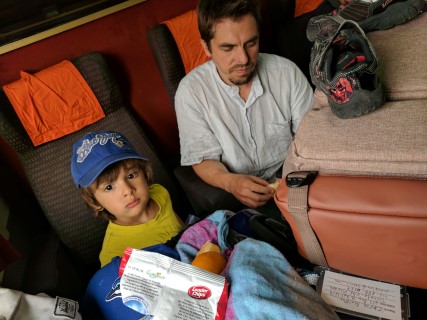 Taking the train is much cheaper and it's quite easy to navigate.  If you're planning to take the train in Morocco, these misconceptions we had may help ease your nerves
We have to buy tickets early:

We showed up and got our tickets on the day of travel in Tangier. In Fez we did buy them the night before but as long as you're flexible on which class you're travelling in you'll definitely get on board. We couldn't figure out the online system so don't think you can buy them online. You could do an overnight train on some routes and book a "couchette" with beds in the cabin but I was warned to book those WELL AHEAD of time. The online schedule was very accurate on the departure times but plan to arrive 30 to 60 minutes after the scheduled time of arrival.
Must have cash: In Tangier we had to pay for the ticket by cash and everything we read online said we couldn't pay for our train tickets in Morocco with a  foreign credit card. We found that we could in Fez! We paid for our Marrakesh tickets with our Canadian VISA credit card. I have a feeling it all depends on who you purchase from and what mood they're in.

You don't need tickets for kids under 5:

While this is true, you may want to consider buying tickets for them if you don't want them sitting on your lap if the train is busy. We had two large suitcases which we had to keep by our feet from Tangier to Fez and if the train was busy we'd have been in |BIG trouble as we needed the legroom in front of four seats in the carriage! Small suitcases would fit in the overhead rack but not our XL ones. Needless to say, we bought him a ticket for the Fez-Marrakesh journey and the train was VERY different. Not only did it have a separate space for luggage (similar to modern North American trains) but the seats were similar to airplane ones. So glad Baby Boy had his own seat because the train was a bit busy.

Trains are dirty:

Sure the first train we took was a bit old looking but it wasn't as filthy as expected. There was a washroom with pink toilet paper but no running water – bring your hand sanitizer. Little Monkey enjoyed peeing there "because you pee on the ground and the train goes away". The second train was very clean and definitely more modern with a semi functioning toilet and yes, there was toilet paper and a dribble of water.

We'd be bored and hungry:

There's enough to do on the train and definitely a lot more than in a car. Sure you only stop for a few seconds at the various stations (advice – if you're getting off at one of the middle stops be ready with all your gear as the train only stops for a couple minutes. . Luckily for us we always got on and off at the final destinations or else we'd have been in major trouble with our 4 backpacks, 2 suitcases, 1 stroller and 2 kids!) but the scenery is entertaining. Bring your tablet downloaded with Netflixhttps://www.netflix.com/ca/title/70234440, bring snacks (the cart that goes by isn't that great-though the one to Marrakesh had warm sandwiches on offer) and ensure the kids catch up on their homework (the train from Fez to Marrakesh had tables on the back of seats, similar to airplanes and a 4 person section with a small table as well)!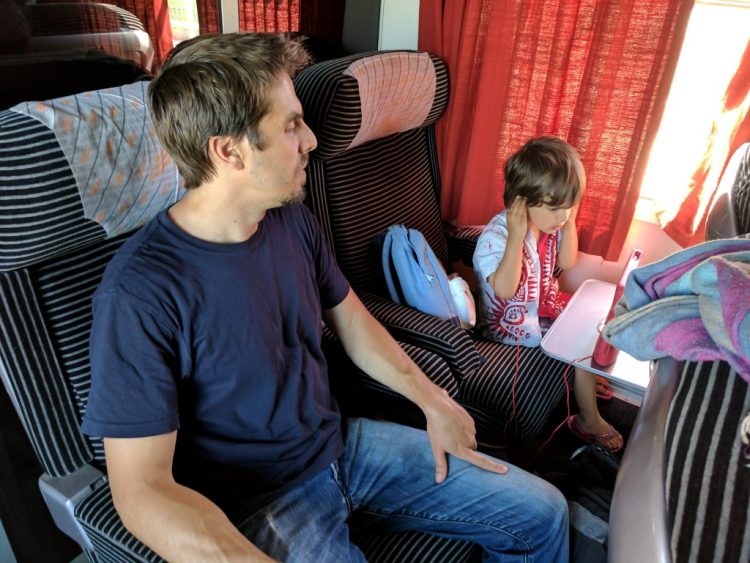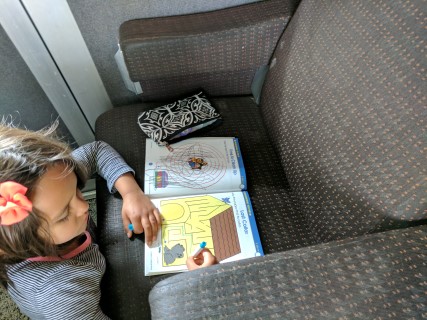 Sure the train did take about an hour longer than driving but it was much cheaper. The first ride cost us 400 Dhs as a family (we only bought 3 tickets) and the second time it cost us 600 Dhs (we bought 4 tickets). Baby Boy and Little Monkey developed a bout of car sickness in Spain and it continued in Morocco (puked the entire way to Chefchaouen) so the train was definitely the better option for us. As always, travel prepared with your basics. For me, I went everywhere with wet wipes, hand sanitizer, toilet paper (though that's a clear myth as everywhere had toilet paper), Orange Naturals Digestion for kids (they do get belly aches on occasion) and a fully stocked snack bag.  When disembarking in Fez and Marrakesh, we found plenty of taxis waiting at the train station but bargaining on a rate was a challenge! Also, note that in 2018 there's going to be new trains which will halve the travel times.
What misconceptions do you have of travelling by train in Morocco?