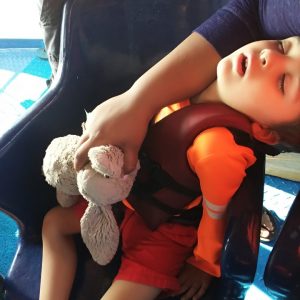 Our eleven days of driving through Sri Lanka comes to a speedy end tonight, and we're gearing up for our loooong flight back home to Toronto. I was born in Sri Lanka, and the hubs and I got married here as well, but this trip is the first time we explored Sri Lanka outside of its busy capital city of Colombo together. Growing up, I visited Sri Lanka often and have even revisited through the years with school friends, but this was my first trip back in over 7 years and I was reminded how HARD it can be to travel through South Asia. Can you travel through Sri Lanka with young kids? Yes of course! Is it hard? You betch-ya!
We love our creature comforts and living in Canada for the past ten years, I got used to the easy travels through Europe and North America. The sights we saw on our travels through Sri Lanka were absolutely stunning, and the locals love kids, but it doesn't negate the fact that we encountered quite a few issues that had us at our wits end. There's a reason many families enjoy the all-inclusive vacations– it's O so stress free! Our Sri Lankan holiday was a multigenerational one, with my parents, grandmother, cousins, aunts and brother joining us. For the most part, we were 9 adults and two kids, which came with its own set of logistical challenges.
I could have left everything in the capable hands of a tour guide or travel agent but I opted to hire a local driver and roam the country in a van. This meant some extra research but it also meant that we were able to stop when we wanted, adding in random stops when the DK EyeWitness book pointed us towards some hidden gems . Between TripAdivsor, Booking.com and my Rogers Roam like Home plan,  I was well armed for most of the challenges we encountered. It's easy to laugh back on some of them…now. Trust me, I wasn't laughing at the time!
I thought we were all mentally prepared for the lack of creature comforts, but I clearly had forgotten how different things can be in South Asia. So many things we take for granted come at a steep price or are not available at all. While these pushed us out of our comfort zone, it was also a good eye opener for us. We're very spoiled living in Canada and it made me realize how fortunate we are to have as easy a lifestyle as we do.
So what were these issues that made some of our days super long and had me wondering if travelling to Sri Lanka with young kids was worth it, and whether we would have been better off sitting on a beach in the Maldives rather than adventuring though slow and windy roads? Here are the biggest hurdles we faced.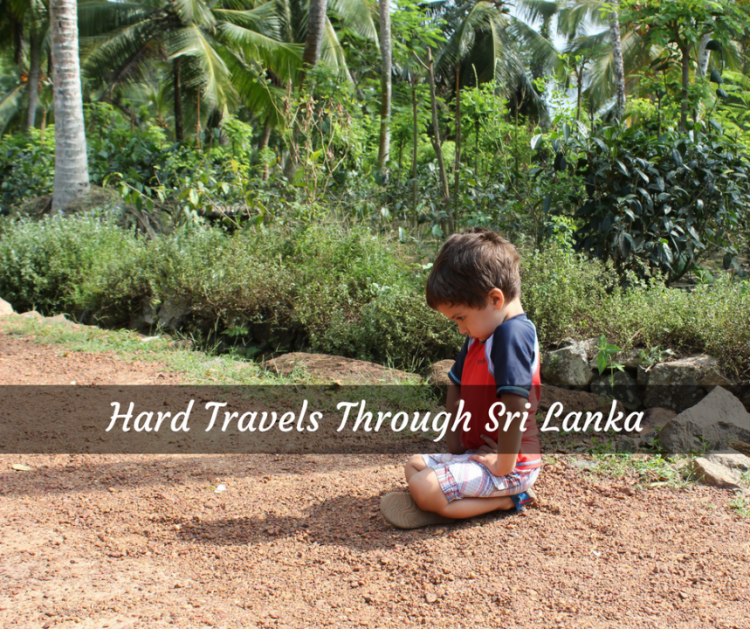 Diapers :

Baby Boy is still in diapers, as you know, and despite my wishful thinking that he'd miraculously decide to wear the big boy underwear while on this trip, we had to rush to a local store to buy some diapers, only to realize that large sizes are almost nonexistent. Kids train early here it seems, and we couldn't find size 5 diapers. So we stuck him in size 4s, which meant we had a few explosions. At the worst times too!
Food : The hubs and I loved the curries for breakfast, the spicy dishes and the amazing local treats and snacks. The kids…not so much. We realized very early on that the local pepper is very pungent and so we had to ask restaurants and chefs to hold back the chilies and the pepper for them. For the most part they ate fruits, rice, noodles and sweet buns. We had to send back the dishes at least 50% of the time because they would still insist on adding a bit of pepper or chili flakes!! We hit up a buffet one morning for breakfast at Jetwing Yala and the kids both dashed towards the salad. It was quite hilarious. All the junk food they were eating caught up with them! If you're a coffee snob, know that most places offer instant Nescafe so you should request to have "brewed Sri Lankan coffee". Or if you're like the hubs, travel with your ground beans and travel coffee brewer!

Roads:

We love our road trips, but clocking over 18000 kilometers over the 11 days taught us that bumpy windy roads in the villages cane be hard on our bodies. Keeping the daily drives to under 4 hours is the best advice I can give anyone looking to drive through Sri Lanka

Always Hot:

We travelled in December knowing it would be a bit cooler than the summer but the good part is that it's always  warm in Sri Lanka. The bad party is that it's also always humid. I needed two or three showers a day without fail. Light cotton clothing will be your best bet no matter when you visit Sri Lanka.

Mosquitoes:

Bring your favourite repellent no matter when you travel to Sri Lanka. Baby Boy is just a big mess of bites as the mosquitoes seems to love him. Little Monkey is fine though! Yes it's hot and you'll need light clothes but bring some light leggings to protect the kids and yourself!

Double Standards:

I'm a Sri Lankan and the hubs is "white", which meant that we encountered a couple double standards. Locals pay a nominal fee at most attractions but foreigners can expect to as much as 80 times the local rate! This is also true for accommodations. The local rate is significantly lower than the foreign rate you find through sites like Booking.com.

Accommodations:

Oh boy! I could write pages about this one. We stayed at some amazing hotels but we also ended up at some very dodgy spots that had us all feeling very disgusted.

Rooms took us a while to to figure out but we learned that Family rooms mean two double beds while a triple room is a king or queen with a single. Since Baby Boy and Little Monkey are still small, they were happy to share a single bed.
Amenities – don't expect en suite bathrooms and A.C to be a given! You have to inquire about those at each place.
Booking hotels and resorts online can be an issue. On one occasion we realized that the spot we booked at would have tossed us out because they only accept foreigners!  I'm so glad we found that out before we drove to the Orchid Rest Guest House! I had booked the rooms through booking.com and my mom told me to call them to confirm the size of the beds and that's when we found out!  Crazy times. I soon realized that we could explore options on Booking.com but had to call the spots directly to ensure that we got the local rate and that they would accept a mix of locals and foreigners. The silver lining is that we found an awesome spot right on the beach in Mirissa.
Don't trust online images! On two occasions we turned up at spots that had amazing reviews and pictures but the bathrooms were absolutely disgusting. So disgusting that we found ourselves running towards LEGIT hotels! Mind you, twice we were stuck because the small towns didn't have any hotels and so we had to lower our expectations and realize that travelling hard was the only option!
Meals can be cheap through the full and half board options. Nearly all guest houses and hotels offer breakfast with the room but if you're driving in late or hanging around for lunch, the full board (all 3 meals) or half board (any 2 meals) options will definitely be more economical, and the meals at most of the spots are delicious and offer authentic local cuisine!
If you have a lot of luggage and a stroller  be sure to request for  ground floor room because a majority of the spots we stayed at did not have an elevator. They do have staff who will gladly lug your things around for you but it's still an inconvenience. That said, if you plan to only stay at 4+star hotels you're in lu
Travel with your own toiletries if you plan to stay at guest houses and smaller "resorts" and "hotels" as they usually just have a small piece of soap and not much else on offer.
Very few spots have laundry facilities so you'll have to ensure you book at least one apartment stay that has a laundry machine (no dryers anywhere but the sun and warm weather will dry your clothes with a few hours). Hotels offer next day laundry services and are quite reasonably priced as well, so that's another option. Most guest houses we stayed at did not have laundry machines though.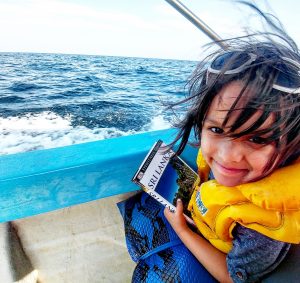 Despite these challenges, I still encourage everyone to visit this gem of an island at least once in their lifetime. The memories from this trip will last us a lifetime and I can't wait to share them with you over the next few months. The little hardships we encountered will soon be forgotten. Little Monkey isn't pleased about our departure and is already asking us to return.. the girl loves her vacations, that's for sure.