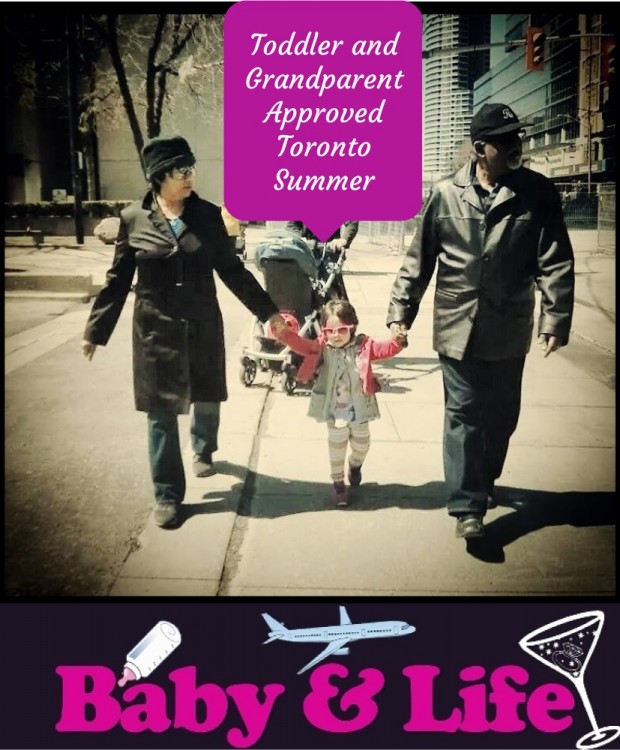 Grandparents love hanging out with toddlers and the summer is most definitely the time for them to take the rugrats off your hands spend some quality one on one time. Vibrant Toronto has so many options and while there are numerous spots for everyone to visit, I've narrowed down a few of our favourite summer activities for the grandparents to enjoy with toddlers. Of course toddlers can be quite the handful and there's some planning required on where and when to explore.
I'm lucky enough to have my parents around on a regular basis and the hubs' parents visit us often, however most families get the much anticipated grandparent visit during the summer months. We've explored a fair bit of Toronto with the Little Monkey and Baby Boy's grandparents and have figured out which spots work and which are better navigated with the younger parents extra ammunition.
With tots (many of them in diapers) easy change room access, plenty of benches for numerous breaks, easy stroller friendly access and engaging activities closer to home ( in case of an emergency) works best from our experience. Hence those are our criteria for choosing these fun downtown Toronto activities which will have both toddler and grandparents engaged and help them build lasting memories outdoors.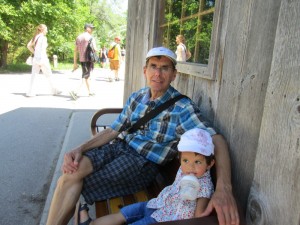 Riverdale Farm : Not only is there a fun splash pad near by, but the many animals, petting zoo and week day farmers market makes this a fun spot to explore. Even during weekends, this is one spot that isn't overly crowded. Click here to read about our visit.
Downtown Toronto playgrounds : These are great for quick visits and there's always an ice cream truck near by! Keep in mind that most are only open in the evenings during weekdays and all day long on weekends. Click here to see our full list!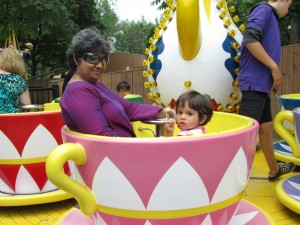 Centreville Amusement Park : This is definitely a full day out but the ferry ride over, Far Enough Farm and the many toddler friendly rides make this a great way for grandparents to enjoy the outdoors. I'd suggest doing this during the week day to avoid the busy crowds and rush. Click here to read all about our experience.
High Park : This is one huge park but there's a small farm, plenty of swings and grassy patches to picnic at. Perfect way to spend an afternoon.
H2O Park : I would never recommend a REAL beach for a grandparents day out but this one is perfect. There's a sandy pit and views of the water (where no one can swim!). Plenty of loungers if they visit during the week day (avoid the hot summer hours). Remember to pack some beach toys! Sugar Beach is a good contender but H2O is easier to get to.
I know I have missed out on quite a few… share yours and I'll add them to the list!
You will notice that I didn't mention any of the popular indoor choices such as the Aquarium. AGO, Scicence Centre and this is because it's the summer.. get out, lather up the sunscreen and enjoy the outdoors before it gets crazy hot in Toronto! Parents don't forget to pack a bag filled with many treats (for the grandparents and kids), snacks, water, extra plastic/waterproof bags and at least three extra outfits. Toddlers seem to get up to crazy tactics with the grandparents around!