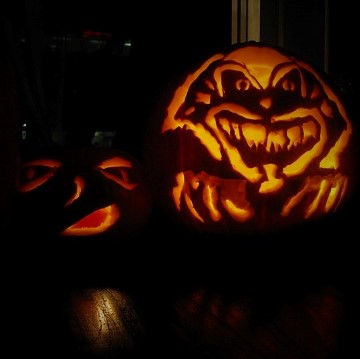 If you're looking for some easy Halloween food ideas for your Halloween party, I got you covered! I used to love hosting Halloween parties and coming up with Halloween party food was my favourite part. Okay and the decor. And the drinks. Fine. I love everything about Halloween! Since the kids have birthdays in October, my annual Halloween parties have taken a back seat and now we host a building Halloween party. Less intense but just as much fun. So, I thought I'd share some of my favourite, easy Halloween recipes that are sure to impress your Halloween party guests!
Halloween Party Food Presentation 
For an unusual table setup, grab a skull and some hands (we got them from the Dollar store) and an old pair of pants and shirt. Ideally you want to serve your Halloween food in narrow trays so you can easily make sausages look like guts and bones. I usually just end up serving whatever I want and then splatter BBQ sauce all over the pants, shirt and hands so that it looks like dried up blood. I got the inspiration for this ideas from this Pin.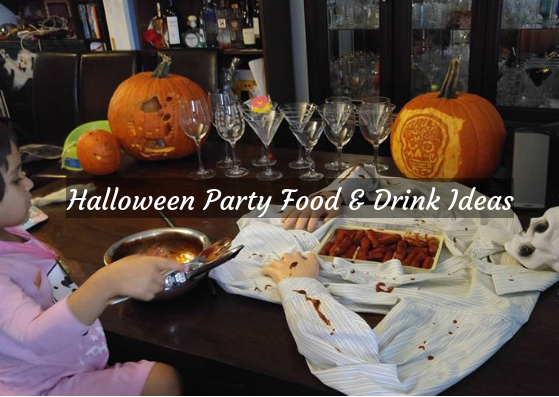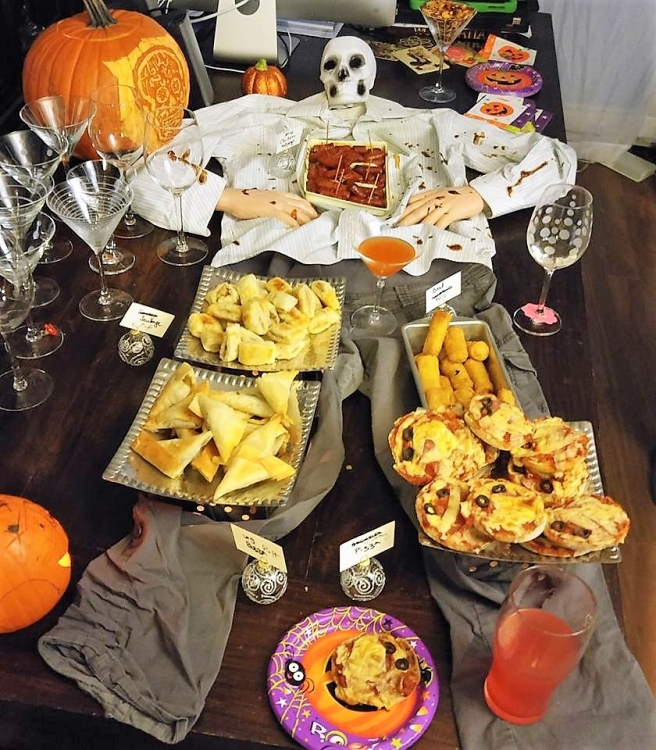 Crackers and Skeleton Cheese Head
It's so easy to shape cream cheese so why not make it look like a skeleton head? You can use your favourite cream cheese flavours for this dish (garlic and chili are my faves) and shape it with your hands. I used olives for the eyes and nose along with pumpkin seeds for the mouth. It might even be fun to add some food colouring and make it a red cheese skeleton head!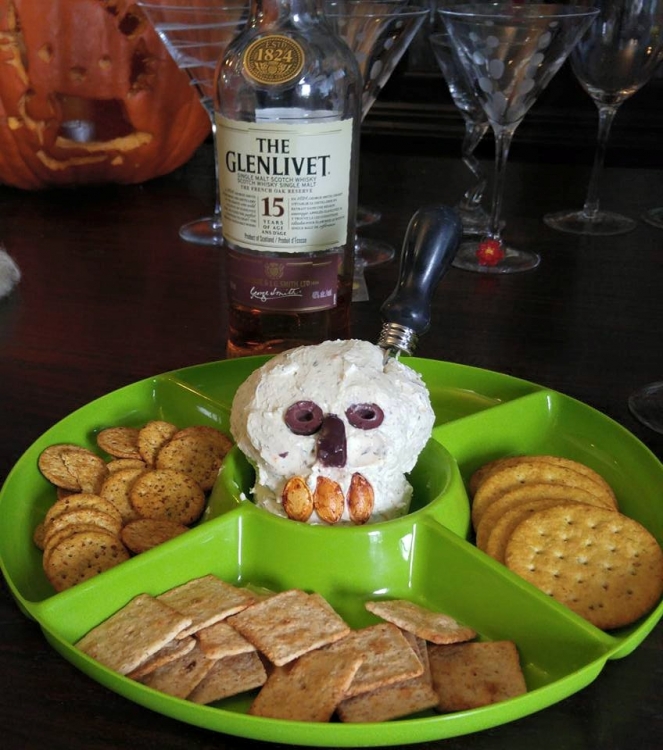 Pumpkin Veggie Platter
While the platter may remain uneaten, it does look very cute! Strategically placing carrots, broccoli, olives (or blackberries) and cucumbers will get you an edible pumpkin veggie tray. I ended up tossing a few cauliflower onto the platter because one of he kids attending was a a cauliflower fiend!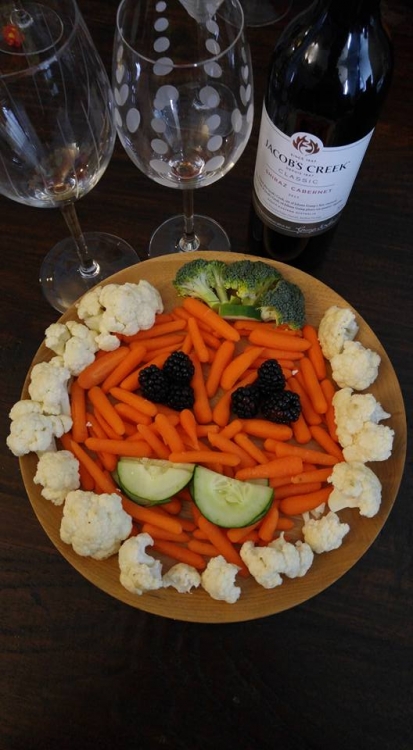 Boozy Eyeball Jello Shots
This one did take some time but the end result was parent approved and rather delicious! The easiest way to make this is by using the plastic egg trays you might have at home. I know a cake pop mold would work well here too but it might be difficult to prevent the "eyeball" from rolling, especially when you "paint" things on it! Using the egg tray provided the perfect round shape and a flat base so I was able to prevent it from rolling. Once it was set, I used food colouring and a paint brush to design the eyeball. It travelled well to a friend's house for one of her parties and you could avoid the booze and replace it with water if you wanted a kid friendly version.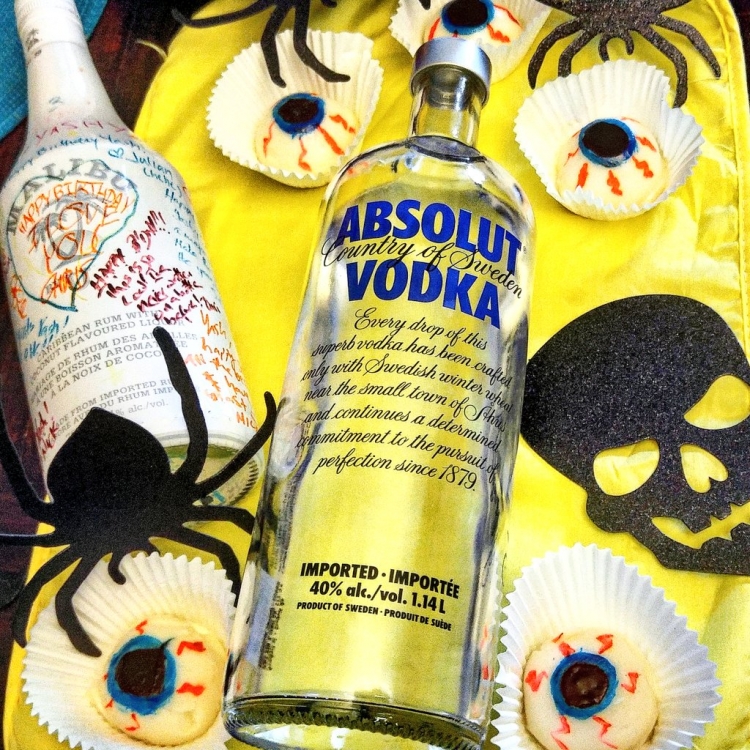 Ingredients
1/2 Cup of Vodka
1/2 Cup of Malibu (you can play with any alcohol you like, using Malibu gave this a sweeter taste which helped it go down easily!)
1 Cup of Boiling Water
14 oz. Sweetened Condensed Milk
2 Envelopes of Unflavored Gelatin
Food Coloring (Blue, Black and Red)
1 Plastic Egg Tray (or cake pop mold)
Splash of Vegetable Oil
Pour 1/2 cup of vodka and 1/2 cup of Malibu into a bowl or container and stir in the gelatin. Let it stand for about one minute before adding a cup of boiling water into the mixture. Stir well until the gelatin completely dissolves. Then add the sweetened condensed milk and stir until everything is mixed well. Spray the inside of the egg tray with a small amount of vegetable oil, wiping away any excess oil. Next pour the white jello into the tray and place it in the refrigerator. Refrigerate until firm. It took about 3 to 4 hours for me. If using the egg tray, you will need to be careful when you try to lift the "eyes" from the tray but it will come out easily and you may need to cut off any extra edges. Now you get to have fun painting before you eat them!
Floating Hand Cocktail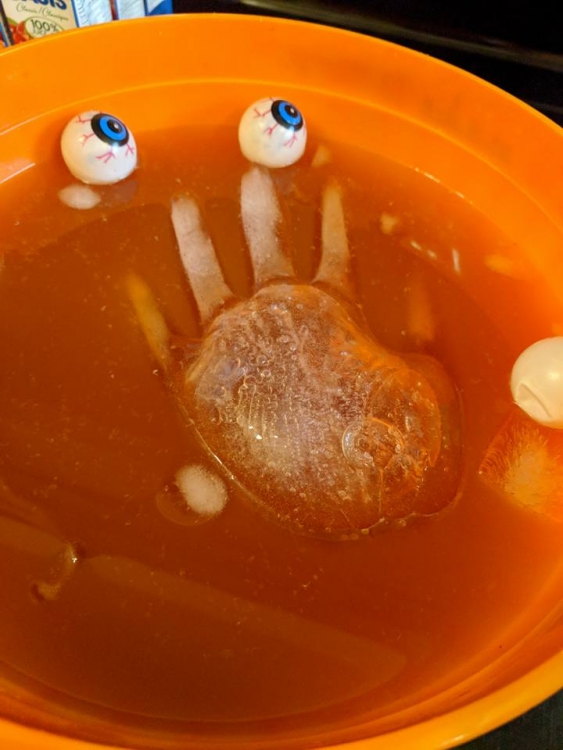 If you're serving a punch or cocktail, make it in a big batch and toss in a bowl with a floating hand ice! To make the hand, simply fill latex gloves (ensure you rinse them out properly) with water and tie the top up before freezing it.  When you're ready to serve your cocktail, peel/cut the gloves off the ice and throw it in the cocktail bowl. If you have plastic eyeballs or skulls, you can toss those in too. Guests can serve themselves from the punch bowl and the drink will also remain cold because of the ice hand. Pretty brilliant if you ask me!
Happy Halloween everyone!! I hope we get around to carving some great pumpkins this year because we totally slacked last year. See below for our set from 2010 (before we had kids!).