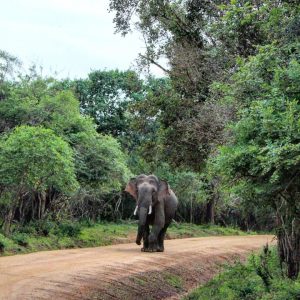 Sri Lanka is known for elephants and this gem of a creature can be spotted at various places throughout the island. If you're only staying in the city of Colombo, it's harder to see them as they do tend to roam in the wild than city streets. That said, some of the bigger temples do have their own elephants (though I have been informed that this practice is thankfully on the decline!). The Sri Lankan elephant (Elephas maximus maximus) is one of three recognized subspecies of the Asian elephant but sadly, since 1986, they have been listed as endangered as the population has declined by at least 50% over the last three generations and word on the street is that many elephants died during the civil war (think land mines). However, it is estimated that Sri Lanka has the highest density of elephants in Asia!
I had promised the kids that they could see elephants during our travels through Sri Lanka because each of my visits back home have involved some encounter or another with an "ellie". This visit was different for me. I'll be the first to admit that I haven't always been the most aware when it comes to animal care and never thought too much about riding elephants and how they were treated at orphanages and sanctuaries. Growing up I visited the Pinnawala Elephant Orphanage frequently but over the last few years I had heard rumblings that the place was merely a tourist attraction and that the animals weren't properly taken care of. So I made it my mission to go exploring for elephants in Sri Lanka. What I found, shouldn't be too shocking!
Sri Lankan Elephants in the Wild
The Sri Lankan elephant population can mainly be found in the north, east and southeast of Sri Lanka and after our drive through that area, I can tell you that you may even spot them on the highway!! There are many national parks that allow elephants to roam freely and they are your best bets for a safe viewing. There are professional safaris that are easily organized and the rangers/trackers communicate with each other so that you can easily find a herd. Elephants are present in Wilpattu National Park, Lunugamvehera National Park, Udawalawe National Park, Yala National Park and Minneriya National Park as far as I'm aware.
This was my first visit to Yala National Park and on this trip we not only had the two kids, but the hubs and I were joined by my parents, my aunt, my two cousins and my 87 year old grandmother! YES! It was truly family affair and we had our own matriarch guiding our herd :). We opted to go with Shehan Safari and had two Jeeps take the 9 of us into the park. I'll share more about our experience at the park another day because today, I want to tell you about the majestic Gemunu we met! Our driver and ranger were about to take us back home when we spotted this regal elephant just gallantly walking down the path we were about to go towards. Our guides quickly informed us that he had strayed away from the herd and that the two of them would like to navigate him back if it was okay with us. Of course we agreed to it but little did we know what would happen! While our  guides knew what they were doing, some of the other vehicles around us were clueless. They attempted to get too close to the elephant and angered him a bit but luckily for us, our guides started yelling at the others to get out of our way as he was slowly nudging Gemunu in the right direction. At one point Gemunu straight on ran towards the vehicles that had my mom, grandmother, aunt and cousins – we held our breath as we watched from a distance. Of course Gemunu is harmless and he merely did that to scare everyone out of his path – he quickly darted back into the forest and our 15 minutes of fun were over. Since then I have read many stories on Gemunu attacking vehicles in search of food – so be warned!
While we did spot herds of elephants during our two hour drive through the park, Gemunu is what the kids remember the most. We later dined at the Jetwing Yala and was informed that Gemunu can be spotted on the property because he really does roam free. I was glad to hear that because I was a bit concerned when our guides were trying to navigate him away from the main road within the park. At the end of the day, the national parks are your best bets for seeing elephants in the wild. I hear amazing things about the Udawalawe National Park and hope to visit on our next trip.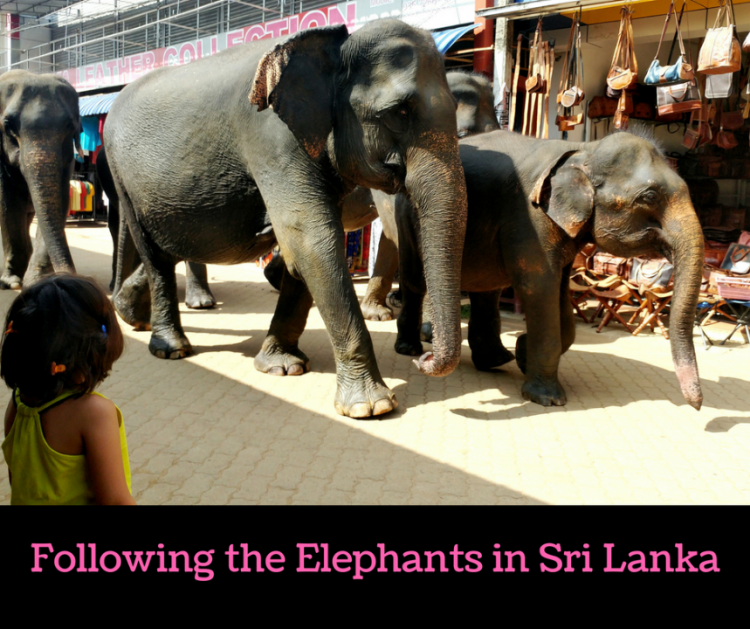 While the National Park did not truly feel 'in the wild' our encounter with another elephant on the highway between Jaffna and Nilavelli did! When we spotted him on the highway we were definitely intimidated and as you may have heard in the video above, we all voiced a fair bit of concern (my aunt was asking if we had any food to give him!). At the end of the day, most elephants you encounter on the roads are fairly used to people and won't harm you, especially if you have food to offer! That said, there's another theory that humans are spoiling these elephants by offering human food and so they're getting lazy to graze in the wild. We didn't have anything to offer him but he did let us pass by with no issues.
When the kids are older I hope to one day volunteer at the Sri Lanka Wildlife Conservation Society.
Elephant Orphanages
I can't talk about the Sri Lankan elephants without speaking about the orphanages and sanctuaries in the country. As I mentioned, growing up, visiting Pinawalla was a highlight of our vacation and so I was looking forward to taking the kids there. Where else could you feed and bathe a baby elephant? It sounded so cute but once I got there, reality hit. The orphanage no longer seemed like the happy place it once was. I couldn't even find the two elephants I loved seeing year over year – Sama who lost a leg to a land mine and Raja the blind elephant. The Elephant Orphanage started out with good intentions – to look after and nurture elephants who were hurt or abandoned by their parents. However, after spending a few years recovering at the orphanage these elephants were no longer able to survive in the wild and so they weren't released back into the wild. Pinnawala has the largest herd of captive elephants in the world and I'm left wondering if this is all just for show now.
While the kids absolutely loved feeding the elephants and watching the milk being fed (you can no longer feed milk yourselves-not sure why), I was a bit saddened to see some of the elephants being beaten if they veered away from the path to the bathing grounds. I don't think we'd return here, especially not after someone approached us asking if we'd like to ride an elephant!!! Please know that baby elephants are taken from their herds when young, tortured till they are submissive and then spend hours giving rides to tourists on their back in the hot sun and sometimes even on the tarred roads at mid day. The pads on the soles of their feet are very sensitive and so is their skin. Many  young elephants have back problems after giving these rides and so they start suffering at an early age.
I'd be lying if I told you the kids didn't ask to go back to the orphanage. I know it can be hard explaining the reasons for not doing certain things but I think we have to try. On our next visit I won't be giving our money to the orphanage, instead I'd like to support sanctuaries who look after captive elephants who have spent their lives being exploited for the tourist industry. If for some reason it's the only spot you can get to (because of proximity to the city of Colombo), I suggest visiting one of the restaurants nearby instead of giving money to the orphanage.
We live. We learn. We travel and we learn so much more.