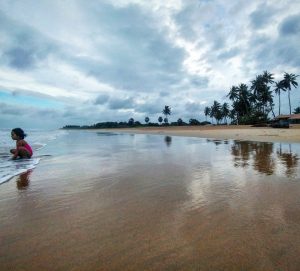 Lounging by picturesque Sri Lankan beaches was high on my list of things to do but given the hectic 10 day Sri Lankan road trip I had planned, we only managed to enjoy the beach on a few occasions. One of the most relaxing beach sessions took place at the Nilaveli Beach Resort located near Trincomalee.
When we knew we were heading to Jaffna my mom insisted that we stay at her cousin's resort situated right on the beach on the eastern shores of the island. Hey, I wasn't going to say no to a family discount!
Our mid December visit meant that we had the entire resort to ourselves because it was off-season given the high tides. It was pretty neat having an entire beach all to ourselves for the twenty four hours we were there and the rooms were reasonably priced at under $150. Mind you, our group was large enough as my parents, my brother, his girlfriend and my grandmother joined the hubs, kids and I on this vacation.
On arrival my mom got a tour of the rooms and if you watch the video above you will see that the Nilaveli Beach Resort offers various room configurations. Rooms had various configurations ( king, double, two queens etc) making it great for groups and families.  All rooms had a view of the beach and I must admit that I was impressed by the little touches that were in place. Not many places in Sri Lanka (especially in the outskirts) give you things like thick towels, shower gel and beach towels, so that really was a highlight. In addition, the A.C worked well, which was a godsend!
The staff were very attentive (but then again, being family they really had to be on their best behaviour!) and Little Monkey got the best surprise when one of them walked in with a bucket of sand toys. She was over the moon and the only thing that made her happier was the stray dog who came by the resort. Mind you, he stole some ginger biscuits (my brother had brought from Korea) one night and I was totally in shock when that happened! I was seated on the veranda while everyone else was at the restaurant and he just snuck in, grabbed the biscuit and spilled (and broke!) my glass of wine before dashing out.
Speaking of the on-site restaurant, they make some amazing "bites" and seafood. I highly encourage visitors to order the crab curry and the deviled beef. Going for the Sri Lankan breakfast option is also a wise choice! The restaurant is small and dishes may take a while to come out so if you're with little ones, order ahead or have the kids play by the beach while the chef whips up his dishes. Everything is made from scratch and the menu changes with each season, so you're guaranteed delectable fresh cuisine.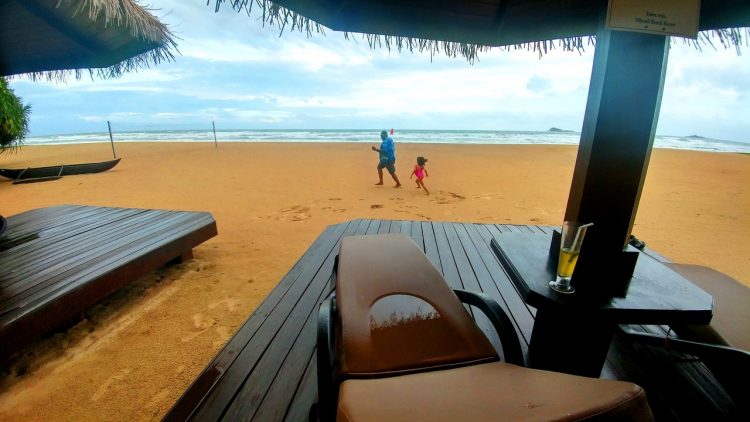 For families looking for a small resort Nilaveli Beach Resort is a great option. Not only is everything up to North American standards but the Cabana rooms, food and beach are within a minute walk of each other. I wish we had the time to spend another night or two here and will definitely return on our next visit. I hear it's amazing in the spring time and the fishing and snorkeling excursions are very popular. During our visit we were warned that the water would be rough but it didn't stop us from building sandcastles and rushing into the water. We kept a close eye on the kids and even my grandmother couldn't stop herself from walking in. It's a shallow entry which is another great perk for those with young kids in Sri Lanka.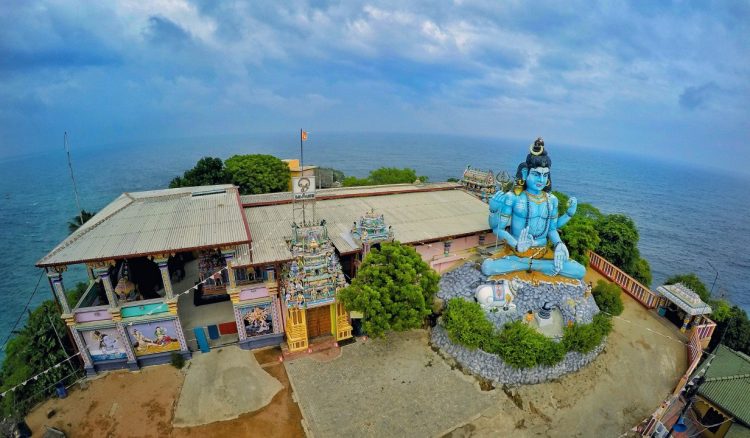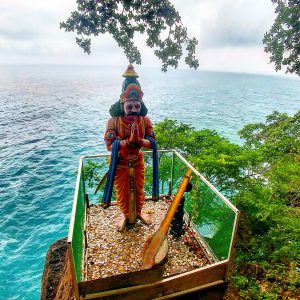 There isn't much in the immediate vicinity so definitely stock up on any snacks and booze you might want for your room. Pigeon Island National Park is close by and a popular attraction as well. We didn't get there but we did visit the Koneswaram Temple and the Kanniya Hot Springs during our travels to the Trincomalee area. Both were quick tours and the temple was absolutely stunning.
I'm off to go dream of those swaying palm trees, soft sandy beach and that crab curry!