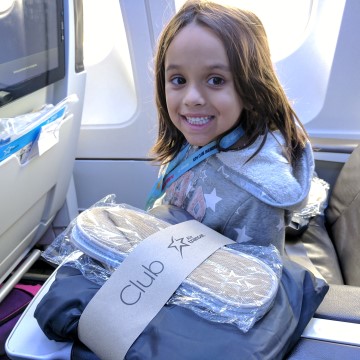 The only thing we knew before we left Toronto in April for our 148 day adventure was that our return flight was booked for the 30th of August from Manchester. Everything else in-between has been on the spur of the moment and the countdown to Toronto was a much anticipated one. We had an amazing week in Manchester and can't wait to share more about this delicious city but today, I wanted to share with you our worst security experience to date and the awesome surprise of flying Air Transat's Club Class from Manchester to Toronto with kids.
We left our GuestToGuest home around 9 a.m and was at the Manchester airport by 9:30 a.m for our 12:30 p.m. flight. We really wanted to avoid the rush and knew we wanted to do some duty free shopping as well, which is why we arrived 3 hours before our flight. There was a small line when we arrived at the Air Transat check-in counter but since the kids had their Kids Club badges we were ushered to the kids' check-in where we discovered that we were being upgraded from our economy class Option Plus seats to Club Class! Wohoo! Talk about a bang on way to end #MurphysDo148Days! We were so excited because it was a 7 hour flight and were very thankful to the travel gods because one rarely gets upgraded when travelling with kids.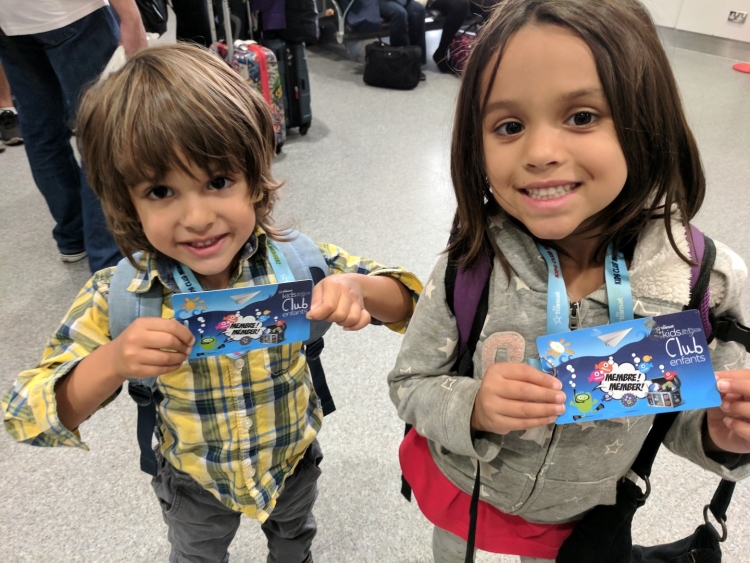 Club Class passengers receive a variety of priority services such as complimentary seat selection, a generous baggage allowance of two pieces of checked baggage (32 kg per bag for flights to/from Europe and the Middle East), 15 kg carry-on, rapid check-in counter, priority queue at select airport security checkpoints, priority boarding and priority baggage handling, to name a few. Our bags were already packed for 23 kg sadly – I could have shopped a lot more the night before! While our Air Transat experience was absolutely fab, our run in with the Manchester airport security was NOT.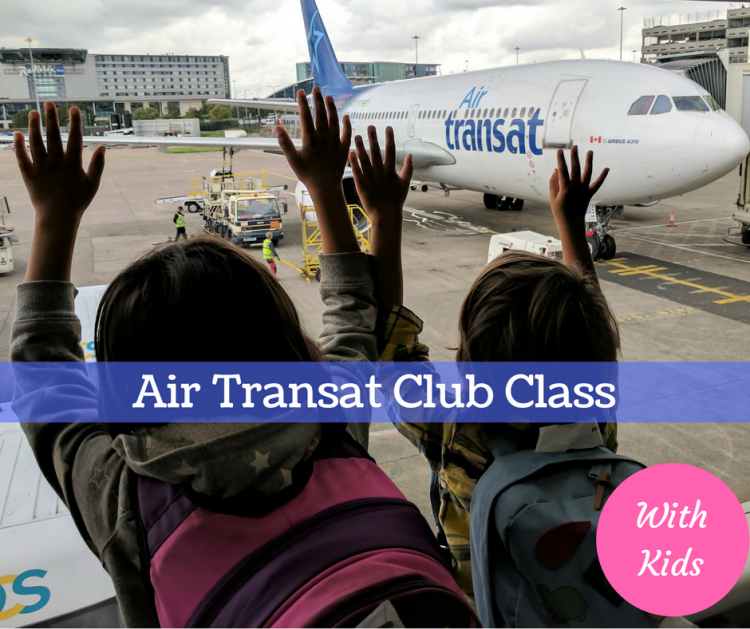 Having checked-in we decided to keep our stroller until we got to the gate and that was a big mistake. Because of the stroller we were unable to go through the priority security checkpoint and instead had to spend an hour in line at the family security checkpoint. While the family line is usually quite easy, this time it was not. It was ridiculously slow and despite having over 6 security personal for ONE line, the same bags kept being put through numerous times. As you know, we've been allowed to bring a bottle of juice/water for each child at some airports so I always bring it with me and know that we might be asked to empty them out. I usually do this quickly so as not to hold up the line, of course. As we were unloading our items, I was requested to remove all my 100 ml liquids from the large ziplock I've been using for 5 years and told that I had to put them into the sandwich sized bags they offered. That took a while! I was then told that we couldn't bring the juice bottles since Baby Boy was 3 and no longer 2 BUT I couldn't just empty the liquid out into the trash either…so I stood there and chugged the two bottles. That was NOT fun. Adding to the chaos Little Monkey walked through the full body scanner instead of the regular one which flustered the security personnel and then Baby Boy decided that he would not walk through the machine by himself and just kept yelling and rolling on the floor. We tried to laugh it off and entice him to just walk through but after 5 minutes everyone was getting exasperated and of course there was  line up behind waiting to go through security as well. The WORST! We finally convinced him to run towards us on the other side and managed to get that done with. My kids have gone through airport security since they were newborns but for some reason they always have meltdowns at that exact point! Don't worry, our chaotic experience isn't over yet. We then had to wait while they went through EACH and EVERY backpack and purse of ours. It was a complete nightmare which ended with them inspecting our LG bluetooth speaker to the Nth degree and confiscating the TSA approved PocketMonkey Card we've been travelling with for over a year now. At this point we were absolutely fed up and just wanted to get out of there…honestly, if I fly out of Manchester again, I'll be checking in the stroller and avoiding the family line at all costs. They make life harder for families than easier and every family in line with us will probably tell you the same thing.
After an hour of dealing with that we were thrilled to leave that behind us and went shopping for those HUGE chocolate slabs before heading to our gate. Priority boarding for those in Club Class and those with kids enabled us to get onboard and enjoy our wide seats as we prepped for the flight. There was a bottle of ESKA water, a blanket and a pair of slippers waiting for us (loved the slippers for the toilet runs-oh and Club Class toilet is a bit bigger than the ones on economy!).
The seat configuration was 2 by 2 by 2 across two rows which enabled us to be seated in one row while still separating us so that we were all able to enjoy a peaceful flight (yes we still separate the kids to avoid any fighting onboard). The kids loved having individual screens so they could watch cartoons and play games; Baby Boy started watching Star Wars but immediately curled up in the wide seats and fell asleep for a good 4 hours of the 7 hour flight. It was awesome! Little Monkey did not sleep at all but was content watching the cartoons on board, along with Boss Baby and the downloaded Netflix shows on her iPad. So grateful that we downloaded her favourite My Little Pony episodes. The hubs and I also enjoyed a couple movies but we also slept which meant that we arrived very relaxed into Toronto where we had to deal with a dirty house and grocery shopping!
The food in Club Class was quite different to what we have enjoyed in Economy in the past. In addition to the welcome sparkling wine (orange juice for the kids) and wide selection of spirits, wines and beer, we also enjoyed two snacks and two warm meals, they even brought out a round of fruits for a snack! For the main meal Little Monkey devoured the duck lasagna while the hubs and I enjoyed a lamb dish (both pictured above) that was all part of the Chef's Menu by Daniel Vézina. The best part of the Club Class experience was the friendly staff on board. After my nap I woke up to the below beverage waiting for me! Not only did it have KitKat, Oreos and Whipped Cream but the coffee also had a splash of booze! It was absolutely delicious and kept me cozy underneath my blanket as I watched episodes of Modern Family. That stress from the security run in had all disappeared!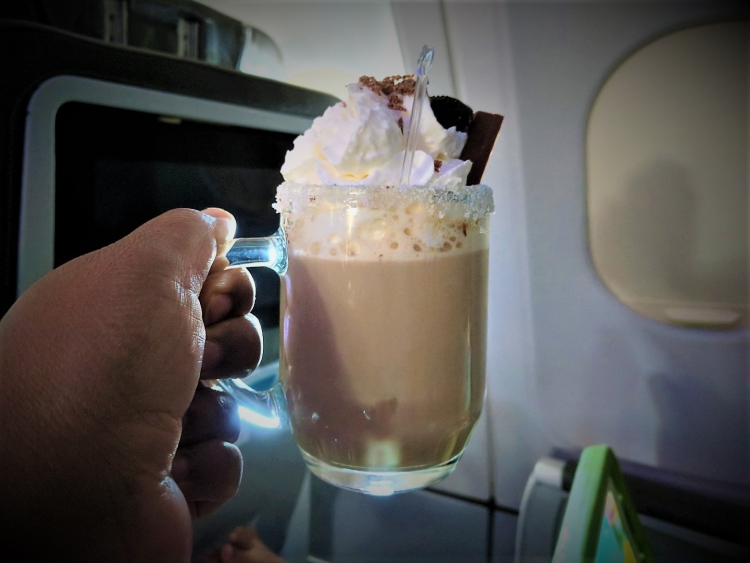 On arrival our bags were one of the first to arrive (though the stroller did take some time) and we are so thrilled to be back home and are looking forward to connecting with our friends and family. It seems that Toronto has grown and changed a fair bit in the last five months and there's many new things for us to explore in this city of ours! Don't worry, there's loads more travel in our future and I'm already looking at the seat sales for winter destinations as I want to surprise my parents with their first All Inclusive experience!