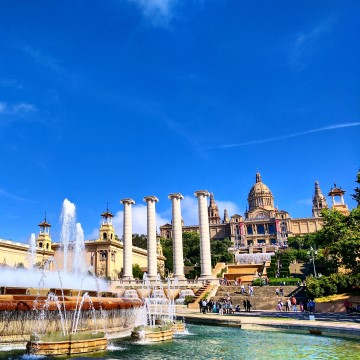 Barcelona is a bustling city and after visiting Morocco, we decided it would be the perfect spot for us. On our first day I was shocked by the sheer number of people everywhere but soon forgot all about the crowds as we spent each day walking over 10 kms. This city is filled MANY attractions. After spending five days in Barcelona with the kids at the end of May, we barely scratched the surface. Culture, gastronomy and perfect weather await visitors to Barcelona. Kids will love the city too.
Just roaming around Barcelona is entertainment enough.  I think this is one city where you can explore without spending too much should you be on a tight budget. Of course, there are plenty of things that are worth splurging on as well. Barcelona is a large city and so taking the BarcelonaBusTourist was a good option for us. It allowed us to check out the corners of the spread out city, giving us a chance to see the various sites and buildings before narrowing down what we wanted  to do. If you're visiting Barcelona with kids, you'll be pleased to see a playground at every corner. We even met another Blue Jays loving family from Toronto at the playground right across from Sagrada Familia!
Disclosure: this post has affiliate links and you would be helping us if you purchase your tickets using our links. As always, the opinions are TOTALLY ours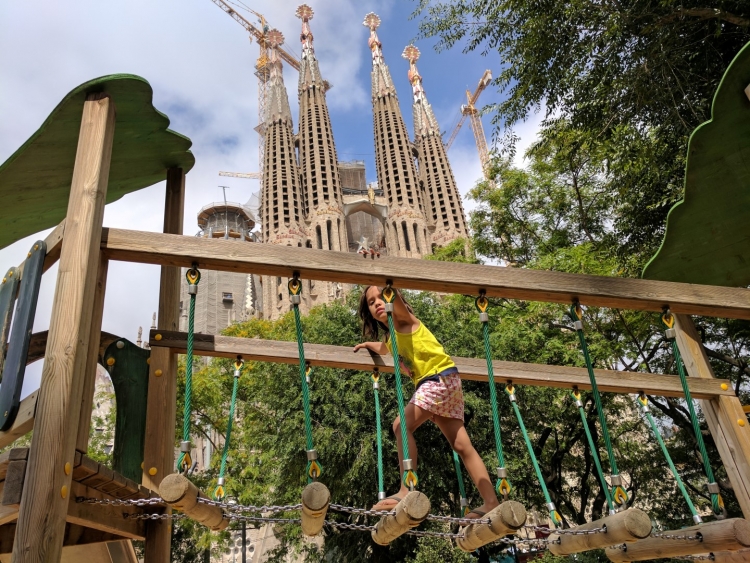 The biggest tip I have is to ensure you book your tickets in advance as Barcelona is one BUSY city and most popular attractions have timed tickets. We lucked out and bought our Sagrada Familia tickets online two days before our visit but because we were going with the kids, we could not get into the tower (which is supposed to be the main attraction). I'm a sucker for cathedrals and stained glass windows but I wasn't as impressed by what I saw ( I know, I'm weird!). The hubs on the other hand is already planning a return visit once the structure is FINALLY completed in 2026!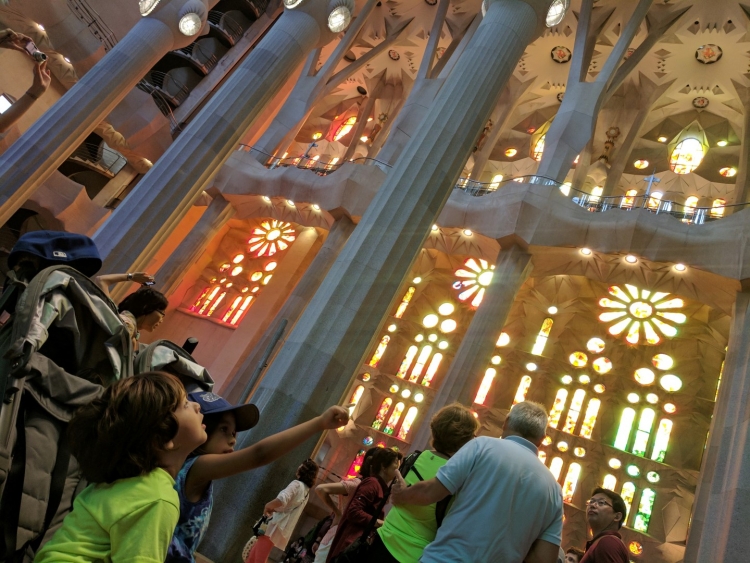 We managed to squeeze in a visit to La Pedrera one night for the light show and once again, was only able to get into the very last show. Luckily for us, our kids took to Spanish time very nicely. Not only did they enjoy the light show from the rooftop, they also enjoyed the flutes of orange juice offered after the tour, which ended close to midnight! Another important discovery we made was that some spots are free on certain days and times. Park Guell is free to enter between 9:30 p.m. and 8 a.m., while some museums are free on Sundays. If you plan on visiting some of the attractions during the off peak hours, you'll be able to save money that you can put towards eating and drinking! We also found the Plaza Espana to be absolutely stunning. You'll definitely want to take a few family shots there. After all the ones I took in Barcelona, the one below is my favourite, closed eyes and all.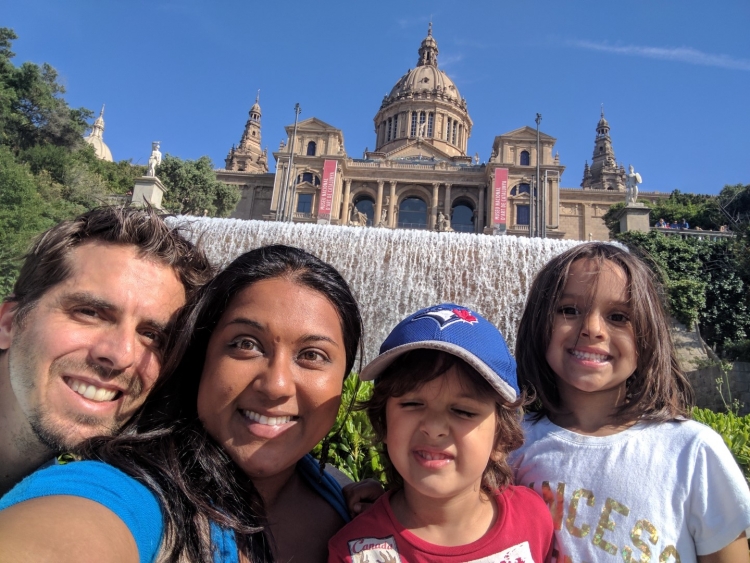 Barcelona Food
Barcelona has a spectacular food and drink scene. It reminded us a lot of Toronto with its range of international flavours available. Prices were very reasonable as well, which is always a plus. Craft beer fans will be happy to hear that there's no shortage of places to enjoy craft brews. The hubs shared his favourite beer spot in Barcelona last week. I really enjoyed BierCab because the food was good there too. Barcelona's Zero Vuit microbrewery offers a beer tasting and brewery tour, but we missed it this time around. We wish we had so much more time to explore Barcelona's food and drink scene.
While we didn't actively search for the top spots to dine at, every spot where we ate was satisfying and we didn't have a bad meal in Barcelona. Check this post out to see where all we ate in Barcelona. By turning up "early", between 7 and  8 p.m., we once again scored a table at quite a few popular restaurants. My favourite restaurant was Gata Mala. We walked in here on our first night and the owner found us a small nook (bar stools but luckily the kids did okay). She also ensured that she gave us hugs on our departure. This spot had the best tapas and was a spot I would have gladly remained well into the night. Also, free tapas (and good ones) with every drink! I also recommend a visit to busy La Boqueria, which will put you in food heaven as you bump through the crowds to make up your own tapas trail. You can even take a paella cooking class at the market if you're looking for a few Spanish cooking tips.
Barcelona Beach
Of course no visit to Barcelona is complete without checking out their beaches and so one hot day we ended up at one. Sadly for us, we weren't beach ready and so we were the most dressed people there!! The sun seems to always shine in Barcelona and had we stayed longer, we would have definitely taken a picnic (with cold cervezas) and plenty of toys to keep the kids busy. Their boardwalk is a great area for kids to run around at as well.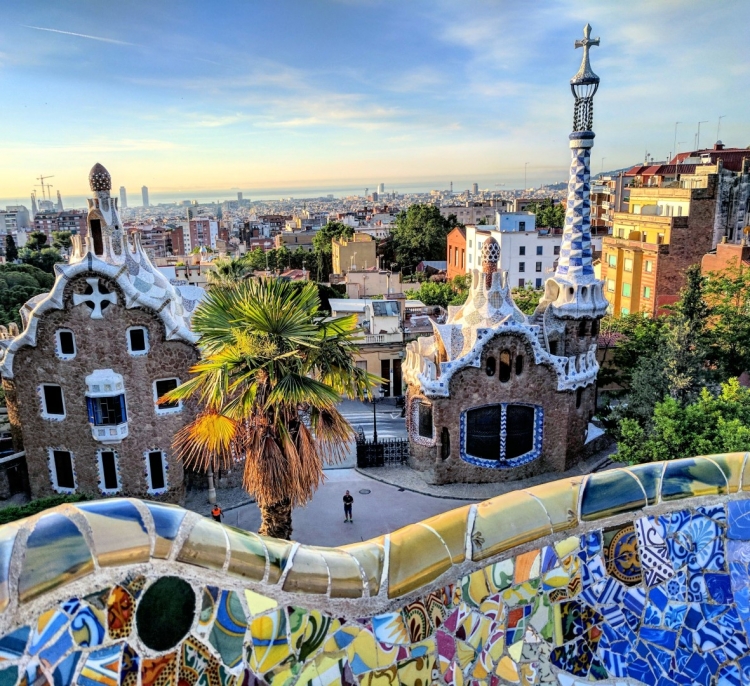 If you're looking at apartments, the Gracia neighbouhood was my preferred one as it had lot more on offer without being crazy busy. We stayed in two different apartments in the neighbourhood and loved our GuestToGuest accommodation for its central location. Barcelona has something for everyone and Gaudi's artwork adorns and beautifies every corner of the city. It's a city I'd love to visit again and perhaps spend an entire month there at some point in my life as it's definitely great for families.