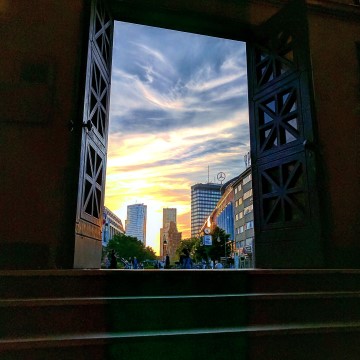 Berlin was one of the cities we were excited to visit during our travels through Europe this summer. Our original plan was to stay there for 5 days but between the super kid friendly and conveniently located GuestToGuest Berlin apartment and the great cheap eats, we actually spent 10 days in Berlin with our kids. Our hosts were travelling and their home not only had plenty of toys to keep Little Monkey and Baby Boy happy, but they also left their frogs and unlimited internet in our care. We were lucky enough to spend an evening with them before their travels and had the chance to get some local tips on things we should do in Berlin with kids and where we should eat. We also had my brother and his girlfriend join us for a couple days as they were travelling through Germany at the same time. Since he lives in Korea and we had been travelling for 4 months, we were all very glad to have had the chance to hang with family. Over the course of our ten days in Berlin with kids, we had the chance to learn about the country's history, find the local spots to eat at and discover plenty of kid friendly attractions. The city of Berlin is well connected to many European hot spots and we arrived from Frankfurt via train and found the city easy to navigate despite the complicated transportation maps! Did you know that you can buy beer on the subway platform in Berlin? We armed ourselves with a Berlin WelcomeCard for half our trip and it was extremely useful as not only did we have unlimited public transit travel but also access to various attractions. Definitely worth researching if you're in town and plan to visit the city's many attractions. I'll also mention here that you will want to bring cash when visiting Berlin (and most of Germany) as few stores accepted credit cards, which was very surprising to us! Getting a local sim card was also not as easy, even with Chris speaking some German. All that said, Berlin is definitely a city we'd return to and you'll see why!
Where to Stay in Berlin with Kids
Berlin is a very interesting city. It's quite spread out but their bus and train system is very well connected. We downloaded the transit app and bought our day passes online so that we didn't have to deal with the machines at each of the stations. The subway map is also quite intricate so be sure to download the map or take a picture of it during your first day. Our home exchange was located in the popular Kreuzberg neighbourhood and while I did whine about the 4 flights up and down (no elevator), it was perfectly located in the Turkish neighbourhood and right by a playground. From bars to markets, we found it all within an easy train ride of a ten minute walk. Berlin is a very neighbourhood oriented city and I found this guide to be very helpful when choosing our neighbourhoods. I will also mention that we found ourselves at Alexandraplatz at least once a day which means, we may decide to stay in the Mitte neighbourhood the next time we visit. Reminded us a lot of Yonge/Dundas in Toronto (which is where we live!).
Where to Eat in Berlin with Kids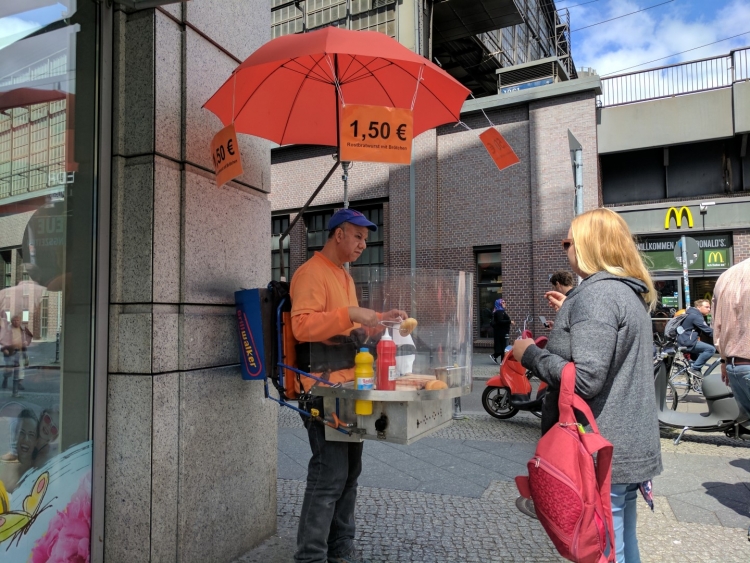 What surprised us the most about Berlin was the food we discovered. As with most large cities, we discovered a great range of cuisines (much to our delight) and while we had plans to make reservations at a couple restaurants, that didn't happen. The reason is because the street food and the small grab and go spots were all awesome! If you're looking for proper sit down spots, you will have to look elsewhere as we did quick eats for the most part.
Mustafas : This famous kebab truck has line ups all day long but we managed to spend an hour and enjoy a delicious sandwich that was packed with veggies and meat. The very next day I was ready to go line up again – it was that good!
Bite Mojo Food Tour : What better way to experience a city than through a food tour? This self-guided food tour  introduced us to quite a few spots that weren't on our radar. Click here to read more about our Bite Mojo experience and watch a video of where ALL we ate at on our last day in Berlin!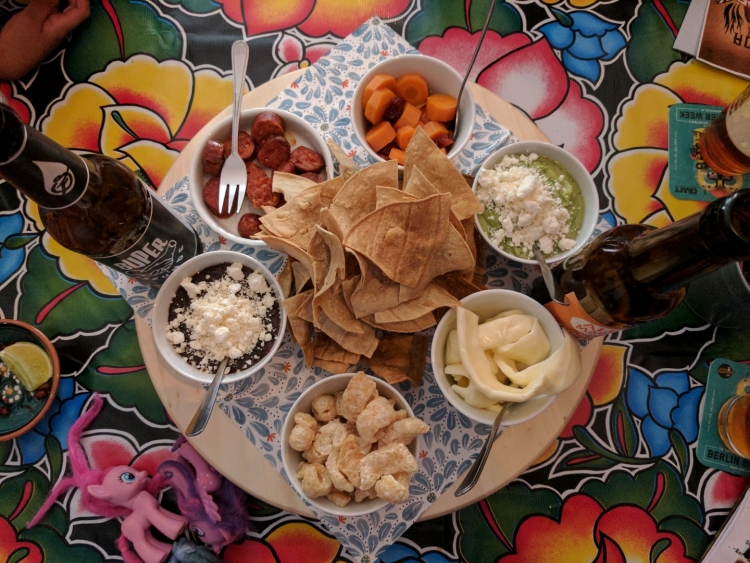 Tentacion Mezcalothek : If you're looking for some authentic Mexian eats with some amazing craft beer, this is your stop! The kids loved playing with the dog (who was outdoors) and Chris and enjoyed our nibbles and craft beer.
Cafe am Neueum See Biergarten : Of course you want to visit a Biergarten and this one was worth the trek to. Located near a park and playground, this spot also has a sandbox IN the biergarten! There's food and local beer flowing and you'll want to grab a picnic table near the sandbox and the washrooms. It was definitely very pretty come sunset when the lights turned on and the pond was reflecting the night's sky.
Anna Blume : If you're looking for a cafe that's close by to the MACHmit! children's museum, this cute cafe will satisfy every cake craving you have! Hot chocolate, charcuterie plates and cakes for the win here!
Berlin Street eats : From hotdogs (the sausage is 3 times as long as the bun and instead of a food truck the guys are wearing their stoves as they walk around!) to Currywursts and Kebabs, you can find it all in Berlin. Most days we grabbed a cold beer from a corner store and walked around the city looking for bites to eat in between all the touring we did. We also had a double stroller and so the kids were quite content being pushed around on days we did a lot of walking. Taking the stroller on the subway wasn't the easiest as our main station did not have elevator access but between Chris and my brother, we were all set!
Where to Play in Berlin with Kids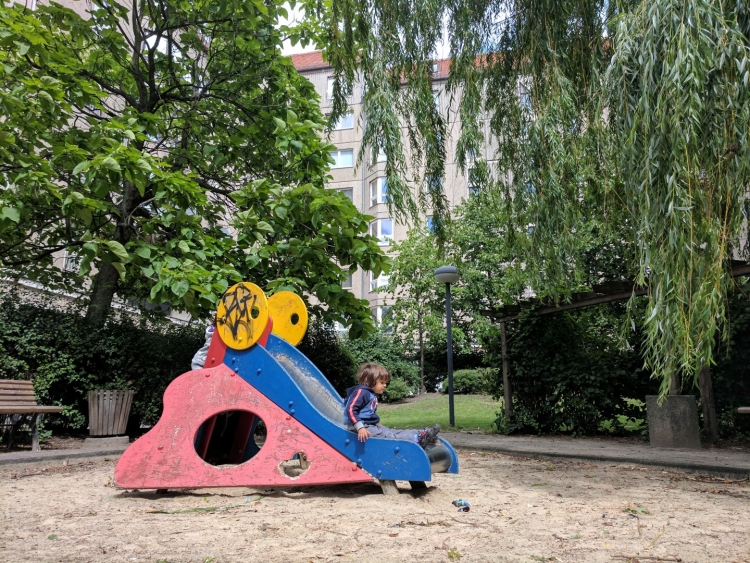 Over the course of 10 days we covered a fair bit of Berlin. From boat tours to bus tours and even walking tours, we tried to do as much as possible to learn about the city's history, meet its people and of course, discover the street art that covers every alleyway. The city is very family friendly and our kids found it easy to amuse themselves, no matter where we were. Arm yourselves with a WelcomeCard or buy your subways passes online and you can travel easily throughout the city.
Playgrounds : We stumbled upon quite a few playgrounds and our host had told us all about their favourite playgrounds as well. The Germans really know how to design some fun playgrounds, that's for sure. From dinosaur themed ones to tree houses, your kids will love spending time in Berlin. Visit Berlin has a great  round up of the many playgrounds on offer throughout the city. Dare I mention that where Hitler once committed suicide is now a playground?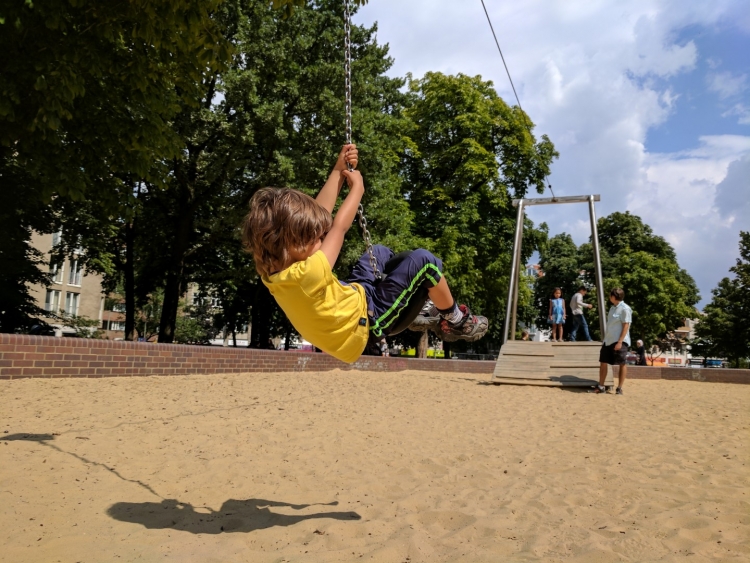 MACHmit! Children's Museum : This is a great space to allow the kids to roam around at, especially on rainy or extremely hot days. The MACHmit! is a hands-on learning centre for those aged 3 to 12 years old and they also host various annual exhibitions. We have written a detailed post about our experience at the Berlin Children's museum and you can watch a video about what the kids thought about their visit.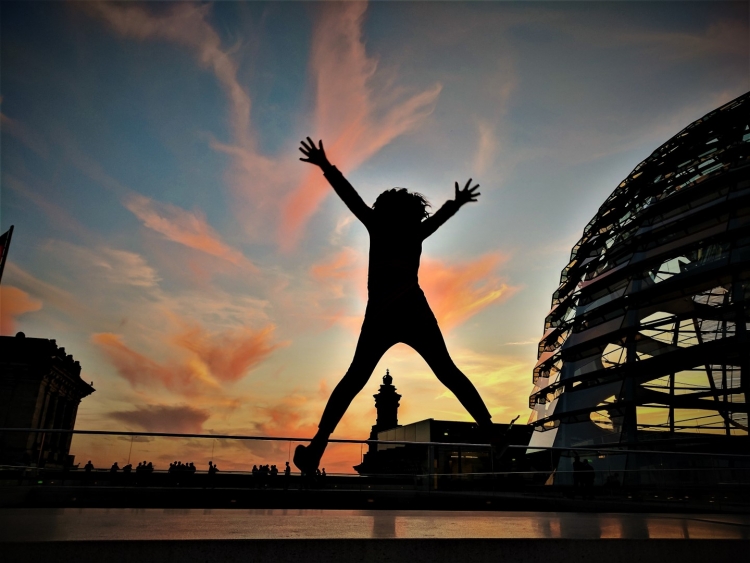 Bundestag : This parliament building wins the title for best sunset view in Berlin! It's free to enter but you have to pre-register and during July I was able to find a spot for the 4 of us a week out. Definitely register online once you know your travel dates. It took a couple days for us to receive a very official looking confirmation letter and we were all set. We arrived at 9:15 p.m. for our 9:30 p.m. visit and was escorted through a security screening and ushered with a group to the rooftop of the dome. Once we were there it was up to us on how long we wanted to spend up there. We had timed our visit with the light show nearby so we spent an hour, took some amazing pictures and made our way out. You can bring your stroller (though we didn't have it with us) and it wasn't overly crowded so the kids were able to run around despite the high security measures in place. As we were walking in and out of the building we were rushed to get through quickly but once on the rooftop, it was all calm. Definitely read up on the instructions if you plan to visit!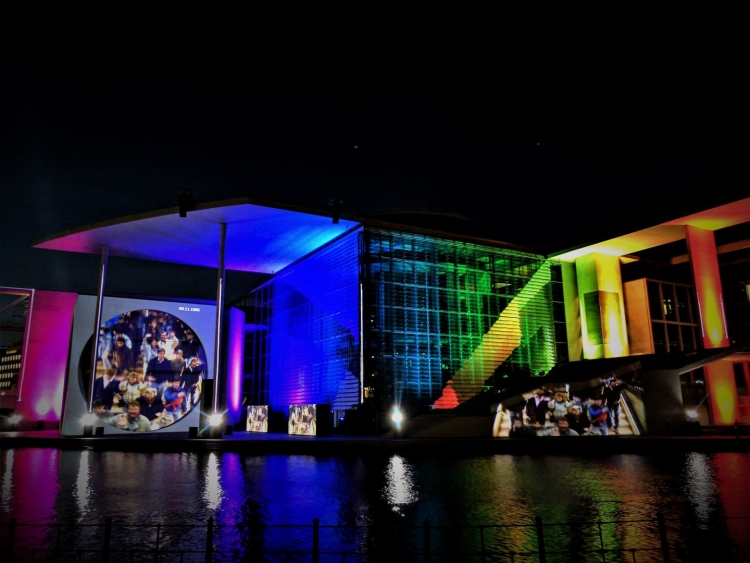 Bundestag History Light Show : If you're visiting between June and October and would like to learn more about the history of Berlin, this FREE light show is a must see. At dusk this 30 minute film is projected onto the Bundestag building and while it is in German, there are English subtitles. Get there a bit early as you'll want to snag a seat on the steps and bring snacks to keep the young kids occupied! This provided a great overview of the historical events and was a good reminder of all I had learned in my history classes growing up. Watching scenes from the period of the Berlin wall was definitely very educational. I haven't been able to find a link for this but we were allerted of it by the security guards at the Bundestag building who directed us towards the back of the building (this was a public area and there's no tickets required). I believe the film is on a loop every 20 minutes.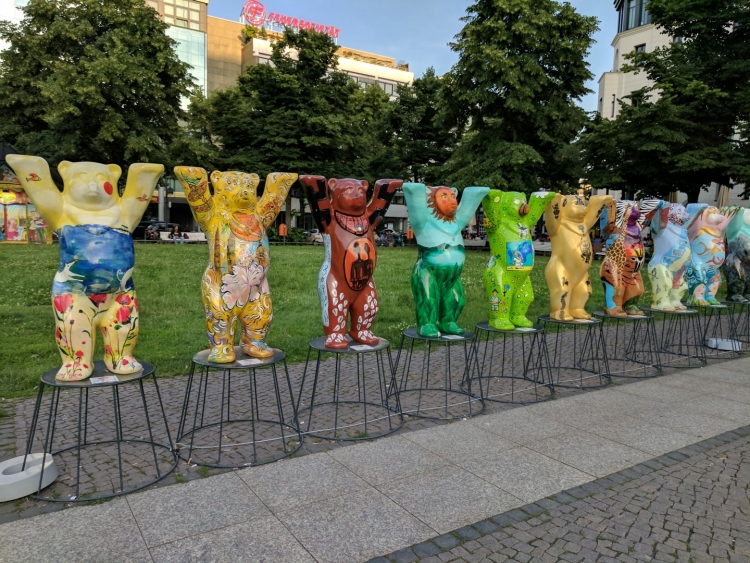 Berlin Buddy Bears : We lucked out that because the Berlin Bears were in town and while we did spot the Buddy Bears throughout the city, a visit to the  near the subway station meant that we saw the United Buddy Bears! While the kids were excited to find the various countries, I was keen to talk to them about the message behind this exhibit. The UNITED BUDDY BEARS promote living together in peace and harmony on their global tour. Around 140 Buddy Bears (each 2 m tall) represent as many countries recognized by the United Nations and each Buddy Bear shows the individual design created by different artists on behalf of their native countries and it's fun for kids and adults.
City Spree Cruise : We did a boat tour through the centre of old and new Berlin as we sailed on the Spree river. This was how we saw the newer part of the city and saw some very modern architecture. We definitely wouldn't have seen those if we hadn't done the tour as our explorations didn't take us to that part of the city or Museum island!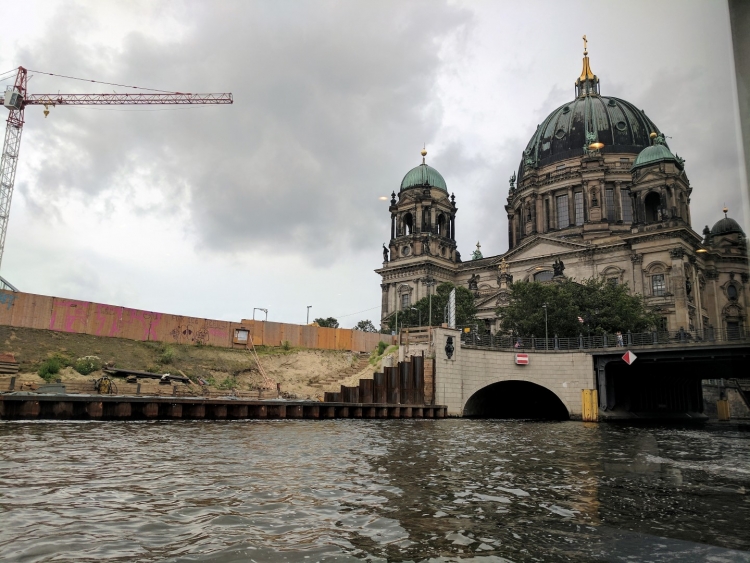 Walking Tour : We love our Sandemans Europe tours because not only are they "Free" (Pay what you can please!!) but the guides have been history buffs so we always learn a lot while we explore a city. Our guide took us through a 3 hour tour where we started at the Brandenburg Gate, visited the site of Hitler's bunker, the Memorial to the Murdered Jews of Europe, swung by Checkpoint Charlie, the Berlin Wall,Pariser Platz and Luftwaffe headquarters before visiting Bebelplatz and ending at the Book burning memorial.  We had walked by most of these spots but didn't know about the significance or history prior to the tour.
Bradenburg Gate : This is one of the most popular attractions in Berlin and while our daytime visits were crowded, I loved the evening visits. We happened to walk by the gate a couple times and the pictures from sunset are magnificent. The Brandenburg Gate is a military monument that has come to symbolize peace and unity. People celebrated before the Brandenburg Gate as the Berlin Wall fell on November 9th 1989 and today the Gate has now come to represent German unity and freedom since the end of the Cold War and divided country. This is a monument you can see at all times of the day. Little Monkey needed to pee during one visit and we snuck into the fancy Adlon hotel one night and not only made good use of their toilette but also marveled at the decor.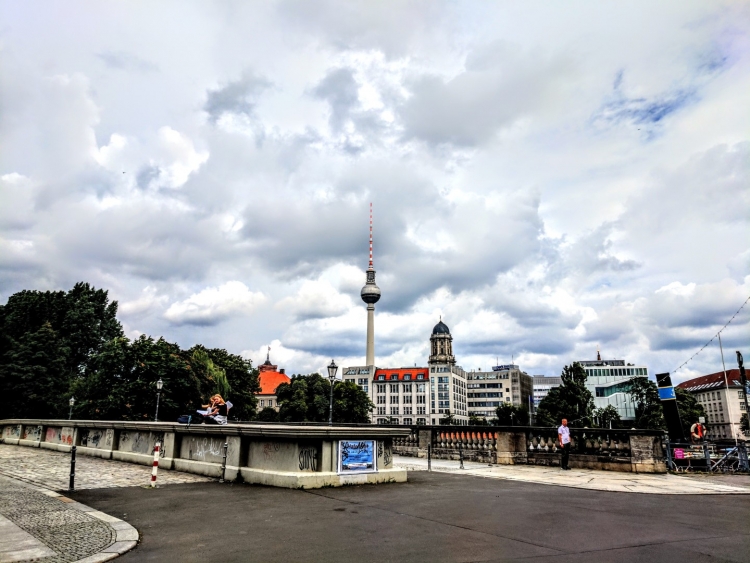 City Circle Sightseeing Tour : There are a couple bus tours available and our WelcomeCard gave us access to this one and as we do enjoy bus tours, we did this on our first day. It gave us a good lay of the land and after the two hour loop we knew which parts of the city we wanted to visit over the next few days. If you're only in town for a couple days, this is a great way to see a wider section of the city and hop out at attractions you want to visit.
Topography of Terror : This free museum located both in and outdoors, on the former site of the Gestapo and SS headquarters and the Reich Security Main Office. The Topography of Terror aims to provide a comprehensive and clearly organized account of the factors that led to Nazi military aggression, the Holocaust and the Berlin Wall. We had the kids in the stroller and spent an hour here (though we could have easily spent another hour reading through all the displays and exhibits).   As one must confront the evil that took over Germany while standing at the site of countless abuses against human dignity, it can be a truly chilling experience.
Berlin Bunker Story : This was definitely our most chilling visit and we didn't take the kids into certain rooms (luckily Baby Boy took a nap during our visit and Little Monkey was content to sit in the stroller and play with her Shopkinz). The Berlin Bunker Story is housed inside a 6,500-square-metre WWII bunker and the self guided tour chillingly recreates some of the most infamous events in German history. The exhibition showcases the sequence of events leading up to Hitler's suicide in 1945 in the Führerbunker. A major attraction on the Berlin Story Bunker tour is a viewing of the reconstruction of Hitler's personal study and while there were pictures, this visit did require a lot of reading. It is a spot where the kids will have to be well behaved and you will need the time to read everything in details. Definitely not one to visit with tired kids!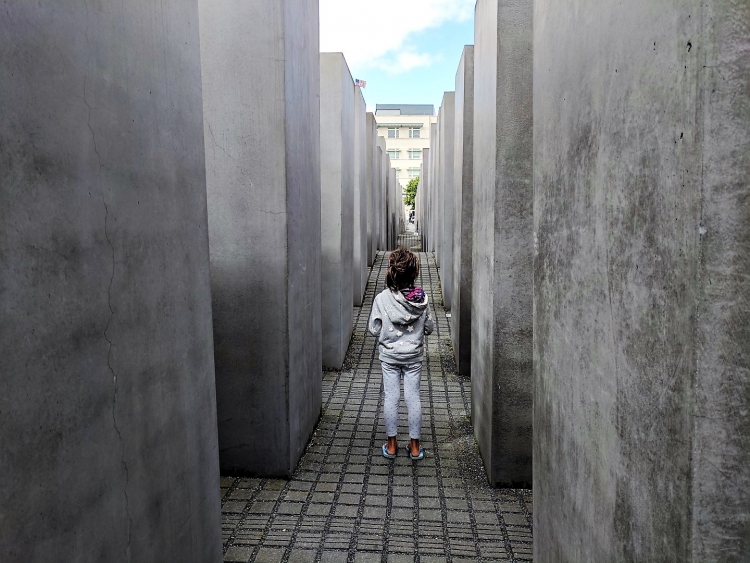 Memorial to the Murdered Jews : We visited this spot with the walking tour but also walked by a couple other times. Some friends have mentioned that this particular memorial is too "arty" to solemnly respect the many Jewish people who were murdered over the years and I will agree with them on that. At first glance it does look like an abstract display, one Instagrammers would love to take pictures at. However, since we were on the free walking tour we also received the history lesson and learned about the artist's intentions when designing the space. There is a room underground that is hard to find that houses more of the historical details and a list of names. I highly recommend reading up about the various exhibits prior to your visit so you can plan ahead. Our kids were too young to visit a concentration camp so we did our best to find spots we could take them to.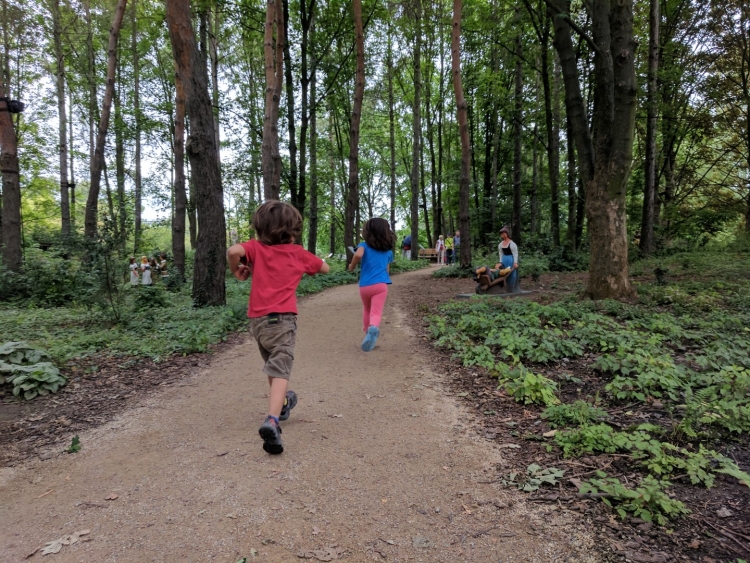 IGA Berlin : We happened to be in town during the IGA Berlin and made a trek out of the city to spend a day at the International Garden Festival. This was a great outdoor spot where kids were allowed to roam around and act goofy. Which was much needed after some of the tours we had taken them on. Click here to see a full video of our visit!
Street Art : There are some street art tours but sadly we didn't have the chance to do one of those but we did enjoy spotting the art during our walks throughout the city. If you're into street art, Berlin is definitely one of the best spots and Free Tours by foot have a graffiti tour that sounds interesting.
One day I will have to visit during the famous Berlin Festival of Lights! Berlin might be a bit rough around the edges, and it was quite difficult finding shops that would accept credit cards but it was a city we could picture ourselves living in. For those with older children, visiting Berlin will be a good history lesson and a chance for the kids to learn about the city's dark past. Our kids aged 3 and 5 at the time enjoyed pointing out the TV tower from all parts of the city and we did our best to share some of the history lessons we were learning along the way. For families who are looking for a city filled with historical attractions, culture and good food, Berlin is one for the books!