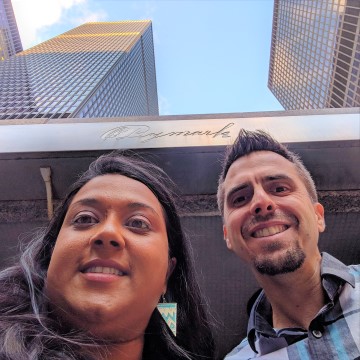 We FINALLY snuck out for a proper date night this week and it was awesome! Lately, we've been doing quite a few day dates while the kids are in school, but there is something to be said about actually going out for dinner and a movie in Toronto! When AIR MILES invited us to the Canadian premiere of Chef Tyler Florence's UNcrushable and its accompanying dinner hosted by Chef Mark McEwan, we called up our old nanny and asked if she'd come and help us out. It had been nearly a year since we have asked her to help us. I think she too was thrilled because she loves the kids. Win-win situation!
As many of you are aware, I love getting AIR MILES Reward Miles. I'm always looking out for ways in which we can get Bonus Miles through our everyday purchases at select Partner retailers. It should come as no surprise that the LCBO and local Metro are where I get most of my Miles. That's pretty much how I've been maintaining a Gold Collector status for the past few years. While we mostly use our Miles for flights, the culinary Dream Rewards experiences have been very enticing, and so I was curious to check it out. The AIR MILES Dream Rewards page gives Collectors access to use their Miles on everything from once-in-a-lifetime experiences to everyday household needs.
Disclosure : This post is in partnership with AIR MILES but, as always, opinions are TOTALLY ours!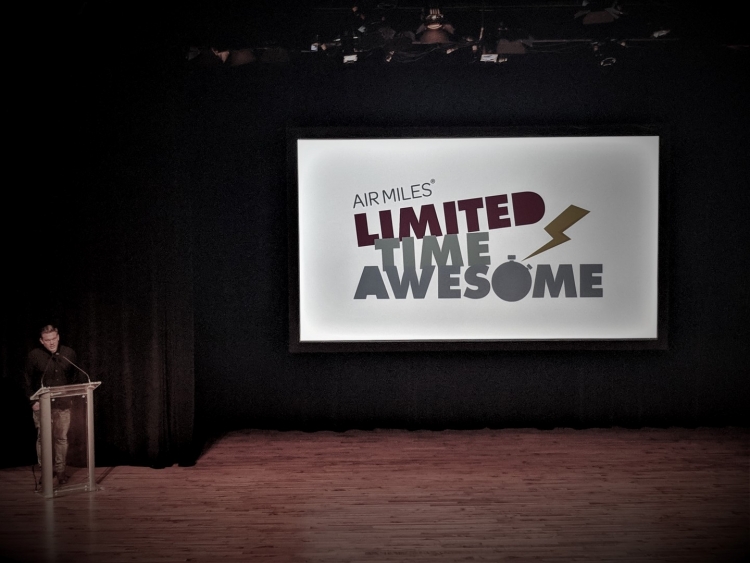 With the ex-nanny taking care of the kids (and yes, she totally cleaned our entire house, including the bathrooms! Wohoo!), Chris and I enjoyed an exclusive movie and dinner experience with two amazing chefs! AIR MILES provides Collectors with unique opportunities and there are so many experiences throughout Canada that not only sound fun, but also give you behind-the-scenes access. What I liked most about this date night in Toronto was that we got to experience something unique and intimate. It wasn't "just" a dinner and a movie. No, we first watched Tyler Florence's "Uncrushable", then enjoyed a personal meet and greet along with a movie Q&A. Our dinner was no ordinary dinner either, as you will see!
Using your Miles is easy to do. It's all done online (though you can contact a customer representative through chat or social media if you have additional questions). Once you get your Miles for the experience, you receive a detailed email telling you everything you need to know before the special day. Not only did I receive a map that showed me exactly where to go, I was also given a list of items I was supposed to bring to the movie and dinner (don't forget your AIR MILES Card if you don't have the app installed on your phone!).
Toronto Date Night with Chefs Tyler Florence and Mark McEwan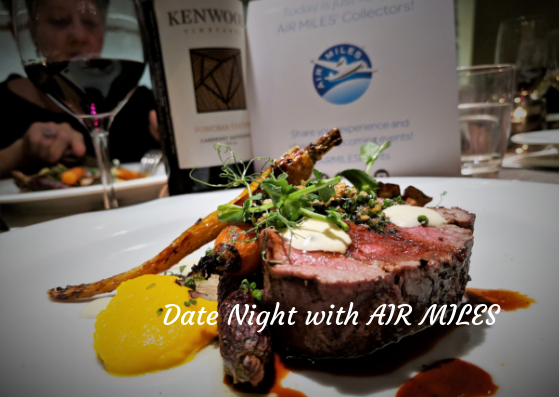 We arrived at the Jane Mallet Theatre around 3:40 p.m. for the private screening, grabbed a glass of water and settled into our seats. If you aren't aware of the film, "UNcrushable" tells the story of the 2017 fires in Northern California through the eyes of those most affected by the disaster. We heard from victims who lost homes or businesses, first responders, chefs and winemakers—but it isn't all heartbreak. Tyler Florence and Visit California show us how the community has risen from the devastating experiences to rebuild a stronger community.
One of those community initiatives was raising funds for the fire relief efforts through an epic meal for community members, first responders and victims at The Grateful Table, set on the Napa-Sonoma border. Chefs and Winemakers did what they do best. Not only did they make me hungry, they also put smiles on the faces of their guests. In the Q&A that followed the movie, Chef Tyler Florence raises awareness to the fact that disasters happen all over the world and while we're aware of things as they happen, we rarely hear about the aftermath and the rebuild efforts that follow. This movie helps shed light on those initiatives and shows a community that is strong and made up of selfless and caring individuals. A much-needed glimmer of humanity during the current times!
Following the screening (we were the second group of people to ever see the movie) and the Q&A, we walked over to Bymark in downtown Toronto. With the sun setting behind the CN Tower, Chris and I chatted about the movie and were excited to see what else was in store for us. On arrival at Bymark, we spent an hour enjoying sparkling wine and canapes. Both chefs, Tyler Florence and Mark McEwan, mingled with guests and were happy to not only take pictures, but also have REAL conversations and that is not something that happens often!
At 7 p.m. we were invited to head downstairs to the private dining room, where we enjoyed a 4-course dinner along with wine pairings. The meal was amazing but what I loved most was sitting down with strangers and having some great conversations. Our table was filled with three well-travelled couples who shared their travel and culinary stories with us and gave us major retirement goals! One couple has often been using their Miles for Dream Rewards and told us that these experiences have enabled them to dine at some of the best restaurants in Toronto while also giving them access to sold-out shows and screenings.
For those looking to explore the cultural scene in Canada, these rare opportunities can only be brought to you by the AIR MILES Reward Program. The wine was free flowing and the menu curated by both chefs was divine. This was one of my favourite food experiences to date (it sits high with Fogo Island Inn and Yeatman in Portugal) and you can see why!
A 4 Course Meal That's Sure to Impress
First course : A deliciously crispy (and oh so pretty) Tuna Poke Fried Rice (reminded me of sushi pizza) with beet and ginger puree and red shiso was paired with a 2016 Kenwood Sauvignon Blanc from Sonoma County.
Second course : Even Chris – who is  seafood snob – loved this Seared Scallop and King Crab Ravioli, which was served on a white leek puree ( I need more leeks in my life you guys!!), crab bisque and citrus beurre blanc. This one paired wonderfully with the 2016 Kenwood Chardonnay.
Third course : Oh man! This Smoked Beef Tenderloin is definitely one of the best dishes I've had in the city. WIth unagi carrots, maitake mushrooms (also need more of this in my life) and white miso, this already amazing main course was made even better by the 2016 Cabernet Sauvignon from Kenwood.
Fourth course : Quite arguably the prettiest course, the dessert was a beautifully plated Buttermilk Panna Cotta with poached pear, pumpkin cremeux, and spiced pecan streusel. It was all served below a candied ginger tuile, which was definitely my favourite part. Stepping away from Sonoma, the pairing for this course was a sparkling Moscatto from Jacob's Creek in Australia.
Of course, the night wasn't done yet! As I licked that bowl of Buttermilk Panna Cotta clean, the Chefs came back out to introduce the masterminds in the kitchen and the AIR MILES team raffled off some amazing prizes. The grand prize was a trip for two to San Francisco on Air Canada!!! Visiting Napa Valley has been on my bucket list for ages (especially as I worked in the beverage alcohol industry for 9 years) and I'm totally yearning to explore the region and support the locals as they continue to rebuild their community. By the time 9:30 p.m. rolled around, I knew it was getting very late for our sitter and my pants needed unbuttoning! We exchanged details with our table mates and left with smiles on our faces and a signed copy of  Tyler Florence's "Inside the Test Kitchen" cookbook. While this was definitely our longest date night in a looooooooooooooooooooong time, it was absolutely worth it. I think we only spoke about the kids on two quick occasions, so you know that's a good sign!
As you can see, this was no ordinary dinner and movie experience. The team at AIR MILES really knew how to show us a good time! If you aren't an AIR MILES Collector, what are you waiting for? This program is free to join, easy to sign up for, and the best part is that you can get and use Miles at places you already visit! Rexall, LCBO, Metro and Shell are just some of AIR MILES' many Partners. You can then use Miles for so many different things beyond just travel (though that is super awesome and every couple years, we travel to Cape Breton using our Miles!). Vacations, exciting events, cool merchandise or even a chance to win exciting prizes awaits you! AIR MILES brings us closer to moments that matter! For us, that means getting us closer to the hottest food and culinary events and being able to go on date night.
Why not explore the many experiences in your city with AIR MILES?