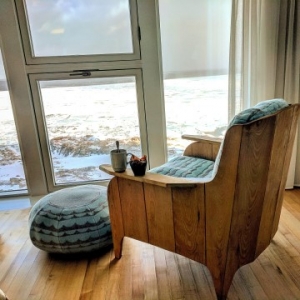 Every once in a while, I have a "pinch me" moment. That's exactly what I as doing every couple hours during my stay at the renowned Fogo Island Inn. I was fortunate to spend a luxurious 5 nights at this impressive cultural hub, nearby to what some believe is one of the four corners of earth. What amazed me the most, even more than the time it took us to get to the remote island (and off it!), was the level of detail present throughout the hotel and the friendliness of the people who work there.
Getting a reservation at this luxurious property is not easy and most will not have the chance to spend a night (let alone 5!) at such a prestigious property, but it being the backdrop of a project I was working on, I was able to do just that! While my colleagues and I were there for work and rushing around ensuring that things were rolling as they should (and answering emails in-between), we managed to soak in parts of the Fogo Island Inn guest experience. Time stands still at the Inn and you are left with a deeper appreciation for the REAL finer things in life – tranquility, being one with nature and connecting with all your senses.
Disclosure : I was visiting the property as part of a corporate work project and so you'll see many bottles of Lot No. 40 whisky throughout my photos (they were the only pictures I have of the Inn)! 
Getting to Fogo Island Inn
It definitely takes some effort to get to the convivial island. The full journey from Toronto took over half a day. From cars to planes and ferries, I had to ride every one of those to make it to Fogo Island Inn on one very cold March day. I've been to Newfoundland on a couple occasions over the last five years, but this was the first time I made the journey to Fogo Island, which is located in eastern Canada. That ferry ride, cutting through sheets of ice, was definitely one I'll remember well into my old age.
In true Newfoundland style, getting off the island was no easy task. Our schedule ferry was cancelled due to outrageous wind speeds, stranding my colleagues and I on the island for an extra day. Luckily for us, the people of Fogo Island Inn rushed around to ensure that we were all well taken care of. It seems as though any trip to Newfoundland involves some weather related challenges, almost guaranteed during a winter visit. If you plan on visiting, it's going to take you the better part of a day to get there and back so I highly recommend spending as many nights as your wallet will allow!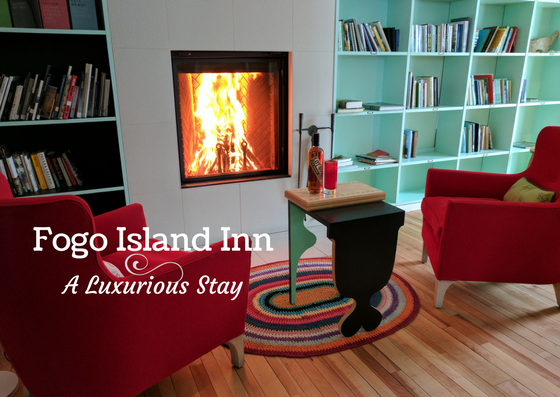 All of the Details
As you step into the cozy cabin style lobby, the various details of the property greet you warmly. Everything from the traditional hand-woven quilt, draped on the wooden hand-painted chair, to the antlers above the wood burning stove has been carefully selected. Fogo Island Inn is quite huge and with only 29 rooms at the property, you can easily feel like you have the entire place to yourself, should you wish that. There are hidden nooks, open lounges with live music, a cozy cinema and even a rooftop hot tub for guests to use.
I love that guests are encouraged to pick up the Inn's guitar for a quick strum or take a peek at the stars through the lounge telescope. You're invited to touch and feel the various elements that define Fogo Island, not a touch you see at many luxury hotels. Designed by Newfoundland-born architect Todd Saunders, the 43,000 square-foot Inn is perched on stilts and hovers over the rugged North Atlantic coastline. I was truly impressed that each of the 29 suites not only had floor-to-ceiling views of the sea and sky, but also contained small details that reflected local designs in a very modern way. Every element is bespoke, made specially for the Inn and its guests.
One of my favourite things to do was to sit by the window hugging the cozy scarf each room included and just staring out at the massive sheets of ice that lay outside. Watching the sunrise and the sunset from my bed or the chair with a warm drink in my hand as I listened to the nearby ocean waves, was insanely peaceful. It was a level of peace that I'm not used to being a city living mom with two kids under the age of 6. That's for sure!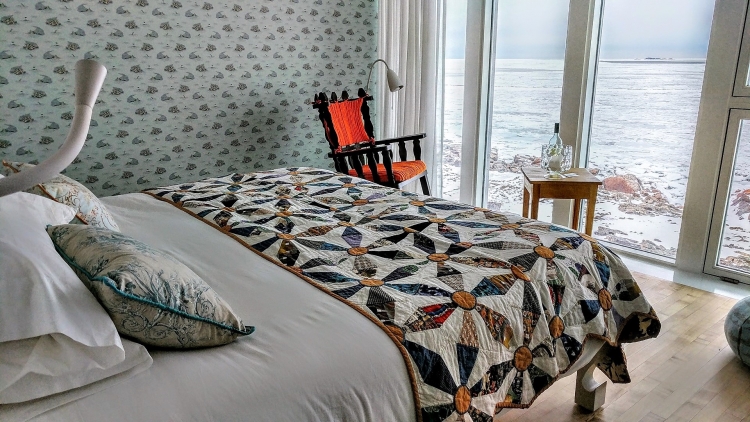 One of my favourite things at the Fogo Island Inn was their keys. Yes, the room keys. When I first received the heavy brass object, my mind immediately screamed, "what is this monstrosity and how am I going to carry this heavy scroll around?". Then, after spending a week there, that first piece of the property that I touched embodied all of the little things I noticed. The key chain was heavy enough to be a source of protection while walking down dark city alleys, but it contained objects that were either washed up on the shore or found in a local fisherman's shed and then cast in bronze. It was beautiful. Luckily, I didn't have to carry the keys on me the whole time. The reception has a key holder for those who wish to use it. Truth be told, since it was mostly my co-workers at the Inn during our visit, I just left my room unlocked for the most part.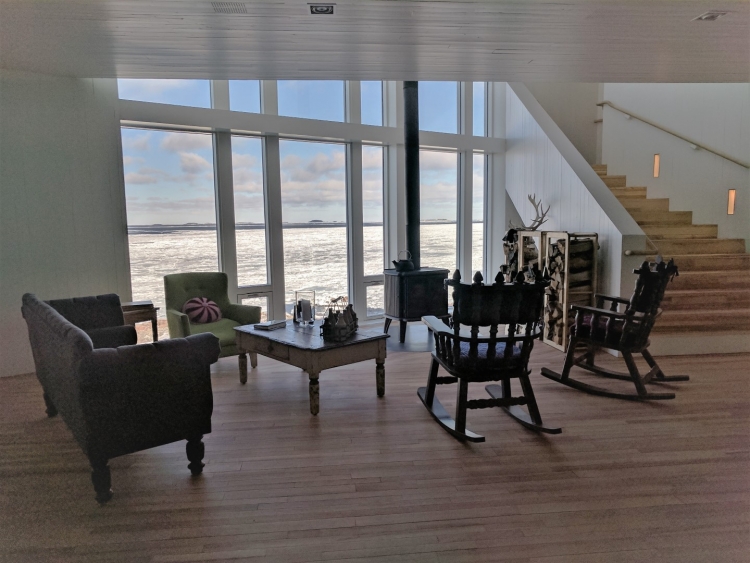 Anyone who visits Fogo Island Inn will be spending a majority of their time on the property.  Exploring the various rooms, cuddling by the fire in the library with a book about the local history, or saddling up at the bar and enjoying one of the fine cocktails Sandy or Amanda will shake up for you are what bring you the feels of home. Many guests were dressed in chic winter clothing but others were wearing the popular socks sold at the Inn while draped in a cozy shawl as they roamed around. The Inn is chic and elegant but incredibly cozy and homey. I know, not what you'd usually associate with high class luxury, but this property takes luxury to a new level. 
The People of Fogo Island Inn
From the moment you park your car and glide across the ice towards the front door of the Fogo Island in, you're embraced with a friendly Newfoundand smile and helping hands. When guests make a reservation, they're offered the opportunity to meet and spend time with locals and I highly encourage you to make good use of this generous offer because it's truly the highlight of visiting the Island. Exploring the island with a Fogo Islander and meeting the people in the community was how I ended up "hiking" up sheets of ice to see the traditional salt box cottages and art studios perched on stilts. Along the way I learned about berries, fishing and foraging! That said, be sure to venture out on your own as well. A quick visit to the local store enabled me to meet with some local ladies who were quilting away and of course who could forget the caribou heard we spotted roaming around!
The people who work at the Inn are like family, everyone is helping each other and no matter what kind of day they're having, they will go out of their way to ensure that your day is as fabulous as it can be. No request goes unanswered and everyone knows your name within 24 hours of arriving. They truly take care of their guests and for me, it's the people who work there (and those details!!) that make Fogo Island Inn such a sought after destination. There's something to be said when every single staff member you interact with impacts your visit in a positively memorable way. They are humble and kind hearted and have so many genuine stories to share about their life on the island, their heritage and their families. You may see them merely as staff when you walk in through the front door, but you leave as friends.
The Food at Fogo Island Inn
If you're staying at the Inn, you'll be dining there for every meal and so I highly recommend paying the full board rate. Everything is made fresh and most items are locally produced. The menu changes often depending on the goods at hand. The food is either grown on the land or brought over by ferry to the island, and so ingredients are relatively minimal compared to big city kitchens. However, it's remarkable how amazing the food here is – especially the seafood. Every morning, I was greeted to a little caddy of treats and coffee/tea placed outside my door. Waking up to that is just the best way to start a day. Enjoying a hot beverage by the massive room window, after a night curled up in bed under the hand-sewn quilt, made me realize that every day should be started in such a zen-like fashion.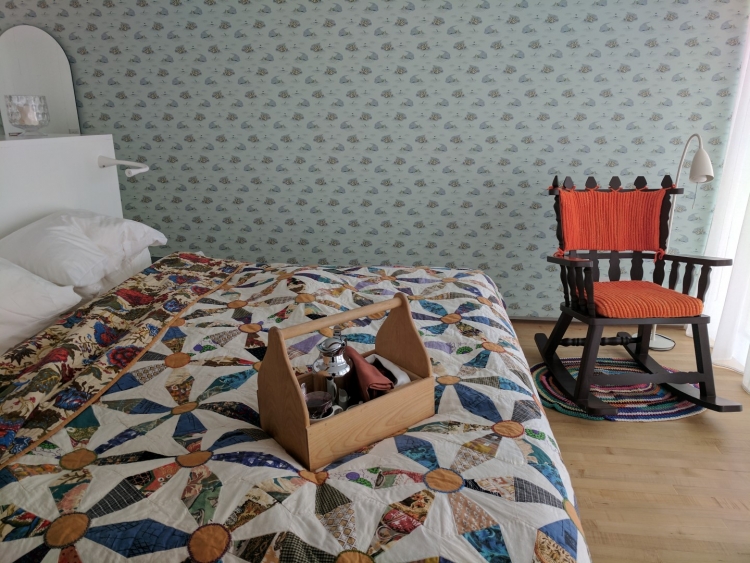 When it comes to meals, there's a nice selection of items on the menu and I was able to try out most of what caught my eye during my 5 day stay. My favourites included the shrimp toast, the moose egg (think that one over for a bit) and pretty much every dessert I ate during my stay. One evening we had the luxury of enjoying a private BBQ and let me tell you, that was one fine meal, and it kept me  full for the next two days! I would sit in the dining room looking out at the ice, trying to spot a seemingly non-existent moose or iceberg, adjusting my eyes to the daylight (don't forget your shades!!). I savoured every meal, breakfast, lunch and dinner, while enjoying the remarkable view!
There's no other place that I've been to that is as magical as the Fogo Island Inn. It's actually quite difficult for me to even put into words the feelings that were evoked in me during my stay. I really struggle calling the Fogo Island Inn a hotel, as you can tell!! It's just so, so, SO much more. I definitely think that the owner of the property has done a stellar job at bringing the community together and creating a true masterpiece. Experiencing her vision makes you realize how amazing mother nature is and how quiet life can be (in a good way). As you're driving away and heading towards that ferry, don't forget to look back and take in one last glance of that impressive architectural structure that hovers above the barren, rocky Atlantic shore.  You will remember the serenity you experienced during your stay long after you've left the island sanctuary.