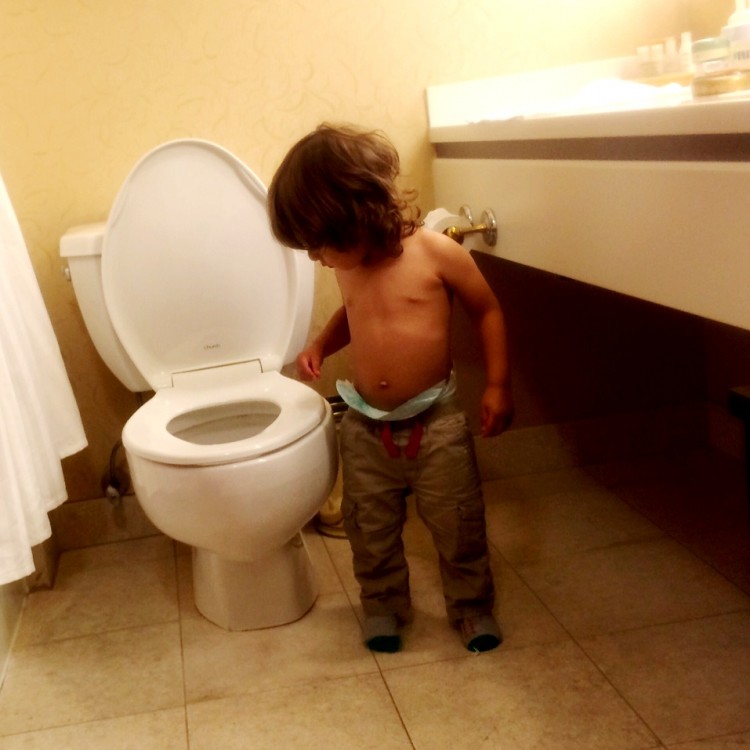 Our final night in upstate New York was spent in the cute little town of Pittsford. Pittsford is filled with boutique shops and charming restaurants so it makes complete sense that our hotel for that night was the Del Monte Lodge, a Renaissance Hotel & Spa property. This hotel scream boutique despite being part of a large chain and from the moment we walked in to the moment we left, we all felt cared for. The highlight of this property was the stafff, from the front desk to room service, everyone had plenty of local tips to share and smiles for the kids…even when one had a bright blue ice cream cone in hand. I suppose it really is their fault she had that ice cream, they INSISTED she visit the delicious creamery across the street ;)!
Disclosure : Our stay was hosted by A Welcome Surprise, but as always, opinions are totally mine!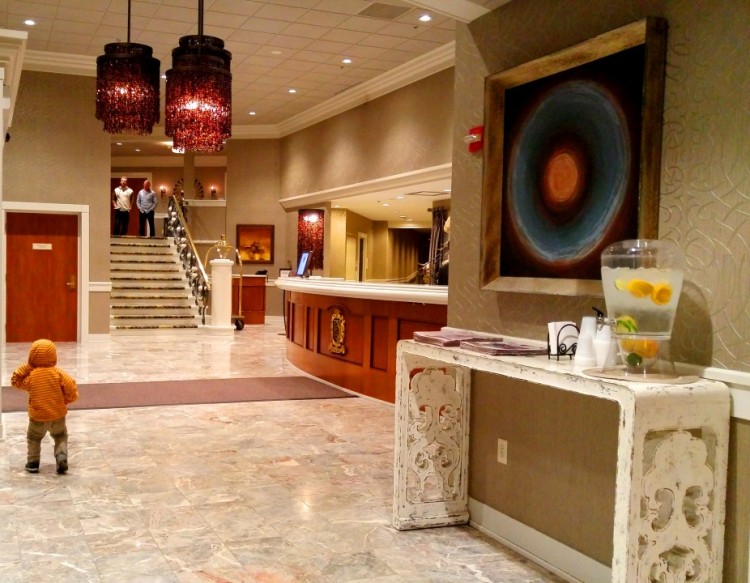 As you step into the Del Monte Lodge you're greeted by gorgeous white stone and stunning burnt red chandeliers. I loved  how the main lobby extended into open areas for guests to lounge and relax at. I was informed that the main lobby area and restaurant has been renovated and that the rooms will be upgraded to match the modern feel. Over the next couple of weeks the rooms are going to get a complete overhaul and the carpets will be replaced by wood flooring. I can't wait to visit and check the new digs out! Especially because the rooms are quite spacious and our family of four was able to spread out between the two rooms. Baby Boy loved finding nooks to "hide" at and yell " Peek a boo!! I see YOU!!!".
Parents can rejoice because they can still enjoy the luxurious of a king bed while the kids have double beds in the interconnecting room. We were even able to fit a crib in for Baby Boy! The hotel definitely caters to the business clientele (as evident by the lovely wooden work stations and ergonomic chairs) but they really do pay attention to little ones who are visiting. The kids enjoyed some "alone" time catching up on their screen time after a long day of travels, visiting local area farms and museums. The hubs was keen to catch the baseball game so he grabbed some craft beer, reclined in his comfy couch and watched the Jays win that night!!  I sadly had some work to do so we all found our own little spot after an active family day. We originally grabbed an ice bucket to chill our milk and beers but I decided to check in with house keeping who said they'd bring over a mini fridge for us, at no extra charge! I was thrilled because I had a stash of local cheese I had purchased to bring back to Toronto!
Unfortunately during this visit we weren't able to make use of the spa services, the gym or pool…we didn't even have time to pop by for  a drink at the Erie Grill! Many of the hotel views overlook the Erie Canal and both kids and parents will enjoy watching the Erie life unfold in front of them.
The Del Monte lodge is perfectly situated between many Rochester area attractions and has quite a few restaurants just down the street, making it a great spot for families to unwind at after a day of touring the area! If you're looking for more accommodation inspiration for your next trip to upstate NY, be sure to check out A Welcome Surprise!.