Time for a staycation, Toronto? I recently enjoyed a Toronto MOMCATION with my elementary school friends. After months of not seeing each other, we decided a night away from the kids and hubbys was much needed so we checked into a boutique Toronto hotel with the coziest vibes. A house that has it all. Unlike the last Momcation to Oxford County, these friends wanted to stay in one place and didn't want to explore beyond the immediate neighbourhood. Luckily one of the best Toronto staycation ideas came to me and we checked in to The Anndore House! We had such an amazing time that the team there has put together a special Toronto Momcation package JUST for you! Read on to find out more!
Disclosure : We were guests of The Anndore House but, as always, opinions are TOTALLY ours!
Best Staycation Toronto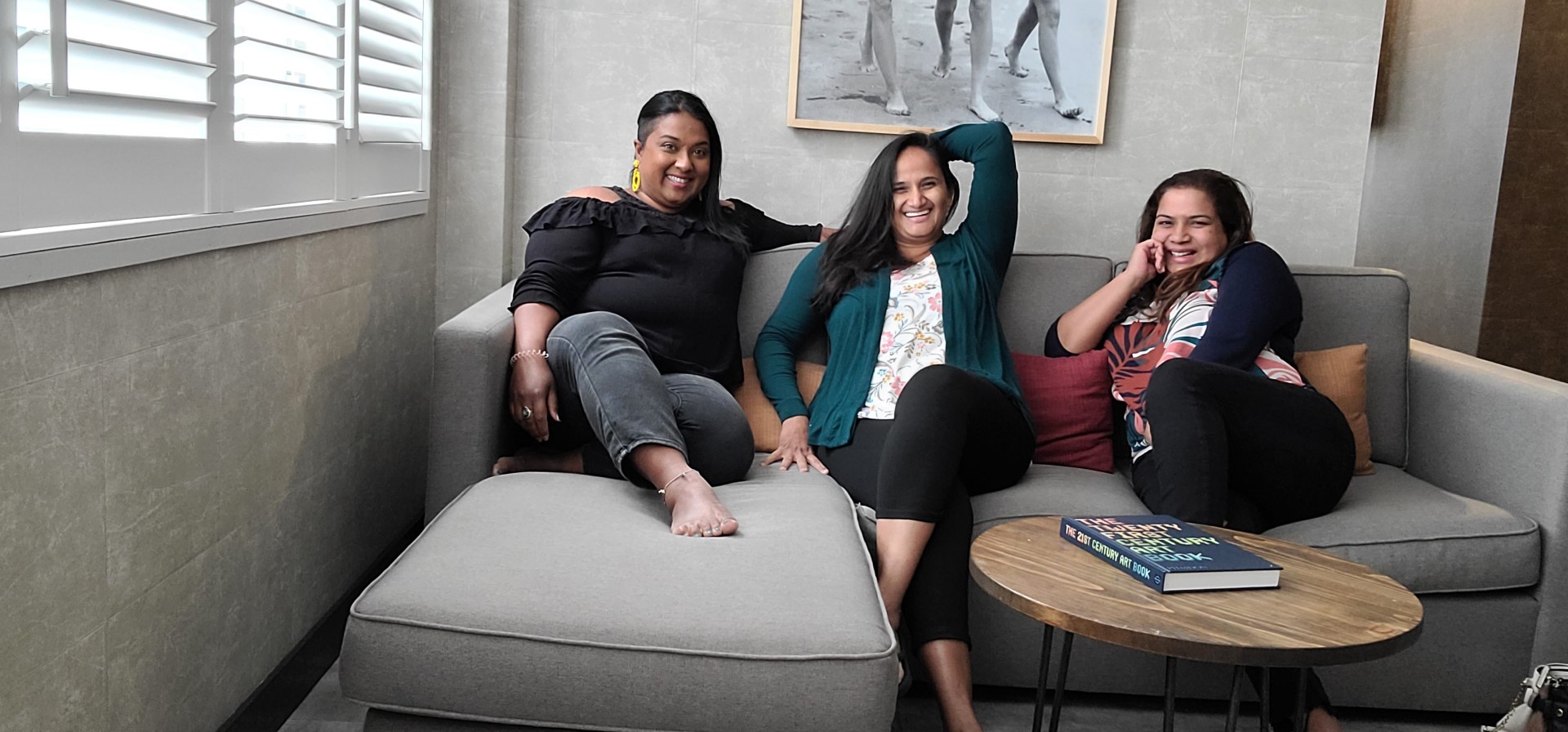 You may recall that I enjoyed a Toronto Momcation with my Dubai friends a few years ago when we stayed at The Ossignton House. This time we chose a staycation in the city at a property that has over 100 rooms and suites. For a great weekend getaway for moms who need a break, The Anndore House is the perfect option. Located nearby Yorkville and the Village, we had plenty of options nearby, if we wanted to explore. On this Toronto staycation, we wanted no such thing. Luckily then Hyatt Hotel property offered us a chance to unwind, laugh like school girls and I even kept my friends (who usually go to bed by 10) up until the wee hours of the morning. I know, I know, they wanted to catch up on sleep but what fun is that?
We played some Cards Against Humanity and nibbled on treats and Indian snacks as we sipped on wine. Luckily we're adults who knew that while we could sleep in, none of us wanted a hangover so we kept things in check when it came to the wine! See… we're learning!
The Anndore House has a rich history and was once a charming 10-story brick building that was home to many of Toronto's most eccentric personalities and famous faces. Today this 115 room property is more than a building, The Anndore House is a whole new way to experience Toronto. It's eating, sleeping, working and playing in a one of a kind destination with a distinctively creative soul. That's what appealed to use. It was the little details that made them stand out. I especially loved how they've balanced the retro art deco design with elements of modern comfort. I truly appreciated having electrical outlets on both sides of the bed and a phone/glasses holding pocket on the headboard but then I also really loved that each room and suite has an old school record player with vinyl for us to listen to. The bathroom even had an organizer at the back of the door to hold various items you may have!
Since I'm not a fan of sleeping alone, I shared a 550sq ft King Master Suite with one of my friends whilst the other one had a loft king room to herself. The suite had a large living space, complete with a dining nook, fridge, entertainment centre and full couch for us to laze around in.
Even the standard rooms had a seating area and elements like a kettle, fridge and entertainment centre. It's true comfort and you know, moms like us, we appreciate things that make our lives easy! Especially on a Mom-cation where it's all about us unwinding during our Toronto staycation.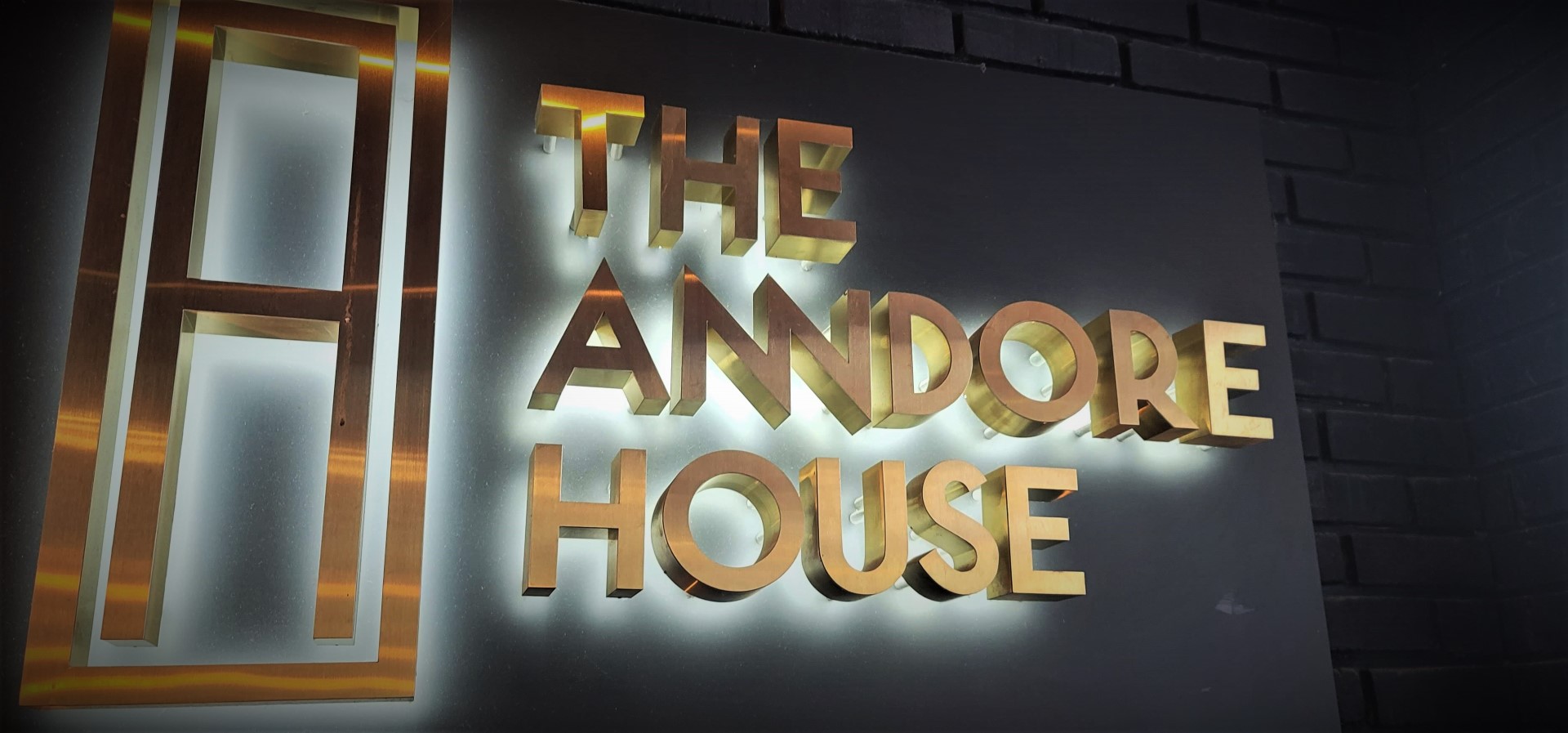 What appealed most to my friends and the main reason they chose The Anndore House for our mom's getaway, is because this House also has an in-house restaurant and bar. They also have a coffeeshop and a barber shop! Oh and right across the road is Nani's Gelato for those late night treats (or mid morning in our case!). If you're looking to sprinkle in some spa services, Elm Spa is an easy walk away too! I definitely don't look for this on a Momcation but I know friends who do, so I'll mention that The Anndore House has a fitness centre partnership with Hone Fitness in Yorkville! My friends didn't want to roam around and explore, they wanted to relax in one place and The Anndore House offered everything under one roof.
Now, we are living in a pandemic and you know me, I take all precautions when travelling. I obviously got tested before meeting my friends and I also noticed that The Anndore House had taken steps to protect their guests as well. First up, if you're a fully vaccinated guest, they will check your proof of vax and give you a card that can be placed on your dining table for meals, this way you don't need to whip out your personal details each time. Brilliant! They use UV wands on high-touch items and offered keyless entry and room controls with The Anndore House app (they also had traditional cards if that's your preference). Elevator access was only for hotel guests and they had a sanitization station in the lobby with sanitizer, wipes and a UV box. It's these steps that give me confidence when choosing a spot for our Staycation, Toronto!
After our stay, The Anndore House has put together a Momcation package that includes the following :
One night stay
$100 credit at Constantine
Guaranteed early check-in
Late check-out at 1pm
Bottle of sparkling wine waiting for you in your room
Go on, you don't need another excuse do you?
Things to do on a Toronto Staycation for Moms
There's so much to do on a girls trip to Toronto and no matter what your group is into, you will find it in this great city. Whether you're looking to roam around one of Toronto's trendiest neighbourhoods, shop to your heart's delights, dine and dance on a Mom's night out or (in our case) do absolutely nothing, Toronto is great! On this Toronto Momcation, we stayed close to our hotel and enjoyed the following Toronto activities.
Dine at a Toronto Restaurant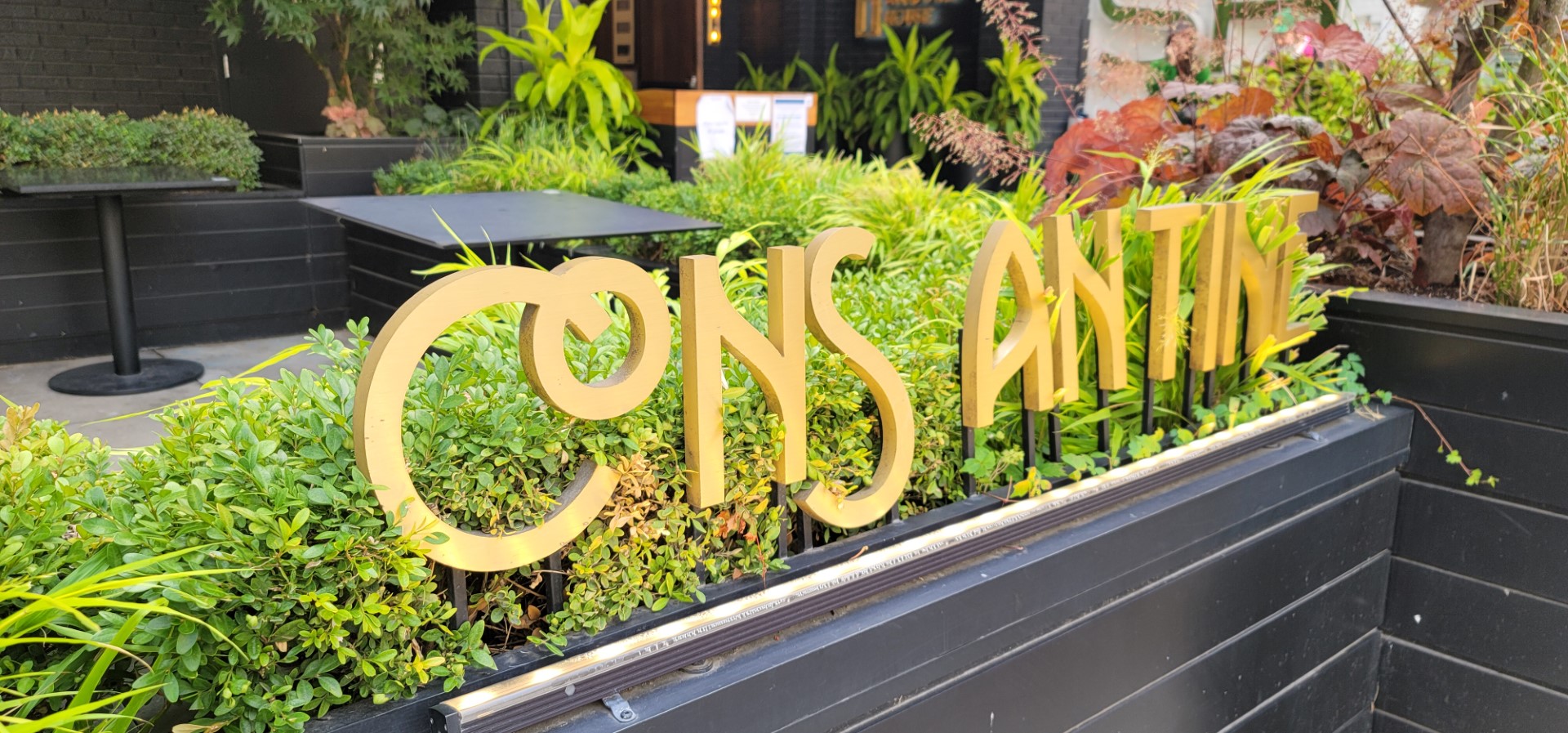 Located in The Anndore House is the fabulous Constantine restaurant. The three of us were pleasantly surprised by so many things here and will definitely be returning!! Constantine's menu, spearheaded by Chef Craig Harding, highlights local ingredients at the peak of their season. Given that the three of us met in Dubai, it was fitting to see Mediterranean influences on their menu. We were caught off guard by how spacious the restaurant actually is, offering a variety of nooks, bar seating and patio seating. The decor, open concept kitchen and ambiance makes it perfect for a Toronto date night, a catch up with friends or a family outing. Something for everyone!
Our server was attentive and knowledgeable, giving sage advice on how best to navigate the menu. I know I've spoken pre-pandemic about how I'm frequently disappointed by the service at many Toronto restaurants, just like I flock to Adega when I'm disheartened, I shall be running to Constantine when I need to be re-affirmed that Toronto is home to some of the best servers in the city!
Menu wise, take a look at the vegetarian dishes because they were outstanding. I know, don't be shocked y'all. I am a carnivore through and through but even I was licking the veggie plates clean! The Charred Green Cabbage came highly recommended for a reason!! I wasn't keen on ordering the grilled chicken but I'm so glad we did because that too was finger licking good! None of us expected to see Mahalabia (a dessert we enjoyed growing up in Dubai) and that was a real treat, paired with an Espresso Martini!
Chef Harding changes up the menu every season and I've heard that there's a shawarma feature on right now as well as a brunch offering! So I may just have to bring the kids and Chris in for a meal soon, because I know they'd love it!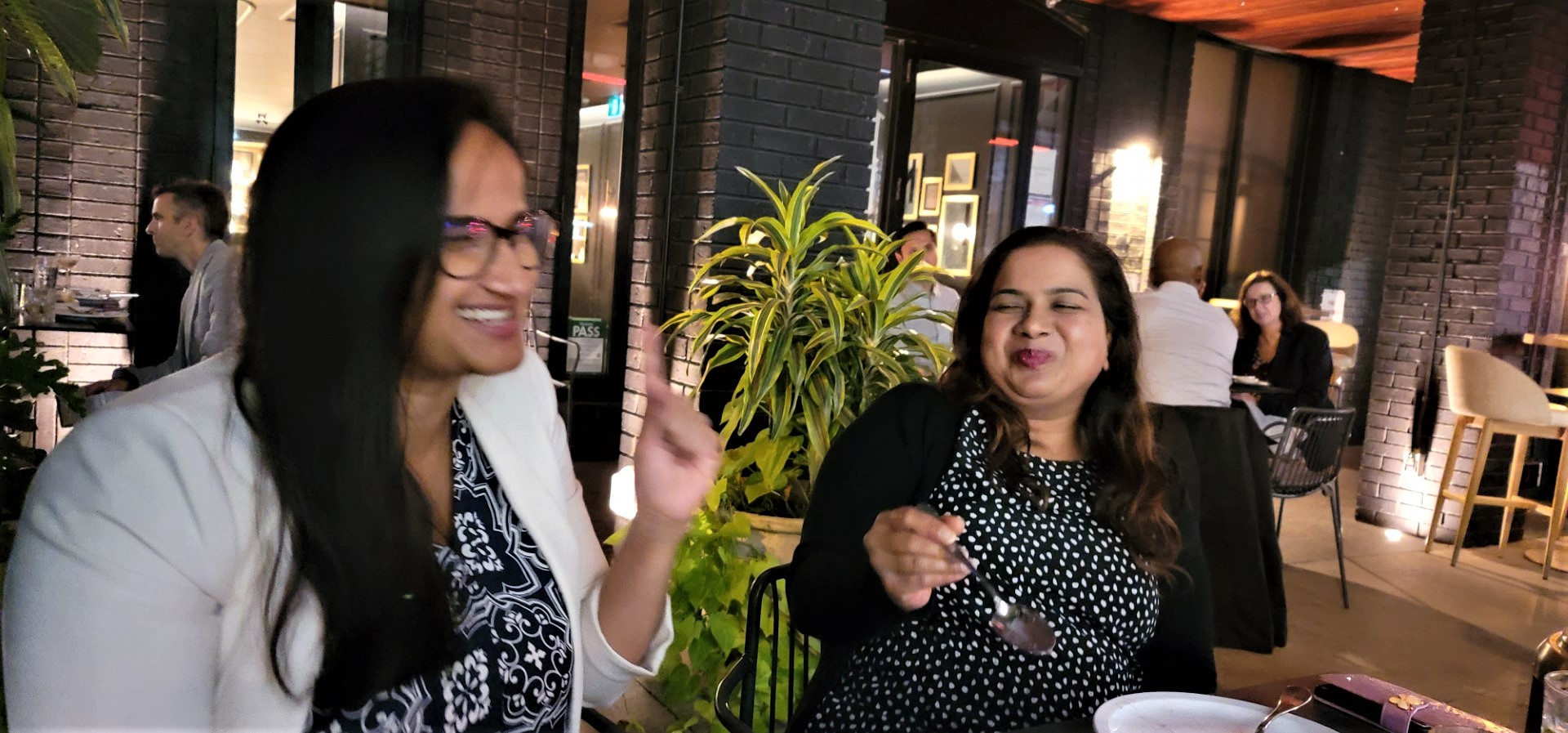 As you can see, trying to a get good photo of us is near impossible because we were constantly laughing and having a merry time over delicious and comforting eats.
Coffee Fix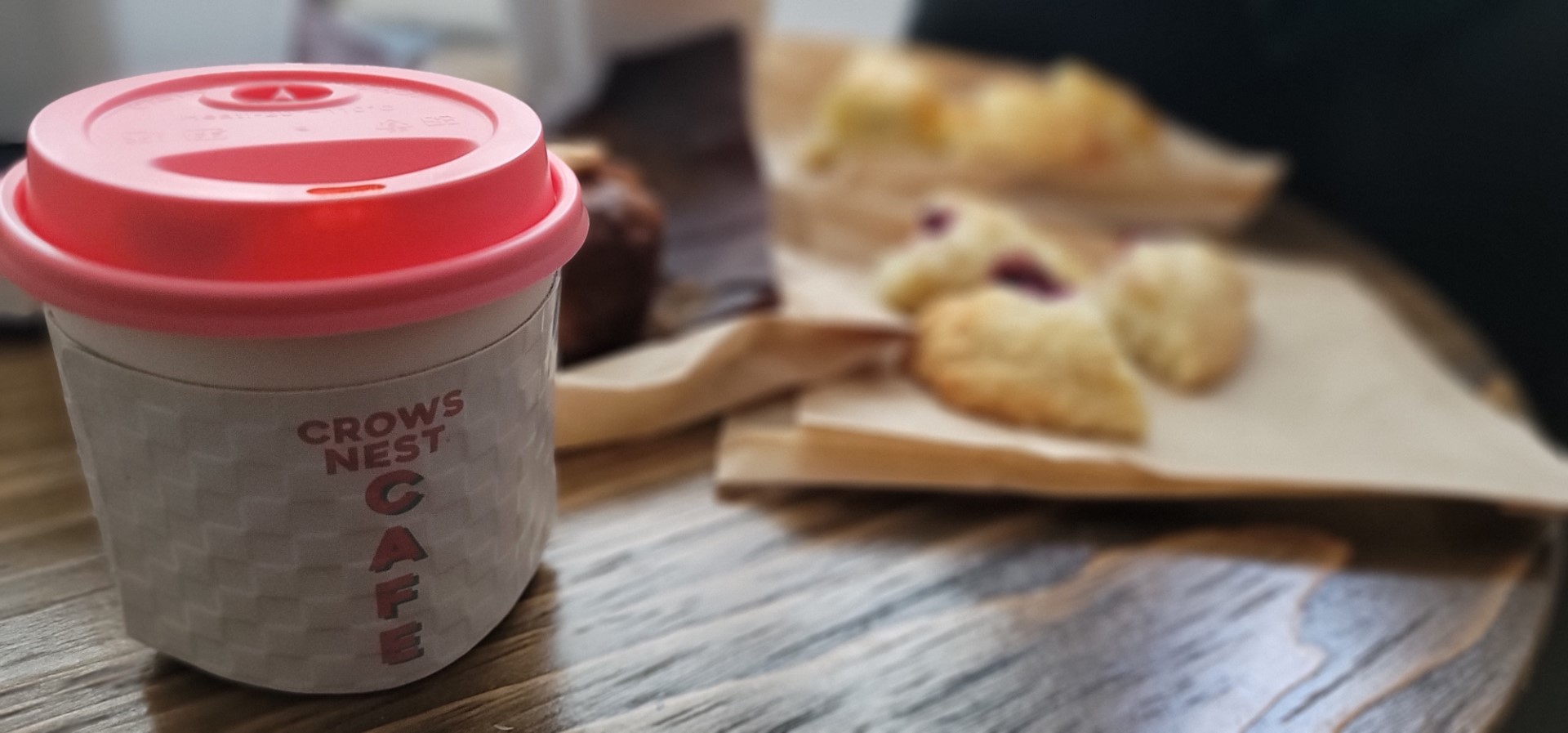 Housed in The Anndore House is the Crows Nest Cafe, a cute Instagram Pink space offering freshly brewed coffees and snacks. During our visit (a mere week after they opened) they only had baked goods but I see that they've added smoothie bowls and a bunch of healthy offerings into the mix recently.
Since I'm a savoury gal, I grabbed the last cheese scone but did bring back a vegan muffin which Apollo devoured!
Punjabi Milk Cake Gelato Anyone?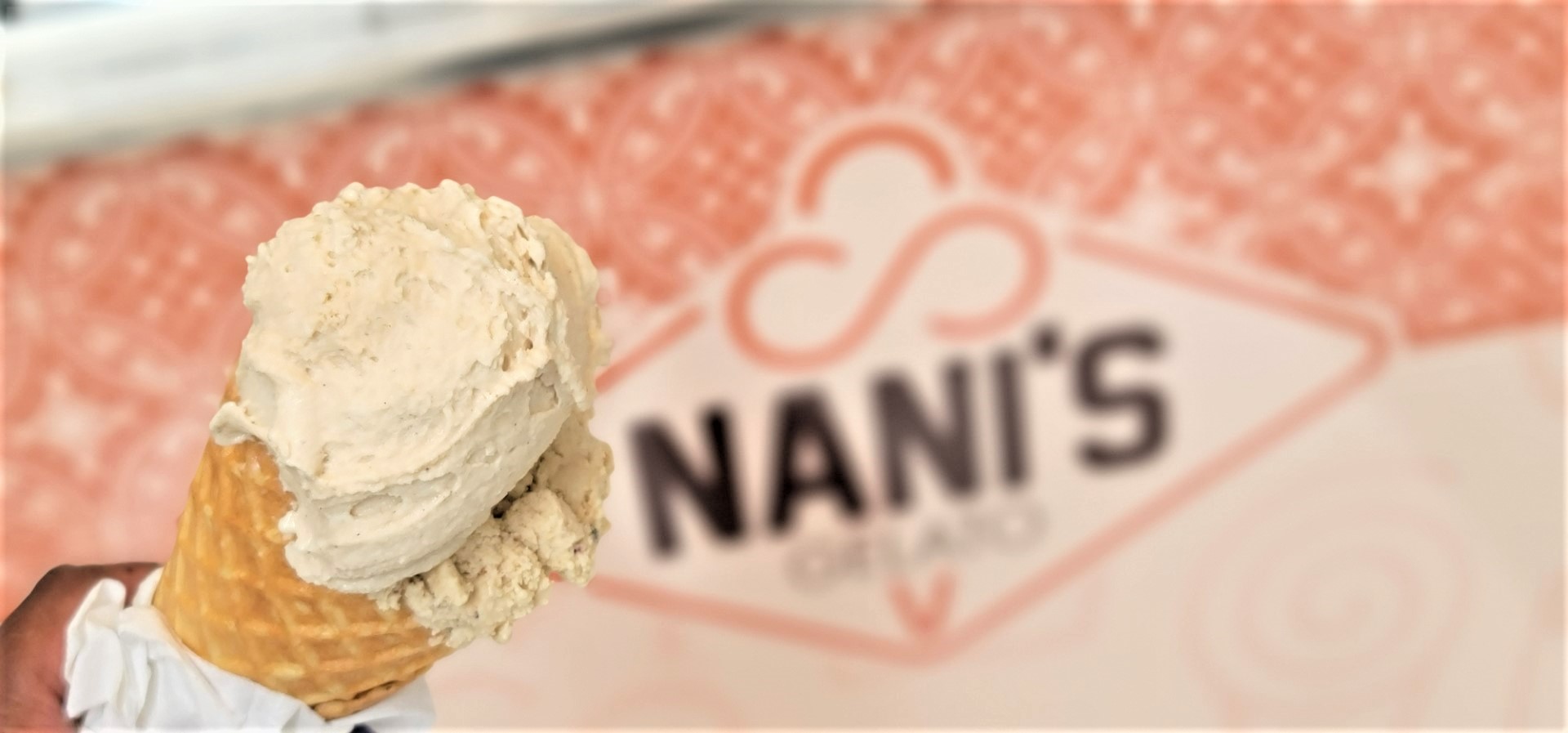 Across the street from The House is Nani's Gelato. Yup… they certainly named it Grandma's Gelato and for a reason. This Toronto ice cream shop offers a variety of flavours, including South Asian ones, which you KNOW I'm all about. Nani's produces a variety of gelato flavors and sorbettos that include both dairy and non-dairy (vegan) options so it's great for Apollo too. The flavours rotate bi-weekly and sadly the ones I wanted only came in tubs (which would have melted by the time I got home later in the day) but the Parle G I had was AMAZING!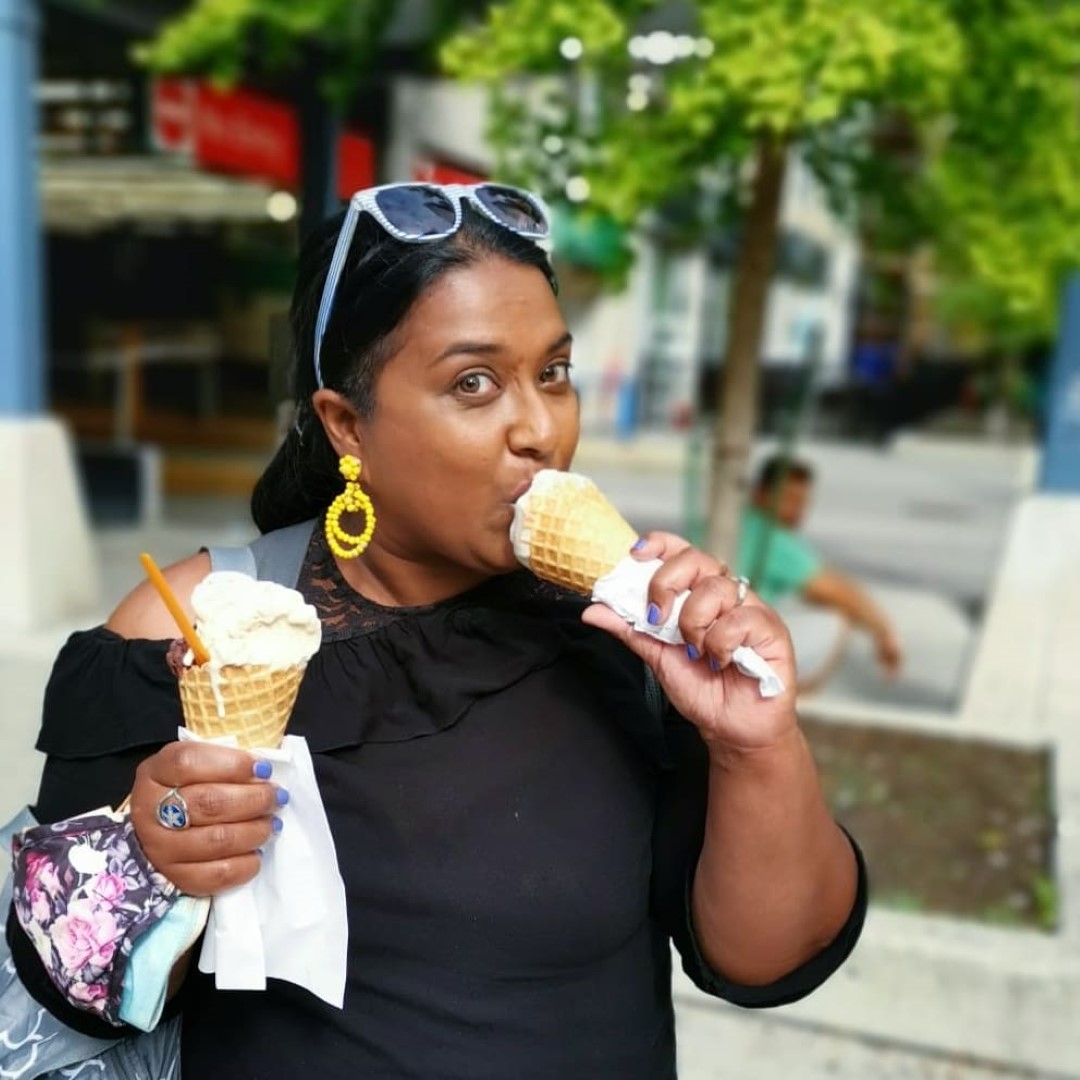 They make all gelato products from scratch on a daily basis, using fresh ingredients and has a variety of Asian, Indian and Italian flavours on a daily basis. Owner Parry has traveled to learn about the process of gelato making and even uses an Italian pasteurization machine specifically designed for gelato production. Do yourself a FAVOUR…go in and choose a FLAVOUR!
Hang at a Toronto Spa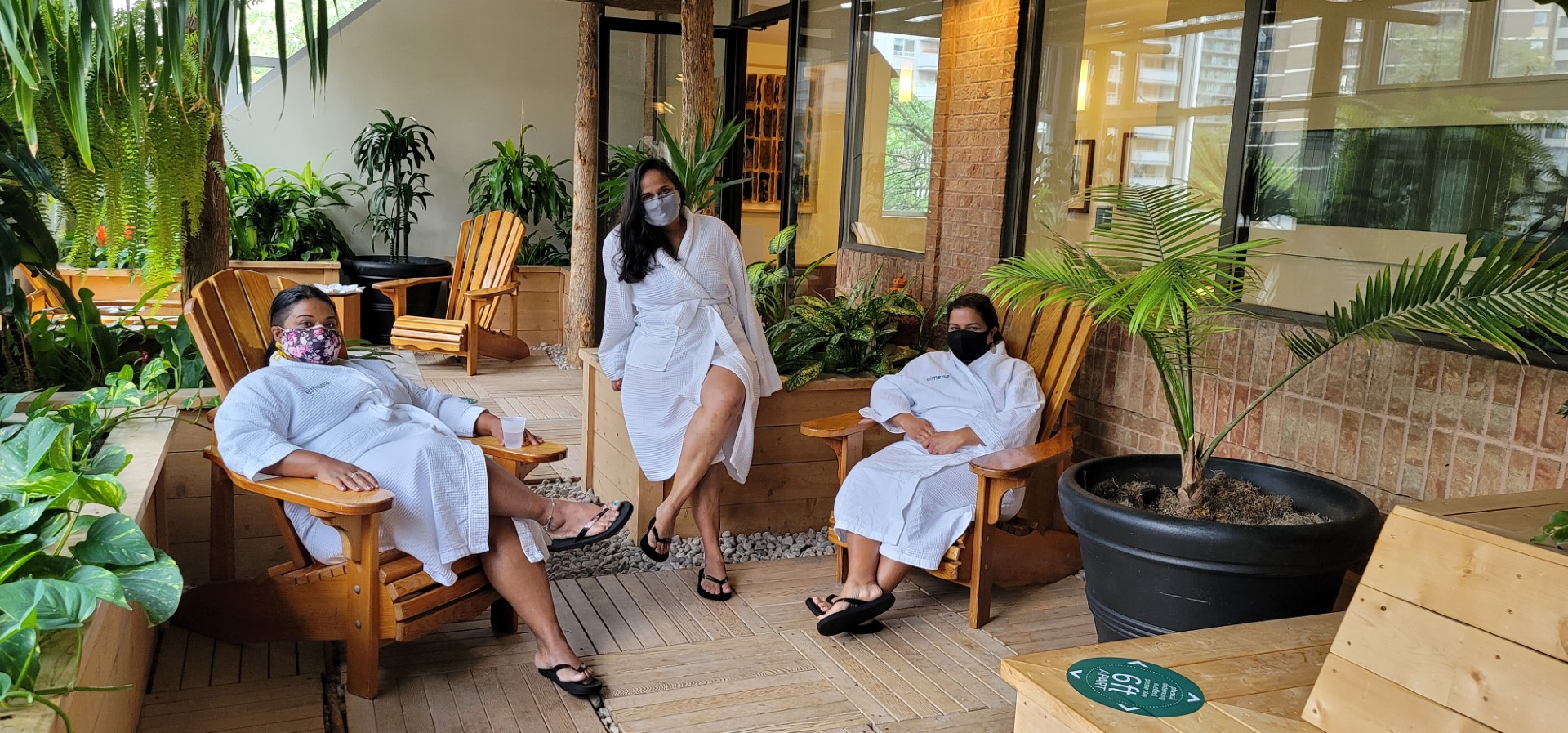 Although the girls didn't want to leave our Momcation House, they were desperately looking for more zen vibes so we walked a block to Elm Spa. This boutique Toronto spa is an offspring of the acclaimed Elmwood Spa (one of my faves in the city). Elm Spa offers exclusive treatments for all in a zen-inspired environment. Their garden terrace area encourages harmony, relaxation and wellness. It was so nice to chill here surrounded by bamboo and greenery.
Although the spa has seven specialized treatment rooms, we wanted to spend time with each other so we opted for manicures and pedicures instead of massages. The staff on-site were very friendly and joined in our mom talk and I must say that my shellac manicure has lasted 3 whole weeks, which NEVER happens with me! It usually starts peeling by week 2 for me, so they really do know what they're doing here!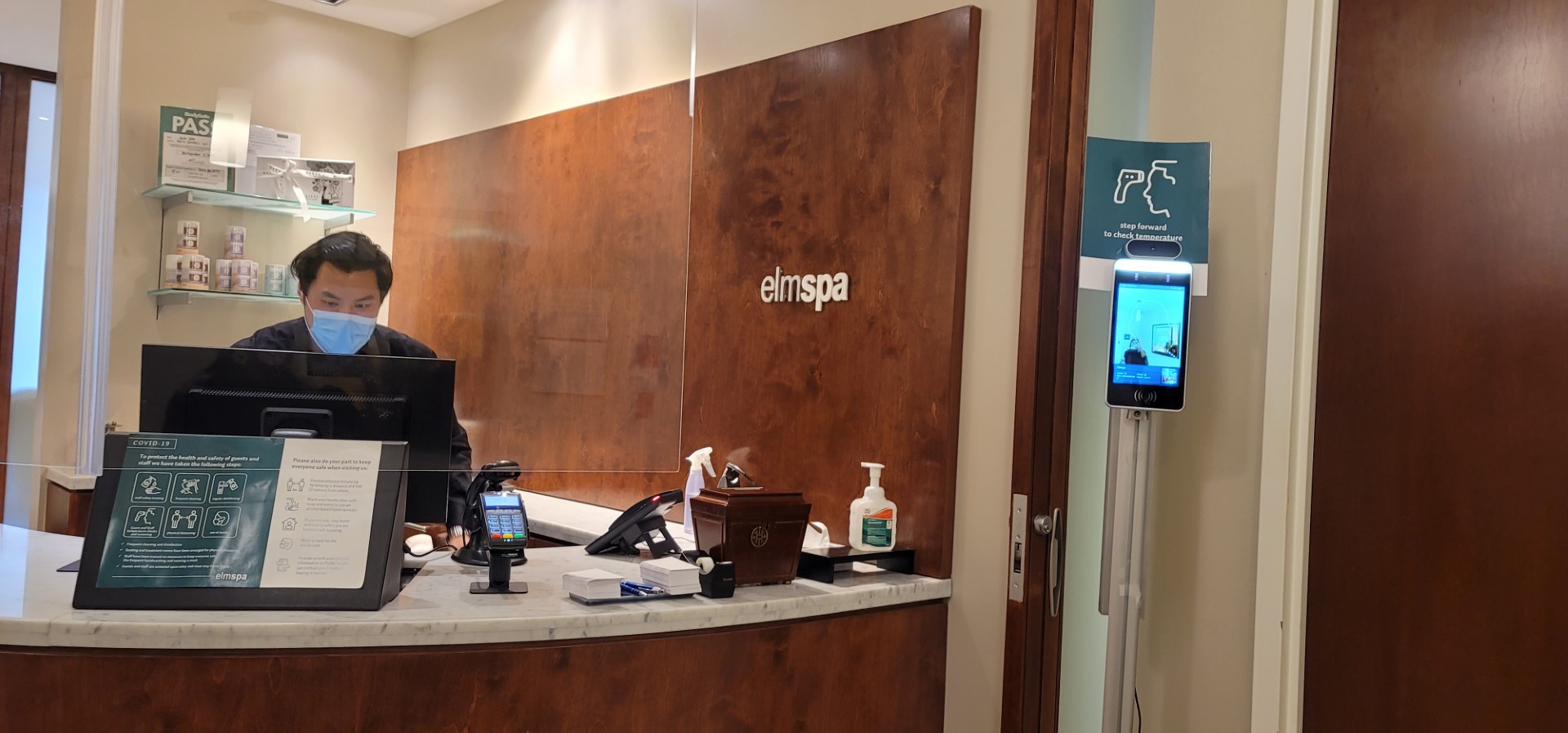 When you book any service (yes, even nails), you get complimentary access to the steam room and the infrared sauna. Book these before any treatment! Since we are living in a pandemic, know that masks need to be worn indoors at all times (unless you're getting a treatment such a facial when masks can't be worn). The only time we removed our masks were in the steam and sauna because they were private sessions and there was no one else in with us. Since there is no restaurant on-site, they did not ask for vaccination status here but if you visit Elmwood, that is a requirement.
If you're planning a visit this month, here's a special offer!!!!
Offer: 15% off Mondays-Thursdays at Elmspa, until October 28, 2021.
To redeem: Must mention code YASHY15 at booking
Conditions: Available Mondays to Thursdays, until October 28, 2021. Not available as a Gift Card and cannot be combined with any other specials or discounts.
Toronto Momcation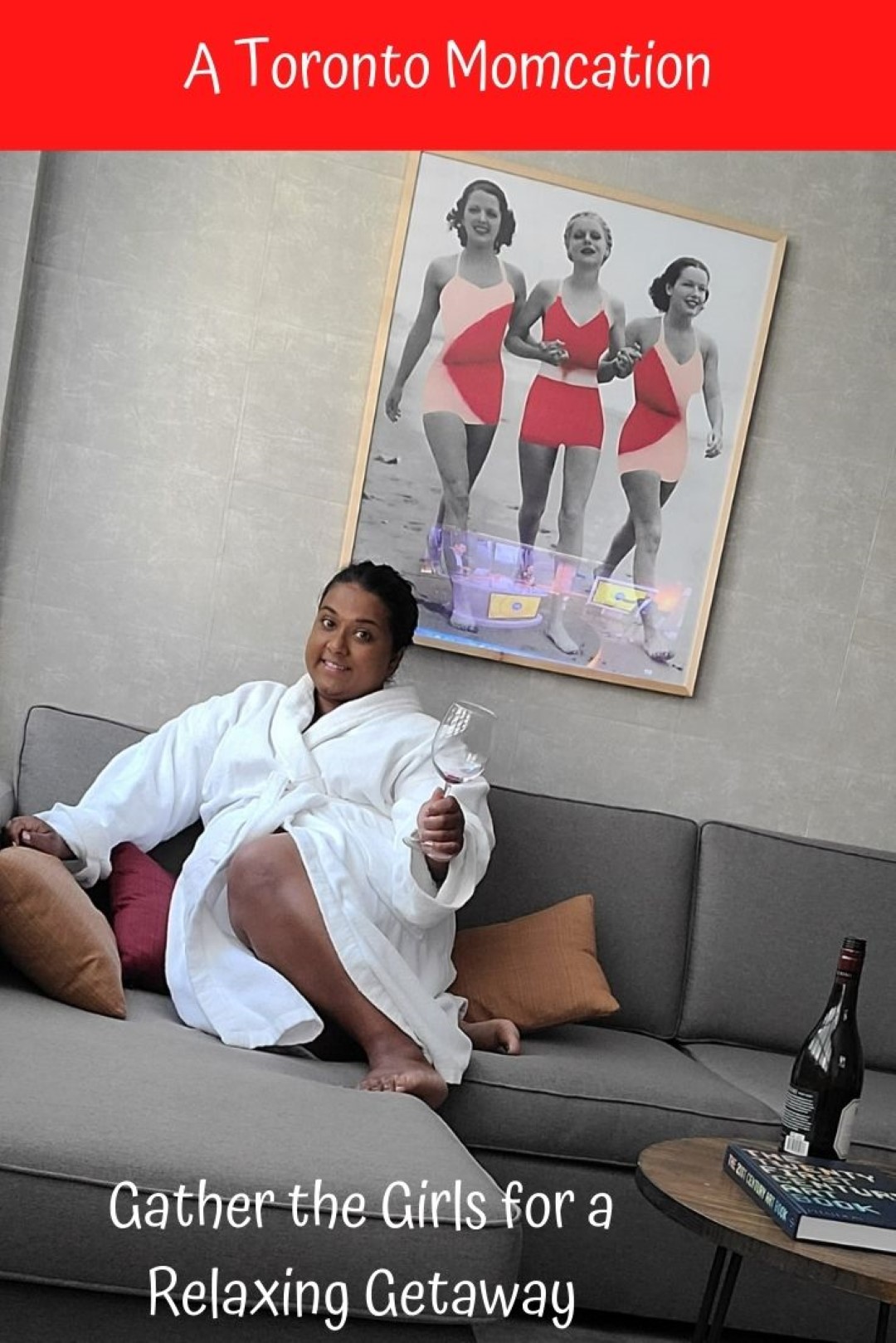 If you're looking for the BEST staycation Toronto, look towards The Anndore House. Honestly, this past year has taught me that I need to grab every chance to hang out with those I love and adore. Taking this night away wasn't easy as we had to coordinate 3 schedules and ensure that the husbands would be available to step in (thanks Dads), but we all made it happen. If you haven't seen you besties in a while, why not book a stay at The Anndore House and enjoy the best Toronto staycation? Go on, you deserve a Momcation and they've put together a Toronto Momcation package JUST for you!!!