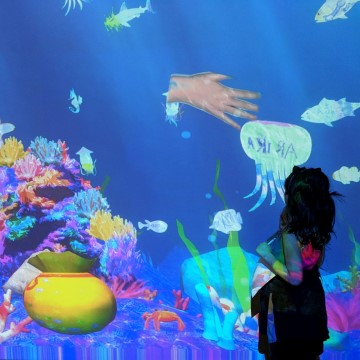 Over the weekend we visit the seventh annual digiPlaySpace at the TIFF Bell Lightbox here in downtown Toronto. It started on February 17 and goes on until April 22 this year. We missed this exhibit last year because we were busy prepping for our travels but we have been attending the digiPlaySpace since Little Monkey was 3 years old. This year, 4 year old Baby Boy and 6 year old Little Monkey loved the interactive displays and two hours spent there just wasn't enough! So, if you're wondering "Is digiPlaySpace is worth it?" the answer is a huge YES! The recommended the time is 90 minutes but my kids would have happily spent 4 hours there if we allowed them!
What is digiPlaySpace?
The exhibit is a mix of physical, virtual and mixed reality learning–based activities that will have the entire family engaged. The goal  of the exhibit is to empower parents and kids to see everyday technologies in a new light, full of artistic expression and possibilities.
There were over 20 installations that saw our kids jumping, touching and learning. Of course we had a few favourites and I think it's fair to say that the Disney Sketch Aquarium was a popular spot. Initially I thought it was just a cool aquarium backdrop to be enjoyed while the kids coloured on a bench nearby but we quickly realized that the kids (and parents!) could colour in their sea creatures, have them scanned and then the uniquely coloured sea creautres are then dropped into the aquarium. It was SO neat!!
Another popular installation was the Style Transfer Mirrors which took a picture of the kids and transformed it into a painting. The beauty of this installation is that it's in the main lobby and you can get a taste of what awaits you inside BEFORE you buy your tickets! Kids under 3 do not need tickets but those 3 and older do (including adults). Week day tickets are cheaper and of course the space is less busy during the week but on opening day, Little Monkey and Baby Boy had a chance to interact with every exhibit and never felt rushed. We do know that it gets busy during March break.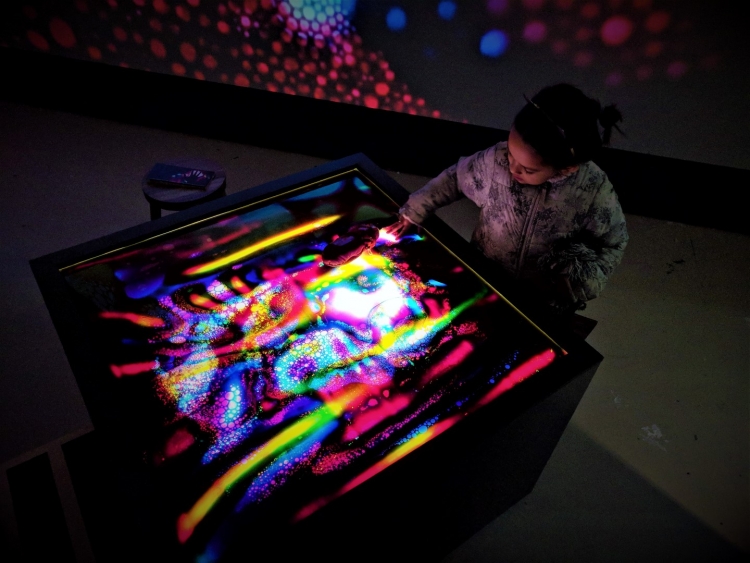 There are many installations including a green screen, Gruffalo spotting and a kaleidoscope and you can check them out here.  What I like most about digiPlaySpace is how it shows our ipad watching kids how technology is more than just YouTube and interactive games on their iPad. Here they see the results of engaging with technology and how various things can be programmed. Definitely had a fair number of "but how is that happening?" questions during our visit.
Who would enjoy digiPlaySpace?
As I mentioned, when we first visited Little Monkey was 3 years old and Baby Boy was just 1 but now at 4 and 6 they were very engaged with every installation. I also liked visiting at this age because they were eager to learn and happy to converse with the assistants standing by each installation. There were many helping hands who enjoyed chatting with the kids and explaining what they had to do.
The age recommendations are listed next to the installation descriptions online if you're wondering about the relevancy for your child. I would say that on average 3 to 12 year olds would enjoy the exhibit the most.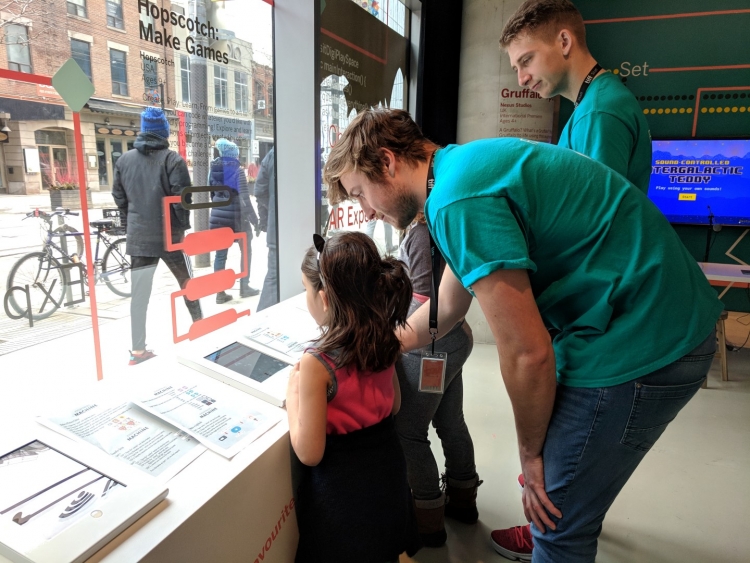 What else is happening? 
Of course we know that there are many movie screenings taking place throughout the year (Chris loves watching one at least once a month). However, you may not know that there is a TIFF Kids International Film Festival taking place between March 9th and 18th. There are over 100 films representing artists from over 40 countries and the best part is that you can choose the short films based on your child's age and grade to ensure that they will find it interesting. We had a sneak peak and will tell you that our kids did not like the dialogue free shorts but enjoyed the films like Highway Rat. Be sure to grab a complimentary booster seat so that the kids can see the screen properly (both kids needed one).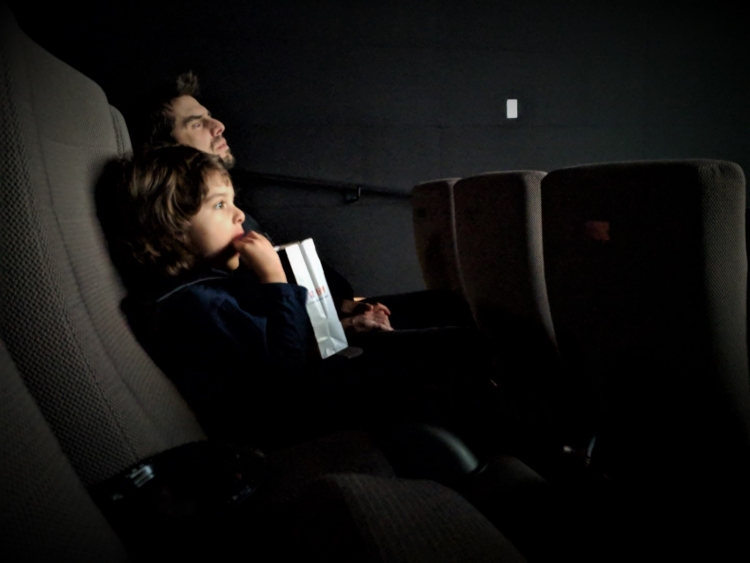 You can definitely buy your digiPlaySpace tickets once you turn up at the Lightbox but it is advised to pre-purchase them as it is a popular exhibit and they offer timed entries to ensure that the space isn't overly crowded. Put a TIFF Kids film in your cart and unlock a discount on your digiPlaySpace ticket!! There's no shortage of cultural happenings in Toronto for young kids and digiPlaySpace is definitely one of our faves and each year, the exhibit keeps getting better! If you make it out, do come back and let us know which ones you enjoyed the most.