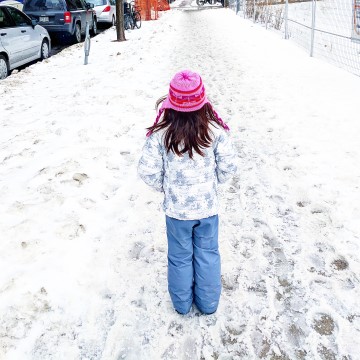 Keeping your kids warm in the cold can be a tough gig when you're in a city. Whether you're looking to visit Toronto in the winter or live here, we've got some tips on how to dress kids for winter in the city. Living in downtown Toronto we're lucky that more often than not, our sidewalks are relatively snow free and we don't have to shovel our way through piles and piles of snow to get out of our condo. We also don't own a car and while that means no scraping snow off to get anywhere, it does mean that we walk pretty much everywhere. Yes, even in heavy snowfall. Those living in the city tend to be out much more than others because we're waiting on street corners for the streetcars and buses or on our Toronto Taxis and ride shares. Our kids aren't outside just for a quick snow angel session, they're out as we're getting groceries, heading out to restaurants and walking to appointments and catch up sessions. Simply put, they're exposed to the crazy cold temperatures (feels like -33 C? WHAT?) far longer than they should be. As such, we thought we'd share how we've been keeping little ones safely bundled up during the harsh winters.
Winter Gear For City Living Kids : What to Wear in Toronto
Tips For Visitors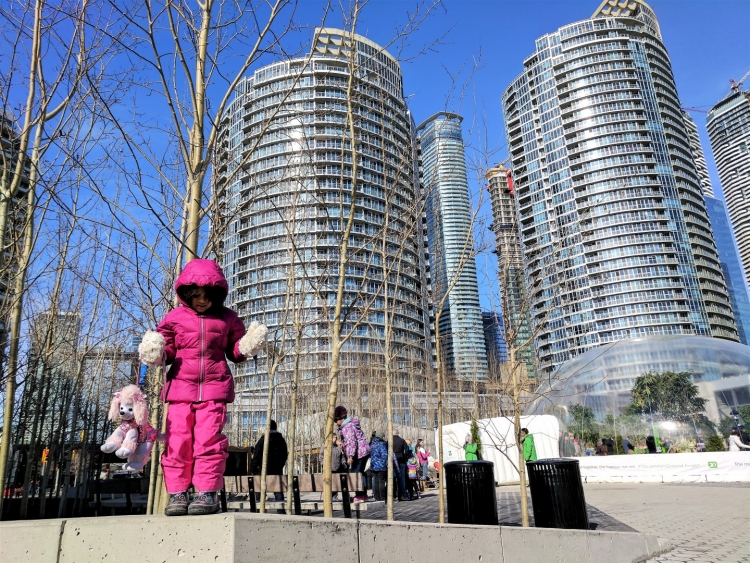 If you don't live in a winter climate and don't visit cold countries often, you may not want to invest in expensive gear. I will admit that the gear we use is on the pricier side but we've been using some of them for 6 years now, so it was worth the expense. However, if you're visiting for a week or a couple months, we recommend visiting some second hand stores (we donate most of our gear to Double Take), scouring sites like Kijiji or Buy/Sell groups on Facebook to see if you can find some quality items for less. Visiting stores like Canadian Tire,  Winners and Joe Fresh will also enable you to find some good options. Also, as I tell my mom often, don't think that bulky is always warmer. There are many fabrics that are now thin but very protective and helps you keep warm and dry.
Infant Winter Gear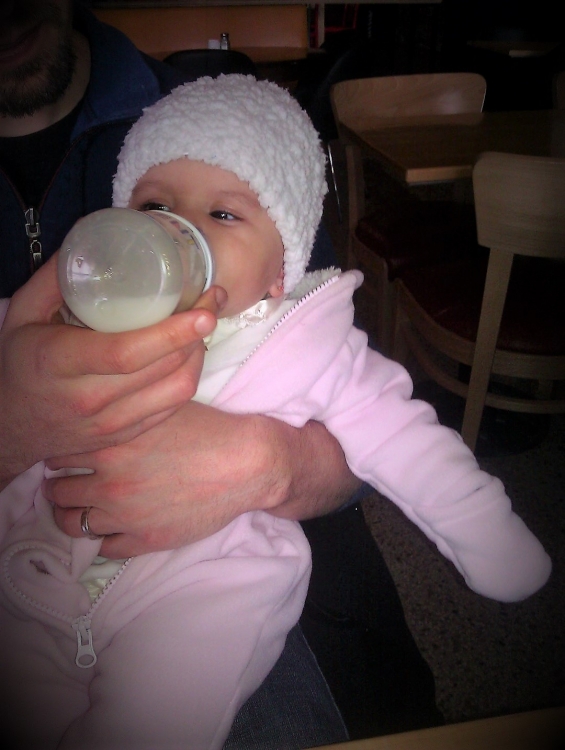 Our best tip is to layer the baby up and put them in a fleece bunting or snow suit. I baby wore a lot during the early winters as both kids were October babies. Check out this Pookie Poncho that helped me baby wear and take them around in their car seat with peace of mind. You can read more about it here  and of course check out the video below to see us using it. I also get asked about boots for infants and since they aren't walking I recommend thick socks and ensuring that their fleece snow suits AREN'T footless. Tiny mitts are also great for this age but be prepared to lose MANY of them (our fleece onesie came with mitts built in)!
How to Dress Young Kids for Winter in Toronto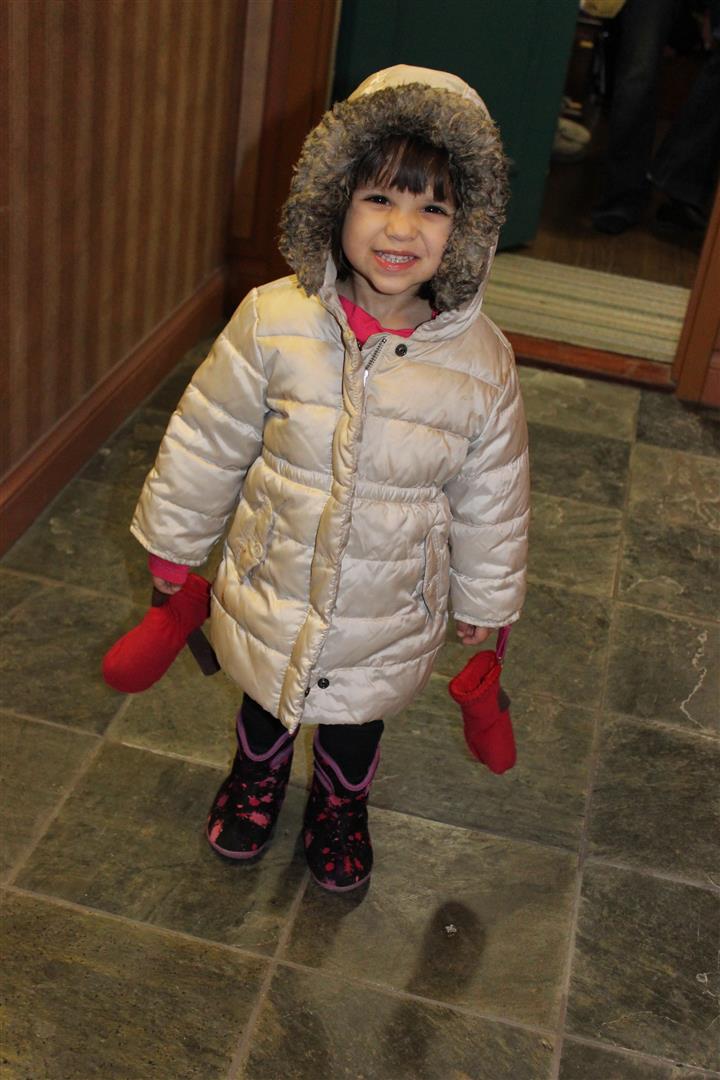 Once they started walking I pretty much stopped carrying them as I have back issues. What this meant is that we opted to dress them in layers and ensured that they had great winter jackets and snow bibs. The snow bib (snow pant/snow suit overalls) was a great extra mid-layer that was also water resistant and worn under the jacket but above their pants/dresses/tights. When it came to brands we mostly wear Columbia and North Face because that's what grandma bought for us. I must admit that these brands while pricey do last long and keeps them very warm. Goes without saying that we had them in hats and mitts, but we keep losing them so buy them in bulk if you can. Clips to keep the jacket attached to gloves and mittens are also very useful! We struggle a bit with shoes as toddlers needed light water proof options and while the Bogs for older kids are a bit heavy, they are completely waterproof and we love them for older kids. Bogs for toddlers are lighter but the fabric is water resistance and not waterproof, which means that you do want to ensure that they don't stomp around in snow for too long. We recently discovered Dadawen boots which start at size 5 and those look like great options if you're looking for winter shoes for your toddler.
Stroller Gear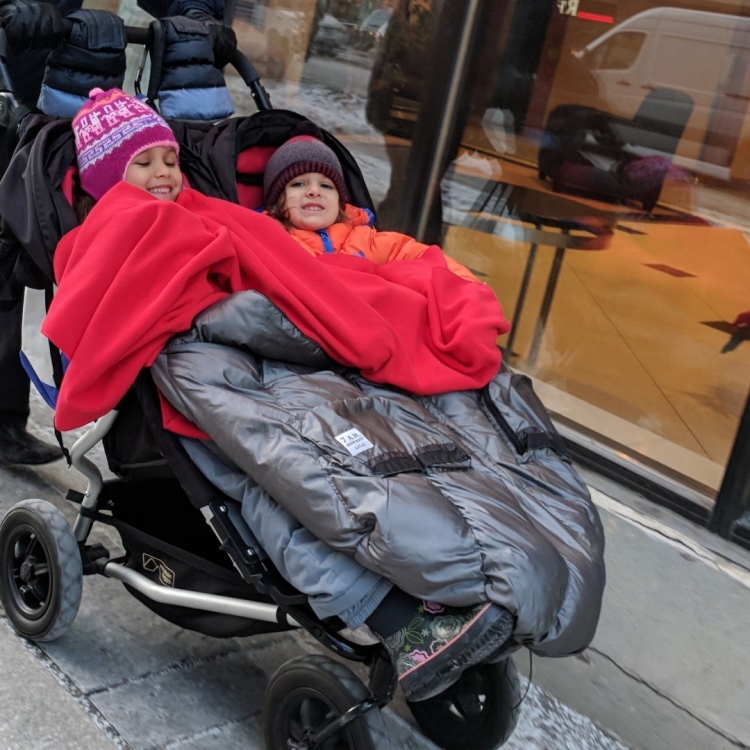 Our kids are 4 and 6 years old. They are technically beyond the "acceptable" stroller age and while they'll walk short distances, we still have them in the stroller. We've shared our views about that in this post, so feel free to catch up on the reasons why . We find the stroller to be a great way for us to move around the city quickly (they're SUCH slow walkers) and our Mountain Buggy is a great winter stroller. The tires are wide enough to handle the snow and while the basket is rather small and a bit low, our kids have enough space to curl up. If you have a stroller you can  keep your kids warm and cozy with  a 7 a.m. Enfant Blanket and it comes in all sorts of colours and available for single and double strollers.  With the -33C temperatures here we've been adding another blanket underneath the 7 a.m. Enfant blanket and yes, the kids are still layered and in their snowsuits as well. It's FREEEEEEEEEEEEEEEEEEEZING! We also love the WarmMuffs because as parents we tend to stop and help the kids often and instead of having to deal (and lose) my gloves, ours are attached to our stroller.
We live in a winter climate and we're about embracing that cold to ensure we continue our adventures. We may not be winter sport enthusiasts (yet) but we do attempt to explore Toronto in the winter. One word of advice is to ensure that your kids don't over heat in the layers (it can happen) and that they continue to stay hydrated (they will rarely feel thirsty but it's our job to keep reminding them to drink something). From outdoor fun to indoor escapes, Toronto continues to be a family friendly destination even during the winter!