As you guys know, we've been returning to Norfolk annually since we discovered this Ontario getaway back in 2016. With each visit I've shared how our family has explored the area and a list of things to do in Norfolk County. During our most recent trip someone messaged me asking if I'd host a trip, similar to a tour and I told them my days of leading tours ( I used to lead food tours in Toronto when I was pregnant with Apollo) are over but I promised to share a detailed two day itinerary for an Ontario road trip to this area of Southwestern Ontario. For those looking for places to go in Ontario that are filled with beaches, beer (or wine) and plenty of delicious farms, this Norfolk Ontario itinerary is for you!
Disclosure : This post is in partnership with Ontario's Southwest and Norfolk Tourism but, as always, opinions are TOTALLY ours!
Things to do in Southwestern Ontario – Explore Norfolk County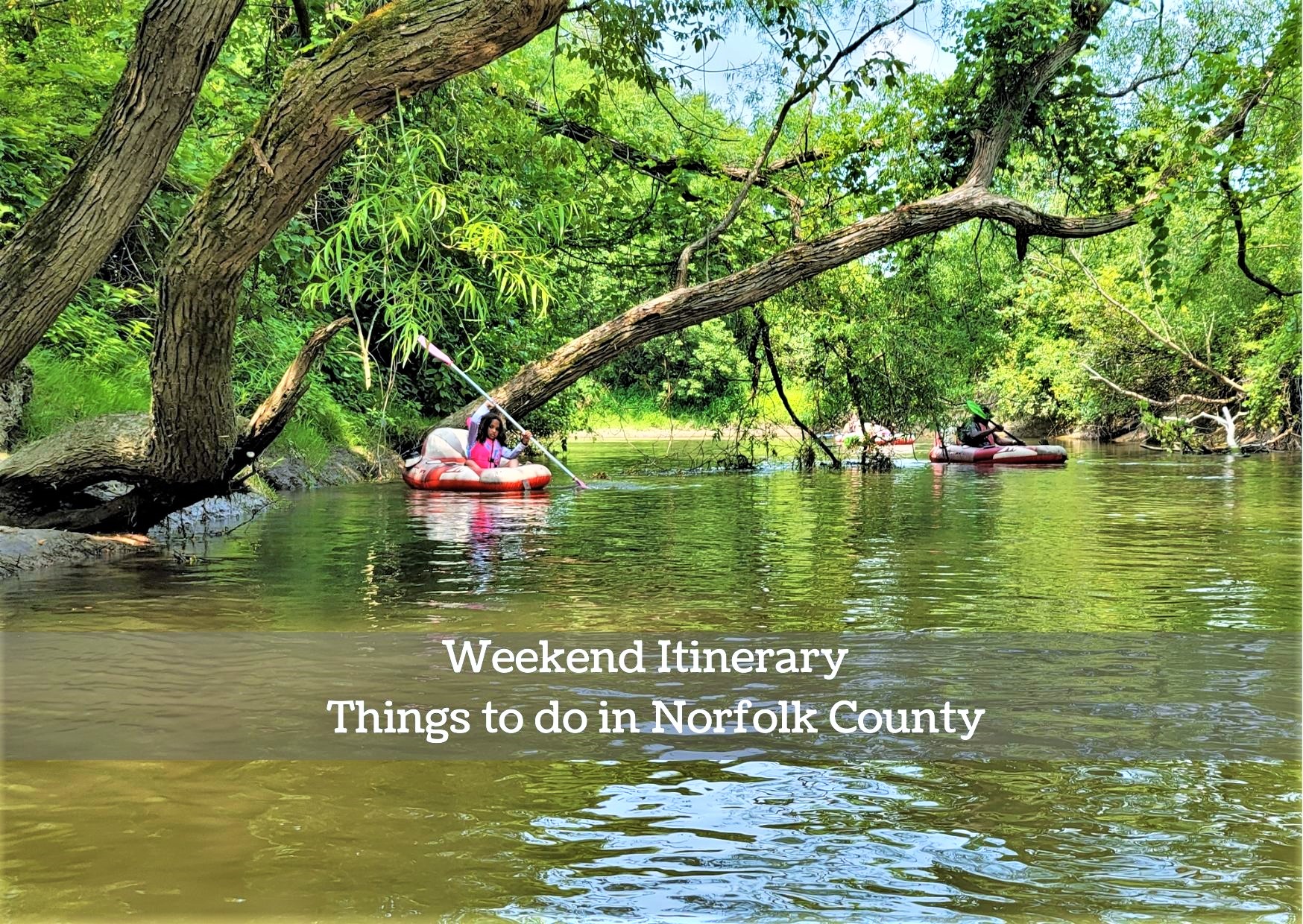 Norfolk County sits on Anishnawbe, Haudenosaunee and Attawandaron territories. For those driving from downtown Toronto, give yourselves an hour and a half to two hours to reach Norfolk County. Many places are spread out and you will need a car to explore this area. That said, this is the beauty of Norfolk County. One can naturally distance from others and embrace the fun to be had outdoors. The area is often referred to as "Ontario's Garden" and as you drive around you'll notice many farms and self-help fruit and veggie stands (bring cash with you!!). Take the slow route, stopping to smell and taste the bounty that can be found in this region. With each visit, we find new ways to amuse ourselves and there's something for parents and for kids in this region of South West Ontario.
Paddle the Canadian Amazon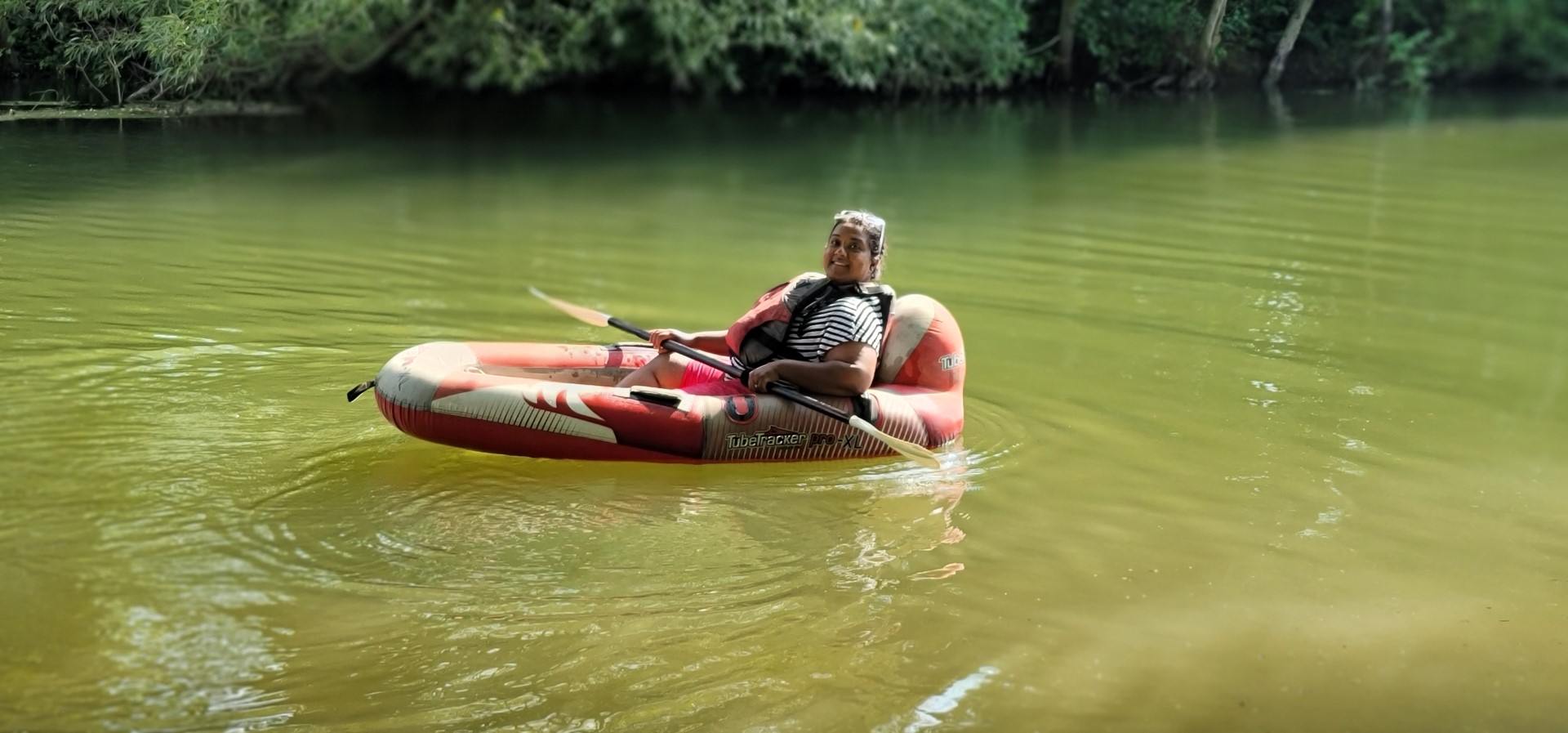 Alright, I will begin by telling you that this 9km paddle activity will be a 5 hour adventure. There are shorter routes but those are not in Norfolk County and this is a relatively new route having opened a year ago. That said, the kids and my dad (who joined us at the very last minute) did get to the end, without TOO much whining. In fact, it was my dad who whined more than the kids. Grand River Rafting has all the supplies you need and they will ensure that you fill out all the necessary forms prior to your arrival. Once we arrived and got our life jackets on (they have kid sized ones but as you know, we prefer to travel with our own), they put us on a bus which took us towards the boats and entry point into the Grand River (it was a 15 min drive). Be patient as there may be some wait between buses but you'll soon be on your way.
I am not an expert paddler by any means and it was my 68 year old dad's first time paddling, but the turbo boats make it easy. We put Chris in a canoe and Apollo was in there with him. When Akira got tired, we were able to tether her to the canoe (could have attached her to mine as well). My tips for this journey is to enjoy the lazy paddle and let the river take you along if you don't want to paddle. The water levels were lower than usual during our visit and so we did have to paddle to get out of some branches but it was still very enjoyable and no one was hurting the next day. We didn't see much in terms of flora or fauna and this was a self-guided paddle so we stopped when we wanted. Definitely ask for tether strings because you could use it to attach yourself onto a tree bark when you want to stop for a bit. While you may be tempted to tether from the start when going with young kids, and it would be SO much easier to do that, I encourage you to give them the freedom to paddle on their own for a bit. Akira did it for 2 hours before Chris attached her on to his canoe (and at one point he had both kids in the canoe with him). It isn't super easy to tether once you're in the water (and we spotted no openings to get on dry land for a few minutes) but it's not impossible. Pack a low-waste lunch/snack, bring water with you and pick up any garbage you see along the way. I had a wet bag to hold our food which was a good idea as some water did get into the boat. I also picked up a deflated balloon stuck in a tree and I was very grateful that I was wearing board shorts and a swim top because it was a hot day and I needed to keep splashing water on myself! I'm very glad we finally experienced this Norfolk County adventure even if Chris, the kids and my dad lament that it was a bit too long for them!
Splash at the Beach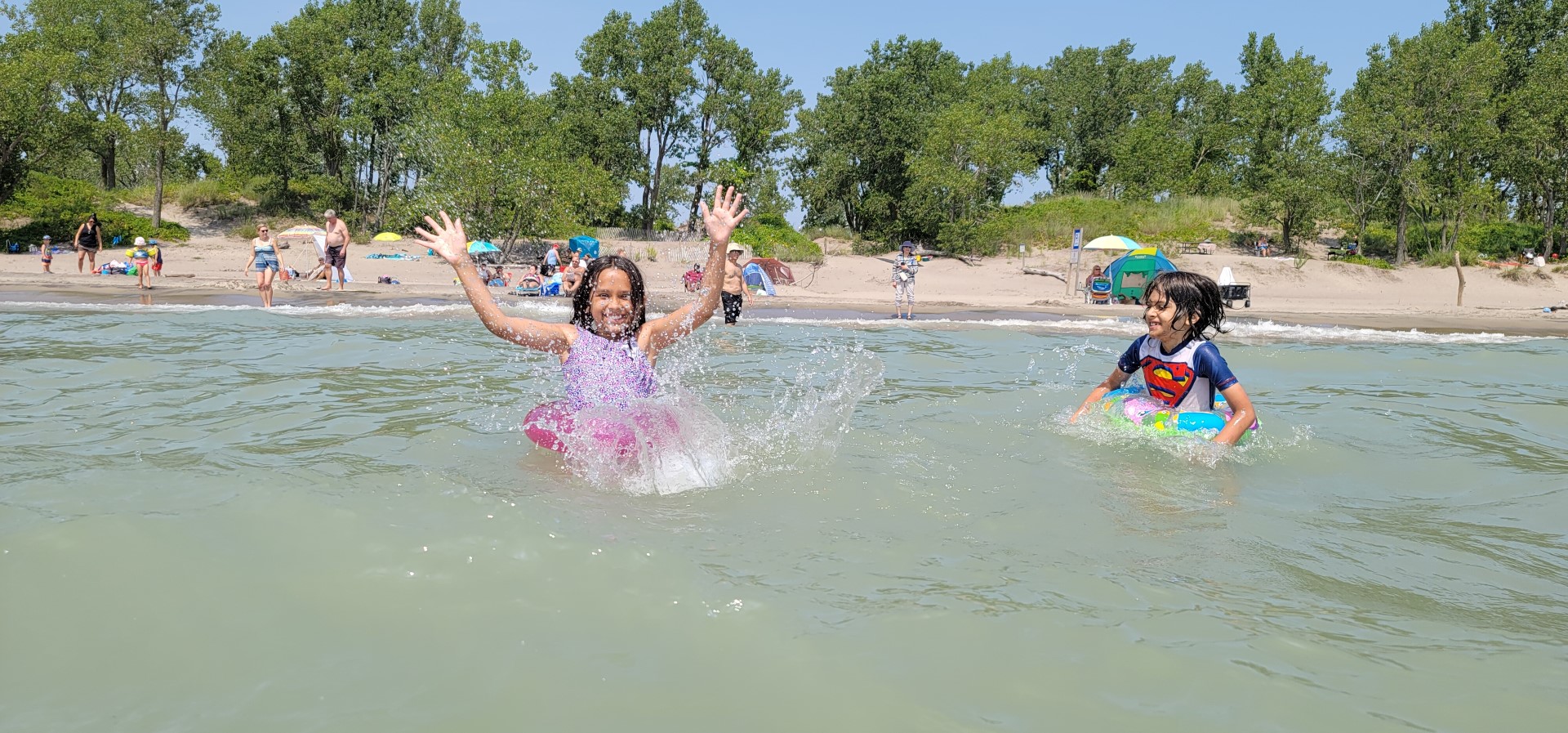 Some of the best Ontario Beaches can be found in Norfolk County!!! You really can't go wrong with time at Port Dover Beach, Turkey Point Beach or Long Point Beach.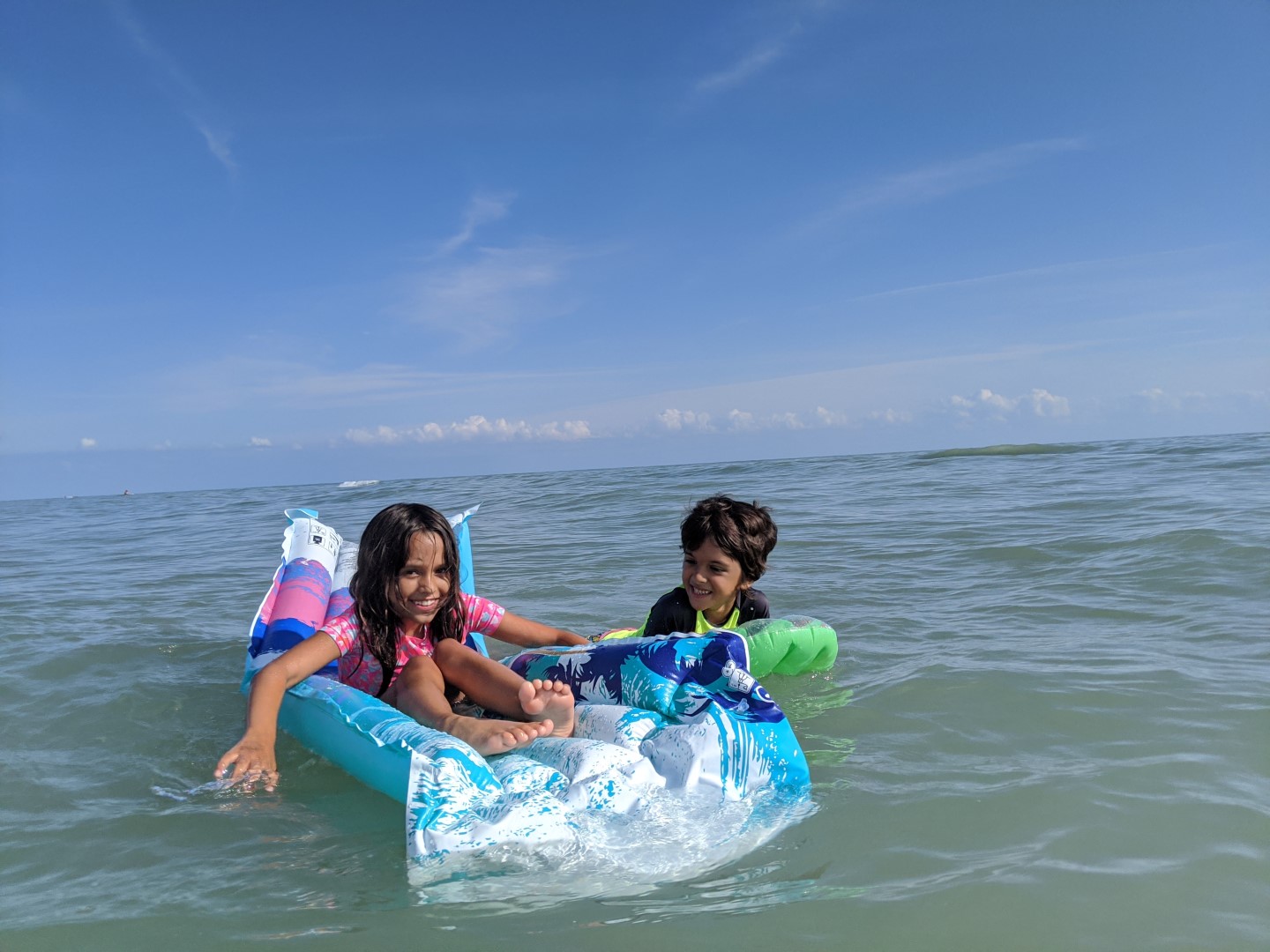 We try to get to at least two of them on each visit and last weekend's trip was no different. We spent an afternoon picnicing at Long Point Provincial Park and then had dinner at one of the Port Dover Restaurants before wandering over to the Port Dover beach with ice cream in hand. This year you can pre-book your Ontario Park permits for day use at Long Point and Turkey Point so I highly encourage you to do so if you plan to visit one of those beaches. It's also free Monday to Thursday so it's a great free activity!
Brewery Hop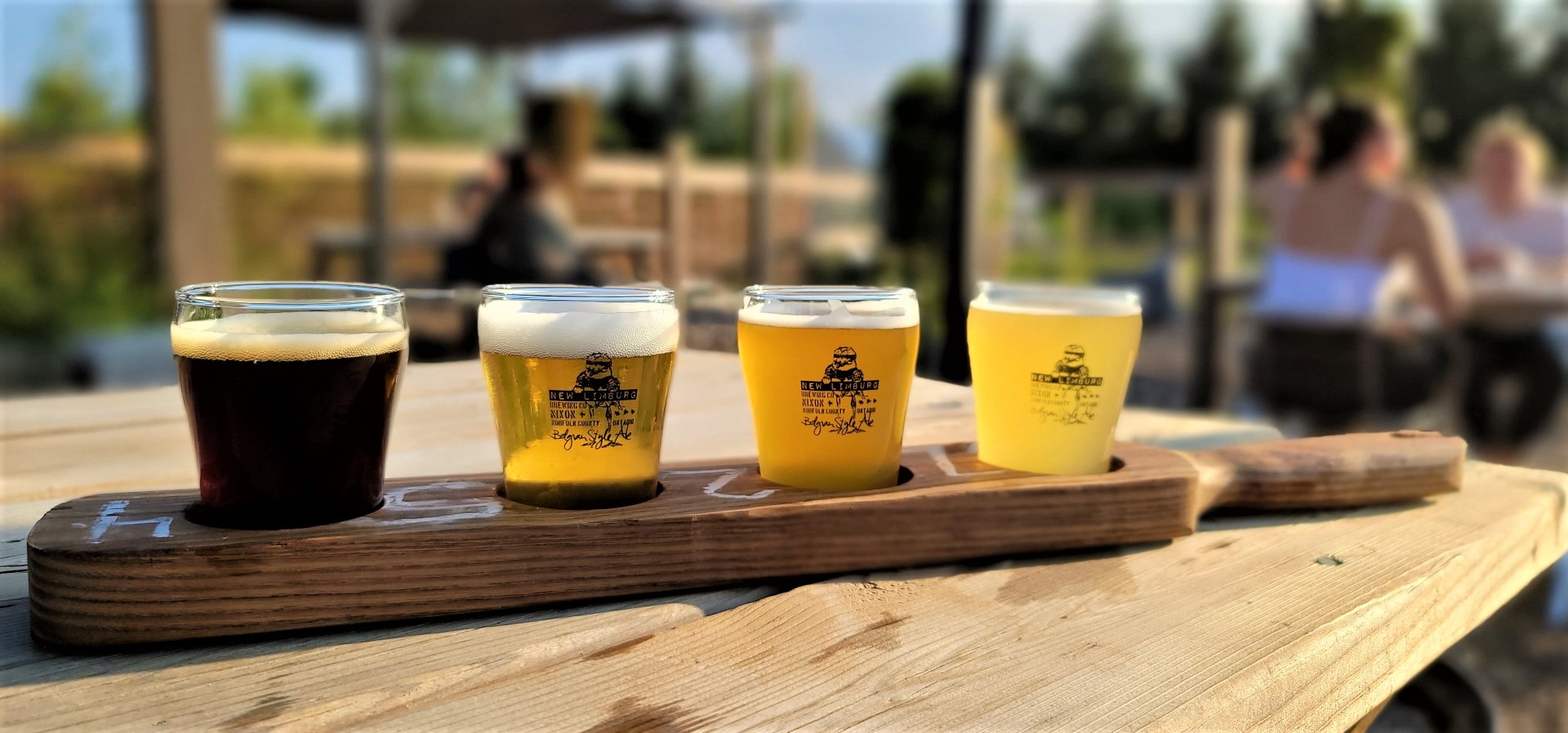 Norfolk County is home to some fabulous breweries and on each visit we discover a new one. The locals are happy to chat you up when you're at these breweries (distancing during COVID of course) and you'll learn about all the best places to visit in Norfolk County. Oh, and if you're wondering, yes we have at least 4 more spots on our list for our next visit based on conversations we had with other patrons at the various breweries we visited on this recent Ontario road trip. All these spots were very welcoming to our kids and we've been taking Akira and Apollo to some of these spots since they were toddlers!
One of our all time favourites is New Limburg brewery which is built on what was previously a school. Last summer we noticed that they had built a patio at the back and so this year we made reservations for dinner after our turbo boating session. The patio has expanded even further and there's plenty of tables PROPERLY distanced at this brewery serving up Belgian style brews. Their bistro style restaurant and patio serves up a mix of popular bar food and Dutch dishes inspired by the family's Dutch heritage. The dishes are prepared when you order so come here with plans to enjoy a few brews whilst you wait on your food to be cooked. It's all about savouring the slow life here. Obviously, have a designated driver and they have non alcoholic options too! We were STARVING after the paddling session as you can see, because we ordered nearly every dish from their menu!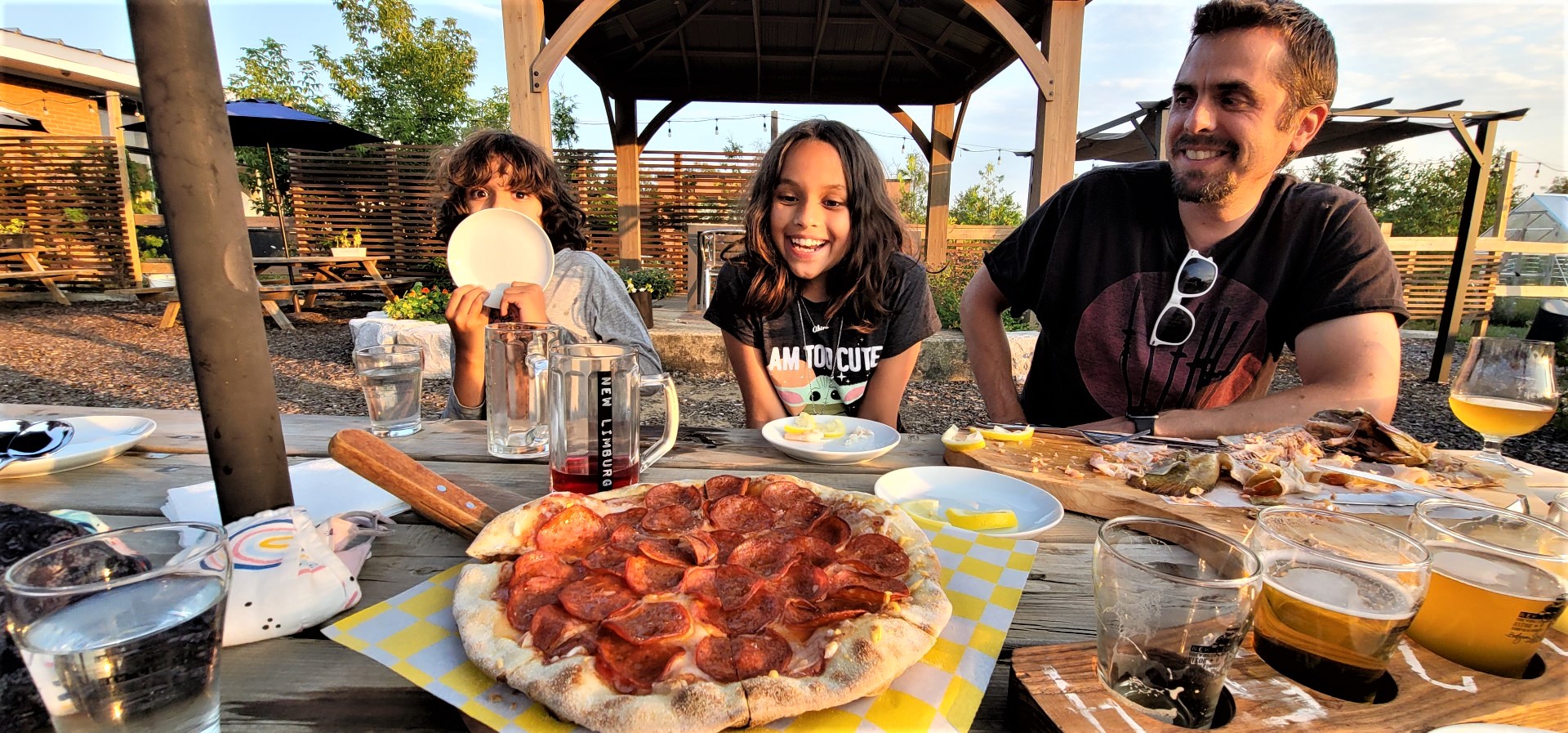 On this Ontario trip we also discovered Concession Road Brewing and even met with the owner during our afternoon visit. Although their tap room is open for indoor seating, we opted for the rustic patio at the back. Whilst I enjoyed a tasting flight of their Gose, sours and seltzers, the kids were ALL over the slushies served here. During the pandemic they have halted their food menu but are offering a few nibbles like chips and jerky.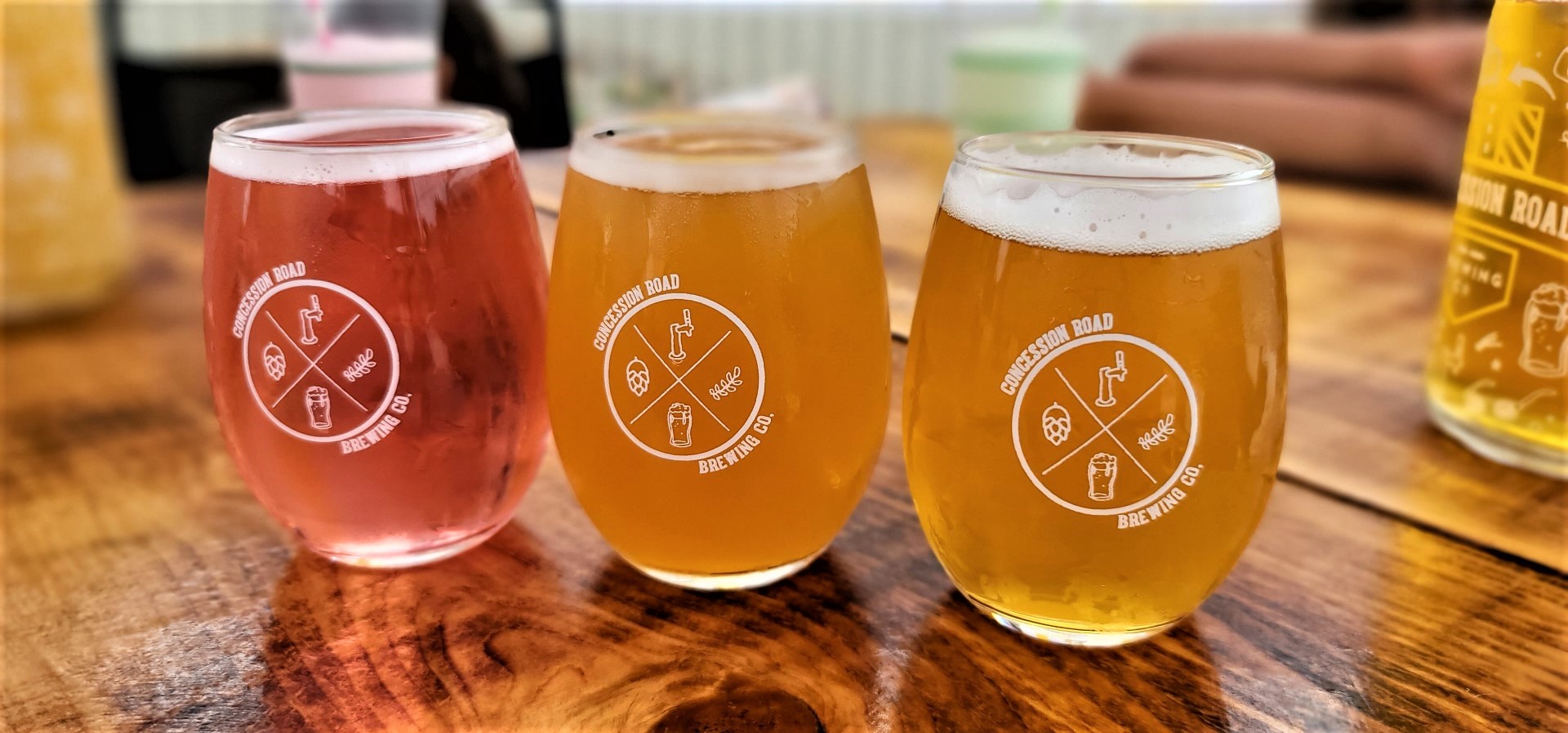 Ramblin' Road Brewery Farm was one of the first breweries we visited in Ontario and we were enamoured by how they were growing their own hops on site. Now, quite a few breweries in the area have followed suite. Don't forget to pick up some of the delicious homemade kettle chips when you swing by to sample and shop for beers here.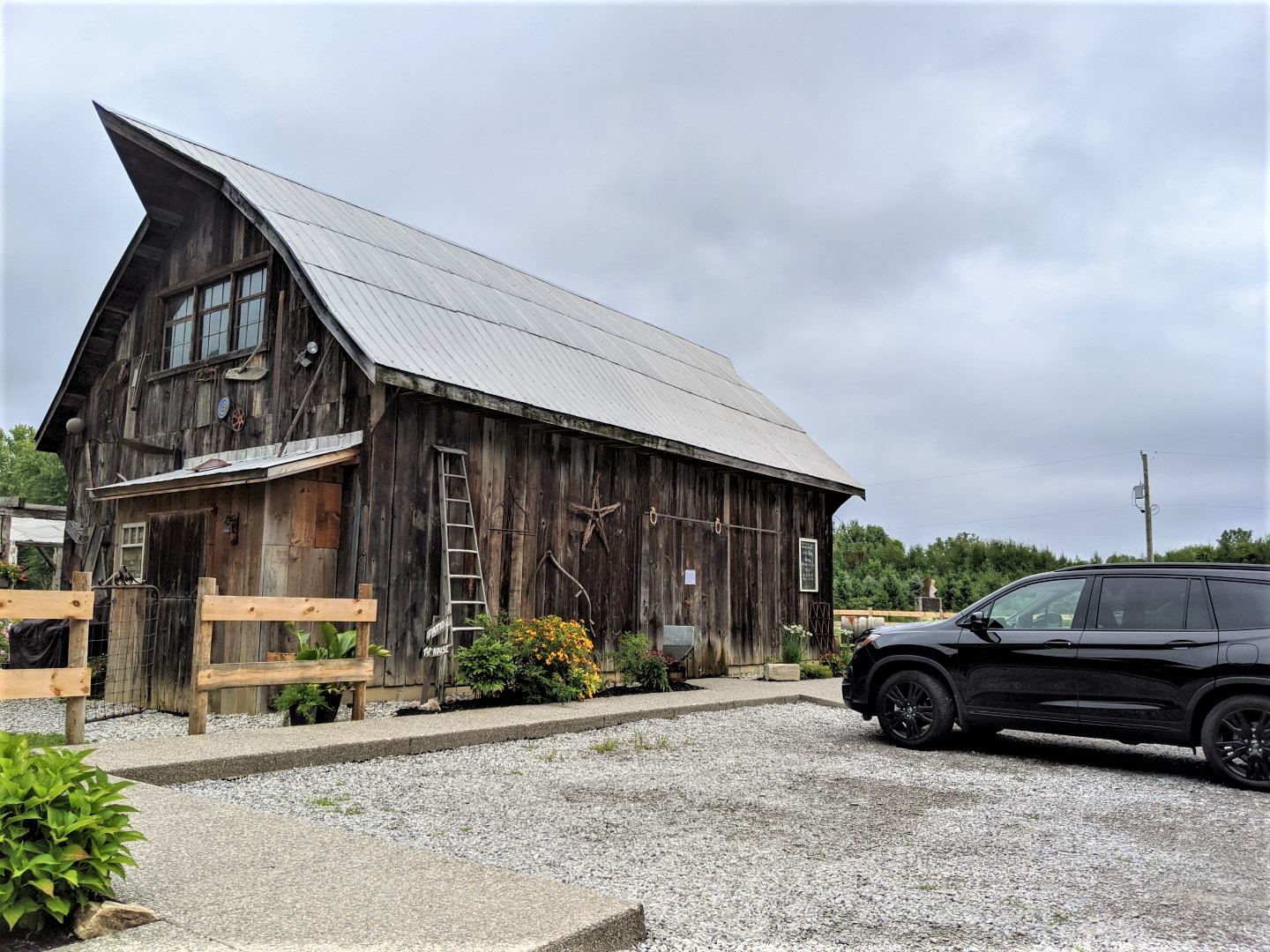 Charlotteville Brewing was a spot we discovered last year and they too have a quaint patio to sip the afternoon away at. The brewery's ethos of low-waste and environmentally friendly practices are very admirable and their beers are fantastic too. I especially like their sours and stouts.
For more Norfolk breweries, click here! And please remember to drink responsibly and have a designated driver if you're planning to brewery hop.
Run through Lavender Fields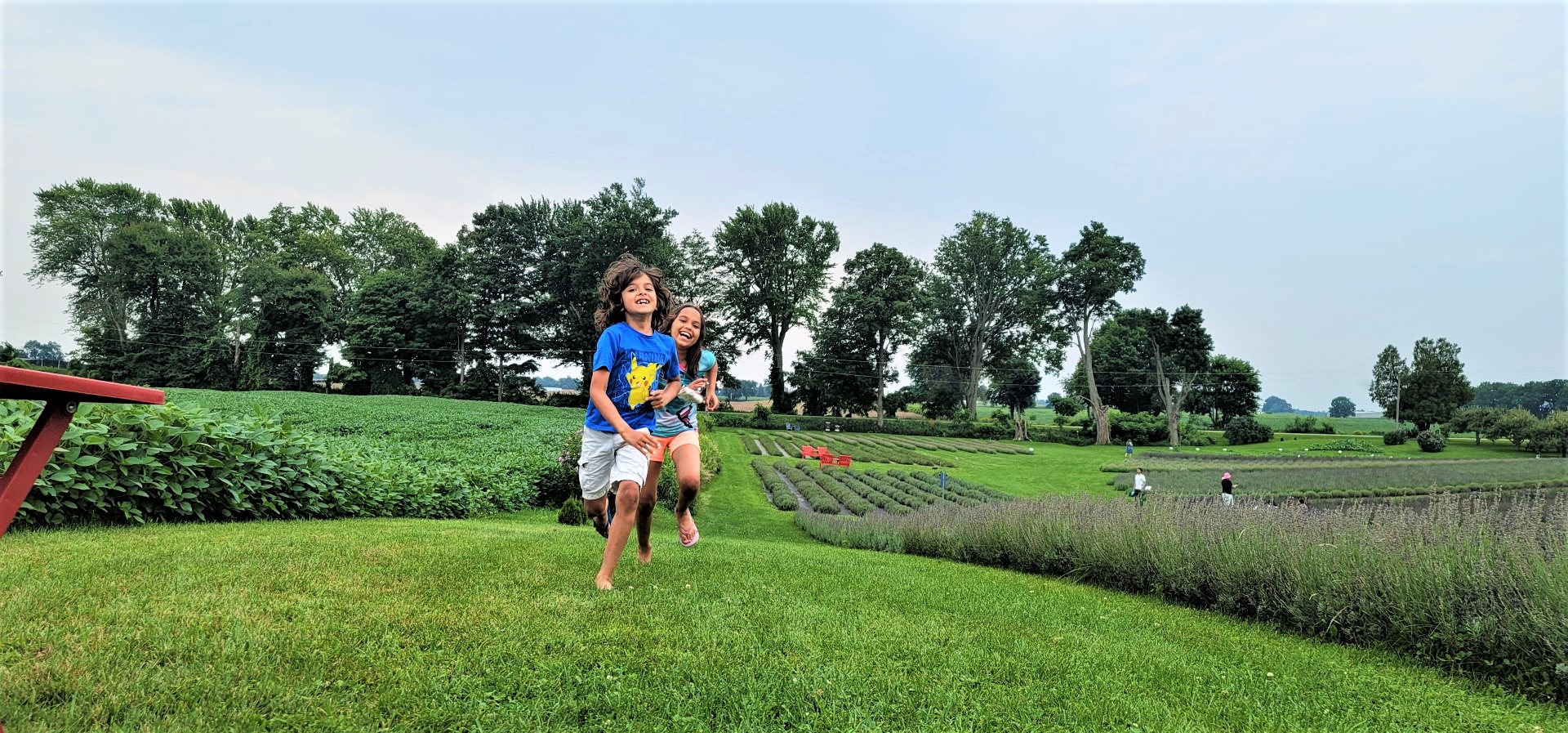 Lavender season is usually between mid June to mid August and the peak blooms usually happen in July. The two lavender farms we've visited in Norfolk County have both been so relaxing and the perfect backdrop for pictures.
During our August 2021 visit to Apple Hill Lavender, they were already distilling the lavender oils and so the flowers weren't in full bloom but we still had loads of fun at this Ontario farm. The kids ran around the aromatic fields, we got lavender treats from the bakeshop and I stocked up on my favourite bug spray. During our visit, the family was around and so we chatted with one of the sisters, learned about the distilling process from the dad and bought baked goods from the nephew. What I'm most impressed with is how they offer free admission here (yes even if you want to picnic), so be sure to purchase treats and products when you're here to support them! The fourth generation of Schooleys are currently getting ready to take over Apple Hill Lavender and it sounds like there's loads more things planned for the near future!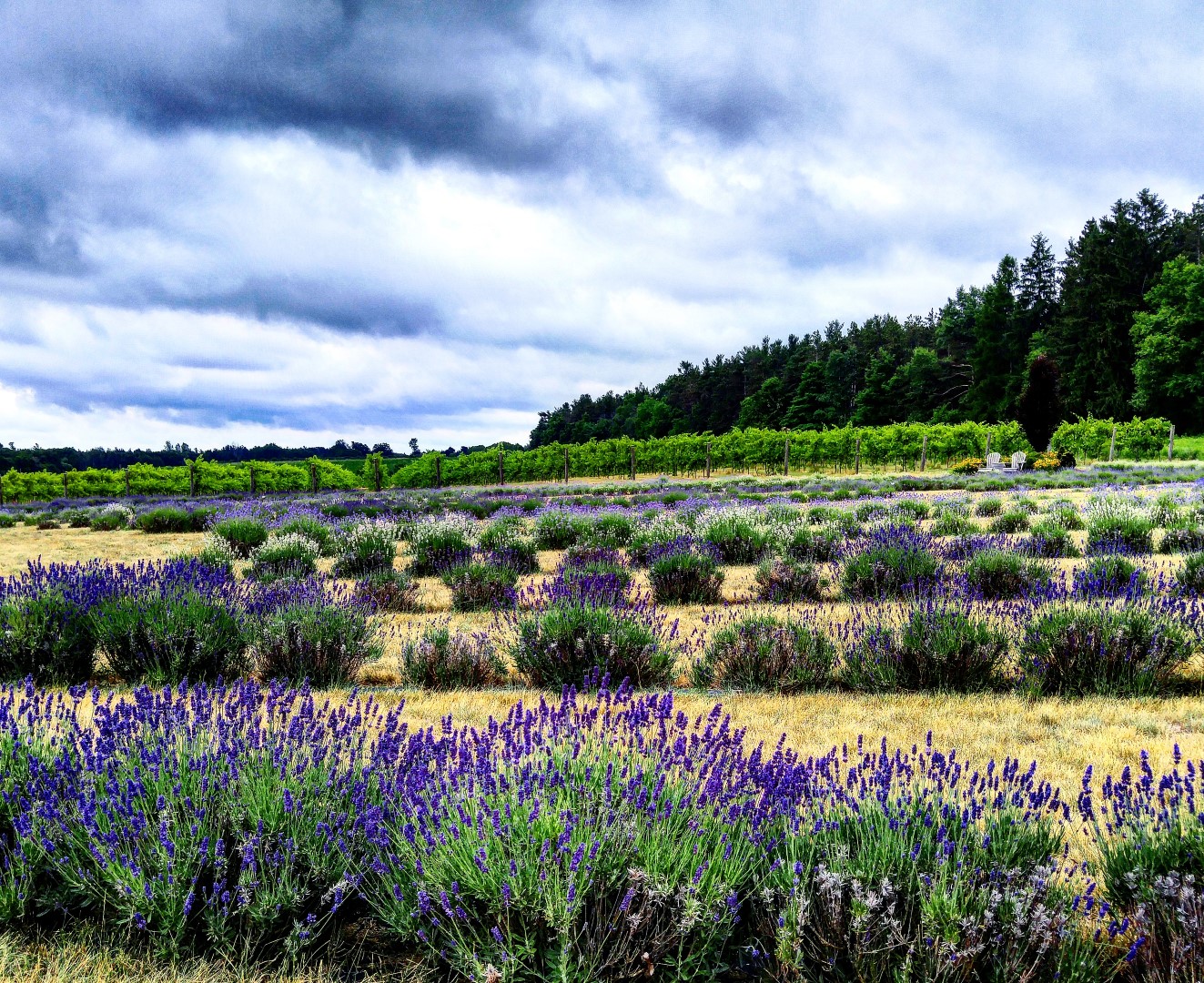 It has been a few years since we've swung by Bonnieheath Estate Lavender and Winery but if you're looking for a lavender field and a winery, this is your best bet! This year there is no admission fee to roam the fields but if you want to pack your own picnic, you can plan an instagram worthy one by paying $25 for a picnic pass. They also have wine and cider tastings here! All production is done on-site and they also have a lavender wine!
Go Fruit Picking and Drink Wine (or Lick Snow Cones)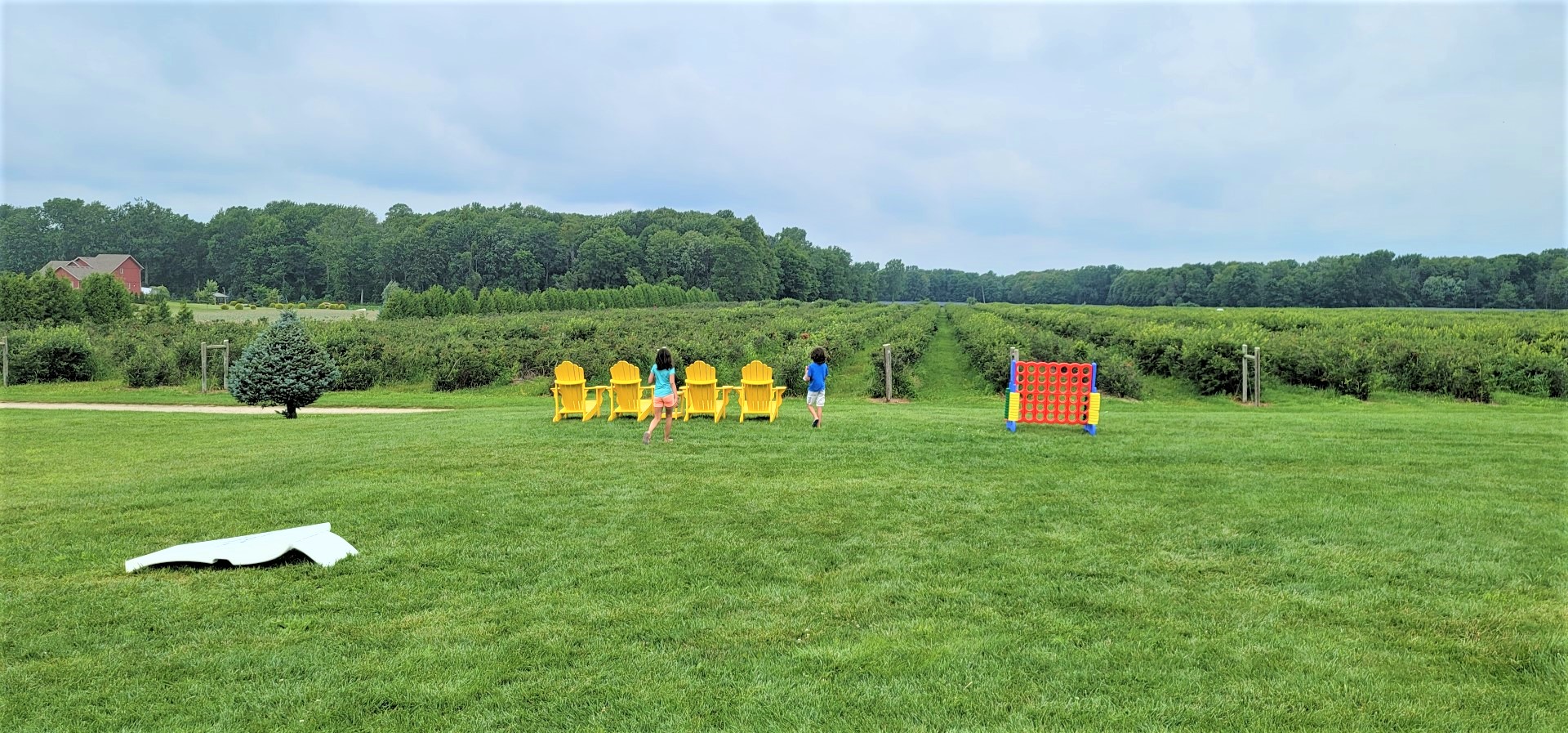 Ontario is bountiful when it comes to fruits and veggies and we've had lots of fun visiting Ontario farms with kids. There are a couple options when it comes to Norfolk farms offering pick your own options. On our recent visit to Simcoe, it was blueberry season and after a slow start to our morning we started our day at Blueberry Hill Estates. We were the only ones running through the fields plucking blueberries and putting them into the bucket they provided (it was $2.75/lb). The sun was hot and we were getting thirsty so we decided to head over to the airy and shady patio on site. The menu featured many blueberry themed items and we enjoyed Blueberry Sausage rolls, blueberry snow cones and blueberry crumble. I even enjoyed a wine tasting with blueberry icewine and a cheese pairing. It was truly a beautiful start to our day. Chris and the kids sipped on blueberry lemonade and my dad enjoyed a blueberry sangria with blueberry meatballs. The kids even took their treats to enjoy on the lawn where they were able to play giant connect 4.
Other farms in the area I hope to visit in the future include Austin's Pick Your Own Strawberries, Fruit & Vegetables and Farm Market and Depner Blueberry Farm.
Spend an Evening Exploring Port Dover Restaurants and Beach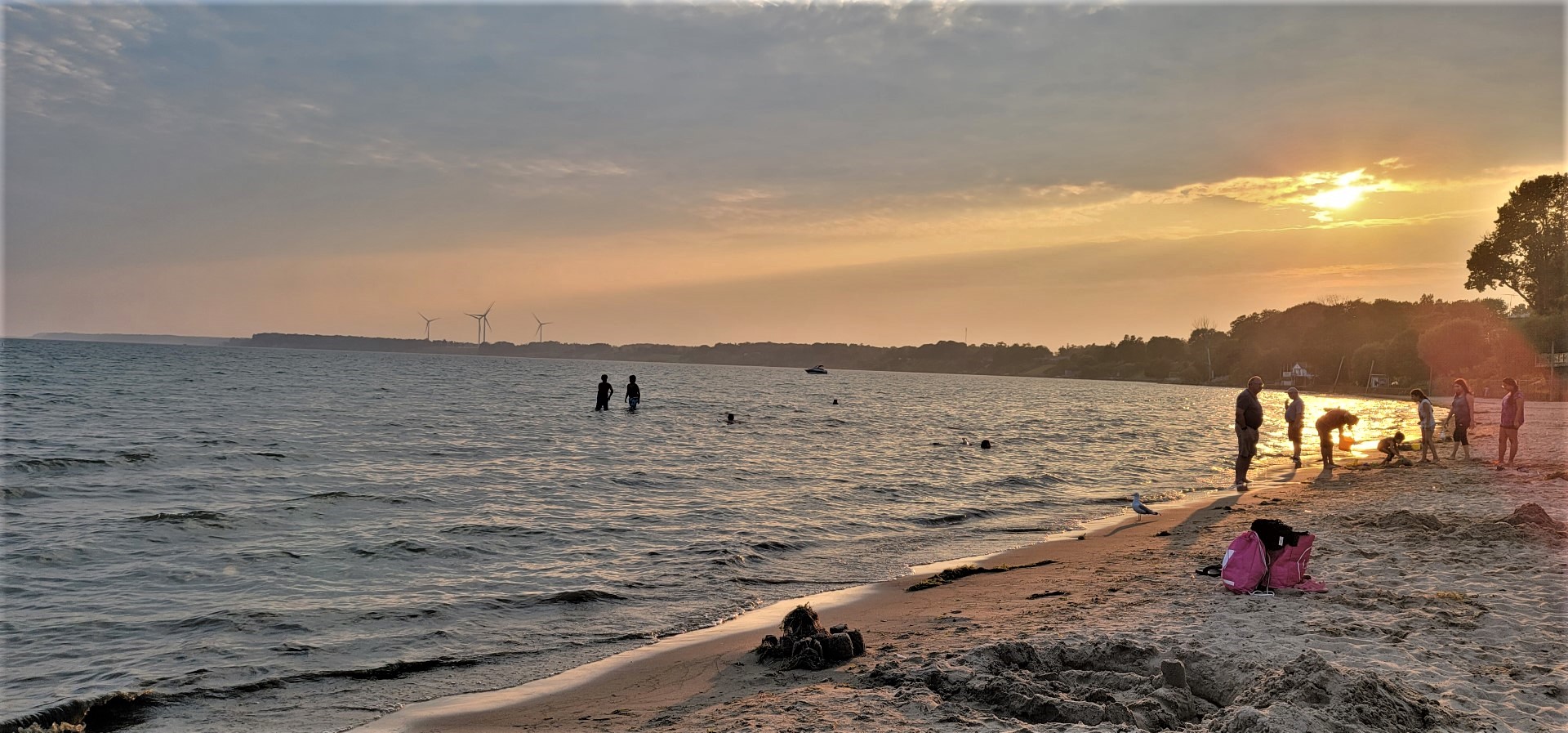 This beach town reminds me so much of the ones I've seen in movies… it's laidback, gritty and makes you forget about the stressful city life. Port Dover may be known for the famous Friday the 13th biker meet ups but there's fun here for families too. On a future trip I hope to find a cottage in Port Dover or check into one of the inns in the area. Walk along the boardwalk, rent any gear you may want for water activities and definitely enjoy the patios and restaurants here. An Arbor dog and Orange Shake is mandatory ofcourse. On this visit the patio at 211 Main was great and the food options satisfied all of our desires during our early evening visit. They have fun burger flavours and fusion items like Pad Thai and Nachos in addition to a kids' menu.
Post dinner boardwalk strolls always lead us to the beach with ice cream in hand. This time we swung by Ice Cream Tank. Be sure to ask for the dips because they are super fun.
I savoured my Nanaimobar ice cream in a waffle cone and the kids each had brightly coloured options that made them stop fighting with each other and smiling from ear to ear.
Star Gaze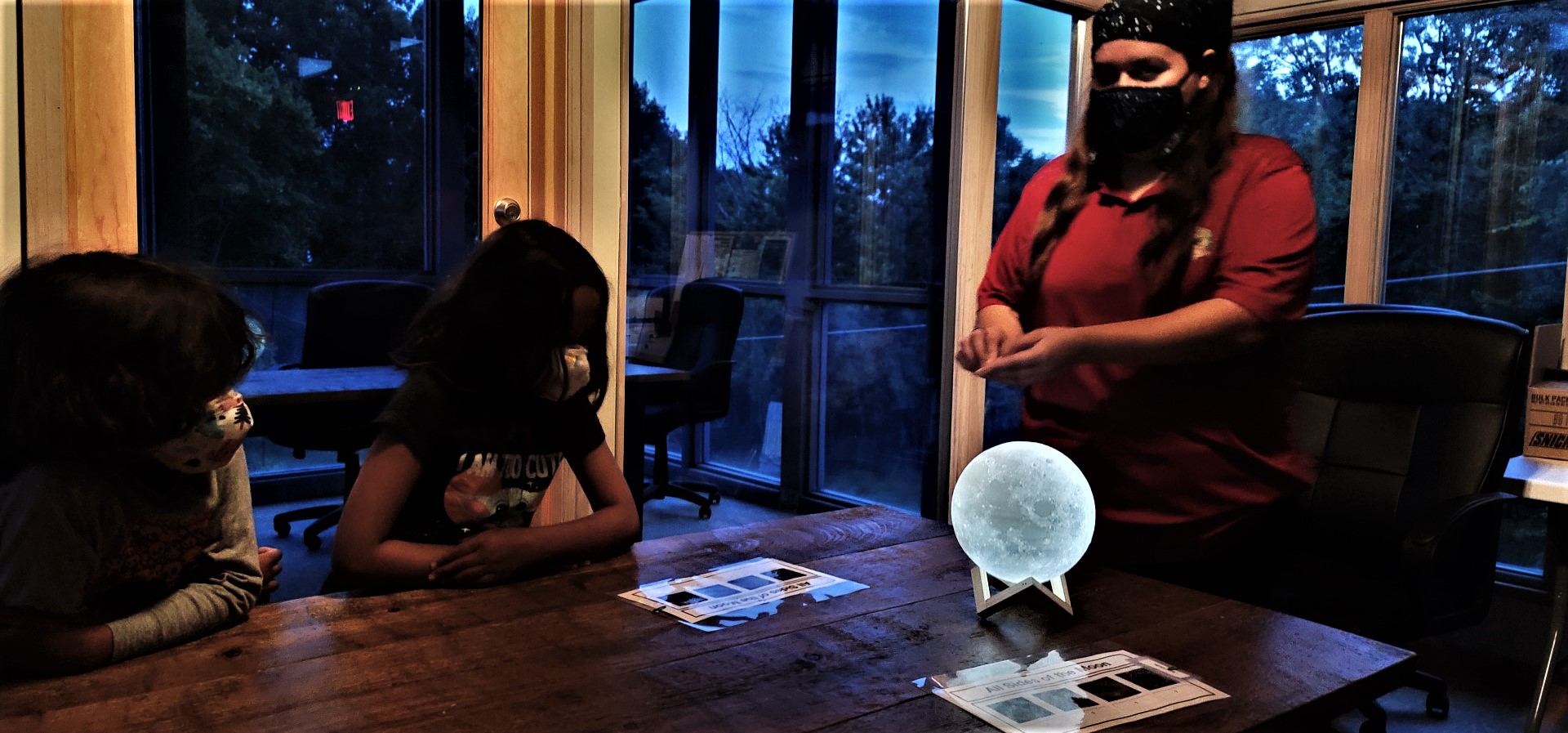 I have had some of the best star gazing experiences in Ontario in this South West region and so when I heard that Long Point Eco Adventures is offering a star gazing tour for families, I signed us up. It was $12 per person and yes, adults need to pay as well. On our visit we were the only ones and although my dad wasn't too into it, he was happy to join in. Chris and I totally got into the programing and even learned a few things ourselves. On arrival at 8:30 p.m. we were divided into teams (we opted for parents against kids) and the dark sky expert had us learning and playing for half an hour indoors (masked of course). We were then taken outside to look at the sky but our visit happened to be on a cloudy day so we didn't have much luck. Despite the cloudy end to our day, the expert made it up to us by taking us up to the observatory. Although that was not part of the regular program, it was a nice way to teach the kids about astronomy and some of the jobs in this realm of science. For adults there is a later program at 10 p.m. when the skies are much darker.
Looking for more Norfolk Inspiration?
Skip through Magical Whistling Gardens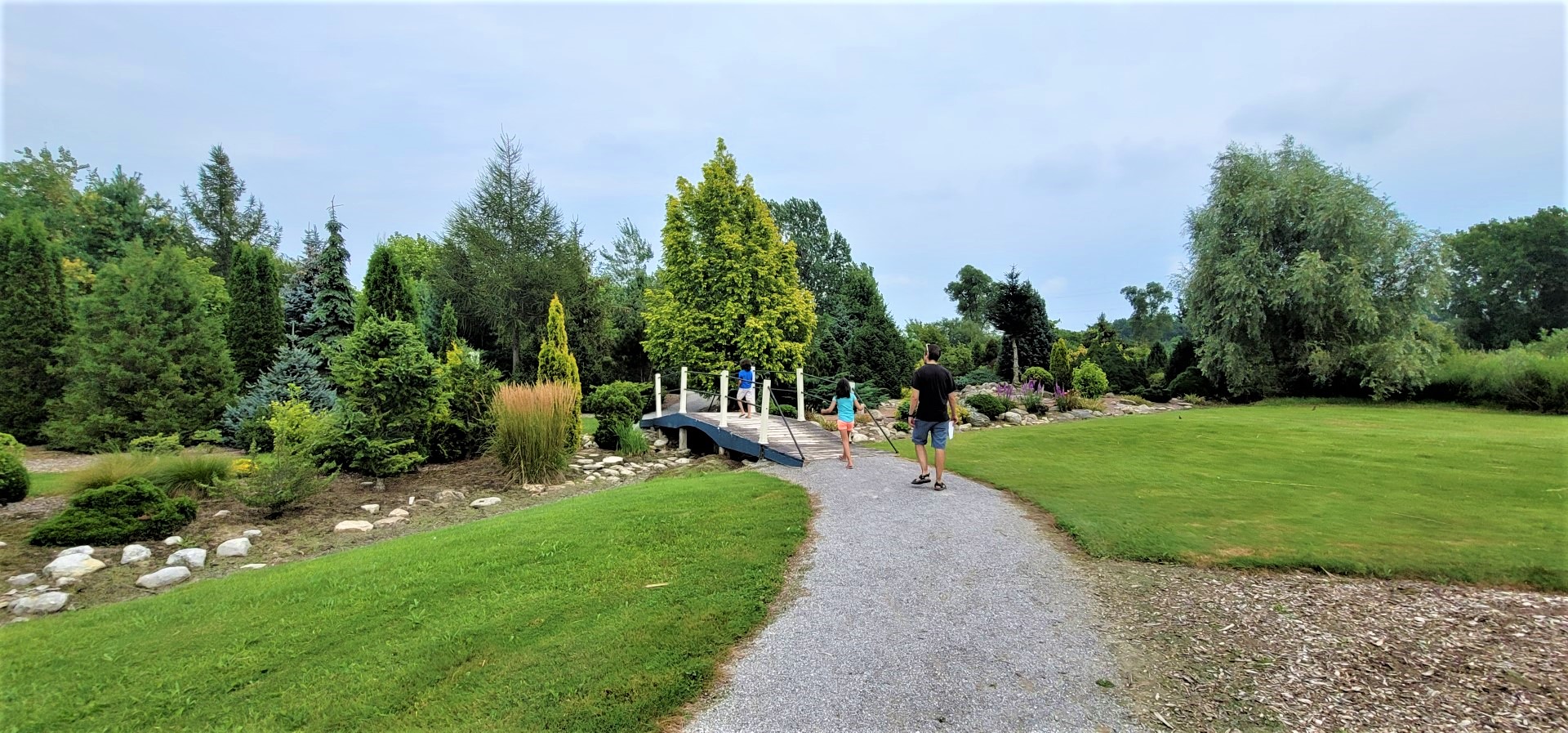 A visit here is a gardeners delight! While Chris and I are definitely not into gardening, we can appreciate a beautiful botanical garden. During our hour long visit here it felt like we were in a magical European garden. We were reminded of our explorations in Spain and France for sure! Many specimens in the collection at Whistling Gardens are the only ones in the country and also features one of the rarest plants in the world-Baishan Fir. You will also find North America's largest public Peony collection here. We happened to meet the owner during our visit who informed us that there are many future events and programs in the planning stages. I'd love to attend a live concert here, dressed to the max! They are open May to October and their musical fountains run twice daily during weekdays and 3 times on weekends and holiday weekends.
We missed this but I would recommend calling ahead to see if you can time your visit with one of these quick shows! Also keep an eye out for one of the original English Swans (yes, just like the ones in Stratford).
Norfolk County Itinerary

Day 1
9 :00 a.m. Arrive in Norfolk County and swing by some farms to pick up snacks and lunch for your paddle
10:00 p.m. Paddle the Grand River or do an alternate outdoor tour
5:00 p.m. Explore Port Dover and enjoy a lazy evening (have dinner and enjoy sunset at the beach here)
Day 2
11:00 a.m. Pick your own farm visit
1:00 p.m. Lavender farm visit
3:30 p.m. Whistling Gardens
5:00 p.m. Swing by some breweries on the way ( Ramblin' Road, Concession Road or Charlotteville Brewing perhaps?)
6:00 p.m. Dinner and beer tasting at New Limburg
8:30 p.m. Star Gazing at Eco Point Adventures (kids one starts early but there is a later one for adults at 10 p.m.)
Where to Sleep in Norfolk County
For a full list of places to stay in Norfolk County check out this resource. We have done a mix of stays and enjoyed our Beach Club experience and our cottage in Long Point on previous visit. On this very last minute trip, everything was booked up and so we ended up staying at a Travel Lodge. It was clean but very basic, as expected. If you're on a budget, it's definitely worth checking out. The staff were very friendly and they are more than happy to accommodate large families. As I mentioned earlier, my next visit is going to be spent in Port Dover to experience the beach town vibes! If you're looking for more inspiration, Ontario's South West region has plenty of ideas!