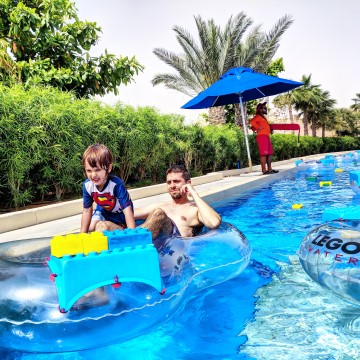 During our recent visit to Dubai with our young kids, we visited Dubai Parks and Resorts. Just like many families visiting Dubai, we had Legoland Dubai on our list of things to do in Dubai with kids. Located about half an hour from downtown Dubai, Dubai Parks and Resorts is an amusement park heaven! With four parks to choose from, there's no shortage of things to do here. Motiongate and Bollywood totally surprised us and one them should definitely be on your list! If you're looking for Dubai Parks ticket deals, there's quite a few for local UAE residents but none for visitors (at least during our visit). You could check Groupon to see if something comes up there as it's a popular site in Dubai. As always, if you have friends in Dubai, the Entertainer always has deals for many of the best attractions in Dubai, including Dubai Parks. As for getting there, my cousin drove us. You can easily get a taxi or uber there but there is also a free shuttle from various hotels and malls (only challenge is that it might take an hour each way).
Disclosure : We were hosted by Dubai Parks and Resort but, as always, opinions are TOTALLY ours! 
If you want to visit all 4 parks in one day, it's definitely possible but get ready for a jam packed day! We started at 11 a.m. and went on until 9 p.m. during our March visit. The parks tend to be open later into the night which is great for those of us who like to sleep in. That said, be sure to check the opening hours as they change each season. As soon as we entered the park we encountered a dust storm and I thought we'd have to cancel our day but luckily it was short lived and we were able to enjoy the rest of the day without any issues. I was SHOCKED that the park was quite empty during our March visit and the longest we waited for a ride was 10 minutes during our late night visit to Bollywood. Most rides we walked right to the front with no issues at all and was glad we didn't buy the Q pass to bypass the lines. At the end of the day we spent 10 hours at Dubai Parks and went on 29 rides between all four parks with two kids under 7 years of age! 
Which Parks to Choose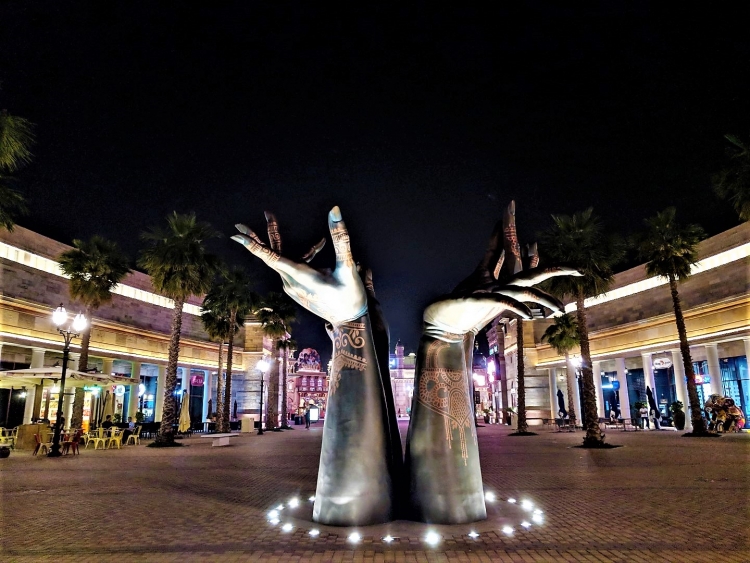 It really was a struggle trying to determine which park to visit and having done all 4 of them, we now know where to go the next time we visit Dubai! Our 4 and 6 year olds loved Legoland and Legoland Waterpark but there were some rides at Motiongate that put the widest smiles on their faces. The parks are in one place but you do have to walk a fair bit between them so keep that in mind. There are buggys that will drive you around for 10 DHS a person each way but we opted to walk (we spent about an hour walking between the various parks during the day) and save our money for food!
Height : If you have very young kids, know that many of the rides have a height requirement of 105 cm and so you'll want to check the ride requirements before you narrow down which park to visit. In general, Legoland and Motiongate have more on offer for the pre-schoolers while Bollywood rides were mainly for older children and adults.
Sunny Days : It's hot in Dubai and even in March we were DYING. I definitely remember what August was like growing up in Dubai and so my recommendation is to hit up Legoland Waterpark during those crazy hot hours in the afternoon. It's a good way to keep cool. You can find some shade in the other parks but overall, Bollywood had most of its attractions indoors (sadly it wasn't open in the morning during our visit) and Motiongate had a few indoors as well. Legoland was mostly outdoors with the exception of one of two rides and of course, the mini city.
Thrill Seekers : If you have thrill seekers they'll definitely want to spend time in Bollywood if they meet the height requirement. Most of the adventurous rides were in Bollywood and Motiongate had quite a few as well. However, keep in mind that those rides had height requirements that even our 6 year old didn't meet.
Legoland Review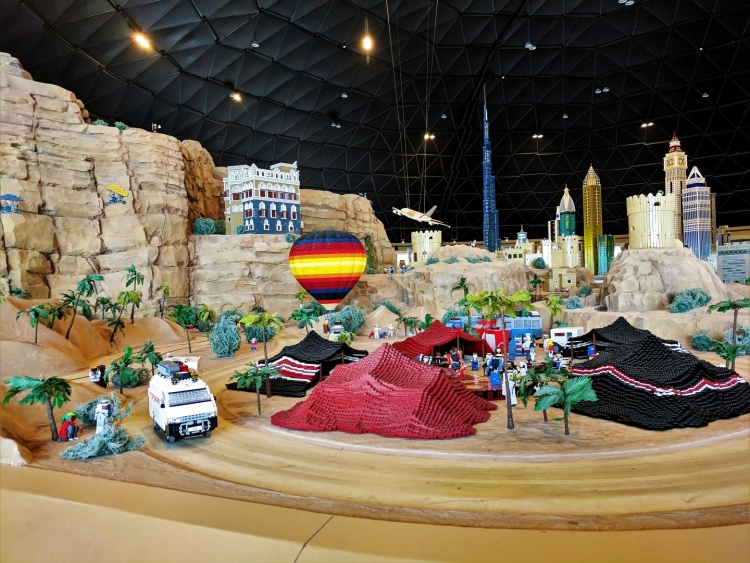 This is probably the spot most suited for the younger crowd (they say rides are appropriate for those aged 2 to 12). You can tour a LEGO factory and see bricks being made and on hot days air conditioned Miniland is the perfect way to enjoy some fine LEGO architecture. Outdoors there are quite a few rides for taller toddlers but most of them require kids to be at least 105 cm tall. We spent two hours here and went on 80% of the rides if memory serves me right. From shooting balls at each other to watching the kids driver around their own little city, Baby Boy had a blast.
Legoland Waterpark Review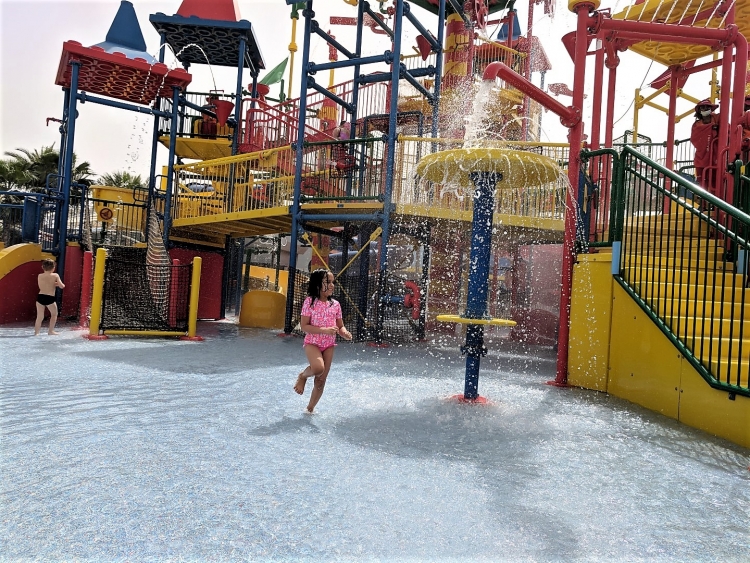 We spent two hours here despite only half of the park being open during our visit and could have spent more if we had the time. There are lockers but they're quite small and since it wasn't that busy we took our bags with us and left them on the lounge chairs near the attractions we were at. We had also brought our own towels so we didn't rent any of them either. There were enough slides to keep the 6 year old happy but the 4 year old was disappointed that he couldn't go on many of the rides. Luckily for Baby Boy there were some family rides that he was able to go on as long Chris or I were with him but they weren't too many. Given the hot sun we were thrilled to be in the water!
Riverland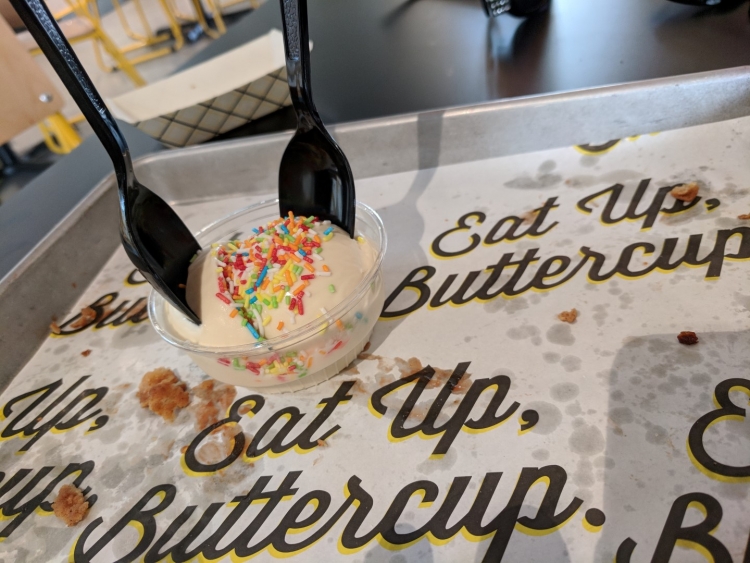 Each park had a restaurant on site but we decided to walk through Riverland for a late lunch. You cannot bring ANY food or drink into the park and before you enter each park there is a thorough search of your belongings. I had an orange at the bottom of my bag that went unnoticed but obviously that didn't hold us over all day long! We swung by a Mexican spot (Tortilla) for our lunch and a fried chicken joint (Super Chix) for the kids and while neither were mind blowingly good, they did taste good and wasn't overly pricey. Plus the kids meal came with ice cream and that helped keep all whining at bay and enabled us to spend an hour unwinding under the a.c! Riverland is quite pretty, especially at night and you can roam around Riverland without buying tickets for any of the parks.
Motiongate Review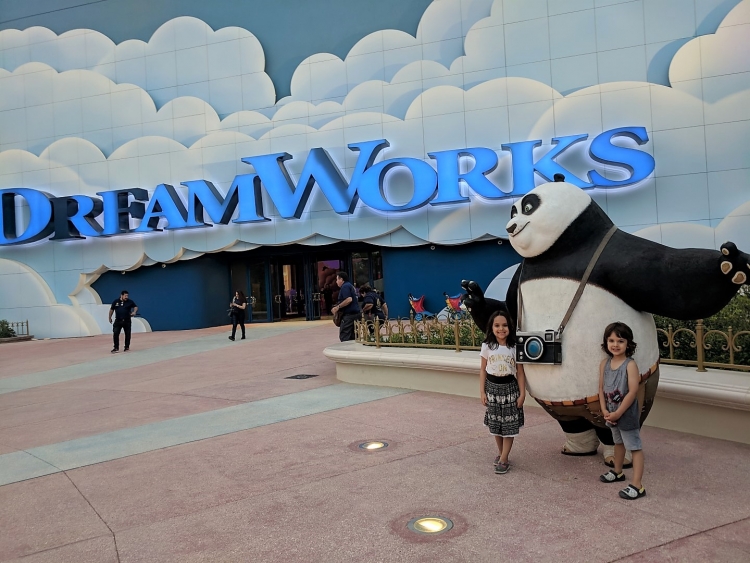 This is hands down my favourite theme park! It reminded me of Universal Studios a bit (my happy place) and movie lovers will absolutely love it here. We spent 3 hours going on various rides and didn't even do half of them. IF I had to choose JUST ONE park, this would be it because there are so many different areas within this one park. You have the Smurfs Village, Lionsgate, Dreamworks and Columbia Pictures. Each of the studios have their own rides and attractions with many of them being movie themed. Luckily for us the kids knew a fair number of them. Shrek, Kungfu Panda, Ghost Buster and even 2 Hunger Games for the parents (but kids were able to ride one of them) awaits you here!
Bollywood Review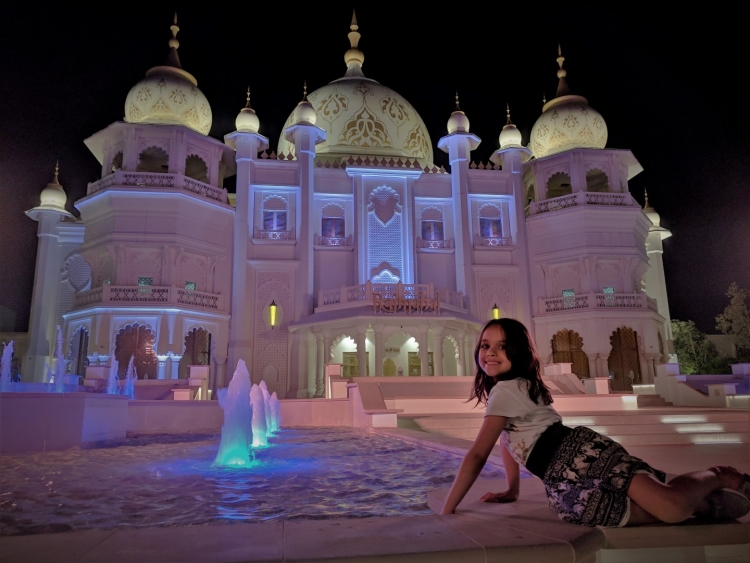 This was our last stop and it was so colourful and energetic that I wished I had the energy to go on more than one ride here. Everything is indoors and air conditions so this would be a fabulous spot to escape the heat during the afternoon. From what I saw, most of the rides here were a bit more hardcore in terms of intensity of the rides. We went on the Shah Rukh Khan one which was awesome technology wise and full of fighting (it's Bollywood after all). Of all the parks I'd say this one had the least on offer for the very young ones as far as the rides were concerned. Tiny tots will love the decor and the impromptu dance opportunities that's for sure!
If you're looking for things to do in Dubai with kids, Dubai Parks and Resort is definitely one that will entertain the entire family!
Looking for more ideas for your visit to Dubai with kids? We have more suggestions!  Click through!