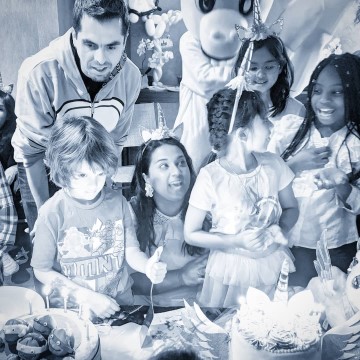 This weekend we celebrated an 8th and 6th birthday with 60 of our closest friends and family. Little Monkey wanted an Unicorn Birthday party and Baby Boy wanted a Teenage Mutant Ninja Turtle theme so we ended up with a Magical Cowabunga party which confused some and brought a smile to others. Today I thought I'd share of the easy ways we brought in the Unicorn themed party to life in our friend's downtown Toronto condo party hall. Before we proceed I want to thank all our friends and family who helped us out BIG TIME on the day. Especially those in the kitchen with my mom! They say it takes a village and each year, our village rises up to help us put on a birthday bash the kids won't forget and we're very luck for that.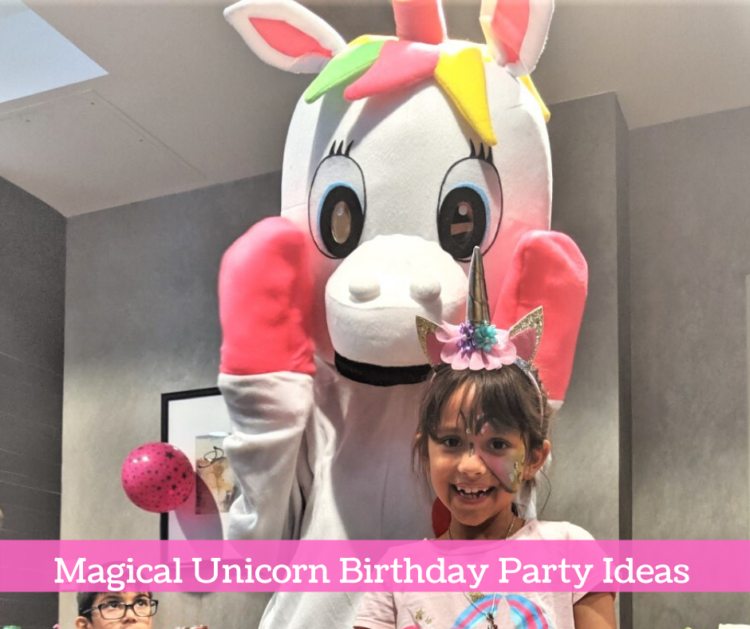 Unicorn Decorations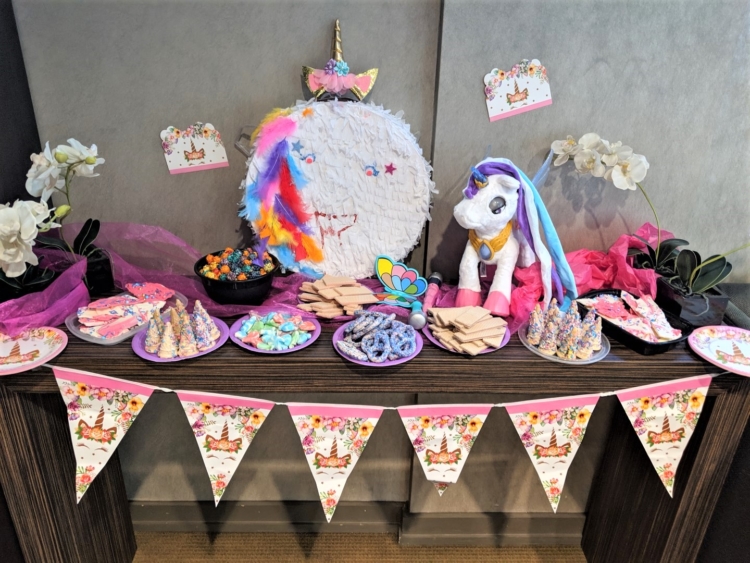 Balloons : This was an easy choice for me as Illooms has some cute light up balloons which we discovered at last year's Ghostbusters birthday. I purchased some cheap plastic balloon sticks from the dollar store and used those to blow up even the "helium" ones. They were a bit difficult to stick on to the condo party walls but worked well on the mirrors!
Invitations : I had ordered the invitations (along with cups and plates) from Ali Express but they only arrived the night before the party so we used them to decorate the walls! Better than wasting them, I figured!
Pinata : During a recent Xbox event the kids had an opportunity to design their own pinatas and I took the chance to inspire Little Monkey with the idea of a Unicorn and that was one of the focal points of our unicorn treat table! Now, I know that the lips look a bit menacing, but Halloween is nearly here and so we thought it fitting (especially given Little Monkey's love for all things scary).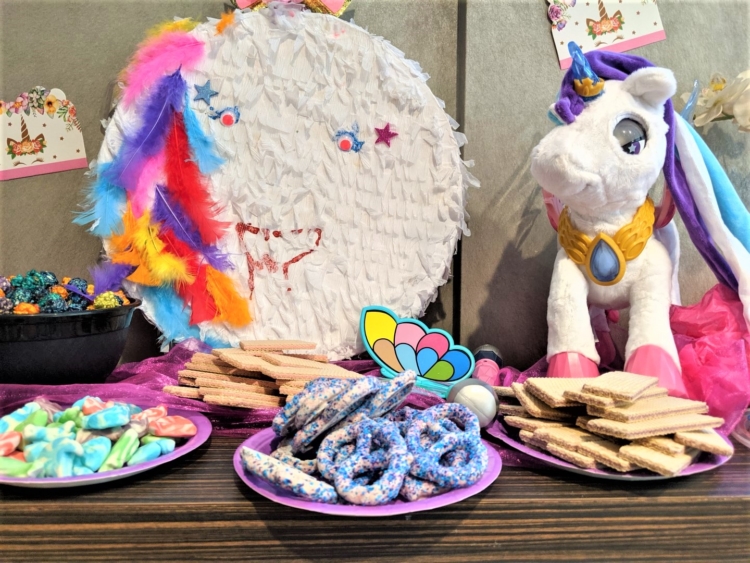 Myla the Magical Unicorn : This cute Vtech Unicorn was the perfect guest at the treat table. We left the wand out so the kids were able to play with her towards the end of the night. This colorful robotic unicorn toy glitters with lights as she talks and sings when kids play with the wand and mic that came with it.
Unicorn Entertainment 
I have never had official entertainment at our parties but this year Kammazing Events in Toronto reached out asking if they could help bring some additional smiles and so I said yes. It was the best decision ever because  I didn't have to entertain the kids this time around. If you're hosting a kids birthday party in Toronto and looking for kids entertainment, check out Kammazing. We had a face painting lady and a balloon twisting lady for 2 hours and I had a chance to actually sit down for a few minutes! Little Monkey's favourite part was when a Unicorn Character visit took place in downtown Toronto. The Unicorn gave high-fives, took pics and sang happy birthday with us which was definitely one of the highlights of the evening.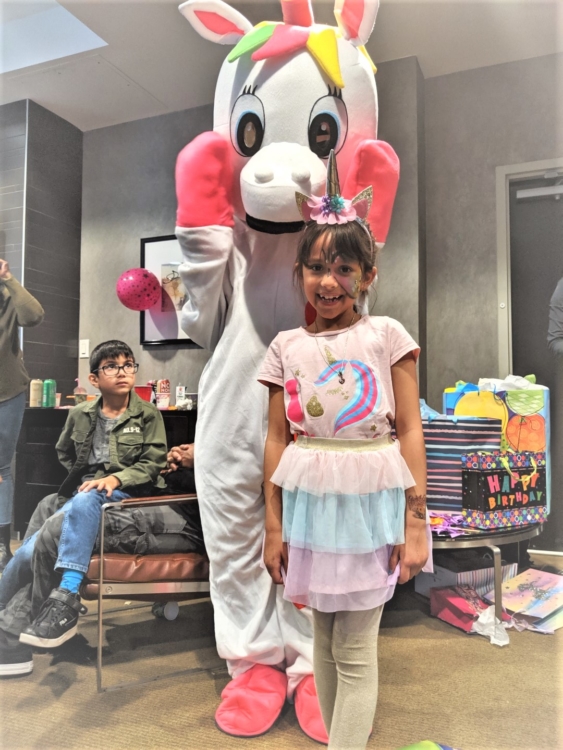 Unicorn Themed Food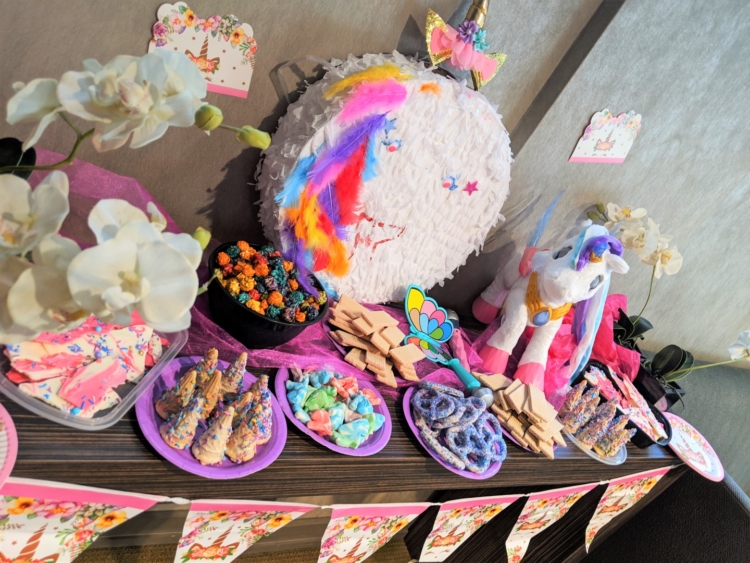 Unicorn Pizza : We ordered a basic cheese pizza and dropped some food colouring to make it look like a rainbow. My original idea was to dye some additional cheese and melt it again in the oven but time ran out and I went for the easy solution!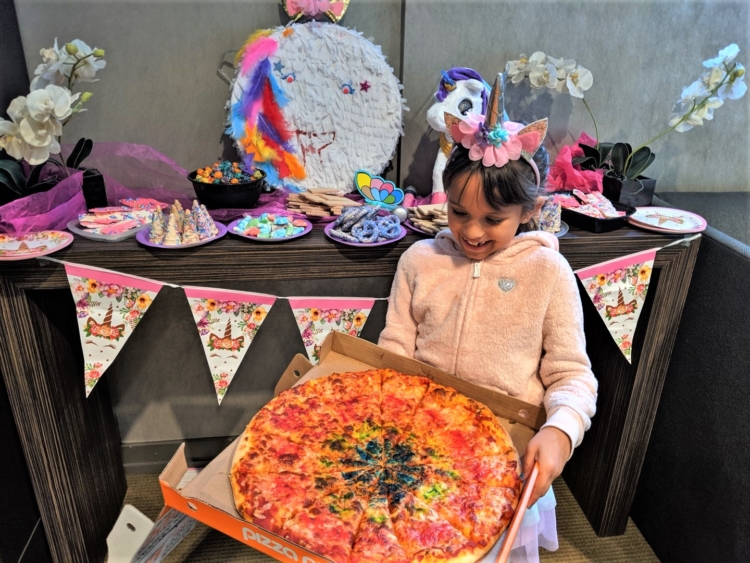 Unicorn Horns : This was a fun one to do. We bought some mini wafer cones and then baked some brownies in them. It was hard trying to find a "stand" to bake in but our vegetable grill mat for the BBQ worked like a charm. Once they were out of the oven and cool, we dipped the cones in melted white chocolate (bought white chocolate wafers from Bulk Barn and melted them on the stove in a double boiler setup) and then sprinkled purple and pink sprinkles which we also purchased at Bulk Barn.
Unicorn Rice : It wasn't easy finding savoury unicorn food ideas but dying rice and spaghetti was an easy one. We opted for rice because of the Afghani food we served for the adults but this would work with fettuccine as well. Boiled rice was separated into three bowls and we kept one white/plain while each of the others had either blue or pink food colouring dropped in. It was an easy one for sure!
Unicorn Bark : This was very easy to make thanks to the white and pink chocolate wafers we picked up at Bulk Barn. We melted each colour separately and then drizzled them on top of wax/parchment paper before adding sprinkles. Once it cooled, we broke chunks of chocolate and it was good to go!
The treat bar was placed in the front room for the kids to grab what they wanted but in the kitchen we had a full spread of Afghani food we ordered from Kabul Express. It was an absolute hit and despite ordering enough for 20 people, we fed 30 adults and a few kids.
Unicorn Cake
My mom slaves over the party cakes (and she makes two, one for each grandchild) and goes 48 hours without sleeping because of her need to make things perfect. This year I thought I would make things simple for her and ordered the unicorn cake attachments from Ali Express so that all she had to do was bake a cylindrical cake and add fondant to it. Well, she took things further, added flowers and enlisted the help of a few neighbours to add "unicorn hair" (cotton candy) to make it look like the perfect Unicorn cake. She used a similar technique to the Sri Lankan Ribbon Cakes we made!
Unicorn Drinks
Unicorn Mocktail : We served pink lemonade in a unicorn cup (Ali Express purchase) and the surprise was when I dropped some blue cotton candy into the cup in front of the kids! They went CRAZY over it!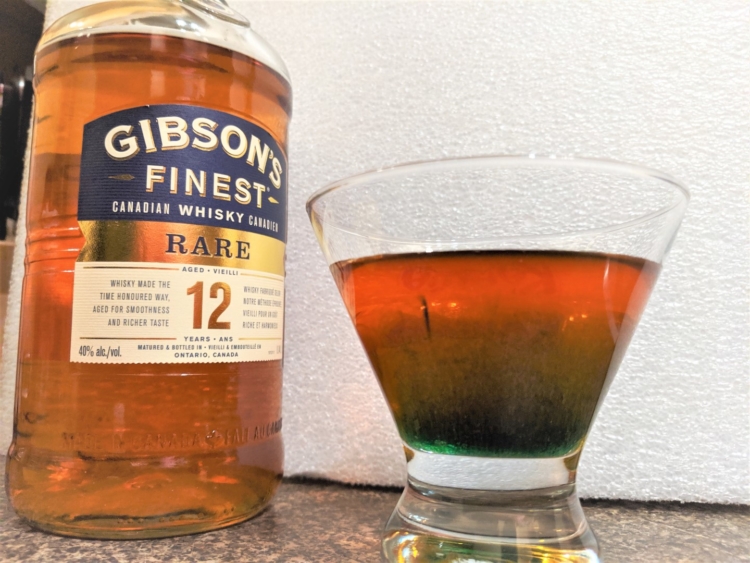 Unicorn Cocktail : For the adults we served the lemonade with a drop of Moondog bitters and two ounces of Gibson's Finest Rare 12 Year Canadian Whisky. we received as a gift. Of course, to balance things out we dropped in some cotton candy which gave the drink a pretty layered look and brought in some sweetness to balance out the sourness from the lemonade and it blended beautifully with the vanilla notes of the whiskey.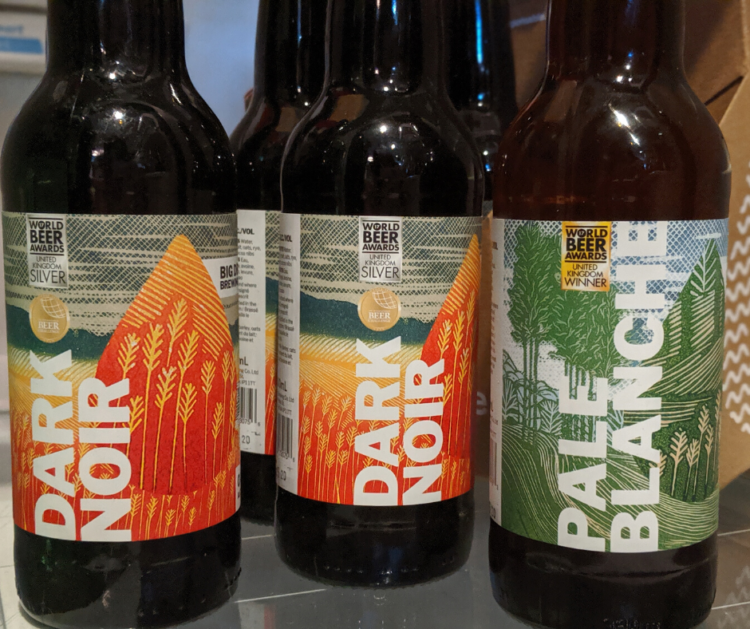 Non Alcoholic Beer : While we did have a couple craft beers on hand, since Chris was running his marathon the next day we also had some craft non alcoholic beer from Big Drop Brew which we had received as a gift. I was surprised by quickly these disappeared and I think it's because unlike other non alcoholic ones, the Dark Noir actually tasted like a stout and the Pale Blanche like a pale ale. Will have to try the Citra IPA and Sour one soon!
Unicorn Loot Bag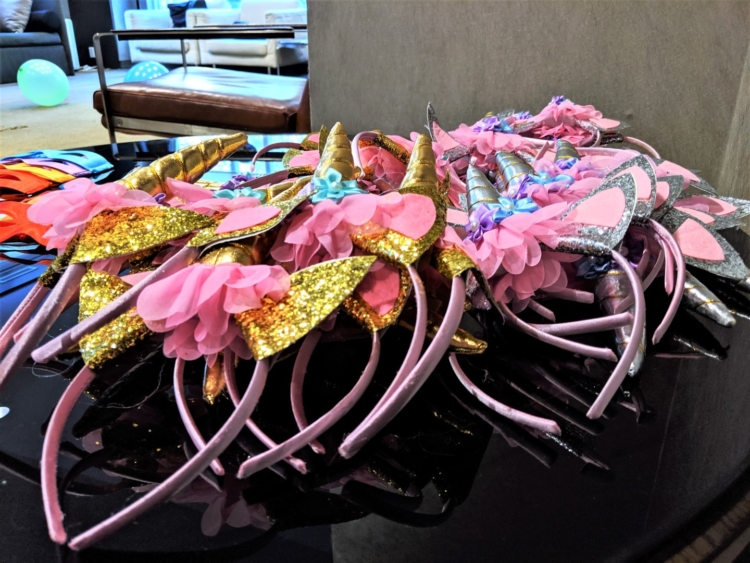 Given that I am SO NOT A FAN of loot bags (much to chagrin of many kids, including my own) I always have an edible giveaway. This year my mom made cake balls which we call "unicorn cake balls" and our friends at Vtech also sent us a bunch of unicorn headbands which were extras they had from a previous event. Kids received a headband on arrival which they got to keep and at departure they received a cake pop as well. The girls were thrilled with these items, from what I saw!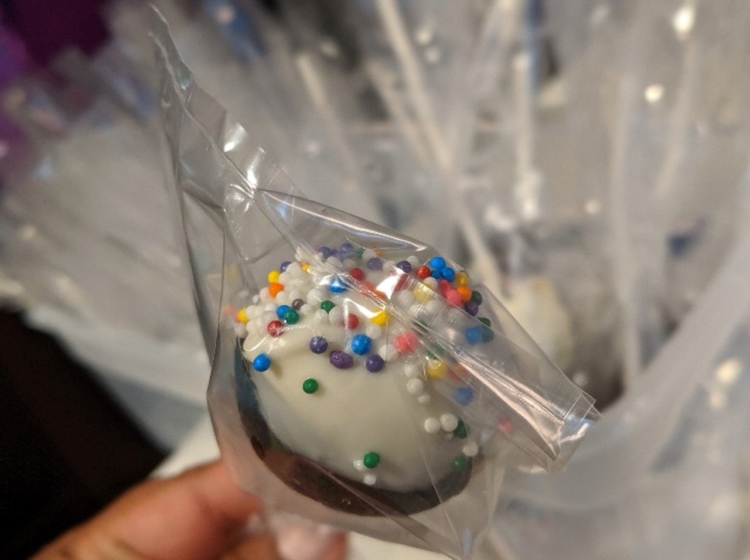 Planning a kids party is fun for me but I'm realizing how much more chaotic it gets each year as they kids grow older. At the end of the party Little Monkey told us that she had "zero fun" because the boys were fighting with the girls and that next year she wants a party without any boys. I told her she can have a small party at home with a few friends if that's the route she wants to go, because there's no way I have the energy to host two birthday parties for each of the kids! If you're looking for some easy unicorn birthday ideas, I hope this has inspired you. Let me know of other ideas you might have!