Paris the city of love, good food and great wine. We decided to spend two days exploring this lovely city on our way back home. The last time I was there I was about 8  years old so this time around I  planned to make the most of it. Yes we hit the famous tourist spots but we also explored the city, eating whatever we came across. I usually  rely on  Trip  Advisor to direct us towards the best joints in the city, but this  time we had to rely on our instincts to guide  us to places as we didn't have internet access. I  was also unable to enjoy the fine wines to my hearts content because the silly hotel we stayed in didn't have a 110v outlet  for me to use the precious baby pump which is one of my all time favourite travel items (with reason!). So here's a recap  of what we ate, mostly these were  places  that accepted credit cards (banks weren't  open on Sunday for us to exchange money) and were baby acceptable. I wouldn't say baby friendly because Paris seems to be a city that tolerates babies but not really embrace them. Not one friendly face asking about the baby. We didn't see one child under the age of 2 outside either.  I'm guessing that French babies are kept hidden till they are of an acceptable age.
Croissants and  Baguettes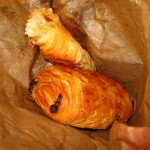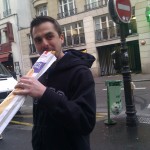 We enjoyed many croissants and 'pain du chocolate' and they were  all delish, no matter where we picked them up from, the bakery, a subway stand or a fancy restaurant. As you can see we did enjoy eating baguettes straight up in the middle of the street, no shame. Don't judge.
Macaroons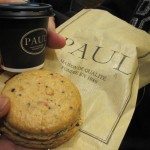 PAUL is a chain similar to Starbucks and they had some pretty moist yet crumbly macaroons. I enjoyed a coconut macaroon while walking  down the Champs Elysée. The hubby had an espresso, the cups are  just so darn cute! The eclairs looked devilishly good too but I thought it best not to over indulge as we were en-route to dinner.
Pizza Dinner and Crème  Brûlée 
We stumbled upon La Perla, an intimate cafe that had some amazing pizzas. Paired with a glass of Bordeaux (well timed between feeds as per guidelines) and capped off with some decadent crème  brulee. I'm a bona fide snob when it comes to this particular dessert and even I  will attest to the fact that it is by far one of the best I've had. You'd be surprised, Paris has a pizza joint at every corner, you'd think you were in Italy and not France!
Fries, Sandwiches and Meaty Antipasto 
We found ourselves constantly needing a  place  to breastfeed the Little Monkey and we always opted  to nip into a cafe, just so that we could also feed ourselves at the same time. We  couldn't resist having some "French fries" our first day in  Paris (they're just called Fries in France a co-worker pointed out). They were quite good indeed! Many a pâté sandwich was  had and they were all quite finger  licking good. Just before you enter the Louvre there is a fantastic looking food court in the mall, there we had a quick Spanish plate of  curried squid, scalloped potatoes and chicken paella. The best pit stop was at  Le Sarah  Bernhardt where we enjoyed a very filling meat (cured meats, saucisson sec, chicken pâté)  and cheese platter. The French know how to bake bread! Not once did we have bad, tasteless bread.
Traditional French Dinner
Our last night we found ourselves charmed into a tiny restaurant (L'Auberge du Moulin)  by the owner who was standing on the street reeling people into his establishment. A shrimp cocktail salad for starters, three cheese fondue (with bread and potato for dipping) and beef Bourguignon for the entrée and cheese for dessert. We did find it odd that the dessert cheese was served with salad. The best  part of this meal was  the fact that I did not have to share any of the cheese dishes as the husband is NOT a fan of any sort of unmelted cheese. Yay for me!
Yes I cannot believe that I left Paris without having a crepe and an éclair. I suppose one must leave some items for future visits right?