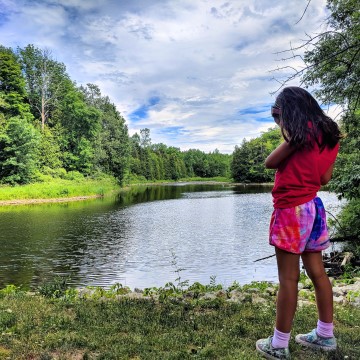 One of our missions this summer is to explore more of Ontario and so the weekend before school let out for the summer, we gave the kids a taste of what's to come this summer. We have quite a few road trips with our kids planned over the next couple of weeks and most of them are within Ontario. Last week I told you about how our previous visit to Blue Mountain in Grey County inspired us to explore more of the county with a stay at Coffin Ridge Winery and today, we're going to share with you some things to do in Owen Sound with kids. It's all about being outdoors and getting city folks like us excited about spending time embracing mother nature's artwork. As much as we love roaming around downtown Toronto, there's something to be said about taking our kids into caves, on hikes to waterfalls and provincial parks. There's a carefree-ness that has set the tone for our summer plans. If you're looking for road trip ideas from Toronto and you'd like something in the Blue Mountain area, you may want to look at Owen Sound! The city is mostly known for its festivals such as the Festival of Northern Lights, a large Christmas lights festival but it's also home to many waterfalls and parks to run through. Between the waterfalls and the beaches, I am surprised more of our friends don't head towards Owen Sound during the summer months.
Disclosure : This post is in partnership with Visit Grey Tourism but, as always, opinions are TOTALLY ours! 
Things to do in Owen Sound with Kids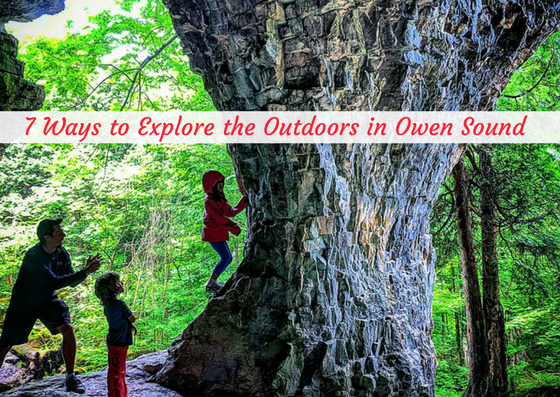 Our 2.5 hour road trip from downtown Toronto brought us to an area where we could let the kids run around and be kids. There was no "sshhh-ing" or "stop asking so many questions" because the spots we visited in Owen Sound allowed the kids to be wild and curious. If you're looking for a quick road trip that you don't need to bring your ipads along for, this one is for you!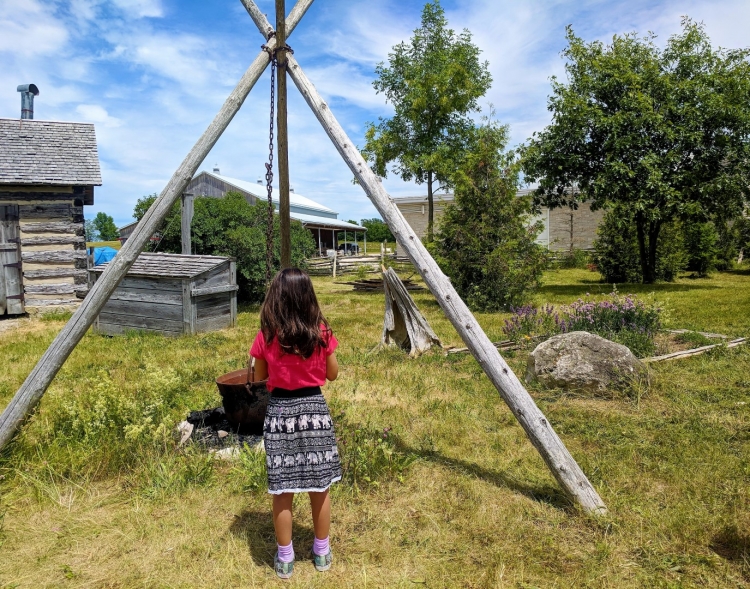 Grey Roots Museum : This museum has been preserving the history and heritage of Grey County and is a great spot to start your Owen Sound visit at. We spent two hours here and mostly spent our time at the Moreston Heritage Village which is only open during the summer months between July and September. Each of us learned something new as we roamed through the buildings portraying the development of Grey County from the 1850s to the 1920s, chatting with costumed interpreters. There were replicas of homes from the various decades and even the kids were curious to learn about how other families had lived. The old school was their favourite though most of the questions were about where everyone went to the toilet back in the day! If you need to escape the heat the Grey Roots Museum and Archives also has indoor exhibits and right now the Ice Age Mammals and other fossils, skeletons and hands-on activities can be found there.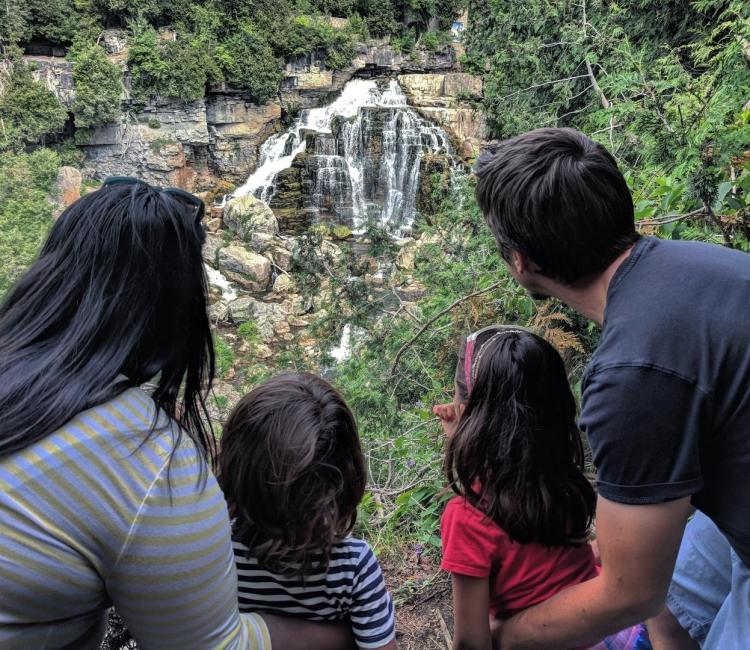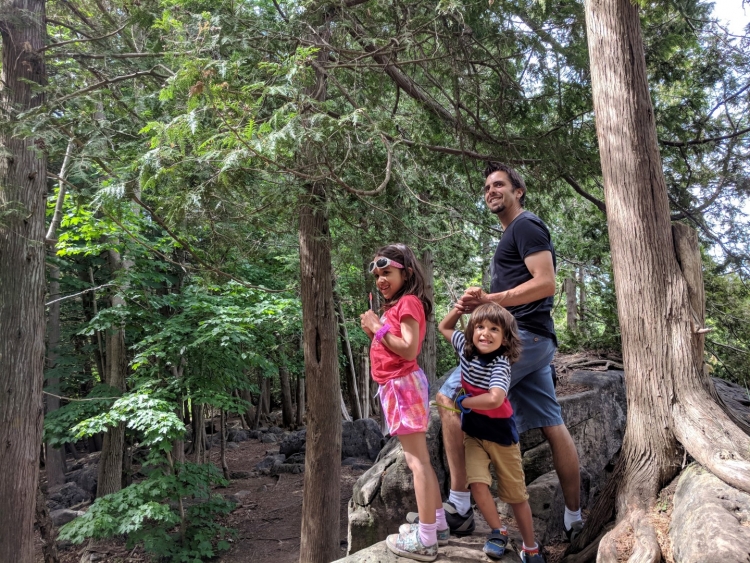 Inglis Waterfalls : Grey County is home to 10 waterfalls and three of them are in Owen Sound. Inglis Falls is probably the most frequented and one that young kids can easily navigate. Little Monkey enjoyed looking for bugs while Baby Boy was happy to run around jumping from rock to rock. You will also find here historical remains of a grist mill, washrooms, picnic facilities and a visitor information centre where you can find out how to access the Bruce trails. Click here to learn about the other waterfalls in the area.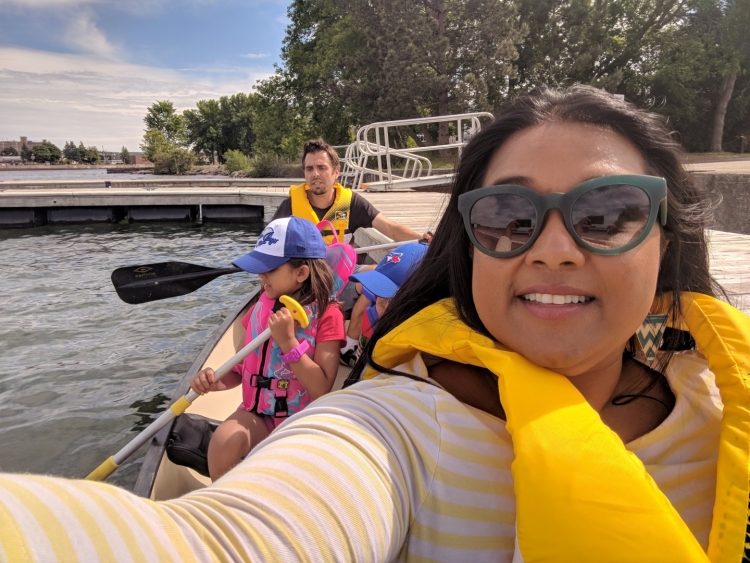 Atlast Adventure :  When we heard that we could paddle to a newly opened brewery we were pretty excited but wasn't too sure how the kids would fare on this adventure. Luckily for us we were in good hands. Carlin, the owner, took us out that day on a private tour so it was just the four of us in one canoe and since the kids and I are useless when it comes to physical strength, Chris struggled to steer us across the river. At Last Adventures offers a range of activities and since they also run a kids camp and forrest school in Ontario, they have all the safety gear you'd need for your kids. We brought our own life jackets with us but we totally didn't need to do that! We paddled over to the Mudtown Station Brewery and enjoyed a pint and a few nibbles there. Instead of paddling back we decided to walk to our car and save Chris the solo effort of paddling us across the river. We were informed that there is going to be a new tour launching soon where you can enjoy a leisurely paddle in a bigger boat and thus enjoy a few drinks responsibly for a group tour. With kids I'd recommend a private tour to enjoy the Georgian Bay either via canoeing, kayaking or rock climbing.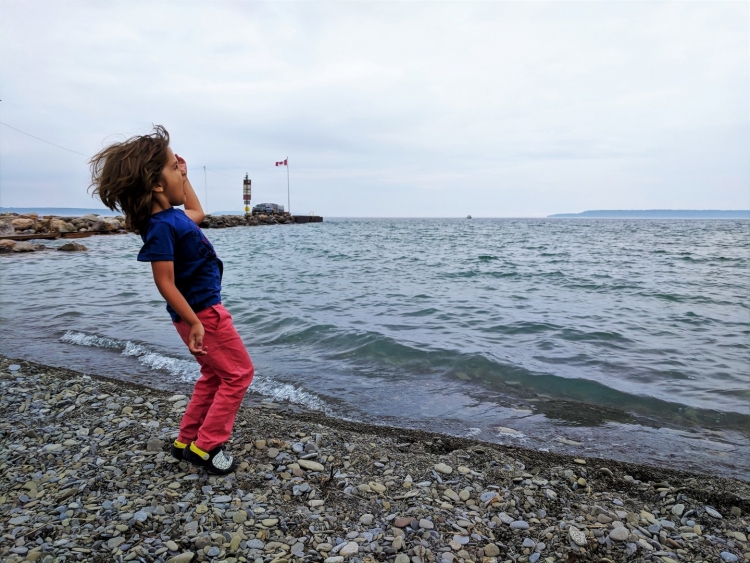 Big Bay Beach : If your kids are like ours they love skipping stones and so a visit to Canada's Skipping Stone capital is a must. Grab an ice cream at the Big Bay General Store  (which has been continuously operating since 1862) and head over to the cobbled beach to hunt for fossils and (if it's warm) swim in the bay. I thought we'd swing by for 15 minutes but ended up spending an hour here even though it was a windy day and we couldn't brave the cold waters.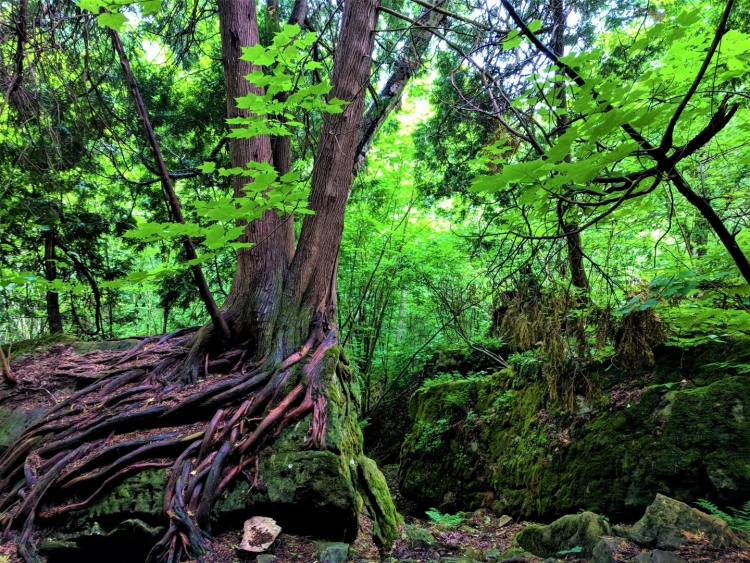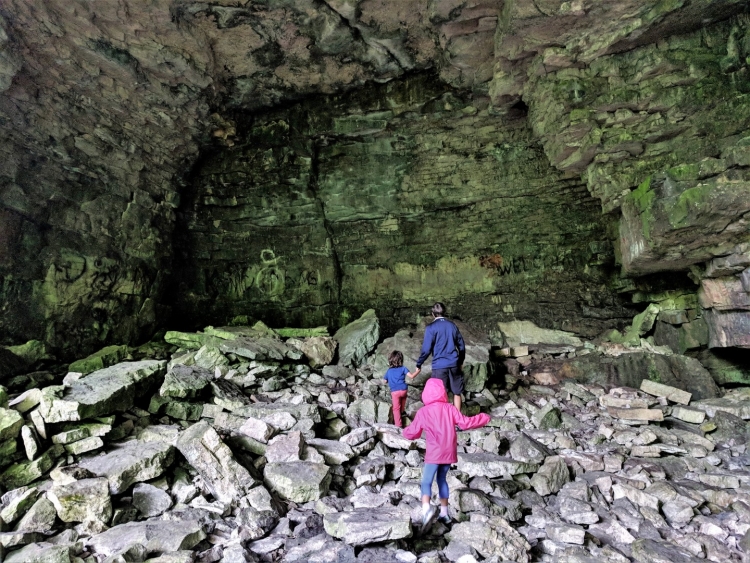 Bruce's Caves : This was quite possibly my favourite activity. I'm not an outdoorsy person but walking into the woods and seeing nothing but tall green trees and hearing the sounds of nature was surreal. Bruce's Caves were formed by the wave action of post-glacial Lake Algonquin, 7,000 to 8,000 years ago and is a geography lesson waiting to be learned. This is a great spot to explore with young kids (ensure they're wearing running shoes) because the terrain is fairly flat and the distance to the caves is short (we were in and out within 45 minutes). We only went into the first set of caves as the second set looked to be similar but involved a steeper climb. We got some great pictures here so take your camera in with you and be sure to hold the kids' hands as some of the rocks inside the caves can be a bit slippery. Also enjoy you download the Mackay parking app as it's the only way to pay for parking on site (entrance to the caves is free).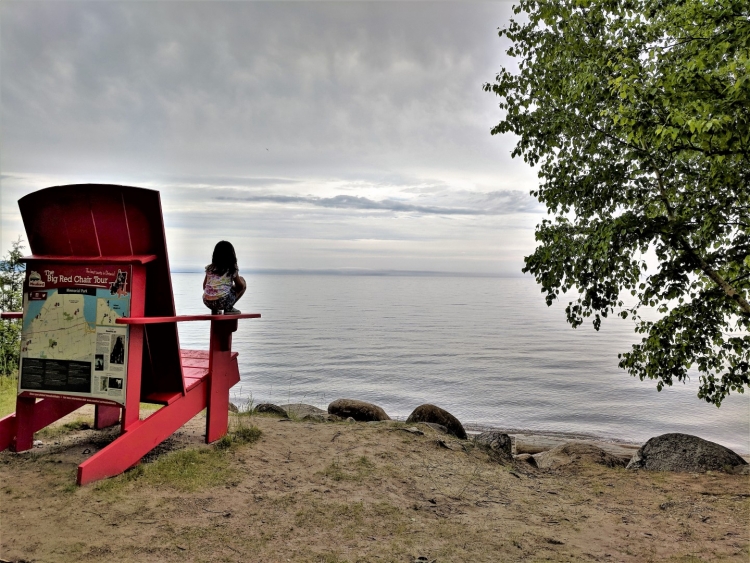 Meaford Memorial : If you're looking for a spot to go swimming in Owen Sound, you'll find many suggestions. One of those will be the half a kilometre shoreline of Meaford Memorial where there's a campsite, a playground and a pebbled beach with a shallow entry. We stopped in here right before we left Owen Sound to return back to Toronto.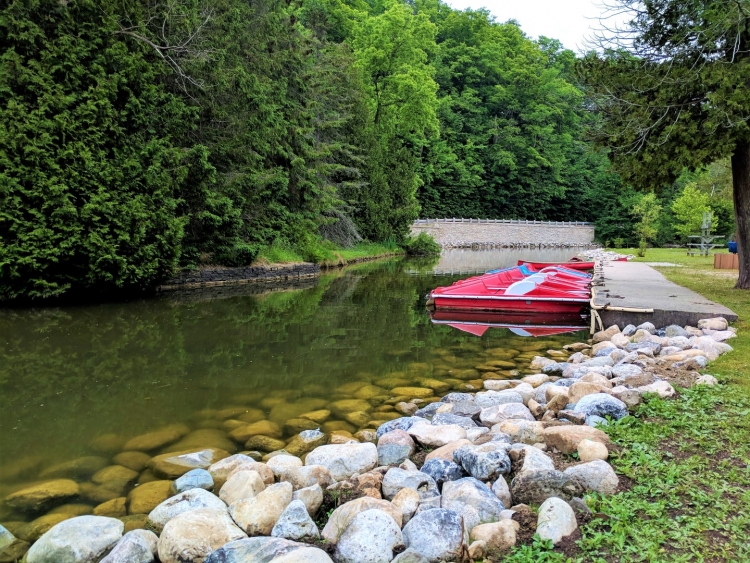 Harrison Park : If you're in downtown Owen Sound you may want to pop by Harrison Park as we were advised to do by one of our Twitter followers. There's plenty to do here beyond the playground but that's where our kids wanted to hangout while waiting for our dinner reservation. In-between the 40 hectares of streams, trails, gardens, playgrounds, forest and green space, you'll also find boat rentals, a bird sanctuary, mini-putt, basketball courts, a pool, and an open-air rink. Its network of trails connects directly with the Bruce Trail, the longest footpath in Canada, which will take you to Inglis Falls or the Centennial Tower, one of the highest points in Owen Sound. There is also a small waterfall, Weaver's Creek Falls, accessible from within the park and so you could easily spend an entire afternoon here.
If you're looking for some photo opps be sure to keep your eyes out for the big red chairs as we spotted quite a few during our visit! There's definitely a lot of driving and that's part of leaving the city life to go exploring, so ensure you come prepared with road trip snacks and plenty of water if it's a hot day. It was actually a bit cooler during our visit so it was a great time to be outdoors, at least for someone like me who doesn't care for humidity and extreme heat! Owen Sound is a quick and easy drive from Toronto and one worth exploring if you're looking for soft outdoor adventures with young kids.