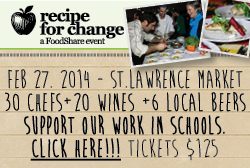 Those than know me are well aware that I am not a fan of doing things on the solo. It's not my nature and it's definitely not what this blog is about but this past week saw me attend three events on my own. Why? I know not.. it's just the way the cookie crumbled. The hubs or a friend will usually join me at foodie events but this past Thursday I attended FoodShare's 5th annual Recipe for Change alone as I wasn't able to wrangle anyone. I was very curious about the event and keen to learn more about FoodShare's initiatives since it speaks to both food and kids.
FoodShare Toronto is Canada's largest community food security organization and this non-profit community organization's vision is Good Healthy Food for All. Founded in 1985 to address hunger in Toronto communities they empower individuals, families and communities through food-based initiatives and advocate public policies that provides access to sustainably produced, good healthy food. It's impressive to think that their unique multifaceted and long-term approach to hunger and food issues reach over 159,000 children and adults per month in Toronto. 
One of their support initiatives is their annual Recipe for Change which took place at the St. Lawrence Market this year. It was basically a culinary adventure through tasting plates from some of Toronto's best chefs. There were 30 chefs who had curated special samplings of good eats and many local wine and beer samples were also on hand. I really enjoyed the fact that we got to interact with the chefs and chat them up – find out their passions and learn more about the Toronto food scene. No one was rushing yet there weren't crazy line ups. I never stood in line for more than 2 minutes tops and that too only twice. Otherwise it was an easy grab and go if you didn't want to chat with the chefs and servers. The only hard part was trying to secure a table to eat at. I strolled around with a plate and glass in hand and was thankful that I wasn't babywearing because I would have definitely spilled quite a bit of food on his head!
Tickets may seem pricey at $125 for all ages ( I did see two kids at the event but it was predominantly a mix of culinary enthusiasts and adults looking for a good time in the fair city of Toronto) but all food and drink is included and unlimited amounts of it! So the math TOTALLY adds up. There was no running out of items whilst I was there between 6:30 and 8:30 except for the popular Soma Chocolate . I had already sampled and went back for more when I found out that they were making a quick run to the store to bring back more (fully restocked in less than 20 minutes). Also let's not forget that proceeds were in aid of programs such as childhood nutrition, hands-on food education from JK to Grade 12 and establishing a healthy school cafeteria model.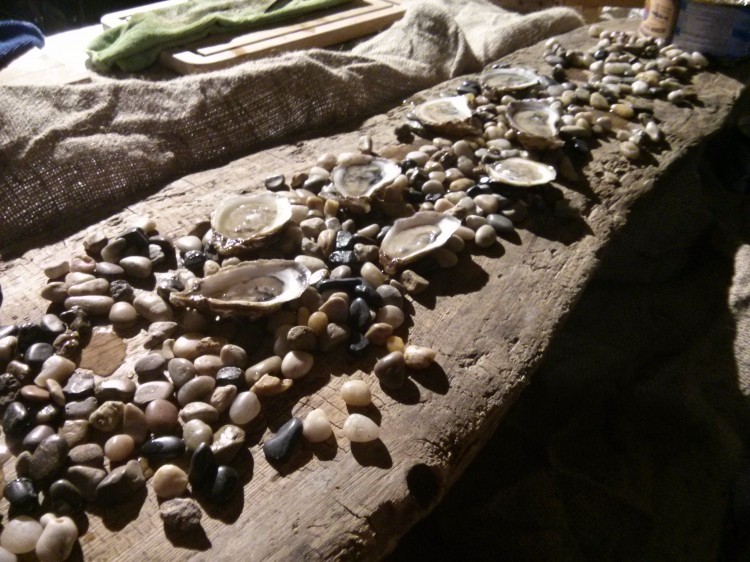 I was stuffed silly at the event but since I am still breastfeeding and was away from Baby Boy I decided to be good and only had three drinks. I was shocked that I managed to sample about 90% of the offerings. So would you like to see what I sampled?
Highlights for me included :
Food :
Annona at the Park Hyatt's Pulled Buschbeck Braised Lamb Slider with Spiced Mustard Glaze, Crunch Slaw Sesame Tooney
The Beverly Hotel's 

Rueben Caraway Rye Gnocchi, Pastrami Lambs Tongue, Dill Pickled Mushrooms, with Red Cabbage and Apple Mostarda, Fresh Tarragon, and Gruyere Snow

Cruda Café's Mini Raw Cashew French Herbed Fermented Cheese with Sweet Potato Crackers, and Mini Raw Pumpkin Tarts on a Pecan Salted Date Crust
Culinary Students from Bendale Business & Technical Institute/ Eastdale Collegiate Institute's  Apple Fruitcake with Caramel Yogurt
Frida Restaurant and Bar's 

Tacos de Pescado en Salsa Verde, pan fried and then finished in Salsa Verde Haddock and garnished with House Soured Cream, Coriander and Onion

Hooked's Fresh Shucked Oysters
Lamesa Filipino Kitchen's Arroz Caldo (so good!)
Le Sélect Bistro's Sweet Potato Gnocchi with Wild Boar Ragu
My Little Dumplings's amazing Mushroom Bao
Pizzeria Libretto/Enoteca Sociale's Monforte Ricotta Gnudi with Mushroom "bolognese"
The Tempered Chef's 

Citrus Financier (Almond Cake), Chestnut Mousse, Coffee Nougatine

T.O. Ceviche Bar's Mixed Ceviche
Urban Acorn/The Depanneur's Goat Griot & Banane Pezé (MUST visit them soon)
Valdez's Duck Tamales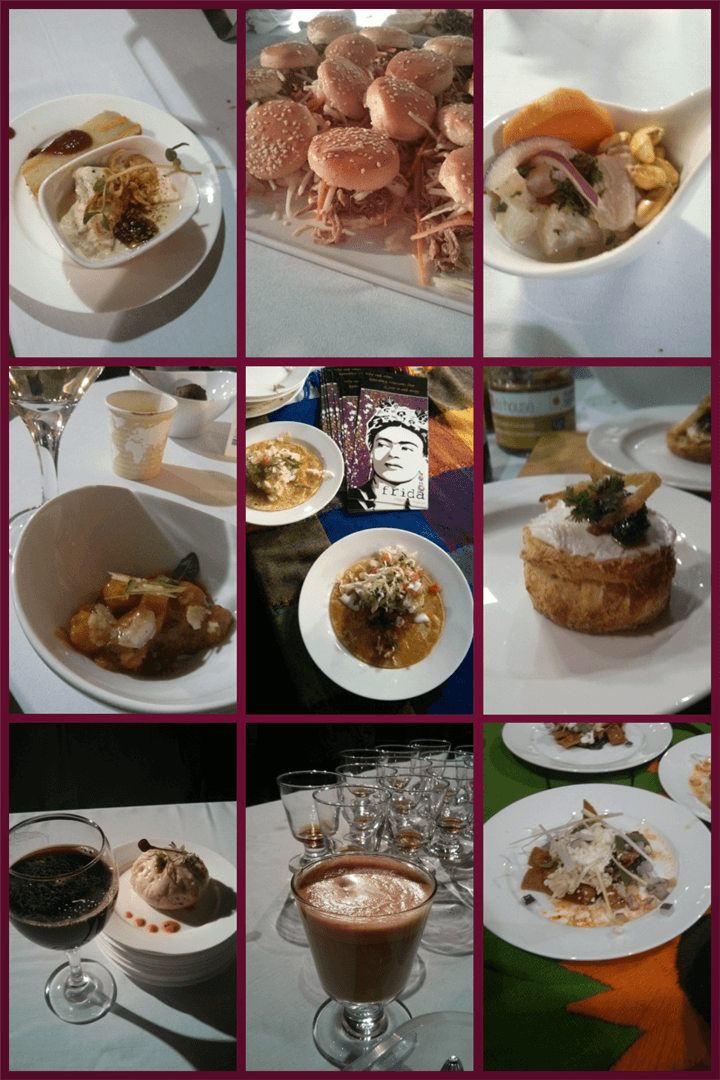 I applauded myself for  trying Palais Royale's Crispy Frogs Legs with a Paw Paw Crema and Chia Ash. One bite and I heard a ribbit ribbit so I didn't finish it.
Drinks :
Black Oak Brewing Company's Double Chocolate Cherry Stout
Crema Coffee's fantastic Maple Bacon Machiatto
Rosewood Estates Winery's delicious

Mead 

The Love of Tea 's Foggy Sunburst Morning Earl Grey Mocktail with infusions of Bergamot and Citrus
SOMA Chocolatemaker Hot Chocolate spiced with Ginger, Madagascar Vanilla, Orange Peel, Chili and SOMA Blend of Spices
Walter Caesar's Caesars
Definitely a fulfilling night and if you were lucky enough to bid and win at the amazing silent auction, you definitely went home with a filled belly, new friends and some future fun!! Navigating this event alone was no fun but I was thankful for the fellow food bloggers in attendance as theykept me company! Keep an eye out for FoodShare's future programs and definitely prep for the 6th annual Recipe for Change in 2015!